Some of the links on this site are Affiliate Links and if you use them to make a purchase, we may earn a commission. For more information, read our Disclosure Policy.
A trip to the grocery store can make or break your budget. The key to creating a budget grocery list is knowing what should – and shouldn't – go into your shopping cart. Because it is not an easy task – especially for beginner budgeters – I am helping by sharing my go-to cheap groceries list.
Everyone has their own personal reasons for adhering to a grocery list budget. For many it is out of necessity, while others are dedicated to paying off debt or reaching a financial goal.
Budgets widely vary but eating is one thing we all have in common! Whether you are devising a college student grocery list, a family grocery list on a budget or a budget grocery list for one, the food items I recommend provide sustenance at a low cost.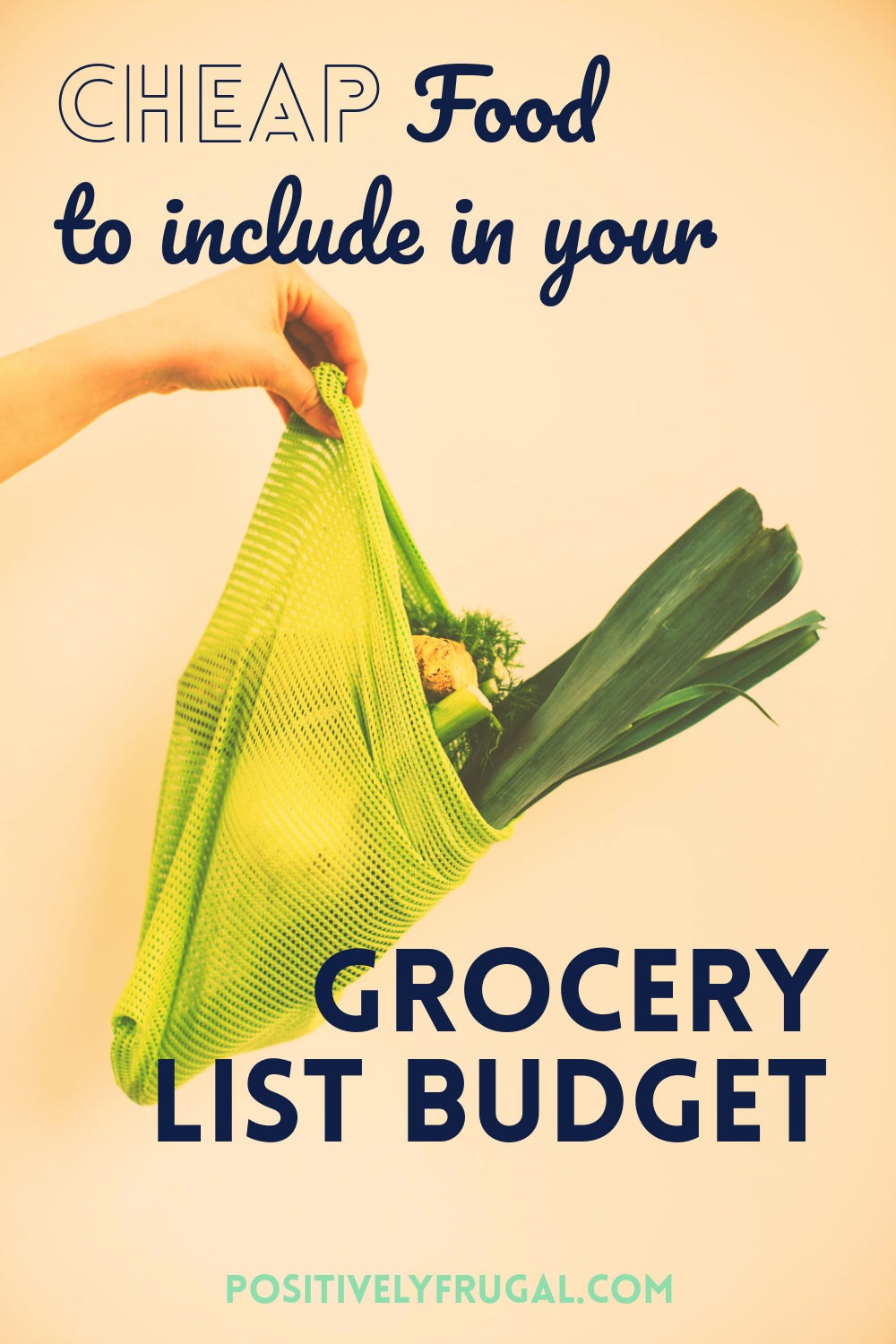 Grocery List Budget: Just One Step in the Process
While making a grocery list for a budget is a significant step in the process to becoming more frugal with your food, it is just one facet.
In fact, meal planning is just as important. Before making your cheap grocery list, you will need to decide what meals you plan to make with the food that you buy.
While my grocery budget list is a good place to start, you will need to make sure you can use the items you buy to create budget breakfasts, cheap lunches and inexpensive dinners that you like (and will actually eat).
You can stay on top of your meal plan with my Meal Planner Kit that includes 3 useful food planning templates: a weekly meal plan chart, a grocery list and recipe cards.
Budgeting Grocery List Tips
Before we jump into the specifics of my grocery list for a budget, I have a few frugal grocery shopping tips.
First and foremost, when you make your frugal grocery list for the week, it should be detailed and concise. Write down everything you will need – and commit to sticking to it!
That said, it is also wise to leave a little wiggle room in your budget shopping list…as in, be adaptable. If the store is out of an integral ingredient (or there is a sale item that you could substitute for much cheaper) then you need to be able to adjust for the cost-saving benefits.
For more about how I keep my average monthly food cost in check – and don't get distracted at the grocery store – read my blog posts, Groceries on a Budget which includes my top frugal shopping tips, how to stay on budget as Food Prices Go Up and get my breakdown on the pros and cons of Grocery Delivery.
How Much Do Budget Groceries Cost?
For this grocery list on a budget, I am not assigning a specific dollar amount. While the items on my list could be the base for a $200 a month grocery list, the actual figure will depend on where you live and where you shop.
To come up with the absolute cheapest grocery list, I think it is imperative to price shop your local grocery stores.
That said, I have created a cheap meal prep grocery list and week plan in my blog post, $50 Grocery List!
Do you really want to challenge yourself to eating on a budget? Join my $5 Food Challenge and I will help set you up for frugal food success!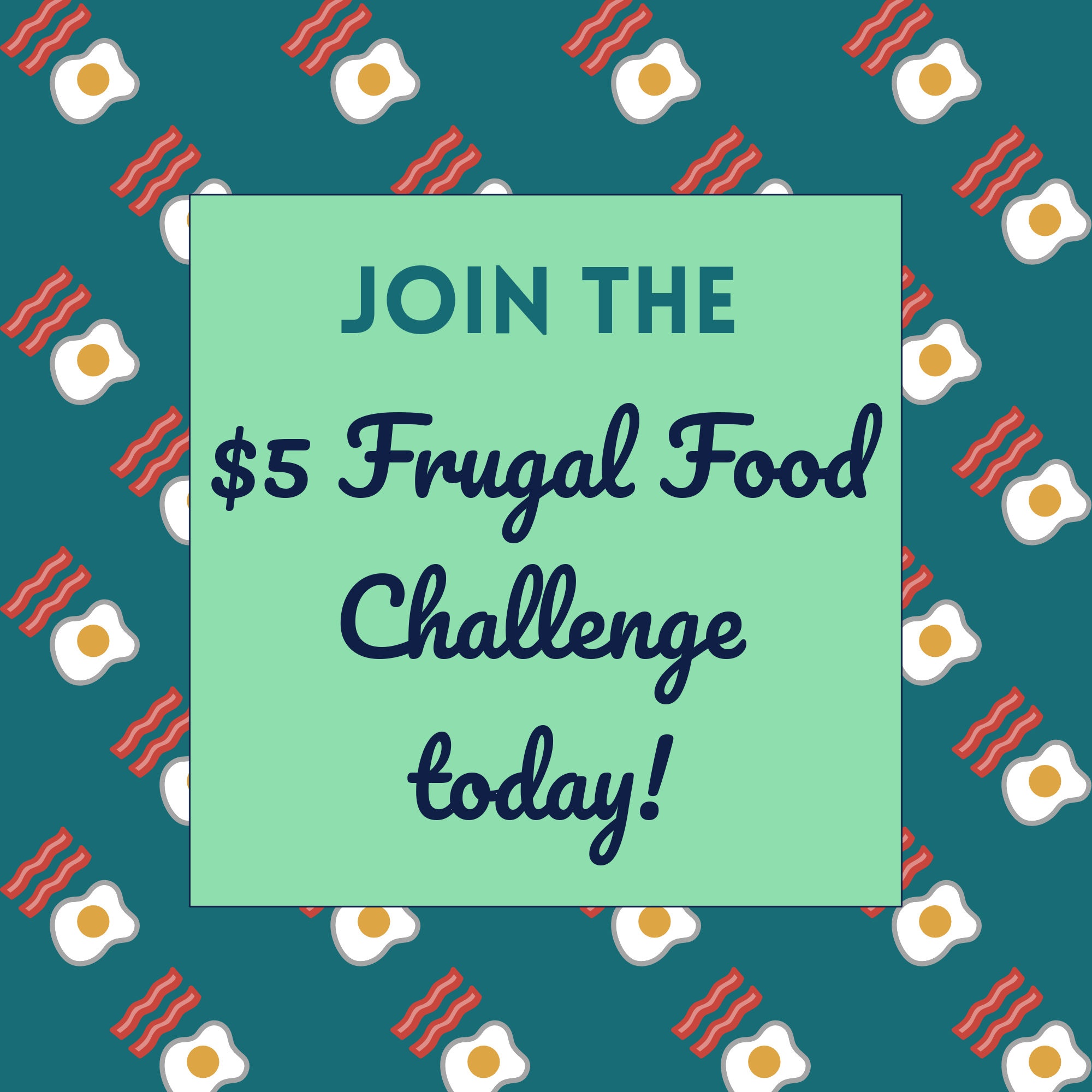 Healthy Budget Groceries
Finally, as you prepare your cheap shopping list, don't sacrifice your health. The food that you buy needs to be nutritional and balanced. Don't succumb to the idea that healthy food is expensive; it can be, but it doesn't have to be. My frugal grocery shopping ideas are mostly healthy food items that are filling, excellent sources of protein and delicious.
Budget Groceries List: What NOT To Buy
Now that you are ready to start thinking about the specifics of your budget grocery list for a week, let's chat about the items that you need to steer clear of…the ones that should never make their way into your cart when you are frugal food shopping.
Soda Pop and Sugary Juices
If you are making a shopping list on a budget, soda and sugar juices should never be on it. Soda is expensive and has zero health benefits. If you need a little motivation to kick the sugary drink habit, read this article from Healthline.
Bottled Water
Long ago, I had a SmartWater addiction – seriously, I embarrassingly bought liter bottles by the case. Looking back, it pains me to think about how much money I wasted and how much single-use plastic I used. Unless you live in a place without potable water, bottled water should not be on your grocery shopping list budget. If you require purified drinking water, there are cheaper and more environmentally friendly options than cases of bottled water.
Pre-Made and Pre-Packaged Food
Convenience food comes at a cost…and the figures can be seriously offensive. Gathering the ingredients yourself and cooking from scratch is almost always financially beneficial. I highly recommend eliminating pre-made or pre-packaged convenience foods from your budget grocery shopping list.
There is one caveat to this rule: Manager's Specials. When pre-made foods are about to expire, the items are often heavily discounted, which can make them cheaper than attempting to prepare the meal yourself. Just exercise caution when buying these products; do the math to ensure it is a deal and make sure it is something you will use in your meal plan!
Fru Fru Food
If you are making a frugal shopping list, then fru fru food should not make the cut. When I say 'fru fru,' I'm talking about fancy foods – like fresh seafood, extravagant deli cheeses, dried fruits and nuts (to name just a few offenders). As a general rule of thumb, anything with a fancy label should be nixed.
Cheap Groceries List: Grocery Shopping on a Budget
Now that we have covered my frugal grocery shopping tips of what not to buy, it's time to tackle the kinds of products you should include on your On A Budget grocery list. The items below are the ones that I consistently include in my weekly grocery budget.
Meat
Although meat is expensive, it isn't something that I completely eliminate from my budget grocery list. However, I forget about the filet mignon and instead reach for inexpensive pork or chicken breasts (either fresh or frozen, depending on the sale-of-the-moment). I'm incredible cognizant of sales, value packs, coupons and Manager's Sales – all of which can equate to incredible savings.
When adding meat to your shopping list on a budget, consider opting for a less expensive cut of meat, weighing the value of bone-in versus boneless (literally) and even asking the butcher for discounts on soon-to-expire meat.
All that said, if you really need to pare down your grocery shopping on a budget list to the bare minimum, then forego the meat altogether and buy other cheaper protein-rich products.
Eggs
I love eggs. They feature regularly in my lineup of favorite frugal meals. A great source of protein, long-lasting and versatile, eggs are a mainstay in my fridge.
While there is no doubt that organic farm fresh eggs are ideal, they are not always affordable. For my cheap weekly grocery list, I at least aim for the cage-free eggs – which are not as cheap as the cheapest option, but are said to have more health benefits.
Fresh Fruit
One of the common frugal shopping tips is to skip fresh produce, but I disagree. In fact, apples and bananas are an absolute staple on my grocery shopping list on a budget.
While it is true that berries and exotic fruits are spendy, apples and bananas are two of the cheapest fruits you can buy. In addition to adding these two basics to my frugal grocery list, I also seek out in-season fruit that is on sale – like grapes, clementines and melons.
Another great way to include fruit on a low-budget grocery list is to look for discounted nearly-over-ripe fruit (that can be used right away or cut up and put into the freezer) or even packaged frozen fruit.
Fresh Vegetables
When I am creating my weekly shopping list for two on a budget, nearly half of the items are fresh vegetables. My go-to veggies are not only affordable options, but packed with nutrients, can be used in a variety of recipes and have a long shelf life.
For instance, I always keep potatoes, onions and garlic on hand – and buying these items in bulk is usually the cheapest option. Carrots are good to have in the fridge – just bypass the baby carrot cuts in favor of cheaper whole carrots.
Fresh cabbage – another good source of nutrients – also makes my budget-friendly grocery list. In fact, I often buy cabbage for salads, rather than expensive leafy lettuces (that rarely last more than a few days in the fridge).
Just as in the case of fresh fruits, the best way to create a cheap food shopping list with vegetables is to opt for what is common, in season and on sale.
Beans
Beans are the superstar of a cheap grocery shopping list. As a great source of protein, they are sold at a bargain basement price (at my grocery store, beans cost just 50 cents a can).
I will admit, I buy canned beans rather than dry. I know buying dry beans is cheaper – and when we lived in Costa Rica (where canned beans cost $2 in our village store), I only bought dry beans. However, the exorbitant amount of time and electricity I spend soaking and cooking the beans significantly reduces the cost benefit.
I buy – and regularly eat – a variety of beans, from chickpeas (great for homemade hummus!) to cannellini beans (perfect for soup) to pinto beans (ideal for bean burritos!). Beans are an essential affordable grocery list item!
Canned Tuna
Tuna might not be as cheap or as popular as it once was, but it still ranks as a favorite inexpensive grocery list item. Canned tuna is a good source of protein that can be used in cold salads or hot pastas – and it is something I almost always keep stocked in our pantry.
That said, I upgrade my tuna fish experience from the chunk light variety to wild-caught solid Albacore tuna (which, at Aldi still costs less than $1 per can).
Oatmeal
When putting together a budget food shopping list, oatmeal is a must! I eat oatmeal almost every day for breakfast – and a single $2 canister of whole rolled oats lasts for at least a month.
In addition to being my go-to breakfast meal, I also use oats to bolster black bean burgers and to stretch out stews. You can find even more oat inspiration here.
Pasta
Pasta is featured on every single super cheap grocery list – and so here it is on my best budget grocery list, too. While, generally speaking, I try to limit the number of carbohydrates I ingest, I almost always have a box of pasta on hand.
Not only is pasta cheap and easy, but it is completely versatile – which is why it is essential on a grocery list for a tight budget. To put a healthy spin on an old standby, I load my pasta meals with fresh veggies and a good protein source (rather than simply carb-loading and inhaling half a box of pasta covered in sauce).
One of the great things about pasta meals is that you can make a big batch and have leftovers later in the week.
Rice
Rice is another one of the grocery necessities on a budget. Just like pasta, rice has endless combination possibilities. Pair rice with beans, serve it with eggs or top it with vegetables (all of these accompaniments are already on my low-cost grocery list!).
For my good, cheap grocery list, I grab natural long-grain brown rice (rather than pricey instant rice or expensive basmati rice).
Lentils
It is only recently that I started adding lentils to my cheap food grocery list…and all I can wonder is, What took me so long?
Lentils are a perfect addition to a summer salad and delicious in a winter stew. Not only are lentils a good source of vitamins and minerals, but they are packed with protein and fiber as well – which means they will fill you up.
Although I am still learning about different ways to prepare lentils, I can highly recommend them as one of the must-have groceries to get on a budget.
Popcorn
When you are making a grocery list on a tight budget, you might feel compelled to skip the snack aisle. And, you would be right. There is no doubt whatsoever that chips and other snack items will put a dent in your low-budget shopping list – and, besides, they are typically quite unhealthy.
On the other hand, popcorn is a healthy, inexpensive snack that can be on your grocery on a budget list. That said, don't grab the microwaveable popcorn – it's much cheaper (and healthier) to buy whole kernels and pop your own!
Frozen Meals
Okay, I know I said to skip any pre-made meals, but I am going to make an exception here (for the sake of your sanity!). Making a grocery list on a budget can be a real chore…but actually cooking the meals can be an even bigger struggle, especially when you are new to the concept.
Therefore, give yourself a freebie by adding one frozen meal to your weekly shopping budget. Of course, it should be a meal (or pizza or bowl…whatever you like) that is affordable…and even better if it is on sale and you have a coupon.
As you get better with how to budget grocery shop, your frozen meal can be a backup…just in case something goes awry in the kitchen or you have a misstep in your planning process. In my opinion, an occasional frozen meal is a much better option than surrendering your budget to take out food from a restaurant.
Oil and Spices
One of the last – and extremely important – things I include in my low budget grocery shopping list is oil and spices. Using spices will jazz up your frugal foods and elevate their status from boring to fabulous!
An oil or fat (like butter) is necessary for cooking – and I splurge a little here by buying Extra Virgin Olive Oil (although I always grab the store brand over the pricey name brands). A little EVOO can go a long way and I use it on almost every meal – from sautéing onions to cooking eggs to dressing salads.
I keep it pretty simple when it comes to spices, too. My three, standard go-to spices are cinnamon, cumin and an Italian blend. And, I always have salt and pepper on hand, too. My best advice for buying spices cheaply is to look on the lower shelves where no-name brand spices are available for only about $1.

Cheap Grocery List and Meal Plan
The items on my low-budget grocery shopping list can be used to make an array of healthy, filling, cheap meals. In fact, using this weekly grocery list on a budget it is possible to create more than 21 meals (an entire week's worth of food!). For tips on how to create your budget meal plan and grocery list, pop over to my tips for Frugal Cooking!
Organizing Your Budget Grocery List
As you create your budget grocery list, don't forget that organization is key! You will need a Meal Plan, a Grocery List and a way to track your favorite Recipes.
To help you succeed, I have created an affordable Meal Planner Kit that includes everything you need to stay organized and on track!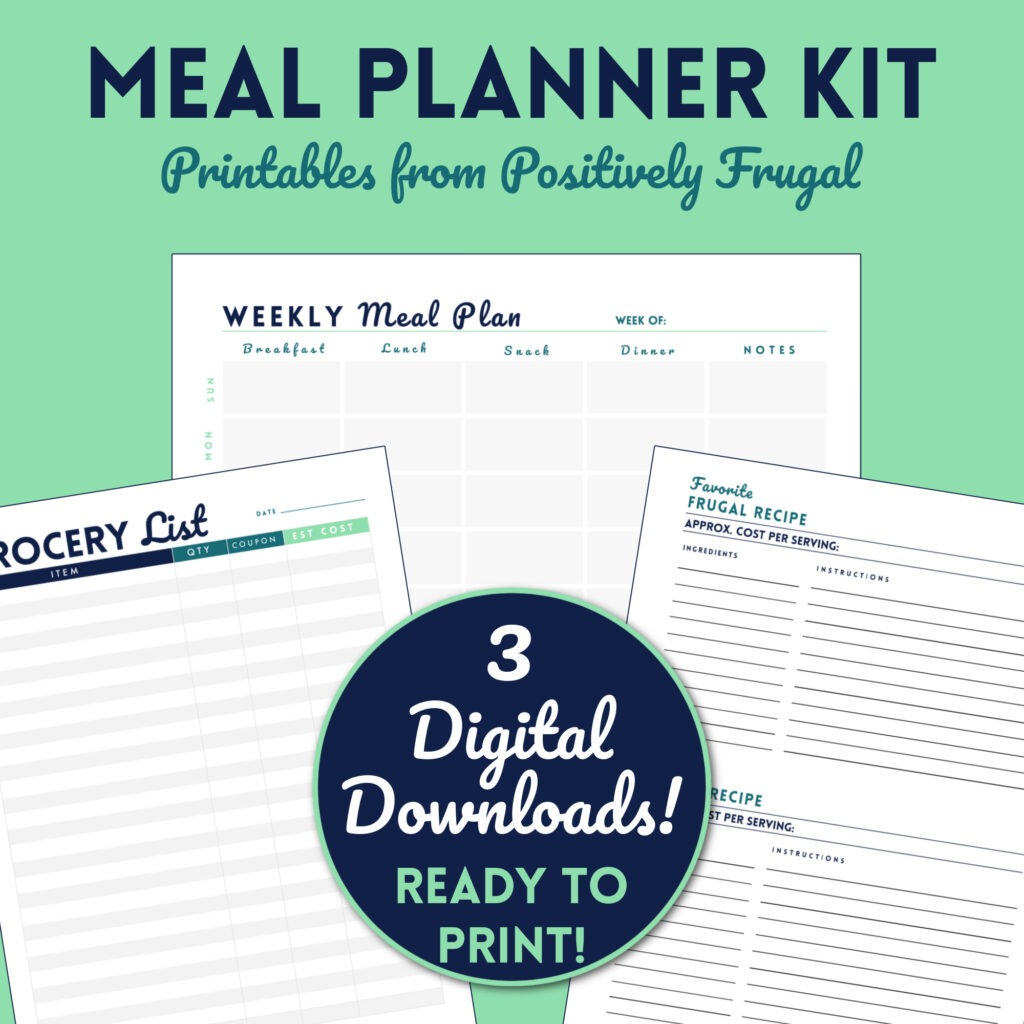 If you are just learning about budgets and goals, then I can help you get started with creating a budget today!
Just subscribe to my blog and I will give you a FREE budget template worksheet!
Find more detailed budget printables – from savings trackers to forms for tracking expenses – on my Shop Page.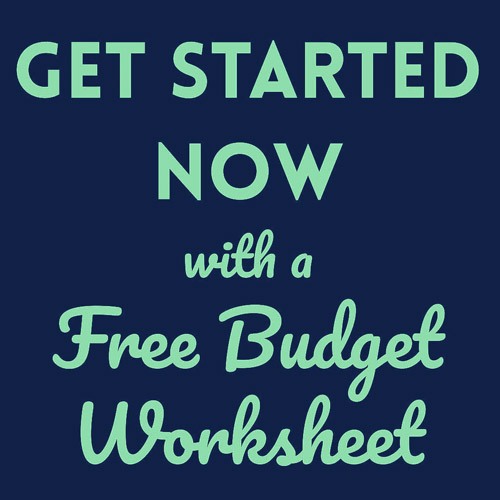 Interested in more of my Frugal Food Tips? I round them all up (including my favorite Frugal Snacks) on my Frugal Food blog page!
We Want To Know: What are your go-to items for your grocery list budget? Share your tips and advice in the comments below!