Some of the links on this site are Affiliate Links and if you use them to make a purchase, we may earn a commission. For more information, read our Disclosure Policy.
Whipping up a frugal dinner isn't always easy – and making a cheap healthy dinner can be a formidable task.
I get it, I've been there. After a long day at the office, healthy frugal menu ideas aren't exactly top of mind. Don't despair, I can help! Resist the temptation of resorting to take out and use my ideas for cheap dinners to help inspire your next meal. My frugal dinner ideas are easy, hearty, healthy and oh-so-satisfying.
Easy and Deliciously Frugal Dinner Ideas
To make sure I keep my budget on track and my health in check, I have a full arsenal of frugal recipes that produce cheap, healthy dinners with great sources of protein. The best part is that my ideas for a cheap dinner are not a drag. Quite the opposite, my cheap dinners are absolutely delicious!
My frugal suppers range from meatless wonders to hearty casseroles. Most important, however, is that the cheap dinner recipes I use are (with a little meal prep) easy to make! The last thing I want at the end of the day is to stress over how to be frugal in the kitchen and end up dining out.
Most of my easy, cheap dinner ideas require few ingredients – and, even better, they can be made ahead of time. With a little meal planning and weekend meal prep, weekday dinnertime is completely stress-free and on track with my frugal living money goals!
Frugal Foodie Challenge
If you are aiming to lower your food bills in an effort to save money, it can help to kickstart your goals with a challenge. Join my $5 Frugal Food Challenge and you will learn how to save heaps of money at the grocery store!

12 Ideas for Cheap Dinners
Are you ready for a frugal feast that keeps you on track with your financial goals? These thrifty dinners on a budget are some of my favorite meals to make – and eat! One commonality of my frugal dinner recipes is that they are incredibly versatile, so adapt it to your taste or use whatever you have on hand in your kitchen!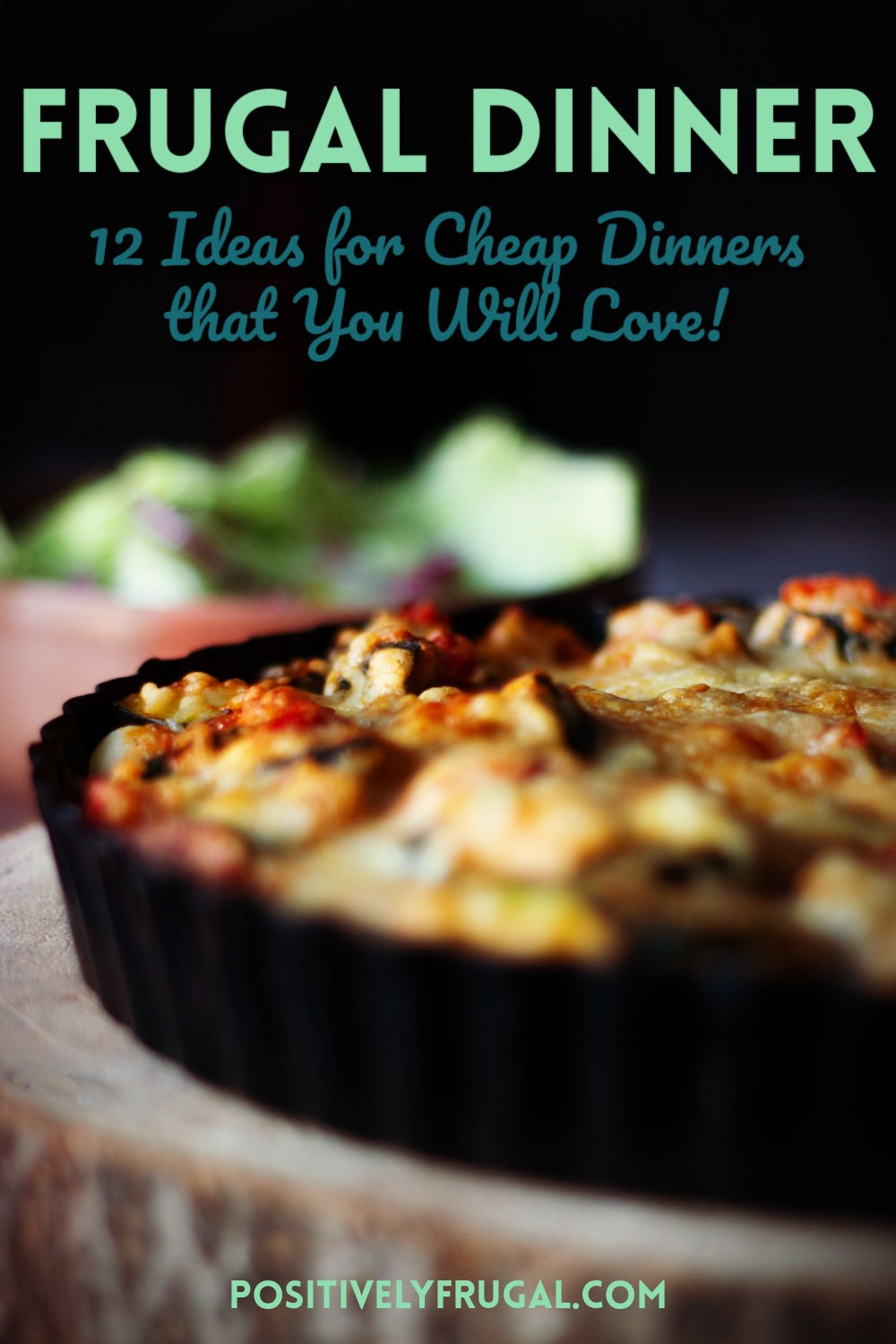 #1 Bean Burrito for an Easy Frugal Weekday Dinner
When it comes to frugal eats, a basic bean burrito is champion. I fell in love with bean burritos when we were living in Phoenix; my local Mexican eatery makes irresistible bean burritos. But, as the restaurant grew in popularity, so did their prices.
When I thought about the simplicity of bean burritos, I realized I could create them myself for a fantastic frugal dinner. It only took one attempt to find out that I can make delicious bean burritos at home for a mere fraction of what I was paying down the street. Bean burritos are now a staple – and a highlight – of my weekly frugal dinner menu and one of my Favorite $1 Meals!
To make easy bean burritos, I just saute chopped onion and garlic in a small stovetop pot, then add one can of drained pinto beans and a little bit of water. Once heated through, I use a masher (or a fork and spoon) to mash the beans. I stir in just a dash of salt, pepper and lots of cumin…and keep stirring until the beans are thick enough to spread onto tortillas. I top the beans with a sprinkle of cheese, salsa or sour cream (or Greek yogurt as a healthy substitute), then wrap and eat!
#2 Chicken Casserole as a Make Ahead Frugal Dinner Idea
Chicken casserole is one of the frugal family dinners that I grew up with that I still love making (and eating!). It is also one of the cheap chicken dinners that is completely adaptable – which is fantastic when trying to use up things from the fridge at the end of the week.
There are hundreds of different ways to make frugal casserole recipes with chicken – and hundreds of recipes with instructions (so if you are stumped, Google it up!). Chicken casserole is a fabulous make-ahead meal; make a big batch on the weekend and you can have a couple of warm, hearty dinners throughout the week. That said, I sometimes skip the big casserole dish and just use a square pan.
I typically use standard, inexpensive ingredients – like brown rice, celery and carrots (but will use mushrooms or peppers if that's what I have!). To keep the cheap dinner healthy, I skip the canned condensed soups and just use a mixture of heavy cream and chicken stock and a little shredded (or parmesan) cheese to get the creamy consistency that is essential in a good casserole. Yum!
#3 Asian Stir Fry for Fun Frugal Meal Ideas
What I love about Asian stir fry is that they are cheap frugal meals that can be as complicated or straightforward as you want.
Because I am always aiming to make healthy frugal meals that are easy, my go-to Asian stir fry is usually a combination of shredded cabbage, chickpeas and brown rice finished with a low-sodium soy sauce. Sometimes I will add colorful peppers, diced carrots, freshly grated ginger, chopped garlic or even sliced pork for a seriously satisfying dinner.
As a bonus, Asian stir fry is one of the easy frugal meals that I can crank out quickly if I find myself unprepared – or it can be made ahead of time and reheated for a later dinner. In fact, whenever I make Asian stir fry, I make enough for two dinners.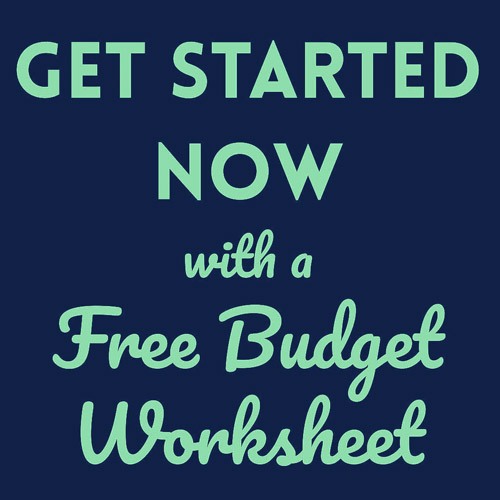 #4 Buddha Bowl Cheap Dinner Recipes
I got hooked on Buddha bowls when we were in Bali…and I've never looked back. Buddha bowls are phenomenally healthy frugal fare for dinner. While they do take a little prep work up front (especially if you like roasted veggies in your Buddha bowl, like I do!), it is well worth the effort!
There are a few basics of Buddha bowls, but the idea has morphed so much in recent years that, honestly, anything goes for these fun frugal meals. They are incredibly photogenic and fun to make! Check out these fun Buddha Bowl ideas.
Traditionally, Buddha bowls are bits of common frugal foods that come together in a bowl to create a balanced meal. Essentials are grains, vegetables and a meatless protein – like beans or tofu (although modern bowls can include a small amount of meat).
In the wintertime, my favorite Buddha bowl combination is brown rice, roasted Brussel sprouts, roasted sweet potato and red beans in a tomato sauce. In the summer, I might use cucumber, corn salsa, red cabbage and avocado. Buddha bowls are a great choice for workday lunches, too – and because the ingredients are so flexible, you can mix it up each day.
Seriously, the options for Buddha bowl frugal meal recipes are endless – so get creative. In fact, learning how to jazz up your frugal eats is a key element in successful frugal dinners.
#5 Enchilada Bean Casserole Dinner Ideas for Cheap
Beans are a great base for frugal casseroles – and my favorite is a delicious and easy enchilada bean casserole.
This is another one of my cheap vegetarian dinners that takes little effort and minimal ingredients. Enchilada bean casserole is a winner-winner-chickenless-dinner – but, if you really want to, go ahead and toss chicken into the mix.
All you need for the cheap dinner casserole is corn tortillas, black beans, enchilada sauce and cheese. I double layer the ingredients in a casserole dish and, 30 minutes later, dinner is ready! Of course, you can make this one ahead of time – and even freeze individual servings.
You can find more bean-based casserole frugal dinner ideas here.
#6 Kielbasa Bowtie Pasta: Easy Cheap Dinner
In college, when we were all scrounging around for frugal dinners, my roommate's dad bestowed us a recipe that I still use to this day: Kielbasa Bowtie Pasta.
The affordable dinner of pasta, pork and peppers is one of the most delicious frugal meals that I make…and it is so incredibly simple and extremely satisfying.
I detail this recipe in my blog post, The Best Frugal Meals.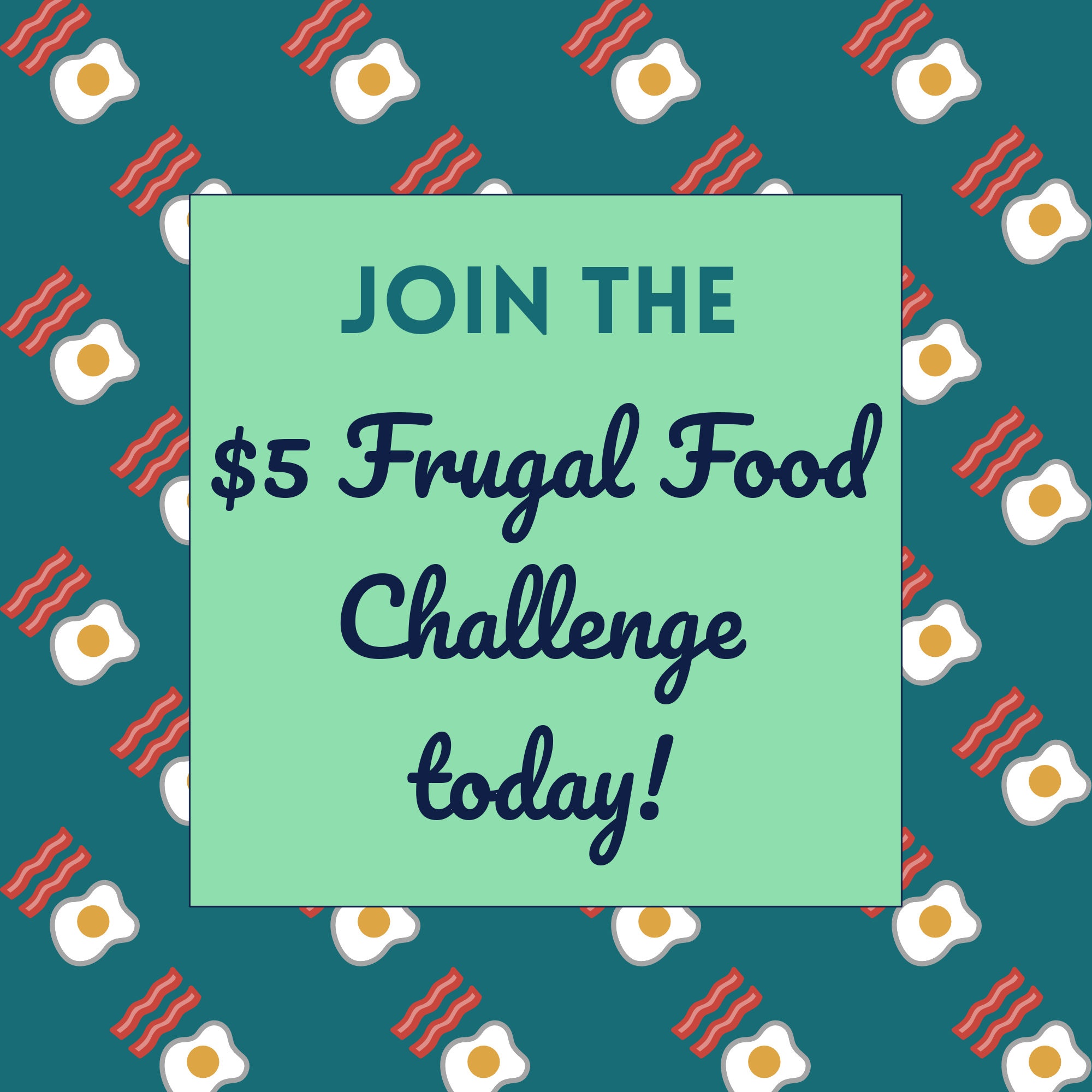 #7 Brinner for a Fun Frugal Dinner Meal
When you get tired of your regular frugal dinner menus, shake it up a bit and make breakfast for dinner – or Brinner as we call it in my house!
Scrambled eggs and roasted potatoes are super cheap dinners – and eating it at dinnertime is a fun break from the norm. Serve brinner with fresh whole fruit, like sliced apples or bananas, to make it a complete, balanced and inexpensive meal.
#8 Beans and Rice: A Basic Cheap Dinner Idea
When I am in need of extreme frugal meals, plain ol' beans and rice is the first thing that comes to mind. In fact, it is one of my favorite cheap and easy ideas for dinner or even a frugal lunch.
Not only do beans and rice provide dinner for cheap, but it is filling – and packs a punch of protein, too.
To make sure my simple frugal meals for dinner have taste appeal, I usually spice up my beans and rice with onion, garlic or peppers – and I almost always use a few shakes of cumin.
#9 Veg Bean Chili in Crockpot for a Frugal Make Ahead Dinner
I don't like a lot of fuss and hassle with my food, which is why I love frugal crockpot meals. I seriously dig that you can just toss all the ingredients in and let it go – which is one of the reasons that crockpot meals are fantastic frugal dinners for families.
A hearty vegetarian bean chili in the slow cooker is a staple for us – especially in the winter. Loaded with vegetables and heavy on beans, I don't even miss the meat in this meal. What I really like, however, is that my cheap crockpot dinners cost less than a dollar per serving (which is way less expensive than traditional beef and sausage chili!).
If you don't have a crockpot, don't stress. A crockpot is not essential, you can make this meal in a stovetop pot or instant pot, too! For a list of my essentials, read my blog post, Frugal Minimalist Kitchen Accessories!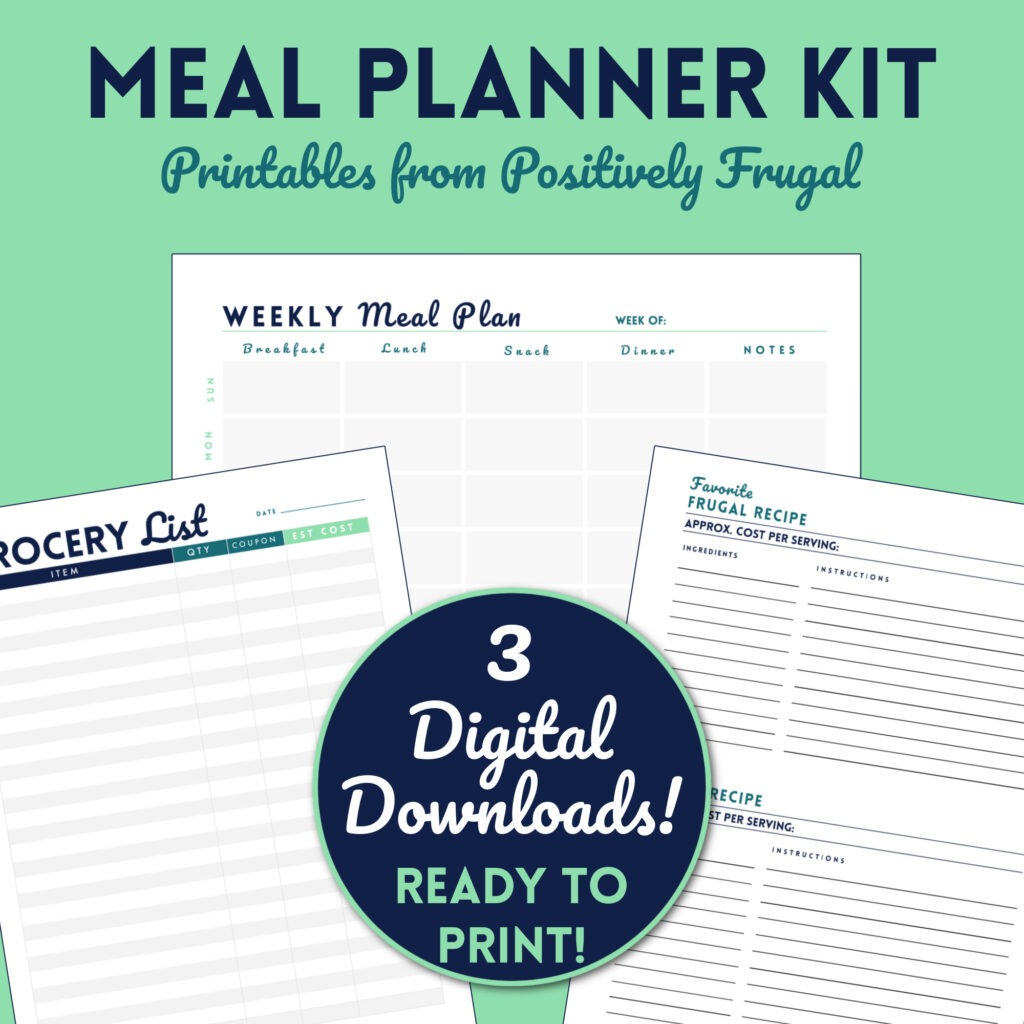 #10 Chicken Pasta Salad for Dinner on a Budget
For dinner on the cheap, chicken pasta salad fits the bill! I prefer Italian-style chicken pasta salad with lots of fresh veggies (tomatoes, zucchini, squash and black olives are my top picks) coated in a zesty Italian dressing.
For frugal summer meals, I serve the chicken pasta salad cold – but it can just as easily be served as a hot dinner.
While 'frugal chicken' may seem like an anomaly these days (the prices for chicken are skyrocketing!), I make this dinner on a budget by purchasing chicken in bulk or buying a whole chicken (then cook it and freeze the meat for different meals throughout the week).
#11 Beef Stew Heavy on Veggie Cheap Dinner Options
While I have drastically reduced my meat intake as I have become more frugal, sometimes I just want a good meaty meal. The good news is that there are plenty of frugal dinner meals with meat…and my beef stew is one of them!
The trick to using beef in frugal food recipes is to halve the amount of meat and double the quantity of vegetables. So, in a beef stew recipe that calls for two pounds of meat, I will only use one pound (or sometimes only half a pound). Then, I 'beef up' the cheap dinner recipe with potatoes, carrots and even beans.
I also buy cheap beef when it is on sale as a Manager's Special – which is one of the many tips I share in my Groceries on a Budget blog post.
#12 Pork Chop and Roasted Veg Sheet Pan for a Frugal Dinner that Passes as Fancy
So, let's say that you are throwing a frugal dinner party. What do you serve? While casseroles and stews are good cheap dinner options, you can impress your guests with a classic – and beautifully plated – pork chop and roasted vegetable feast.
Combining pork chops, green beans and new potatoes on a sheet pan yields a quick, easy dinner that doesn't cost a fortune.
While we don't regularly make this meal in my house, it is something we make on occasion and can be served to guests or as a cheap date night or Sunday dinner. And, if you buy pork chops when they are on super sale, it can be a very inexpensive and easy-to-make meal.
Find more tips for budget eating in my blog post, Tips for Frugal Cooking!
Budgeting Frugal Dinners
Hopefully, my ideas for frugal dinners has set your wheels in motion regarding the kinds of cheap meals you can make at home. In some ways, it is as simple as know what – and what not – to put on your grocery list.
One of the keys to staying on budget for dinner is to have a monthly budget for all of your expenditures. When I was attaining a more frugal lifestyle, I know that budgeting certainly helped me!
When you subscribe to my blog, I give you a FREE printable budget worksheet to help you get started.
A physical budget is just one step in the process. It also helps to stay organized with meal planning, grocery lists and favorite recipes – and I offer a Meal Planner Kit of templates at an affordable price. That said, the contents of the Meal Kit are also included in my 18-piece Budget Planner Kit that includes everything you need to set you goals, create your budget and track our expenses and savings, which is priced at the best value. And come Christmastime, be sure you're prepared with my Best Holiday Meals on a Budget!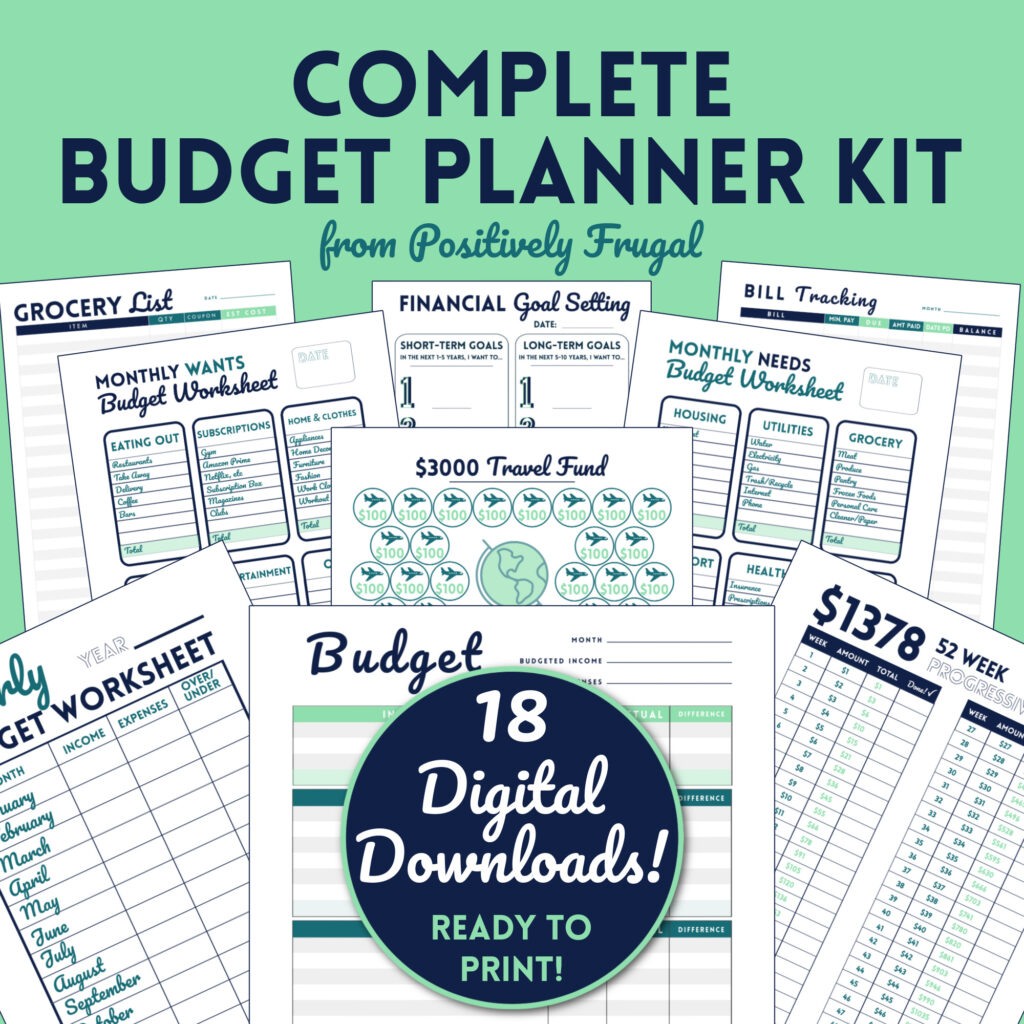 Interested in more of my Frugal Food Tips? I round them all up (including my favorite Frugal Snacks) on my Frugal Food blog page!
We Want To Know: Are you a frugal foodie? What are your favorite cheap, easy dinners? Tell us in the comments!