Some of the links on this site are Affiliate Links and if you use them to make a purchase, we may earn a commission. For more information, read our Disclosure Policy.
Frugal meal planning can be a real chore…but, I promise, it doesn't have to be! In fact, once you get the hang of planning frugal meals, it will save you time, stress and money.
When I decided to tackle frugal eating as part of my overall money goals, I felt like a fish out of water. I was all over the place and – on a few occasions – I literally flipped out (once at the grocery store where it all felt just too overwhelming and so I abandoned my half-full cart in aisle 6 and left).
After taking a few wrong turns and more than a few deep breaths, I created a realistic meal budget. With that as my guide, I sought out frugal food recipes. I ditched the very cheap meals from my college days (I honestly couldn't stomach the idea of endless meals of processed foods from cardboard boxes!) and found healthy frugal meals that were easy to make.
My attempts at frugal meal planning aimed for the trifecta: Cheap, Easy and Healthy.
However, it became clear that coming up with frugal meal ideas that were tasty and filling was equally important. I wasn't an overnight success, but through trial and error, I discovered the incredible benefits of frugal menu planning. To help you avoid the mistakes I made and get ahead of the game, I'm sharing my top tips on how to create a frugal weekly meal plan.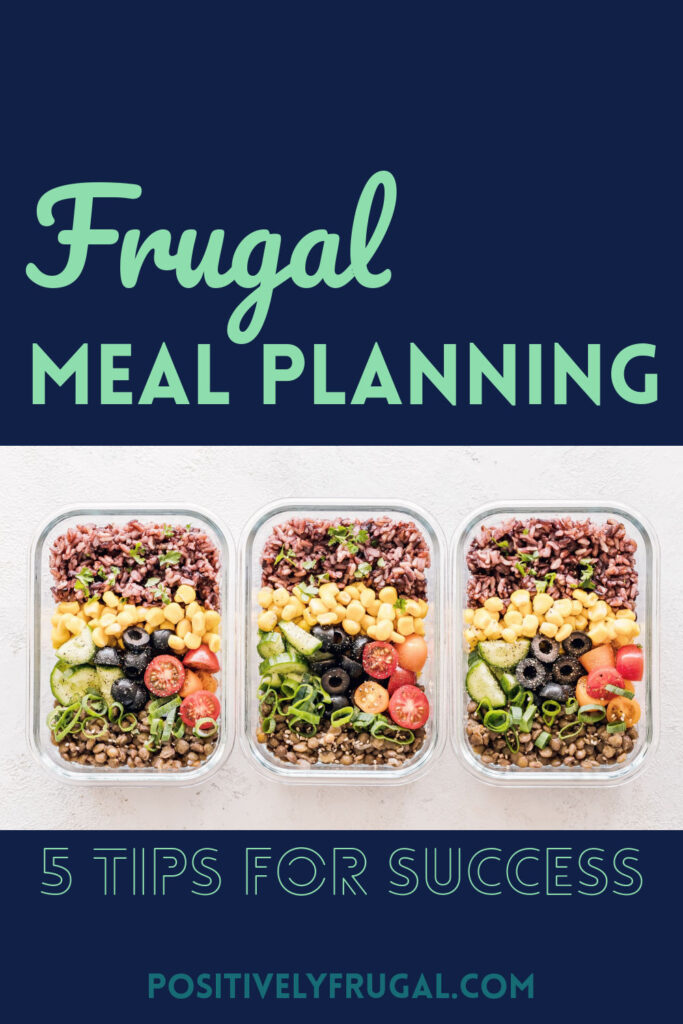 Frugal Meal Planning: 5 Tips for Success
Frugal healthy meal planning is an excellent way to save time and money…but it takes a little work upfront to get into the routine before you make frugal menu planning a habit. Using my tips, however, you will move one step in the right direction to making a weekly meal plan on a tight budget.
I should note that I do frugal meal planning for two – me and my husband, Kris. That said, my tips can be used to assist you with your frugal meals for 1 or frugal meal plans for a family; the principles are the same regardless of the number of people you are feeding.
Pro Tip: Before you jump into creating a meal plan, it is best to devise a realistic frugal food budget that suits your overall financial goals. If you need help getting started with your budget, take a look at my blog post, How To Make a Budget.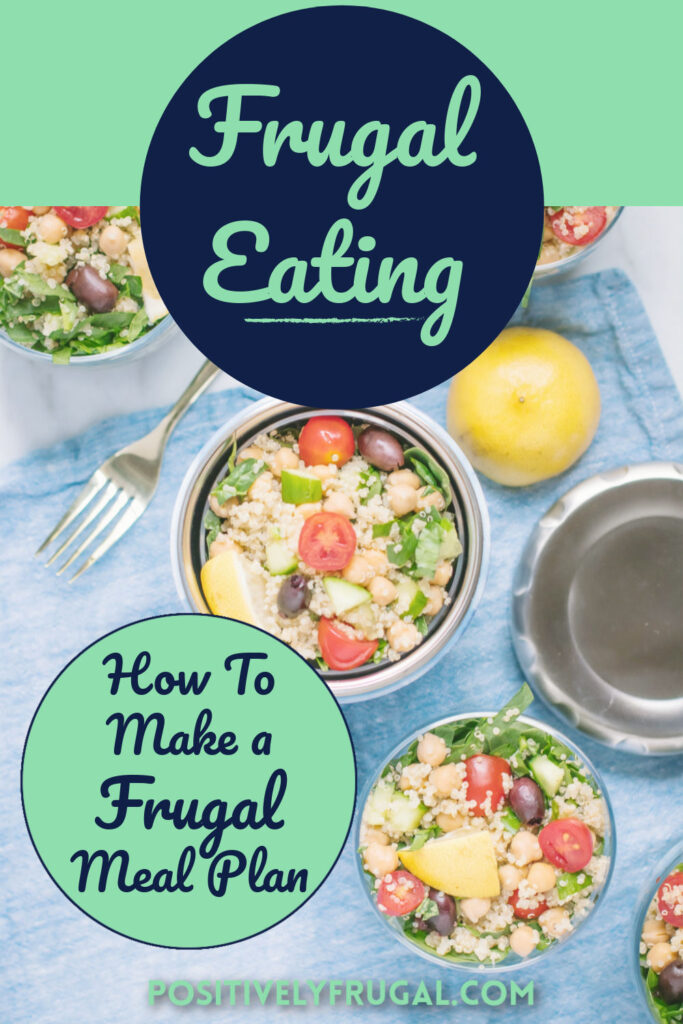 #1 Make It Easy
The biggest mistake I ever made with my frugal meal plans was making it too complicated. Rather than streamlining the process of my frugal healthy meal plan, I was trying to make new dishes every day. Furthermore, my frugal meal recipes were complex and time consuming.
Once I throttled back and focused on easy frugal meals (rather than gourmet undertakings) and started recirculating the same frugal meal planning ideas (instead of coming up with fresh ideas weekly), it became much easier to create a healthy meal plan on a tight budget.
Pro Tip: For more detailed tips on making frugal easy meals, take a look at my blog post, Frugal Cooking Tips!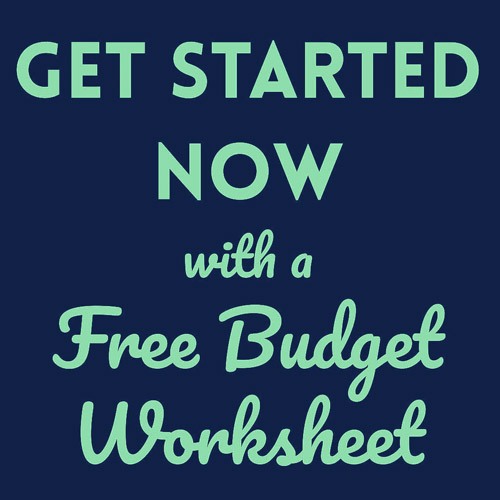 #2 Write It Down
If you want to follow a frugal meal plan, it is imperative that you write it down. Don't try it the way I used to and attempt to keep it all organized in your head. Trust me, you will lose track of what meals you planned to make, forget to take something out of the freezer and end up picking up take out or ordering delivery.
On my frugal menu plan, I write down what we will eat for three meals a day for an entire week. Writing it down on a piece of paper will work, but for better organization, you might want to use a template – like the one I created here – for your frugal meal planning menu.
In addition to the super frugal meals that I scribble down on my calendar, I also notate what needs to be taken out of the freezer or prepped a day in advance.
After completing your weekly calendar with cheap, frugal meals, you also need to complete a grocery store list. Use my Grocery Shopping Tips and my advice for a Frugal Grocery List.
Pro Tip: Looking for a little inspiration for ideas for meals on a tight budget? Use my ideas for cheap breakfasts, budget lunches and frugal dinners.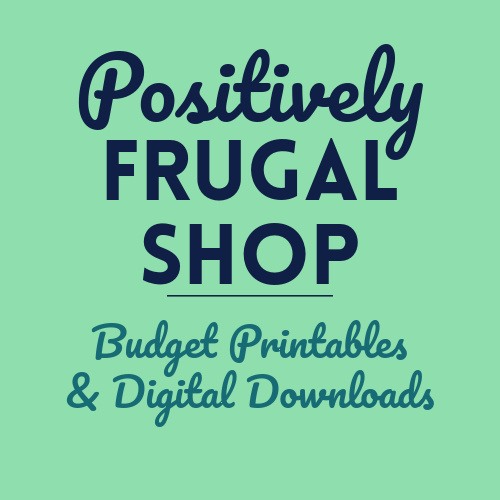 #3 Establish a Frugal Meal Prep Plan
Coming up with frugal menu planning ideas and going grocery shopping is only half the battle. Now, you need to turn your frugal menu ideas into reality…and the best way to do that is with frugal meal prep.
One day a week, dedicate a few hours to prepping your meal plan. Wash what can be washed, chop what can be chopped and cook what can be cooked. With a little frugal prepping in advance, you are much more likely to stick to eating your frugal meals for the week.
Pro Tip: Weekends are a great time for slicing and dicing and making frugal freezer meals ahead of time. Relax, not your whole weekend, just carve out a few hours on a Saturday or Sunday – and your weekday meals will be a breeze!
#4 Get Everyone Involved
Frugal meal planning is so much easier when everyone is on board and pitching in – and not just with frugal meal prep plans, but with the entire process. This is especially true for a frugal family meal plan (like a Budget Christmas Dinner); the heavy lifting cannot be left to one person.
While I take charge of cooking for two on a tight budget, Kris takes on the cleaning chores and we meal prep and plan our menu together. When we work together, we ensure that we are on the same page, creating meals we both like and are working collectively toward the same goal.
Pro Tip: Making a frugal meal plan for one? Don't go at it alone. Find a friend or relative and do your frugal meal planning together! If you can't find anyone to support you in your frugality, then hop on our Facebook Page to find fellow like-minded friends.
#5 Make a List of Your Favorites
For a long time, I failed miserably at keeping track of our favorite frugal healthy meals…and we paid for this oversight time and time again.
When it came time to make our weekly meal plan, we would be stumped. It would take an embarrassingly excessive amount of time to come up with 21 meals that we could eat for the week – and we all know that time is money!
Finally, like in a cartoon where the lightbulb pops out of the characters head, we came up with the idea to write down the cheap meals and frugal appetizers that we liked. Now, our weekly frugal meal planning session is simple and streamlined. We have hundreds of recipes packed with protein that we can choose from – and if we stumble across a new recipe or come up with a new idea, we add it to the list.
Just like writing down your weekly meal plan to stay organized, you should also keep track of favorite budget meals. Trust me, it will save you time down the road!
Pro Tip: In my affordable Frugal Food Planner Kit, I include templates for a Weekly Meal Plan Calendar, a Grocery List and Favorite Frugal Recipe Cards – all of which are geared toward helping you succeed! Find all of my helpful and affordable templates on my Shop page.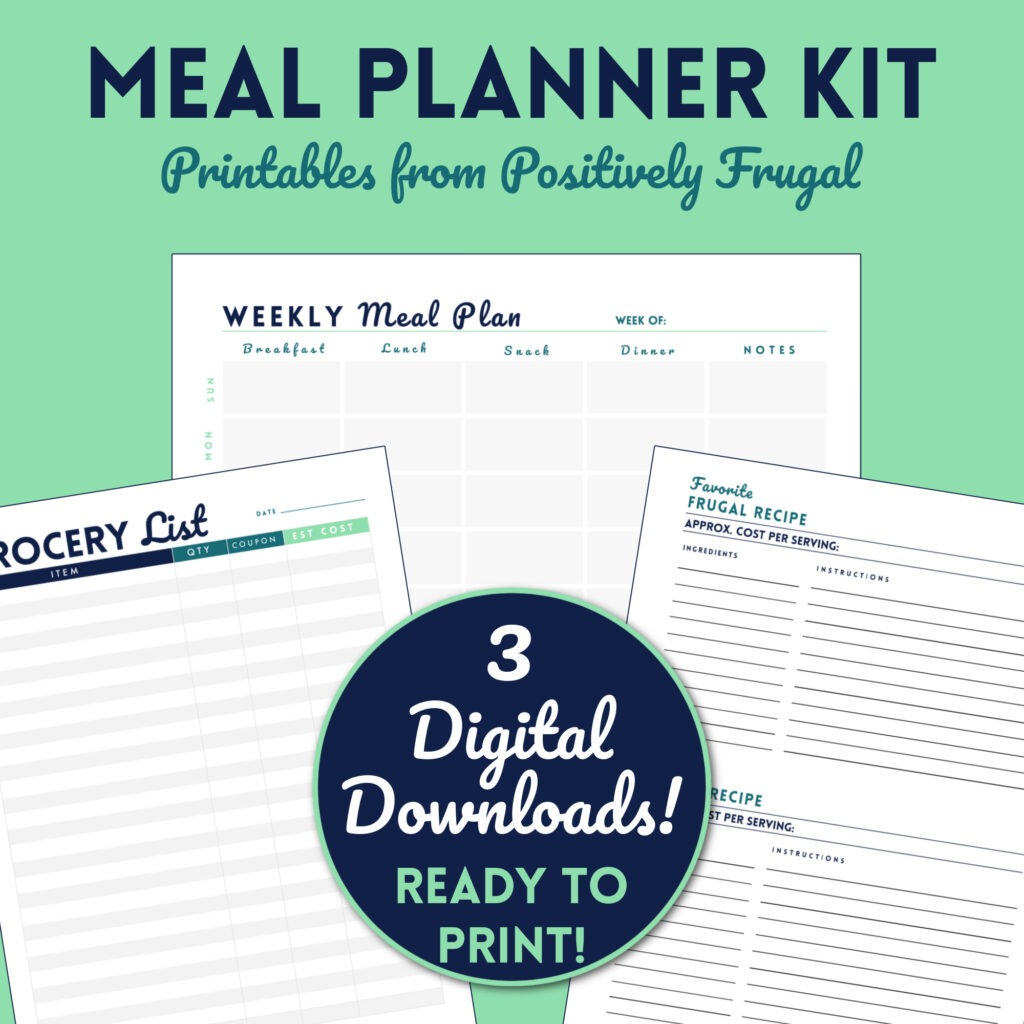 Challenge Yourself to Eat More Frugally
Making – and sticking to – a meal plan is a great way to challenge yourself to be more frugal with your food. However, if you need more inspiration to cut down your food bill, I have a few ideas.
Join a Challenge
I know that I am more motivated to accomplish a goal when I'm tasked with a big challenge. My $5 Frugal Food Challenge will test just how frugal you can be with food!

Set Your Weekly Spending
One way to challenge yourself to lowering your food budget is to set your weekly food expenditures to a specific amount. Make it a contest each week to see if you can go even lower. To get an idea of what a low-budget meal plan looks like, use my $50 Grocery List and Meal Plan blog post!

Interested in more of my Frugal Food Tips? I round them all up (including my favorite Frugal Snacks) on my Frugal Food blog page!
We Want To Know: What are your best tips for frugal meal planning? How do you feel about using a Grocery Delivery service? Share your fugal living advice in the comments below!