Some of the links on this site are Affiliate Links and if you use them to make a purchase, we may earn a commission. For more information, read our Disclosure Policy.
Achieving your money goals is not easy; in fact, it can be one of the most formidable tasks you face during your path to a frugal life.
Finding success in smart money goals takes patience, perseverance, and practice. But the payoff is well worth it! To help you stay motivated in attaining your monetary goals, I have rounded up my five best tips for saving money and achieving success with your spending.
Money Goals Examples
Before we get into tips for your financial goals, let's go over some examples of money goals. Money goals come in all shapes and sizes; there are long term financial goals and short term goals for money, too. Your personal finance money goals will depend on your unique monetary situation, but I'm highlighting a few of the most common goals for money.
Pay off credit cards and student loan debt
Establish a savings account and emergency fund
Improve your credit score and your financial literacy
Set up a retirement account and life insurance policy
How To Set Money Goals
Setting money goals is the first step to achieving a successful personal financial plan. Whether you want to learn how to save money for future goals or if your main money goal is to get out of credit card debt, setting up an actionable plan is the very first step.
If you want to learn more about how setting goals can help you manage your money, take a look at my Setting Financial Goals blog post.
Budgeting and Goal Setting
When it comes to budgeting, organizing your finances and setting money goals, the more detailed the better. You are also more likely to reach your goals and stick to your budget when you write them down. Some people use money journals – like this one – but it is likely more cost-effective to create your own Budget Binder.
You can start building your binder with my budget worksheet – it's FREE when you subscribe to my blog.
I also offer affordable templates – which can be used month-after-month and year-after-year. My Budget Bundle has everything you need to get started – but the Complete Budget Planner is a much better value!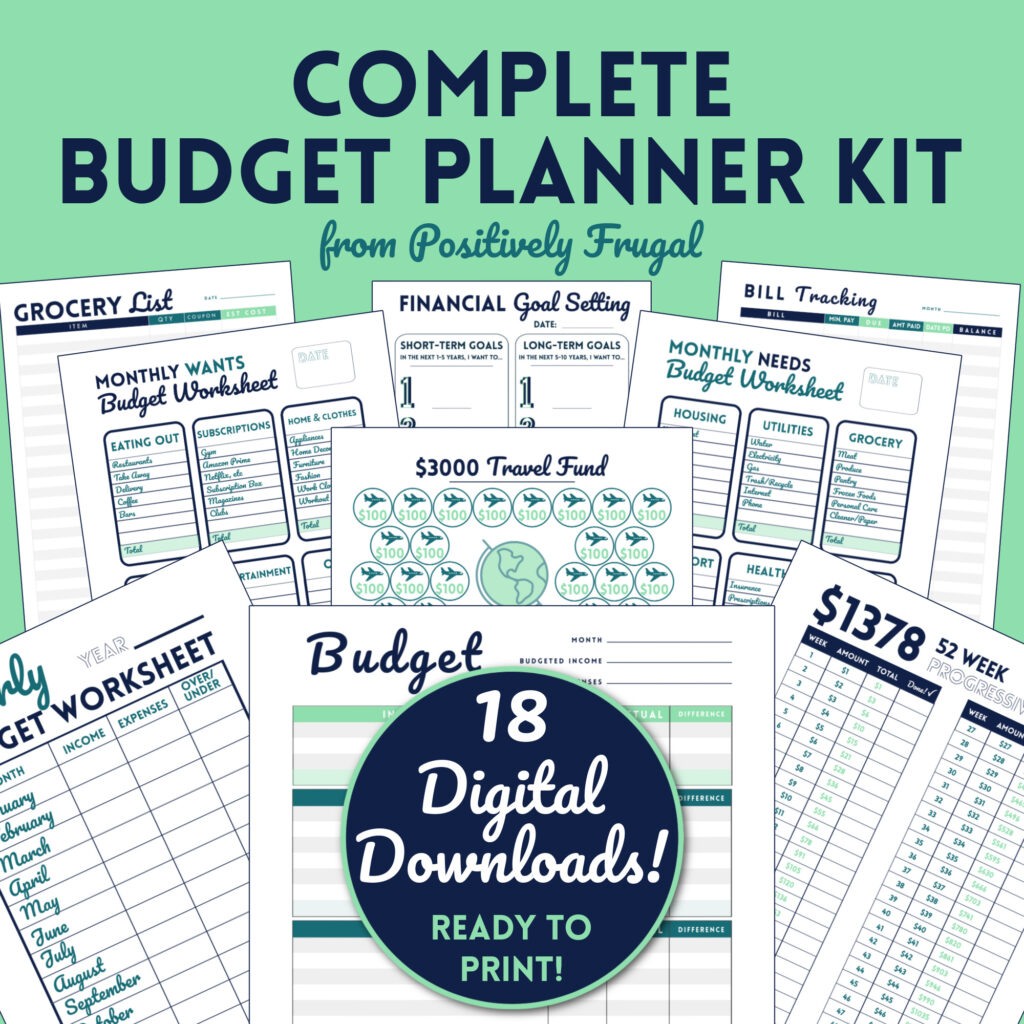 Top Tips to Help Ensure You Make Your Money Goals
After you establish a set of goals for spending, saving and investing money, then it is time to get to work – and it can be very hard work! As you strive to achieve your goals for saving money (or getting out of debt), you can use these tips to stay focused and mindful of your ultimate goal of living a frugal lifestyle.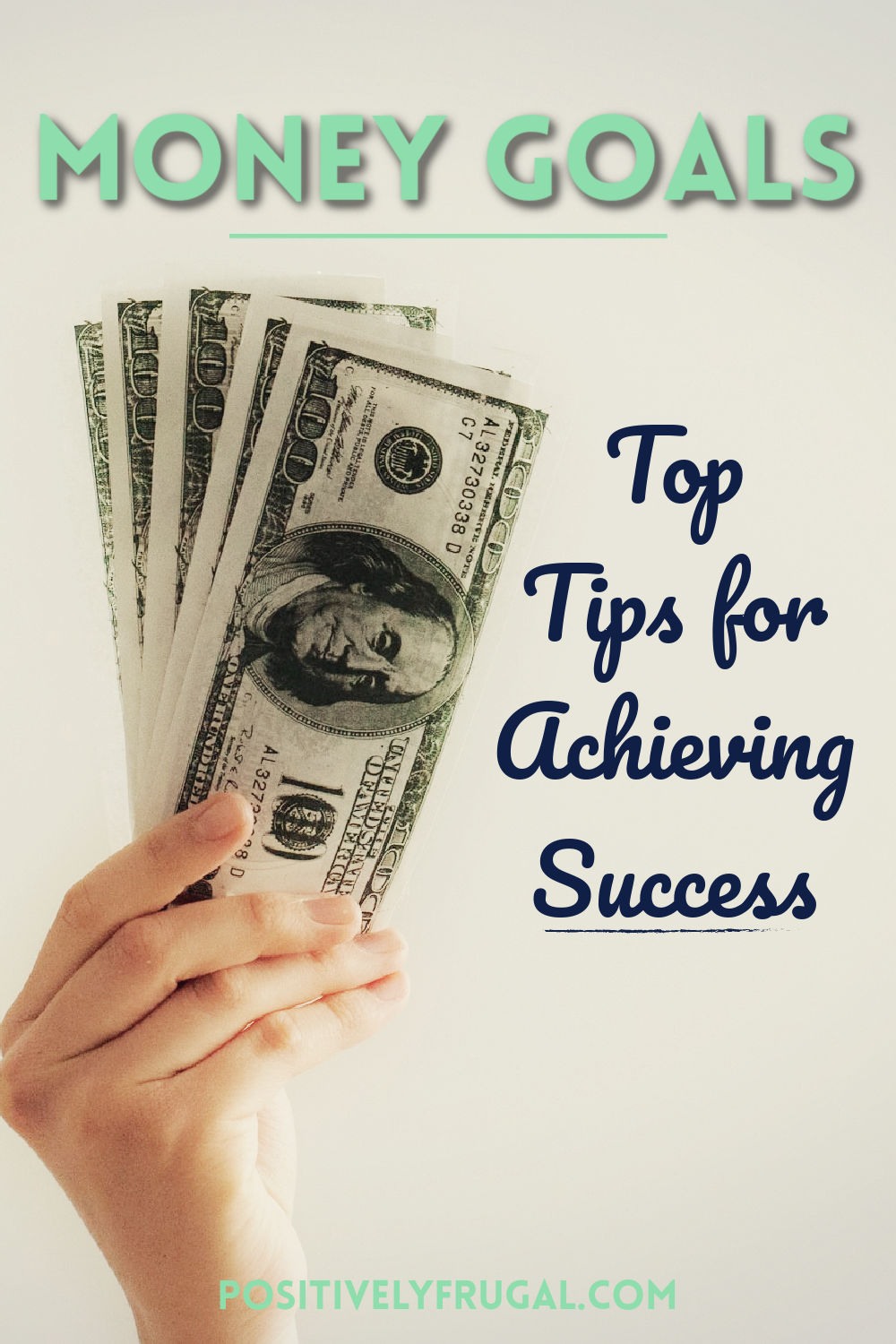 #1 Get To Know Yourself…and Get Out of Your Own Way
One of the biggest obstacles in meeting your money goals is yourself! Fortunately, with a little self-introspection and some positive affirmations, you can overcome being a hindrance to your financial goals.
When it comes to money habits, what are your biggest strengths? What are your weakest points? Do you consider yourself frugal or cheap (or both)? Be absolutely honest because cheating won't help you. Your relationship with money is vital to your success.
Play to Your Strengths and Weaknesses
Once you establish how your finance goals might be influenced by your strengths and weaknesses, let that guide your actions.
For instance, if you enjoy cooking at home and can save money by doing so, then create an epic meal plan that will keep you excited. Having a friend over for a homecooked frugal dinner – rather than eating out at a restaurant together – could be another way for you to pair your knack for cooking with savings. (Ask your guest to contribute to the meal with a bottle of wine or dessert!)
Your money weaknesses, however, can be more difficult to recognize and conquer – so you will need to practice a little more spending discipline.
For example, if weekend shopping sprees are a weakness, then don't allow yourself inside stores and find alternate activities to keep you busy. If online shopping is a struggle, then eliminate the temptations. Unsubscribe from emails, cancel that Amazon Prime subscription or remove your credit card from online stores so that it is more difficult to make that purchase.
Do what you need to do to get out of your own way (even if it means a period of extreme frugality) so that you can aim for your financial goals.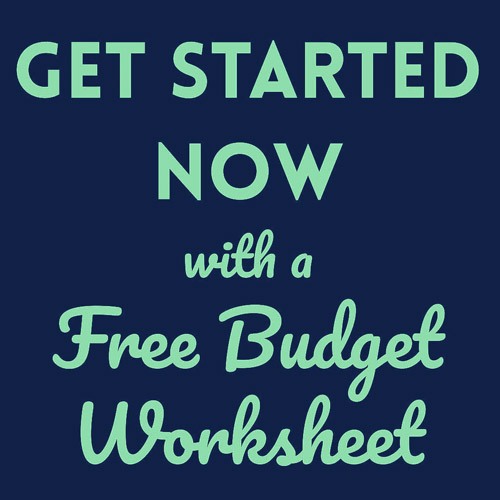 #2 Create Action Items for Your Get-Out-of-Debt and Save-Money Goals
Without a plan and clearly defined action items, attaining your money goals are almost impossible. For both your long-term and short-term monetary goals, you need to set actionable items for success.
You can't just proclaim that you want to save money and it magically happens. In your money plan, you need to know exactly where your money is coming from and where it is going to.
In order for you to learn how to save money for future goals, you will very likely need to alter some of your spending habits. I outline ways to do this in my blog post, How To Be Frugal. Your saving habits will likely also need some tweaking, and setting up a Sinking Fund is a great way to save! Learn even more in my Sinking Fund Categories blog post.
Budgeting
I have already covered the importance of budgeting – and while making a monthly budget is a good start, you need to be even more aggressive in your detailed budget plan.
If you decide to only allow yourself to spend $300 on groceries per month, what specific actions will you take to ensure you do not overspend? How will you challenge yourself to stay on target?
I recommend making a list of the things you will do, like buying items to create frugal lunches and affordable breakfasts, using coupons and buying only what is on your list (and I offer a lot more tips in my blog post, Groceries on a Budget!)
Make an Action List
Creating a list of actionable items that you can check off will likely help you reach your goal for money. Not only will it a provide a structure for accomplishing your goal and keep your goal top of mind, but it will also let you celebrate small wins along the way.
You will likely already have ideas of how to reach your money goal, but you can use my New Year Checklist for a bit of inspiration.
Get Help
In order to reach your goals, you might need a little help. Reading Beginner Finance Books can put you on a path that will help you reach your goal. You may also need help from a Certified Financial Planner to ensure you're on the right track with your long-term money goals.
#3 Use a Money Goal Tracker to Keep Your Saving Money Goals Top of Mind
When trying to achieve long-term and short-term money goals, you need to keep your eye on the prize!
Vision boards – a visual display of your goal – are a good way for how to stay motivated to save money. Simple Post-It notes placed around your home or office can provide additional inspiration. However, one of the best ways to track your savings is with a Money Goal Chart.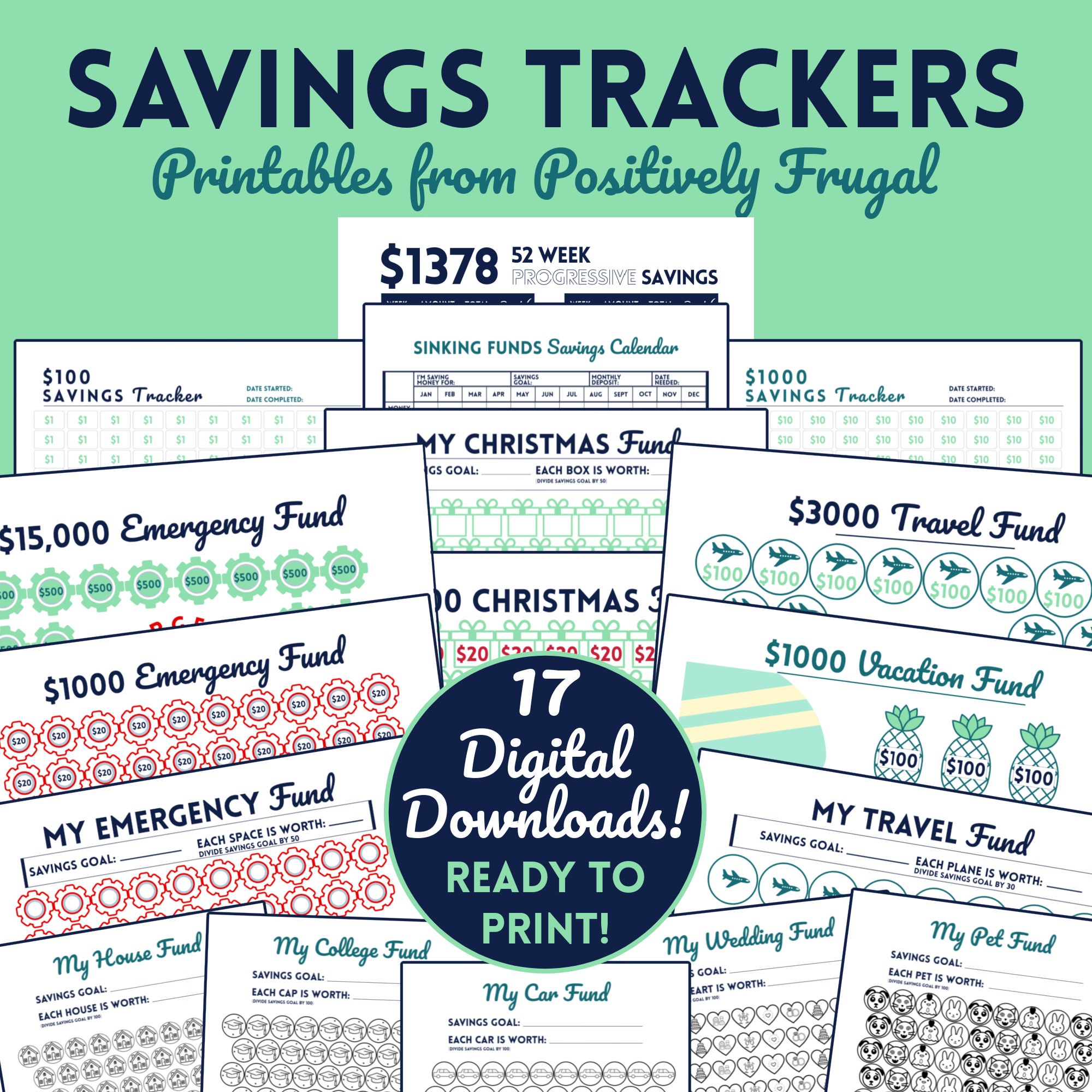 Apps for Saving Money Goals
If a Money Goals Tracker App is more your style, there are several to choose from. I am old school and like paper to track my money goals, so I don't have any personal insight on the best app to save money.
The reason I shy away from a money goal tracker online is that it is not tangible enough for me. A money goal app just feels a little too hands off for my personal liking.
That said, some of the top apps for money saving goals that get rave reviews are apps like Acorns, Digit and Mint.
#4 Celebrate Accomplishments of Your Money Saving Goals
The journey to reaching your money goal will likely be a long and arduous road, so it is best to sprinkle the route with celebrations of your frugal accomplishments along the way! The little wins will help to keep you focused on the final frugal prize.
When you make smart goals for saving money – including your long-term money goal and smaller, short-term money goals – there are plenty of accomplishments to be celebrated.
When you reach your short-term money goals, it definitely deserves recognition – while accomplishing your long-term goal for money might be reason for an all-out frugal fest!
Additionally, developing any new quantifiable money habits are reason to get excited and celebrate. For example, if online shopping is your downfall, mark celebrations for a week of no online purchases – and another celebration for an entire month of no shopping online.
These celebrations do not need to be anything major – and they should not be costly – so check out my list of Frugal Hobbies for some ideas. Furthermore, they should not undo any new spending habits that are propelling you toward success. (So, don't reward yourself for no online shopping by buying something online!)
Read my tips for Cheap Rewards!
How you celebrate is up to you. It could be a simple acknowledgement of your achievement, a special outing or meal or an extra long bubble bath. The point is that you build your celebrations into your savings plan.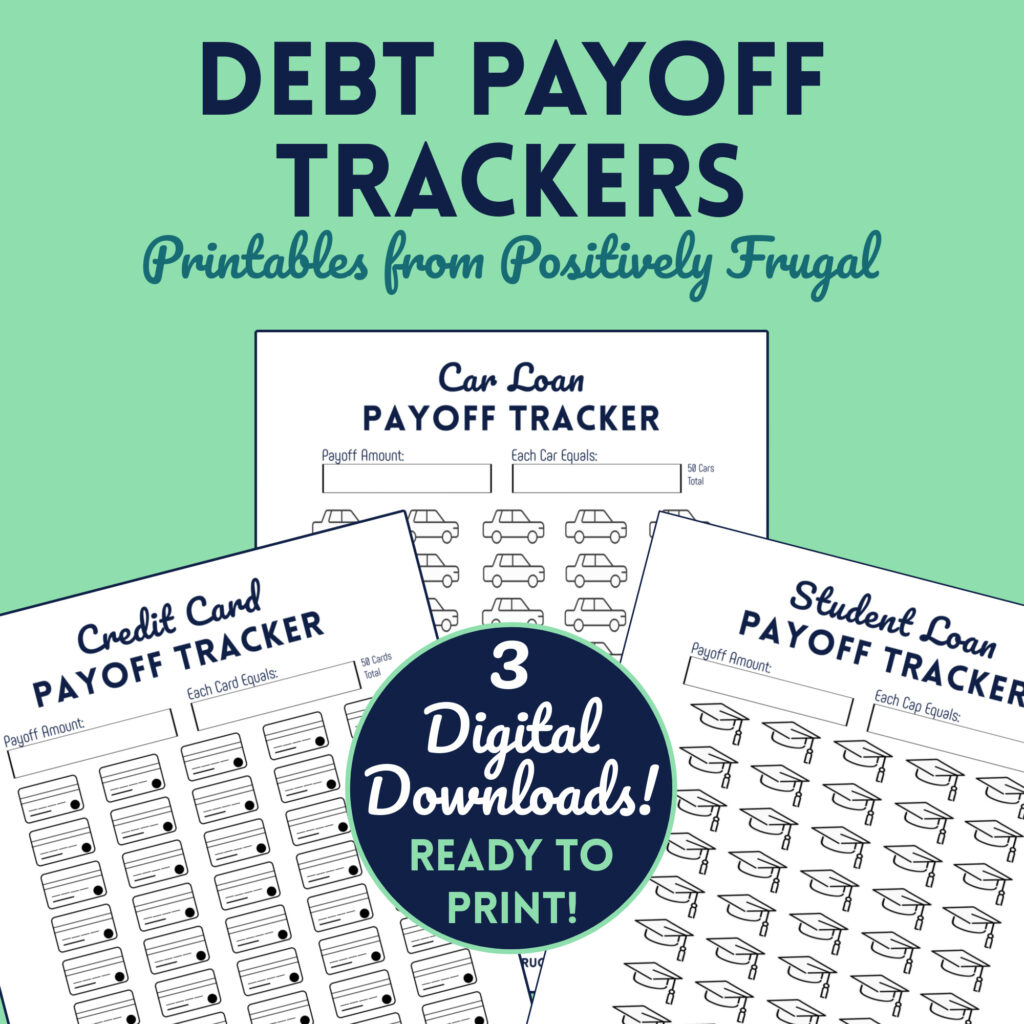 #5 Take On Your Monetary Goals Like a Challenge
Your mindset is a key factor when it comes to succeeding at your money goals. You need a positive approach and a winning attitude to help drive you to your ultimate financial goal.
Taking on your money goals with a lackluster outlook or allowing yourself to feel as if your budget plan is caging you in will only make reaching your financial goal that much more difficult – or possibly keep you from attaining your frugal life all together.
I like to think of money goals as a challenging game – and I want to win; I need to win. In fact, there is no other outcome besides my success.
If you want to know how to motivate yourself to save money, let there be no other option than success.
Adopt a fierce financial attitude – one you can build excitement and momentum around – and take on the challenge to win the contest to a frugal lifestyle.
---
Are you ready to take on a challenge right now? Join my $5 Frugal Food Challenge and learn how you can save a bundle on your food expenses!


Interested in more of my Budget and Goal Tips? I round them all up on the Budget blog page!
We Want To Know: Have you set money goals? How were you able to achieve them? What Frugal Habits Haven't Worked for you? Tell us in the comments!