Some of the links on this site are Affiliate Links and if you use them to make a purchase, we may earn a commission. For more information, read our Disclosure Policy.
Mornings. Love 'em or hate 'em, they keep coming around. I happen to like mornings. I find I'm most productive early in the day, but only if I stay focused and energized. To make sure I get off on the right foot, I always start my day with an easy, healthy, and cheap breakfast. While oatmeal is my go-to affordable breakfast, I have a rotating list of cheap breakfast ideas, so I'm never left in a lurch.
Cheap Breakfast Ideas
The last thing I need early in the morning is to clutter my mind with complicated decisions about what to eat. Being Frugal can muddle the matter if you don't have a solid meal plan that aligns with your Money Goals. Couple that with a health kick and what to eat for breakfast can become a full-on conundrum.
If I wasn't frugal or nutritionally conscious, a cheap, healthy breakfast would get pushed aside – as would the positive start to my day.
To stay on track, I make a cheap, protein-rich and healthy breakfast at home. And, guess what? The cheap breakfast food I make is not only healthy, but it also tastes delicious!
Challenge Yourself to Eat for Less
I used to think that eating cheaply was impossible, but I challenged myself to lower my food expenditures…and it paid off! Finding affordable breakfast recipes are just one way to spend less on food – but I also share tips on Frugal Lunches and Cheap Dinners.
Do you really want to challenge yourself to saving money on food? Join my $5 Food Challenge and learn how to spend less on your food budget!

My Favorite Frugal Breakfast Ideas
Breakfast on a budget doesn't have to be boring! My cheap breakfast recipes are versatile – and, in fact, should be adapted to seasonal items.
Hopefully, my cheap and easy breakfast ideas will help eliminate your early morning hassle and temptation to eat out so that you get a good start to your day without sacrificing your financial goals.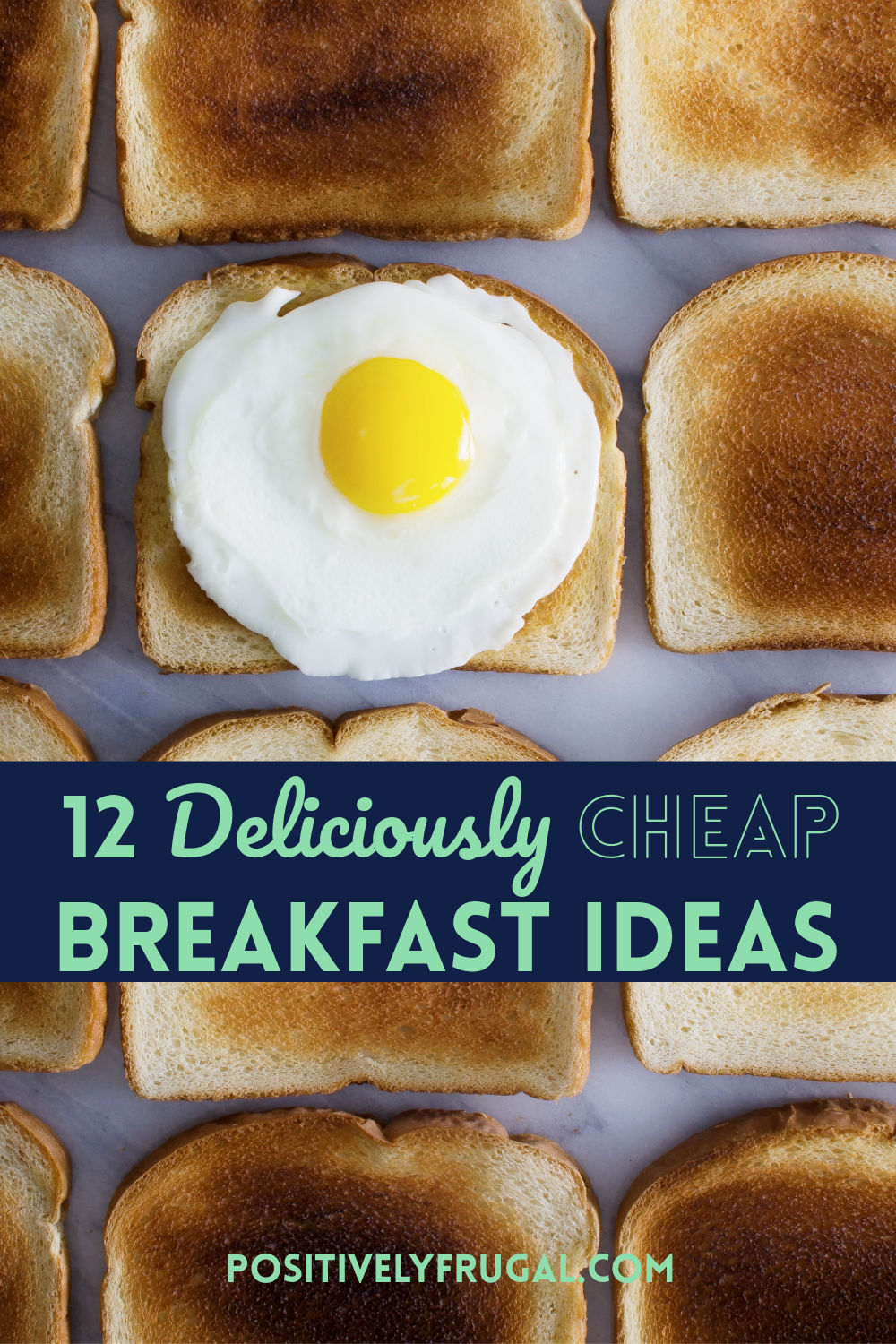 #1 Oatmeal for a Healthy Cheap Breakfast
Hands down, my favorite cheap breakfast is oatmeal. To be honest though, that wasn't always true. In fact, I used to loathe oatmeal. However, in my quest to find cheap and healthy breakfast options, I couldn't ignore it. When I finally figured out how to make oats that weren't mushy, it started rising in the ranks of my cheap breakfast options.
If you are like me and dislike the consistency of typical oatmeal, then I have a few words of advice. First, use less water; I use a 1:1 ratio of oats to water, rather than the usual 1:2 formula.
Second, skip the instant and pre-packaged oatmeal and instead use old fashioned whole grain oats. Not only are they cheaper, but they also don't have additives…and they taste better, to boot!
Lastly, find a flavorful – yet nutritious – combination of toppings that will add crunch and flavor. I like apples and a dash of cinnamon, but I adjust to whatever is in season.
Toppings and spices are a fantastic way to enhance cheap breakfasts – find out more ways to Jazz Up Your Frugal Foods!
If your mornings are rushed trying to get everyone out of the door on time, consider making overnight oats in a slow cooker. It's one of the best cheap breakfast ideas for family on the go!
#2 Hard-Boiled Egg for the Cheapest Healthy Breakfast
Hard boiled eggs are one of the cheapest breakfast ideas – and they are easy to make ahead of time, too. When I'm on a hard-boiled egg breakfast kick, I will boil a half dozen eggs at once – so all I need to do in the morning is grab it from the fridge, peel it and eat! Cheap egg meals don't get much more frugal than that! (Plus, it's probably the simplest meal prep ever!)
To make it a healthy breakfast on a budget, you can add a piece of whole fruit, like an inexpensive banana or half an apple. If you need a bigger breakfast, chop up the egg and mix it with a dab of Greek yogurt or mustard and smear it onto an English muffin or piece of toast to make a cheap breakfast sandwich.
#3 Smoothie: Cheap Healthy Breakfast Recipes
It was when my husband and I spent a summer in Southeast Asia that I adopted fruit smoothies as my inexpensive breakfast of choice. Actually, in addition to them being a quick, cheap breakfast, we sometimes ate them for Frugal Lunch as well.
In the hot weather, I simply wanted something refreshing – and smoothies hit the spot. There are numerous cheap, healthy breakfast recipes for smoothies, but my preference was making blended drinks with frozen fruit, fresh herbs and water. To make a cheap high-protein breakfast, you can add peanut butter, milk or non-fat Greek yogurt.
The trick to making this a cheap and easy breakfast is to buy fruit when it is in season and on sale – and look for grocery specials when fruit is about to expire. These ripe fruits are perfect for cutting up and freezing (in silicone bags like these) – so all you need to do is empty it into a blender, give it a mix and drink. Pour it into a smoothie tumbler and you have a cheap breakfast on the go!
Find out what accessories I think are necessary for a Frugal Minimal Kitchen!
#4 Egg Burrito: Cheap Easy Breakfast Ideas
Burritos are my weakness…and egg burritos are a fabulous easy, cheap breakfast. Perhaps not as nutritious as my other cheap and healthy breakfast ideas, egg burritos don't have to be unhealthy, either.
For my cheap and easy breakfast burritos, I use a taco-size tortilla (rather than the large burrito-size) and fill it with one scrambled egg and a sprinkle of cheese – and maybe a little bit of salsa, too. When I'm really feeling motivated to make healthier meals, I wrap the scrambled eggs in whole grain tortillas rather than flour.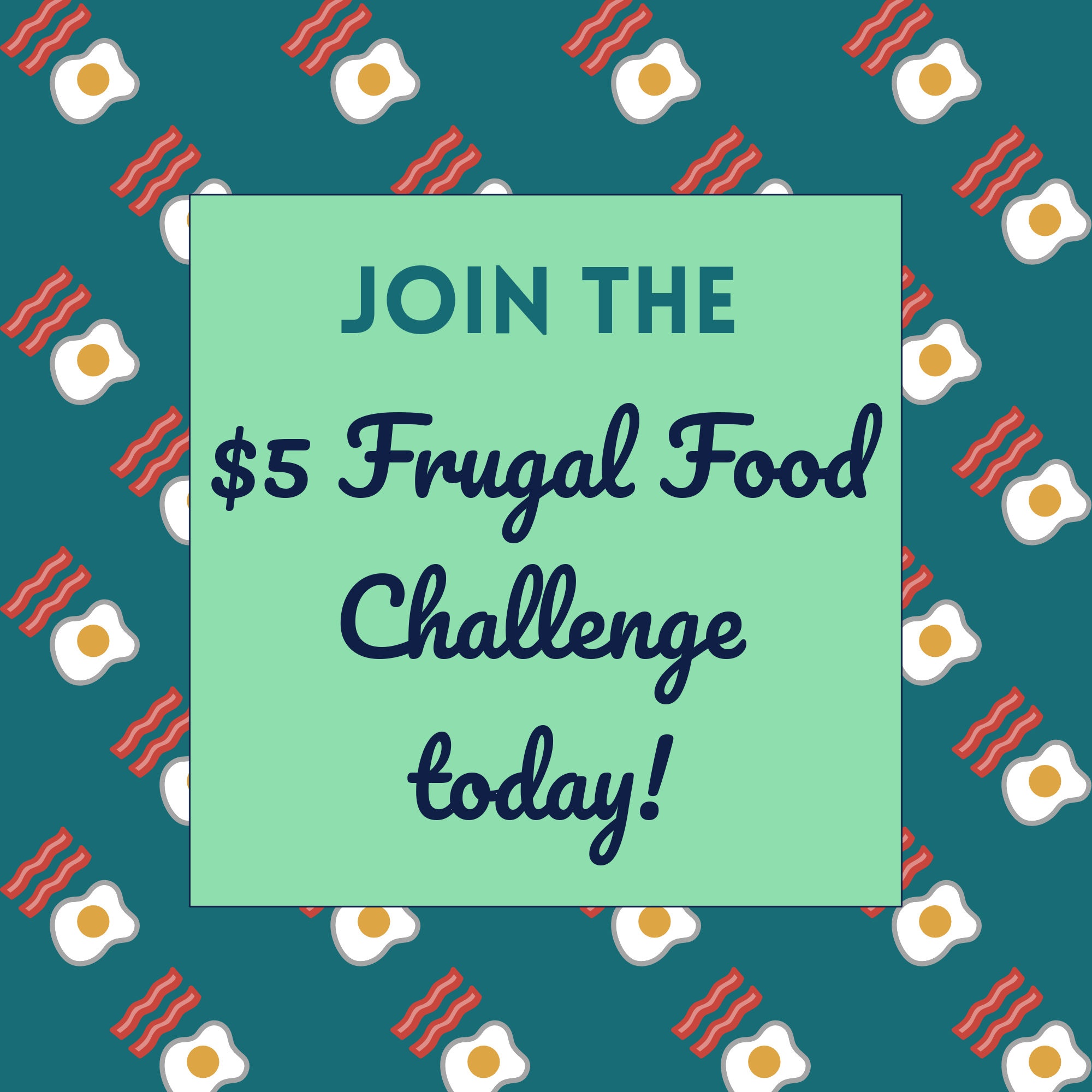 #5 Avocado Toast for a Cheap Healthy Breakfast
Okay, I know, avocados are expensive. However, when they are in season (which is the only time I buy them!) they are less expensive…and, then, avocado toast ticks all the boxes for a cheap, easy, healthy breakfast.
Simply toast the bread, smash the avocado onto the toast, sprinkle with a dash of salt and pepper and you've got a low-budget breakfast.
Avocado smashed toast is just one of many affordable avocado breakfast ideas! You can find more avocado inspiration for your morning meal here.
#6 Homemade Breakfast Sandwiches for Cheap Breakfast Foods
Satisfying breakfast sandwiches are another one of my favorite cheap meals with eggs (which I also highlight in my top 5 Frugal Meals). A cheap, easy breakfast, I can whip up a fried egg sandwich in about five minutes.
To make mornings even easier, you can even make cheap breakfast sandwiches ahead of time and freeze them. With a stash in the freezer, you won't be tempted to hit the drive through (and pay more money for a less healthy meal!) on your way to work.
Frozen sandwiches are also one of the best cheap breakfast ideas for students – they can just grab, heat and go!
#7 Plain Yogurt with Fresh Fruit: A Healthy Breakfast Cheap
A yogurt and fruit parfait is a classic cheap, easy breakfast that is simple to concoct and serves as a balanced meal. To keep costs in check, I buy an economy-size yogurt – rather than the individual cups. To keep it healthy, I buy plain Greek yogurt (which I also use as a healthy sour cream substitution in my frugal dinners) instead of flavored yogurts, which are laden with added sugars.
Before I put yogurt on my breakfast grocery list, I make sure there are fruits on sale that I can use to sweeten my yogurt. Because Greek yogurt is bitter, sweet fruit – like berries, peaches and grapes – help to make it palatable. Therefore, to save money, we usually make this meal in the summertime when sweet fresh produce is in season.
Find out what should – and shouldn't be on your Budget Grocery List!
#8 Hummus on Toast for Cheap Healthy Breakfasts
Rich in fiber and protein, hummus toast is a winning way to start your day. With a great variety of topping combinations, hummus toast ranks as one of the best cheap, healthy breakfast ideas (or can even be a great frugal appetizer!).
The main ingredient in these cheap, healthy breakfast meals is the hummus. While you can buy pre-made hummus, it is much cheaper and healthier to make your own. (I recommend skipping the Tahini, as it will drive up the price of this cheap, easy breakfast recipe.)
As far as toppings go, you can keep it simple or get creative. Some of the best hummus toast inexpensive breakfast ideas are sliced tomatoes, shredded carrot, or everything bagel seasoning.
#9 Homemade Granola Bars: A Cheap Morning Breakfast
Granola bars have long been known as one of the best cheap breakfast ideas on-the-go. I used to keep a few bars tucked away in a drawer at the office and in the glove box of my car – just in case! By having the low-budget breakfast on hand for emergencies, I was less likely to succumb to rolling through a drive-through.
That said, while store-bought granola bars are healthy, cheap breakfast ideas, they are not as nutritious or as affordable as making your own. There are a multitude of homemade granola bar recipes – and I would recommend you find one that has simple, inexpensive ingredients (otherwise, your budget breakfasts can get pricey!).
Looking for cheap and easy breakfast potluck ideas? Homemade granola bar recipes yield several servings, so they are a great easy, cheap breakfast for a crowd. If you are just making them for yourself, I recommend keeping some in the freezer.
#10 Healthy Homemade Bran Muffins for a Cheap Good Breakfast
Bran muffins are fabulous healthy budget breakfast ideas…but only when you make them yourself. Most bakery bran muffins are packed with sugars – and many easy, cheap breakfast recipes for bran muffins call for a ridiculous amount of sugar and other unhealthy ingredients.
The good news is that there are several healthy bran muffin recipes and they are easy to make. I like this bran muffin recipe, which yield a dozen muffins – making them a quick, cheap, healthy breakfast for hectic weekdays when you make them ahead of time.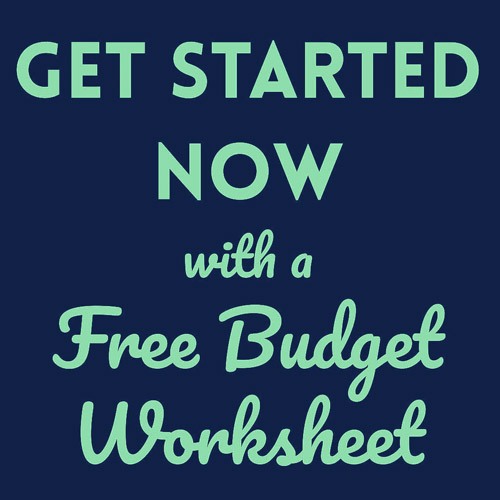 #11 Ants On A Log for a Fun Low Cost Breakfast
Ants on a Log is one of the cheap breakfast meals I ate as a child. The cheap breakfast for kids (and adults…I still eat it!) is quite simple: Banana slathered with peanut butter and topped with raisins.
To make it, slice the banana lengthwise and place cut side down on a plate. Spread peanut butter on the top of the banana and then top with raisins, dried cranberries, or any other dried fruit. There are so many choices when it comes to this cheap, healthy breakfast option.
Other easy and cheap breakfast ideas like this one are to use apples instead of bananas or cashew butter instead of peanut butter.
#12 Bagel and Cream Cheese for Quick Cheap Breakfast Ideas
Long known as one of the cheap breakfast ideas for work, bagels and cream cheese are a classic breakfast favorite. That said, buying fresh bagels from the bakery can get pricey. Instead, you buy bagged bagels (typically around 50 cents a bagel) or make your own bagels for even less.
Instead of buying name brand cream cheese, I just buy the store brand. To add some essential start-of-the-day nutrients, I top the cream cheese bagel with thin slices of cucumber and tomato. It's a healthy and cheap breakfast that I absolutely love!
---
BONUS: Leftovers for Cheap, Easy Breakfast Ideas
One of the best budget-friendly breakfast ideas is leftovers…as in last night's dinner! While this is not the most popular of my easy, cheap breakfast ideas, it is certainly a quick and easy option.
I love leftovers, so in my meal planning, I strive to make meals that will yield enough portions for multiple meals. However, sometimes I end up with a smaller, single portion – which is perfect for breakfast! It doesn't matter if it is a hearty chili or chicken salad, last night's leftovers can be healthy breakfast ideas on a budget.
On Budget with Frugal Breakfasts
Preparing frugal breakfast meals starts with purchasing affordable food items from the grocery store. You can use my tips for buying Groceries on a Budget for ways to tame your food expenditures.
For more general food budget tips, read my tips for Frugal Cooking!
However, to really stay on target, you should create a monthly budget and track your spending. I have created affordable Budget Printable Templates that are specifically designed to help you succeed!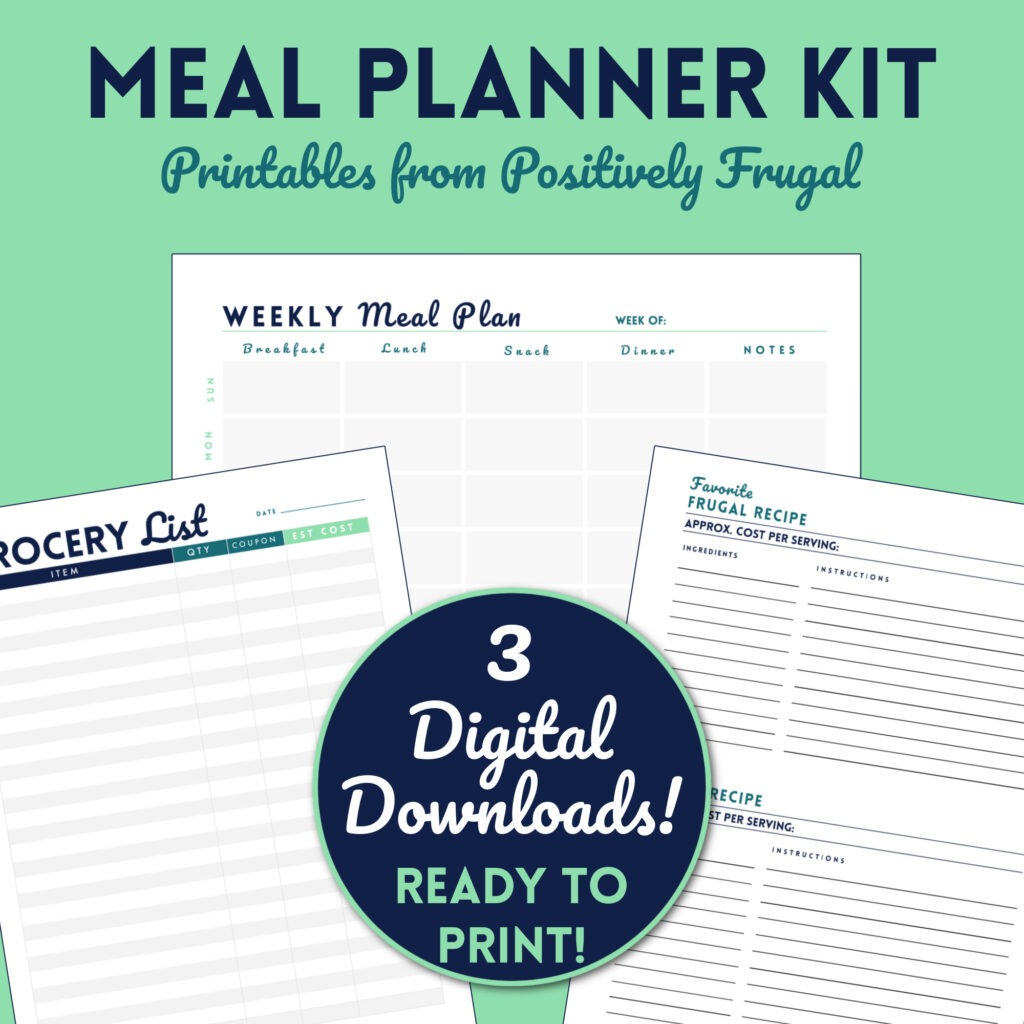 Interested in more of my Frugal Food Tips? I round them all up (including my favorite Frugal Snacks) on my Frugal Food blog page!
We Want To Know: What are your favorite affordable breakfast ideas? Do you have any cheap and easy breakfast recipes? Share them in the comments below!