Some of the links on this site are Affiliate Links and if you use them to make a purchase, we may earn a commission. For more information, read our Disclosure Policy.
Eating out is an expensive habit, but it is possible to eat out on a budget – especially with my tips!
The key to eating out on a budget is planning ahead. Do a little research to find the best deals and make good decisions once you are ready to order. A little effort goes a long way when it comes to how to save money dining out.
What Is Your Restaurant Budget?
Before we get to my actionable tips for how to save money while eating out, we need to talk about your budget.
You will never learn how to save money when going out to restaurants if you don't have a clear vision of how much you are currently spending and how much you can really afford.
Your budget – as boring as it may be – is the blueprint to your financial future. Don't have a budget? Get started with my tips for Making a Monthly Budget and download your free Budget printable today.
Once you get your numbers in order, then you can add a line to budget for a restaurant meal (or two or more!).

Questions to Consider for Your Eating Out Budget
As you prepare your budget for eating out, there are a few questions you will want to ponder. Being honest with yourself about why you eat out and how much you spend will help you save in the long run.
How Often Do You Eat Out?
Tally up the times you eat out a week. How many mornings do you cruise through a fast food restaurant's drive-thru for breakfast? Are you eating out for lunch during the workweek? How often do you go out for dinner?
Why Do You Eat Out?
Next, ask yourself why you eat out. Are you eating out because there is nothing in the fridge? Or is there food in the fridge, but you just don't feel like cooking it? Maybe you go out to eat because it is your social entertainment. Whatever the reason, if you pinpoint why, you can take steps to change your behavior and, ultimately, spend less eating out.
How Much Should I Spend on Eating Out a Month?
There isn't a magic figure for how much money you should spend eating out. Everyone's financials are different; two people who make the exact same income will choose how to spend their money differently.
Additionally, when deciding how much to spend eating out, you shouldn't compare yourself to others. It really doesn't matter how much your co-workers spend on their monthly dining out budget or the price the average American spends on eating out a month. (But, if you are curious, it's about $232, according to The Simple Dollar).
What matters most for your monthly eating out budget is how much you want to spend on dining out and what you can afford.
How much money you spend eating out should be dictated by your income, your necessary expenses and your savings – which you calculate in your monthly budget.
Save Money By Not Eating Out! Anyone trying to save money or dig themselves out of debt has heard that the best advice to save money is to stop eating out – and believe it or not, it is absolutely true. There are times when you just can't afford to eat out. Learning how to be frugal with your food will save you a ton of money. At the end of the article, I dive into top tips for how to save money by not eating out.
How To Eat Out on a Budget
You want to know how to save money when eating out – so I'm sharing my top tips and tricks for eating out on a budget!
#1 Happy Hour Specials
The number one for how to eat out for cheap is to take advantage of happy hour specials. Happy hour can make even the nicest restaurants cheap places to eat out. The best happy hours offer discounts on both eating and drinking.
Typically, restaurants offer happy hour pricing on weekdays. The times for happy hour vary from mid-day to early evening – and some places have all-day happy hours.
Before heading off and placing your order, I have a few tips for eating out on the cheap at happy hour.
First, do a little research to find out what the actual prices will be. For example, a 50% Off deal may seem like a great frugal appetizer…unless that appetizer is priced higher than the entrees. Half priced cocktails might sound tempting, until you find out that stated menu price of the drinks is $18.
Second, when seeking out happy hour deals, look online first. Some restaurants share their happy hour menu, while others keep the details of their happy hour a guarded secret. The recent reviews on Google Maps can be a good resource (people love talking about happy hour deals!). If you can't find information online (or if you suspect it might be outdated), call the restaurant to confirm.
Finally, be aware of requirements to get the happy hour pricing. In some restaurants, happy hour is only available at the bar or on very specific items. Inquire with the waitstaff before ordering to make sure you clearly understand the deals.
#2 Loyalty Rewards
If you are wondering how to save money eating out, then loyalty rewards might be the ticket!
When you subscribe to a restaurant email list or follow their social media accounts you can reap the rewards! Some of the common restaurant rewards are a free meal on your birthday, coupons for loyalty members only and insider tips, like discounted gift cards during the holidays.
Loyalty cards – like a Buy 10, Get 1 Free Card – that are available at many cafes and restaurants can add up to big savings when eating out. Always inquire if a favorite establishment has a loyalty card!
On a similar note, when you pay for your meal, be sure to use a rewards credit card for the purchase. While I like to use rewards credit cards that earn points for cheaper travel, there are also credit card reward programs that benefit diners, too.
#3 Coupons
A classic, tried-and-true way for how to eat out cheap is to use coupons. Even pricey restaurants can be affordable with coupons!
Value Pac coupons that come in the mail often have good coupons for local restaurants. The Entertainment Coupon Book (which is often sold by school kids as a fundraiser) is another place to find restaurant savings.
Groupon is an excellent resource for finding deals and coupons online for eating out for cheap.
That said, always check with the restaurant itself for coupons! Look online to see if they have any coupons on their website. My favorite pizza shop has had the same $2 Off coupon for years…you just have to know that it is there and use it. Plus, you can always ask if a restaurant has any current coupons circulating that you could possibly use to save money on your meal.
#4 Apps to Save Money at Restaurants
Using money-saving apps for restaurants can equate to big bucks. Not all apps are the same – so you will want to find one that works best for your style of dining.
The Groupon App (just like the website) has the most diverse offers – from pre-paying discounts to cash back deals to fixed-price meals.
Hooch and OpenTable offer reward points that you collect and can spend later. Living Social and Restaurant(dot)com are apps that offer restaurant vouchers.
With the right app, you can have a frugal restaurant meal while everyone else dines for full price.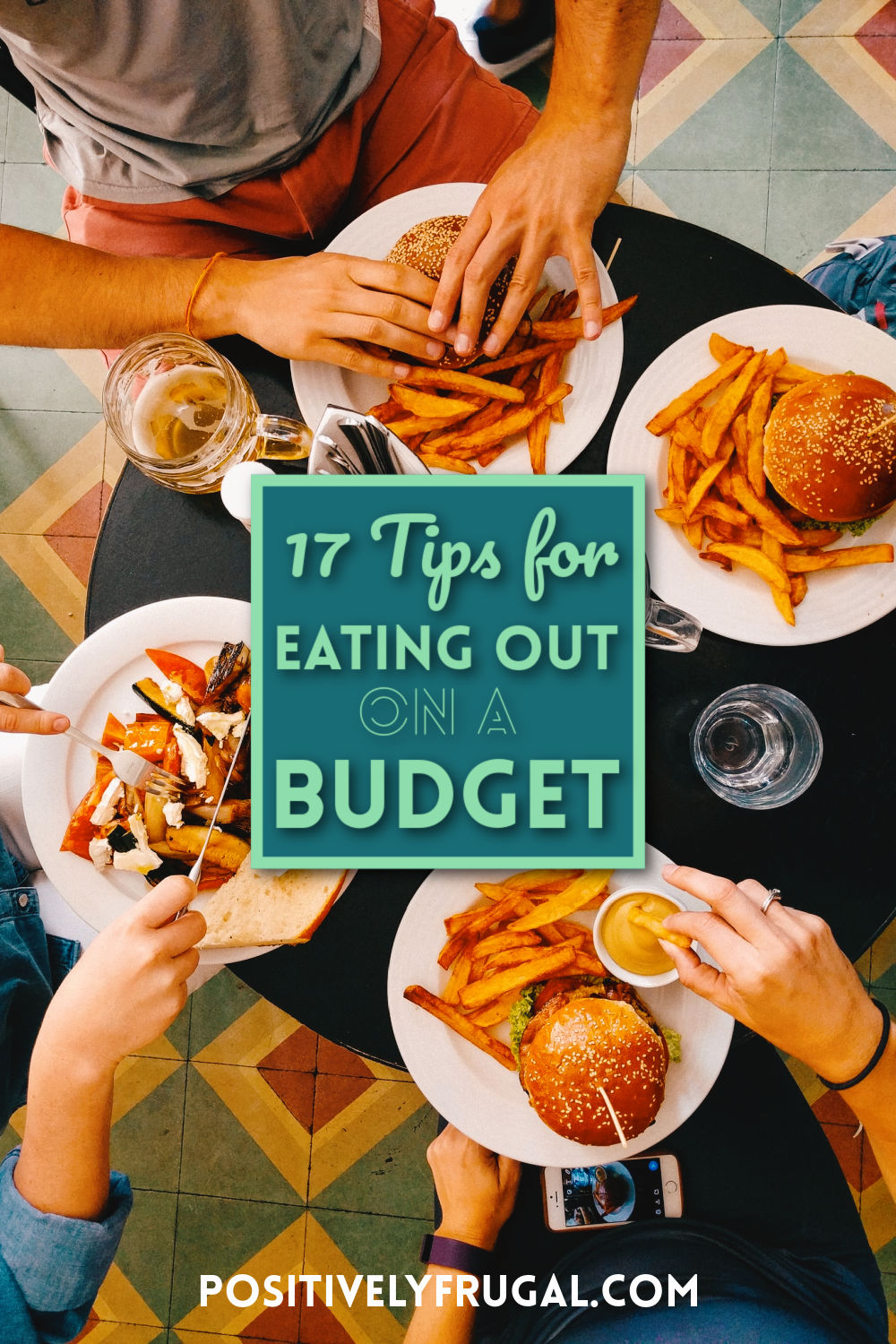 #5 Restaurant Discounts
Some restaurants offer special discounts to students, seniors or military members. In fact, if you are a member of any group, check to see if there are any associated dining benefits.
It may just be a small percentage off your bill, but every penny counts in your dining out budget – and it doesn't hurt to ask!
#6 Restaurant Week
One of the best ways to dine out cheap is to attend city or community events for restaurants.
Many cities have Restaurant Week, where participating restaurants offer a specific meal (or prix fixe meal) at a budget price. It can be a good opportunity to eat at a restaurant that is normally out of your price range.
Burger Week and Taco Week are also good times to cash in on great deals at restaurants and enjoy a cheap dinner out.
#7 Weekly Dine Out Deals
Some of the best money-saving restaurant deals are weekly specials – such as Taco Tuesday or Burger Night. These are great nights for dining out on a budget! Oftentimes, the single-item discounts are priced at 50% off – or more!
When you partake in these cheap meals out, just make sure you know exactly which items are discounted because it is usually very specific.
Furthermore, make sure what you are getting is, in fact, a deal; some restaurants just use the discount as a gimmick. For example, a restaurant in my hometown offers a $5 Burger Night – but the burger comes without sides. If you add a side of fries, it is an extra $4 – or $9 total for the meal…which is the same price as the burger and fries on the normal menu.
On the other hand, if the restaurant offers a taco platter of 3 tacos for $9, but on Taco Tuesday, they offer 2 tacos for $6, you might still consider that a deal – especially if you never finish the 3-taco platter. While you are getting less food, you are paying less, eating it all and not wasting any food.
#8 Skip the Drinks
When eating out on a budget, you can save big money by skipping soft drinks and alcoholic beverages.
Instead, just order tap water. You can add flavor by asking for a slice of lemon. Also, if you like carbonated water, ask if they have it and if they charge for it – many places offer carbonated water for free!
#9 Share a Meal
Probably the cheapest way to order food is to split a single entree with the person you are dining with. Tell the waiter that you want to split the meal – and they will likely split it in the kitchen and serve it on two plates. Plus, they sometimes add an extra bit of the side dishes to each plate.
That said, before deciding to split a meal, find out if the restaurant charges a Shared Entree fee. I have been to some restaurants where they charge $3-$5 for sharing a meal. It is usually noted on the bottom of the menu, but it's best to confirm with your waiter.

#10 Take Half Home
Likewise, one of the easy ways to save money eating out is by not eating your entire meal in one sitting and instead boxing up half to go. This trick is quite possibly the cheapest way for a single person to eat out at a restaurant.
Some restaurant portion sizes are huge – and it is way too much food for one serving. However, we eat it all because it's in front of us and we are trained to eat what is served.
Make a clear resolve to only eat half; that way, you will have an entire second meal later (which is like getting a 2-for-1 deal!). If you don't have the will power to stop eating halfway through your meal, then ask the waiter to have half of it boxed up before it is even served.
#11 Eat an Appetizer as a Meal
One of the best cheap restaurant meals is eating an appetizer as your main meal. Typically, appetizers are priced less than entrees – but they can often be just as filling.
To make sure the appetizer leaves you satisfied (and not starving!) is to order a starter that has protein.
#12 Seek Out Fancy Cheap Restaurants
Do cheap, fancy restaurants really exist? Sure they do! Finding fancy-but-cheap restaurants might be a little challenging, but not impossible.
A well-known steakhouse might have an inexpensive chicken dish on their menu. The grilled fish sandwich might be half the price of the fish entrée with two sides. An upscale establishment might offer half-portion entrees.
If there is a fancy restaurant that you think is out of your price range, scour the internet for online menus (just make sure they are current!). You might be surprised by what you find!
#13 Budget Restaurant Options
If you are looking for cheap dinner restaurants, sometimes an upscale fast-food restaurant – sometimes called a 'Fast Casual' restaurant will fit the bill.
Maybe you are just exhausted and can't bear the thought of cooking – but you know that a Big Mac is going to leave your stomach aching. Pass on the greasy gut-busters and opt for something one notch up – like Chipotle, Panera or Noodles & Co. These cheap dinner places offer a better-than-fast-food experience with a budget price!
On the other hand, if you are limited to an absolute rock bottom eating out budget, fast food might cure your cravings. My top eating out ideas for fast food restaurants is to order protein options from the dollar menu. This is often cheaper than ordering combo meal deals.
#14 All-You-Can-Eat Buffets
For a long time, buffets have ranked as the cheapest way to eat out. While I am not a particularly big fan of Eat-As-Much-As-You-Want restaurants, they can offer good bang for the buck – but only if you have a big appetite.
While the food is probably not the best in the world, the low-priced restaurants will keep your budget in check.
That said, if you have any ambition of eating healthy when eating out, then buffets are not likely going to be an good choice (health-wise or budget-wise!).
#15 Order from the Kids Menu
One of the classic ways for how to save money on eating out is to order from the cheaper kids' menu. Although the portions are smaller and the food tends to be fairly basic, the meals cost considerably less.
It is important to note that some restaurants do not allow adults to order from the kids' menu – so ask first. If that is the case at your favorite kid's meal restaurant, find out if you can order a single kid's meal to go – it can be a great way to get take out on a budget!
#16 Family Meals
Just like buying food in bulk from the grocery store can save you money, so can buying in bulk from a restaurant.
Purchasing the Family Meal can be a fantastic way to save money eating out. My favored BBQ joint offers a Family Meal Deal that comes out to $6 per meal. The same meal ordered individually costs $9.
Because there are just two of us, we order the Family Meal and save the extra portions for leftovers later in the week.
Another restaurant money-saving tip for families is to find places to eat where kids eat for free – it's one of the best cheap ways to eat out as a family.
#17 Separate Checks
Saving money eating out is sometimes as simple as only paying for what you eat – as in get a separate check.
Sometimes groups of friends dining together decide to just split the check equally when the bill arrives. If you only ordered something cheap to eat and your friend ordered a steak, you are blowing your restaurant budget on your friend's meal.
If the waiter won't split the check for you, do the math yourself and break out exactly how much you owe (just remember to include tax and tip!).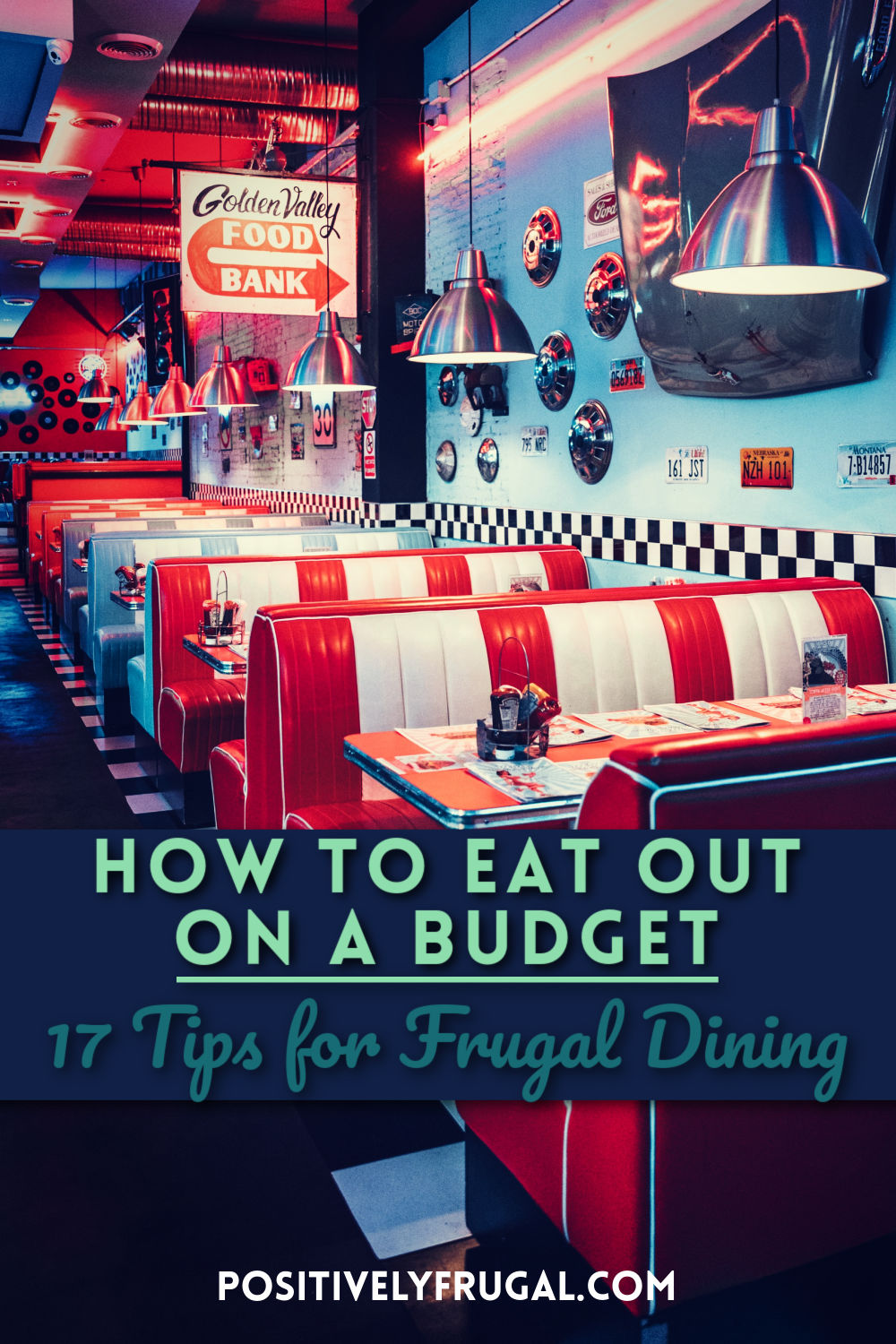 More Tips for Eating Out Cheap
Using my actionable tips for how to save money on a night out is a good way to make sure you stay within the limits of your restaurant budget. That said, I have a few more ways you can save you money if you are going to eat out for dinner.
Limit Eating Out
If you are not keeping track of how often you go out to eat, you are likely going out more than you think. Start tracking your expenses, if you aren't already, to find out exactly how often you eat out and how much you are spending.
When calculating the cost of eating out, even only dining at reasonably priced restaurants can add up in a hurry.
If you really want to save money, limiting the number of times you eat a month with help substantially. Maybe decide to only eat out for special occasions or completely limit yourself to only eating out once a week – or once a month.
Always Have Enough To Tip Your Waitstaff
Never shortchange your waiter as a way to save money on eating out. This is not a way of being frugal to save money, it's being cheap (and there is a big difference between frugal and cheap!).
When you look at the menu prices, mentally add in the estimated amount for tax and tip so that you are comfortable ordering and not surprised when the check arrives.
Don't Just Choose the Cheapest Item
When deciding what to eat out for dinner, don't automatically choose the cheapest item on the menu.
If you really want the $15 burger, don't get the $9 salad instead. It won't satisfy your craving or fully deliver on the experience, which will leave you wanting to go out for another meal sooner rather than later.
Order What You Can't Make at Home
When coming up with eating out dinner ideas, pick a restaurant with menu items that you can't make at home.
The Greek salad is probably something that you can make in your own kitchen for a mere fraction of the cost the restaurant charges. Instead, order something from the menu that isn't so easy (or cost effective) to cook at home.
While this tip might seem like one of the tips for eating out on the cheap, it increases the value of your dining experience.
Recreate Meals at Home
On the flip side, everyone knows that you will save money by eating at home.
If you decide to stop eating out to save money – or at least limit dining out to one or two times a month – you can still eat your favorite restaurant meals.
Search the internet for restaurant recipes and recreate the meals yourself. You just might be surprised by how good it is…and how much less it costs!
Eating Home vs Eating Out
There is no question that restaurants tack on a huge upcharge for food; it's the cost associated with having someone else prepare and serve your meal – and clean up the mess afterwards. The $15 burger at a restaurant could easily be prepared for a quarter of that cost if you bought the ingredients at the grocery store and made it yourself.
Therefore, cooking at home to save money is a good economical choice – especially for anyone trying to save up for big financial goals or for someone who is on a mission to become debt-free.
However, when you are debating between eating at home vs eating out, the prospect of making all your own meals – 3 meals a day, 7 days a week, 4 weeks a month – can be overwhelming.
How To Save Money Eating At Home
If you are new to the idea of making most or all of your meals at home, I recommend starting with some inspiration.
Find recipes that you like – and ones that you like making. Research ideas for frugal breakfasts. Get ideas for cheap lunches. Chat with friends about cheap dinners.
Once you feel motivated and confident, take on the task of learning how to meal plan; seriously, meal planning can save you heaps of money. Also, consider what groceries to buy on a budget and make your list before going grocery shopping.
While it is fun to go to Eat Out restaurants, it can be just as much fun to prepare meals in your own kitchen.
If you really need to stop spending money, give yourself a jolt to the system with a fun food challenge.
My $5 Food Challenge will test just how low you can go on your food budget. With all of your savings, you might just find that you can afford to go out to eat a little bit more frequently!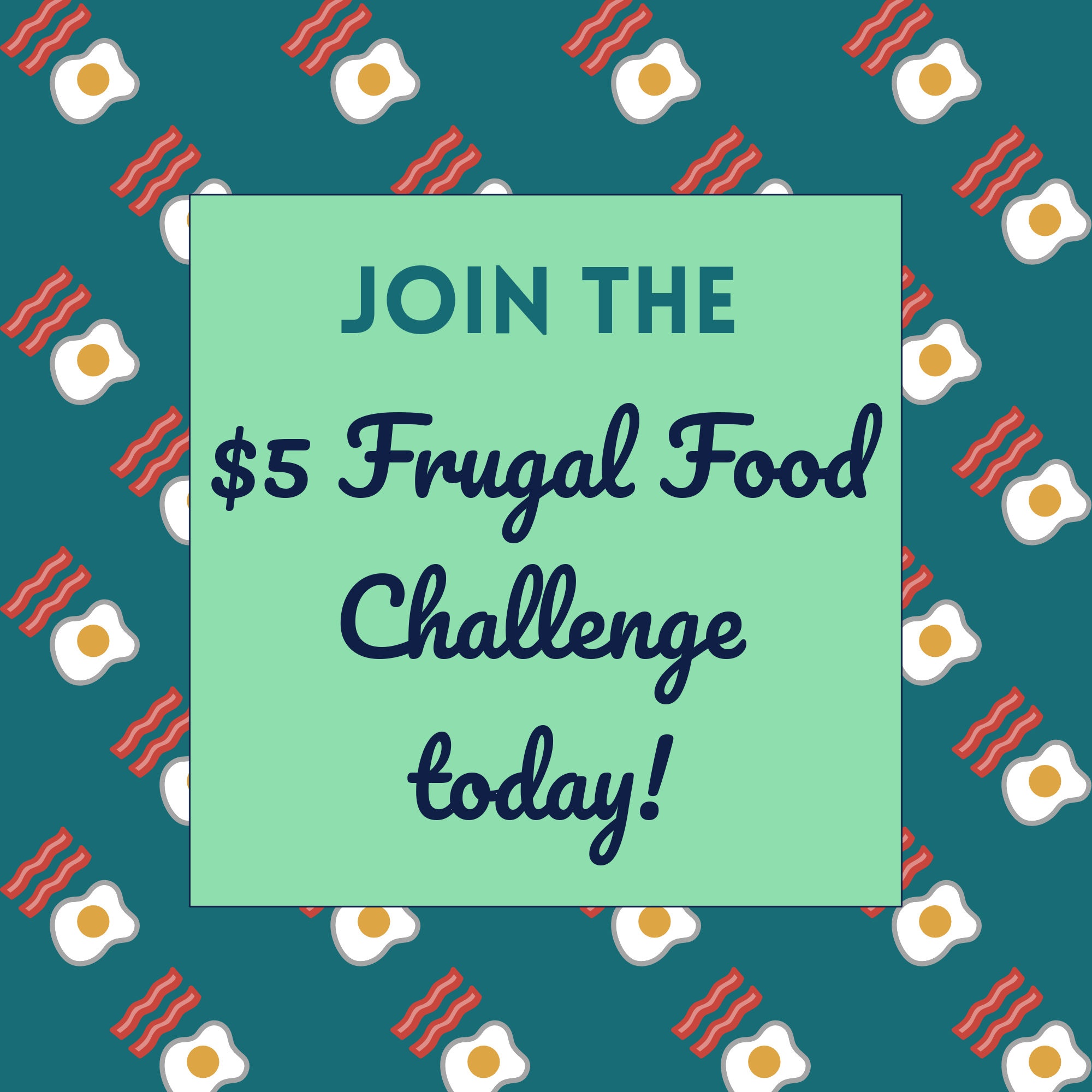 We Want To Know: How do you eat out on a budget? Give us your best tips and advice in the comments below!
Interested in more of my Frugal Food Tips? I round them all up (including my favorite Frugal Snacks) on my Frugal Food blog page!