Some of the links on this site are Affiliate Links and if you use them to make a purchase, we may earn a commission. For more information, read our Disclosure Policy.
I am a big fan of appetizers. The small bites are perfect for grazing while socializing at parties and get-togethers. That said, some appetizers cost more than the main meal – which can be problematic if you are sticking to a budget. Fortunately, I have a long list of go-to frugal appetizers that are cheap, easy and delicious.
Frugal Appetizers: Easy, Cheap and Delicious
There are appetizers that are easy, appetizers that are cheap and appetizers that are delicious. Finding the trifecta appetizer – easy, cheap and delicious – however, can be challenging.
A key piece of advice is to start with the cost. Plan a budget for how much you want to spend.
Once you have your figure, think about ingredients that will fall into that price point. Rather than providing appetizers that are heavy on meat and cheese, seek out recipe ideas that utilize cheap forms of protein – like beans or in-season produce.
Try to avoid prepared meals and deli platters – as they will likely drive up your cost.
Keep in mind, however, that a key to creating appetizers on a budget is keeping it simple. Steer clear of recipes that are too complicated or time-consuming. In fact, that is just a good Frugal Cooking Tip, in general!
Before you go to the store, make a grocery list of the items you will need – and read my tips for Grocery Shopping on a Budget.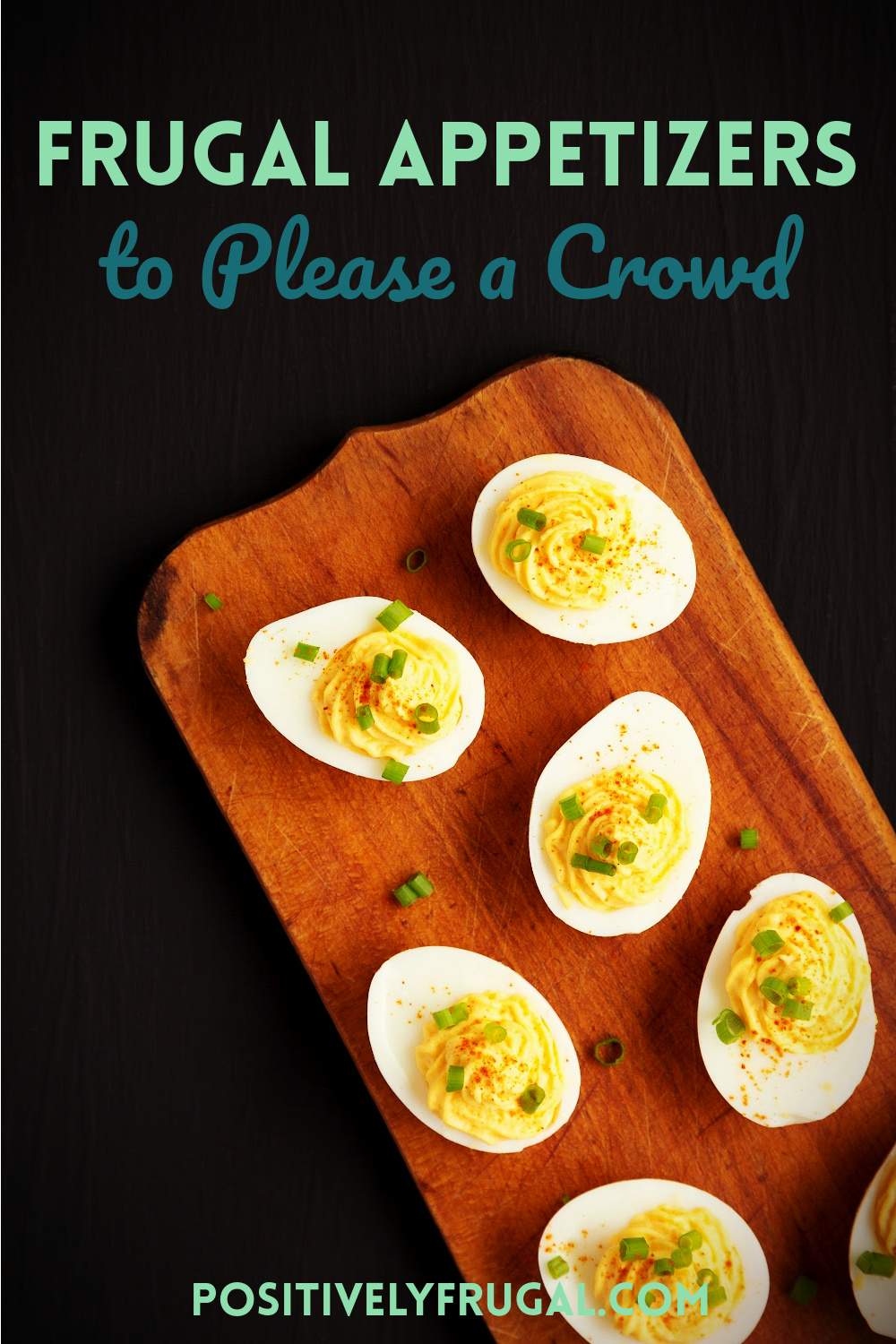 12 Fun Frugal Appetizers
Whether you are hosting a party or have been asked to provide a platter for a potluck, these simple, affordable appetizers will hit the spot!
With these appetizer recipes, you can forego the pre-made platters and forget the fancy appetizers loaded with unique, one-off ingredients. Instead, whip up a batch of frugal appetizers to stay on budget.
Pro Tip: Need help planning a festive-yet-inexpensive holiday meal? Use my tips on preparing Christmas Dinner on a Budget!
Classic Cheap Appetizers
Some of the most common – and most loved – appetizers are cheap and easy to make. You can't go wrong with a classic!
#1 Deviled Eggs
Long one of the favorite inexpensive appetizers for a party, Deviled Eggs tick all of the boxes for frugal appetizers: Cheap, Easy, Tasty.
In fact, classic Deviled Eggs are one of the cheapest appetizers you can make. You only need a few basic (and cheap) ingredients: Eggs, mayo, mustard and a dash of salt and pepper.
That said, you can jazz up the frugal food with just a few relatively cheap enhancements – like horseradish, bacon bits or fresh chives.
With a piping bag and nozzle, you can elevate the status of your Deviled Eggs from basic to bougie.
#2 Salami Roll Ups
Salami and Cream Cheese Roll Ups are one of the cheap, cold appetizers that are loved by both kids and adults. The simplicity is what makes these bite-size morsels little all-star appetizers.
However, bear in mind that salami can be very expensive. In order to keep this a budget bite, keep an eye on sales and stock up when the price is discounted.
Easy, Inexpensive Appetizer Dips
Homemade dips are a great addition to frugal menus at a party or gathering. Plus, some of these dips cost just pennies per serving!
#3 Bean Dip
Not only is Bean Dip one of the best low-cost appetizers, but it is also incredibly versatile! There are literally thousands of ways to make Bean Dips – from warm and cheesy to cold and flavorful.
A hot 3-Ingredient Bean Dip – made with layered refried beans, chunky salsa and shredded cheese baked to perfection – is a cheap appetizer and a big crowd pleaser.
On the other hand, a made-from-scratch cold bean dip paired with fresh veggies is great for picnics and summertime get togethers.
#4 Guacamole
When avocados are in season and on sale, Guacamole is a fabulous appetizer on a budget. A basic guacamole dip recipe requires few ingredients and is incredibly simple to make.
I like to make my Guac with avocados, red onion, cherry tomatoes, minced garlic, a pinch of salt, a squeeze of lime and a garnish of cilantro. The extra ingredients, however, can boost the cost.
To keep Guacamole within the realm of easy, inexpensive appetizers, throttle back what you mix into it. For example, a basic – yet undeniably delicious – Guac recipe uses just three ingredients: Avos, garlic and lime juice.
#5 Fresh Salsa
Another one of the inexpensive and easy appetizers is fresh salsa or pico de gallo. With just a few ingredients and a little chopping, you can create a bright and colorful dip (and it will cost a fraction of what they charge in stores for the pre-made version!).
Tomato, onion and pepper are the base of a good fresh salsa – all of which are typically cheap things to buy at the grocery store. It's even better if you can snag the items from your summer garden!
Take the fresh salsa to the next level with lime juice and cilantro and pair the frugal appetizer with salty tortilla chips or vegetables.
#6 Homemade Hummus
Hummus is one of the fun party appetizers on a budget because you can mix it up with a variety of flavors for relatively cheap.
With a blender or food processor, making basic homemade hummus is easy and inexpensive. A can of chickpeas, olive oil and spices are all it takes to make a yummy hummus.
However, making flavored hummus is not at all difficult (yet can appear much more sophisticated).
I think it is fun to provide a hummus trio at parties. Make one bowl of plain hummus, one with roasted red pepper and a third with roasted garlic.
Hummus is one of my favorite Frugal Snacks, too!

Budget Appetizers on a Toothpick
There's no doubt about it, skewering food onto a toothpick makes it look more appetizing. Better yet, when you assemble the nibbles yourself, you can portion the ingredients in accordance with your budget.
#7 Caprese Skewers
One of the elegant appetizers on a budget, Tomato and Mozzarella Caprese Skewers are always a big hit at fashionable affairs.
The inexpensive toothpick appetizers require just three ingredients: Cherry tomatoes (cut in half, lengthwise), Mozzarella pearls and Basil leaves (which I always have on hand as a potted herb).
To assemble, put the mozzarella ball on first, followed by a basil leaf and then a piece of cherry tomato. Voila!
Quick. Easy. Elegant. Cheap.
#8 Fruit on a Toothpick
For cheap, healthy appetizers, threading Fruit onto a Toothpick is a win-win. Best of all, you can use whatever produce is cheap and in-season.
Seriously, there are no rules to what fruits you use on a cheap toothpick appetizer. Furthermore, you can cut the fruit into smaller pieces so that you can make enough toothpick appetizers to fill an entire tray.
Fruits that I often use when making Fruit on a Stick appetizers are strawberries, blueberries, pineapple, kiwi, watermelon, cantaloupe and bananas. Embellishing the fruit sticks with herbs – like basil or mint – is a nice addition, too.
Need more inexpensive cold appetizers for a crowd? Vegetables on a Stick are another fantastic idea – and they are healthy, too!
Just like putting fruit on a toothpick, there are no steadfast rules about what veggies to use in a skewered appetizer. Personally, I like to use fresh vegetables that go well with an easy dip – like cucumber, tomatoes, black olives and red pepper.
#9 Salad on a Stick
Salad Toothpick appetizers are unique and fun…and they come in under budget.
My favorite Salad on a Stick is a simple Caesar – and it's not that difficult to assemble. Start by cutting the Romaine lettuce is long strips and toss it with Caesar dressing and parmesan cheese. Thread the lettuce onto a toothpick, then add a large crouton. It's really that easy!
If it's in your budget, you can enhance these cheap toothpick appetizers by adding a small cube of cooked chicken along with the crouton.
Of course, you could just prepare a large bowl of Caesar salad – but putting it on a stick really makes it stand out.
#10 Sandwich Toothpick Nibbles
Mini-Sandwiches on a Stick is a cheap toothpick appetizer – and, although it might seem strange, it presents well (and it is so much easier to make than it sounds!).
The key to constructing a Sandwich on a Toothpick is to cut all of the ingredients – sliced bread, deli ham and sliced Swiss cheese – into 1-inch squares. I only use one piece of bread with mayo or mustard and then layer the cheese and ham on top of it before piercing it with the toothpick. That's really all you need for these cheap, easy cold appetizers!
Alternatively, substitute a tortilla wrap for the bread and make Ham and Cheese Pinwheels. It's one of the cheap party snacks for adults and kids, alike!
Warm Frugal Appetizers
When tasked with providing warm appetizers for a function, it can be tricky to think of something thrifty – but I have a few ideas that are both inexpensive and delicious!
#11 Homemade Bread and Herbed Butter or Dip
Homemade bread is a big party pleaser. People are often impressed with homemade breads, but it is only because they don't know how cheap and easy it is to make! I use this basic recipe – it's practically fail-proof – and oh-so-delicious!
Prepare a herbed butter to go with the bread and your dish will be the star of the party. Alternatively, you could make a fun dip to go along with your bread.
A simple cheese dip can be whipped up in your slow cooker using Velveeta and a jar of salsa (one of the classic cheap appetizer recipes) or you can make an easy and cheap cheese dip from block cheese, milk, flour and butter.
A bacon ranch cheese ball is another one of the cheap appetizer recipes that can go with bread (or crackers!). To make it, you only need cream cheese, shredded cheese, bacon bits and ranch seasoning. Many recipes also call for chopped pecans, but I would skip those if you are trying to keep the price down.
In fact, before deciding which butter or dip to pair with your bread, it's best to price out the ingredients. For example, artichoke dip is one of the easy recipes to make and it is often thought of as one of the cheap appetizers for a crowd. However, when you add up the price of the individual ingredients needed to make it, the cost can be upwards of $10.
#12 Potato Party Appetizers
I love potatoes; they are cheap, versatile and delicious. There are heaps of cheap and easy appetizers you can make with potatoes – and I'm highlighting a couple of my favorites.
Potato Pancakes – also called Potato Latkes – are inexpensive hors d'oeuvres you can make for a party or event. The tasty cakes are made from basic, cheap ingredients: Potatoes, onion, egg and breadcrumbs. You will want to season them up with a little salt and pepper – and you will need oil for cooking – but that's it!
For a party, you can cook them in bite-size nuggets following this recipe and maybe consider offering sour cream or applesauce on the side for dipping. They are cheap and absolutely delicious!
Sweet potatoes can also be made into cheap appetizers for parties. My go-to sweet potato appetizer is as simple as can be: Baked or Air Fried Sweet Potato Wedges. All you need to make these little gems is a few sweet potatoes cut into wedges, oil and seasonings of your choice!
BONUS: Easy and Cheap Meatballs
Okay, I know that I said to steer clear of meat dishes if you are trying to make cheap party appetizers, but with the right recipe, meatballs can be incredibly cheap (and utterly delicious!).
To make the cheapest and easiest appetizer with meatballs, start with a large bag of frozen meatballs (they can be beef, chicken, turkey or sausage balls). Toss them into the crock pot along with a jar of grape jelly and maybe a splash of chili sauce – and in about 4 hours, you will have an exceptional appetizer.
The best part is that, when using a 32 ounce bag of store brand meatballs, each one costs just about 10 cents!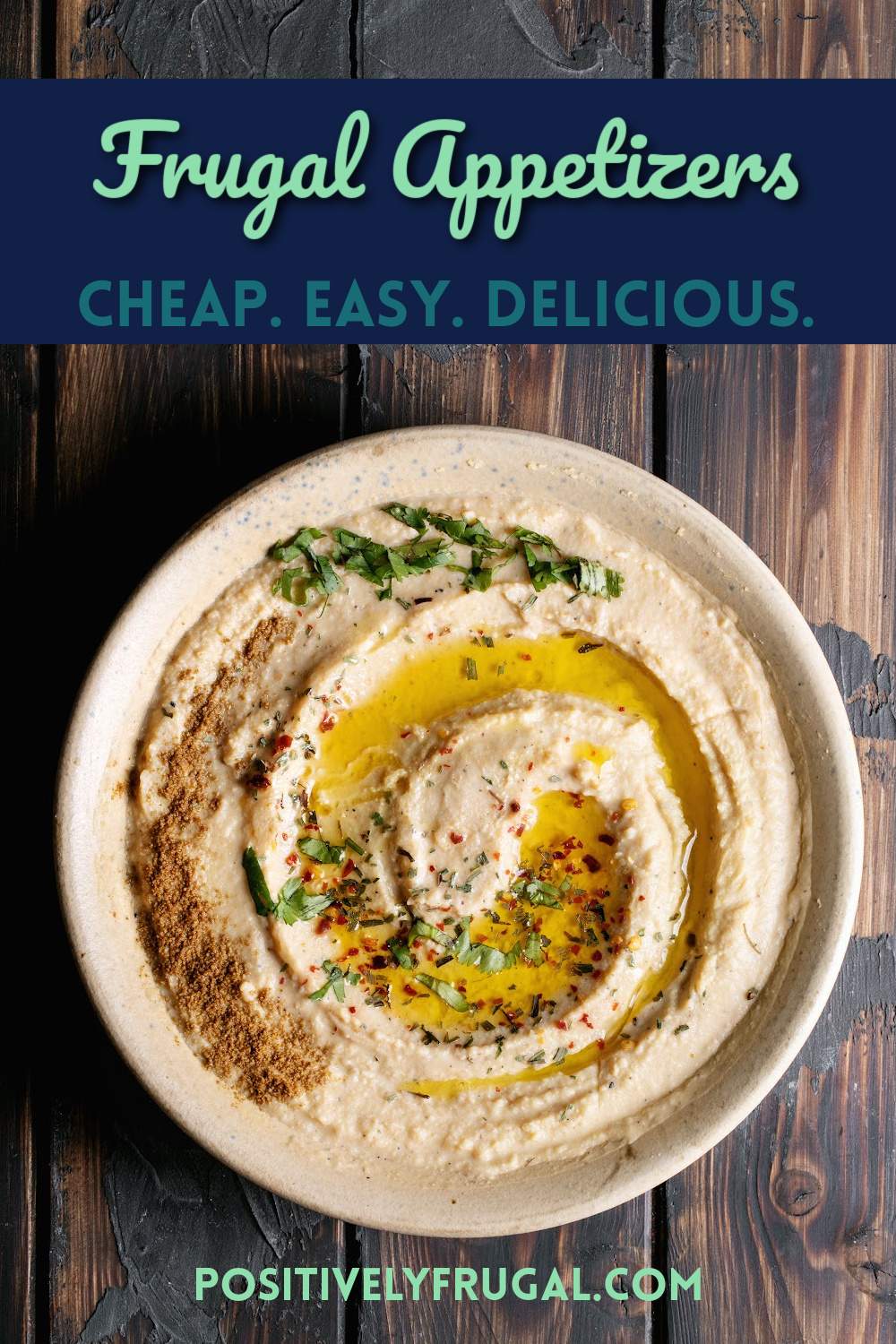 Want to Spend Less on Food?
Food is one of the biggest line items in any budget – but it doesn't have to be! Join my Frugal Food Challenge and learn how to lower your food expenditures. Test your skills and challenge yourself to eating on just $5 a Day.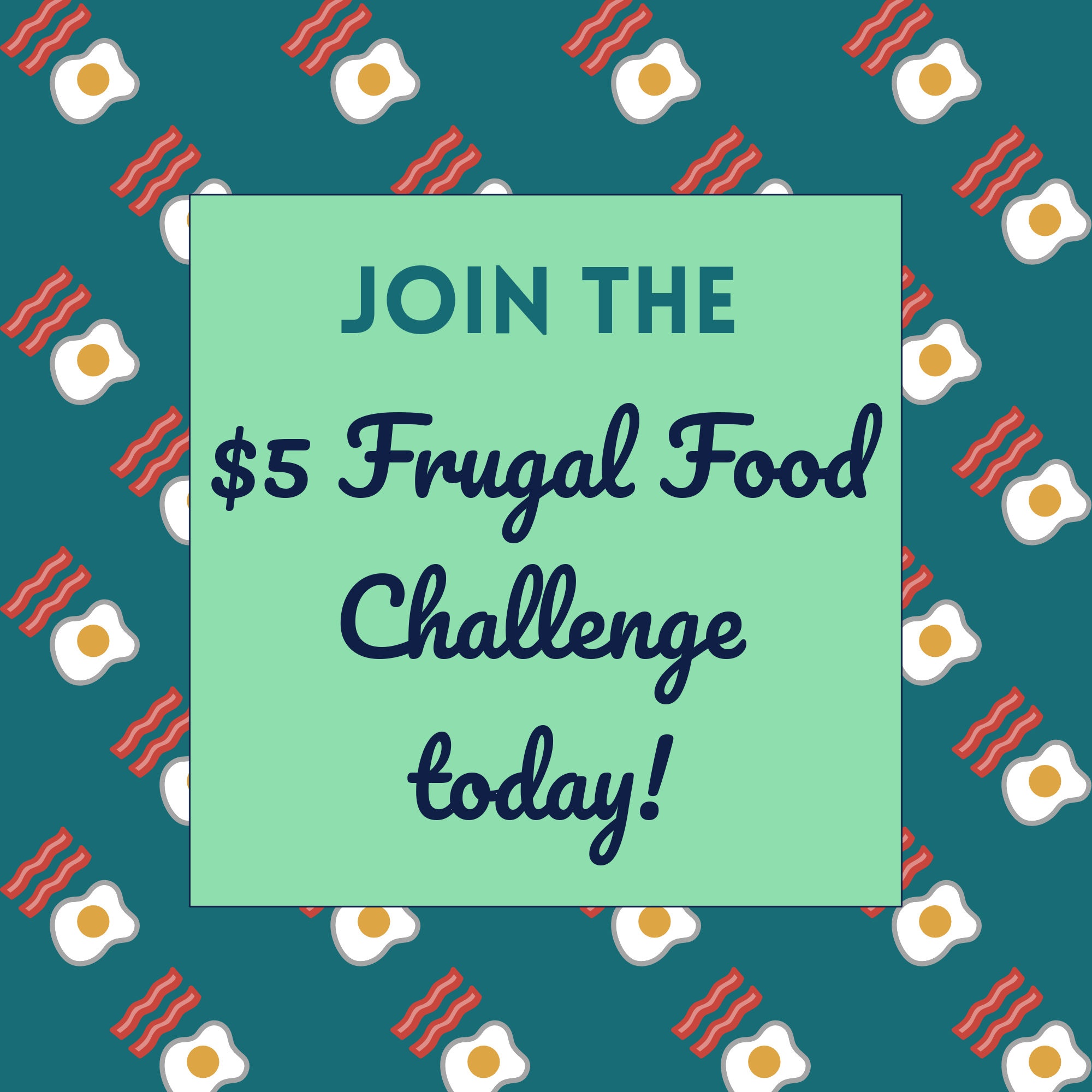 Frugal Food Tips
Providing inexpensive appetizers for party is just one way to save money on your food bill. I offer heaps of ideas on Frugal Food Recipes on my Frugal Food blog page – but you can get started now with these articles.
Interested in more of my Frugal Food Tips? I round them all up (including my favorite Frugal Snacks) on my Frugal Food blog page!
We Want To Know: What are your favorite inexpensive, easy appetizers? Tell us in the comments!