Some of the links on this site are Affiliate Links and if you use them to make a purchase, we may earn a commission. For more information, read our Disclosure Policy.
Any frugal person knows that coupons can save money – but is couponing worth it? I often tout that I am an 'occasional coupon clipper' – because I do see the worth in coupons, but I rarely find they work in my financial favor.
On the other hand, like many frugal shoppers, I am in awe of extreme couponers who brag about their haul of products for mere pennies. The couponing savings can be colossal in terms of dollars and cents…but extreme couponing may not be a viable way to save money – because there is a lot of effort that goes into scoring a huge deal.
Is Couponing Worth It?
Coupons are essentially free money – and who doesn't like free money, right? In the very literal sense of how coupons work, even a 25-cent coupon is a savings of a quarter. Savings add up, and it's easy to calculate the money saved when using coupons.
The thing with coupons, however, is that they only save you money when you buy a very specific product. The coupon is realistically an advertisement – and ads are designed to persuade people to spend money.
Therefore, when considering if couponing is worth it, you need to ask yourself a few very important questions. Is it a product you need? Is it a product you want? Is it a product that is less expensive than other similar products? If the answer to any of these inquiries is no, then it really begs the question: Is couponing worth it?
Let's break down the pros and cons to find out if using coupons to save money is right for your specific budget and frugal lifestyle.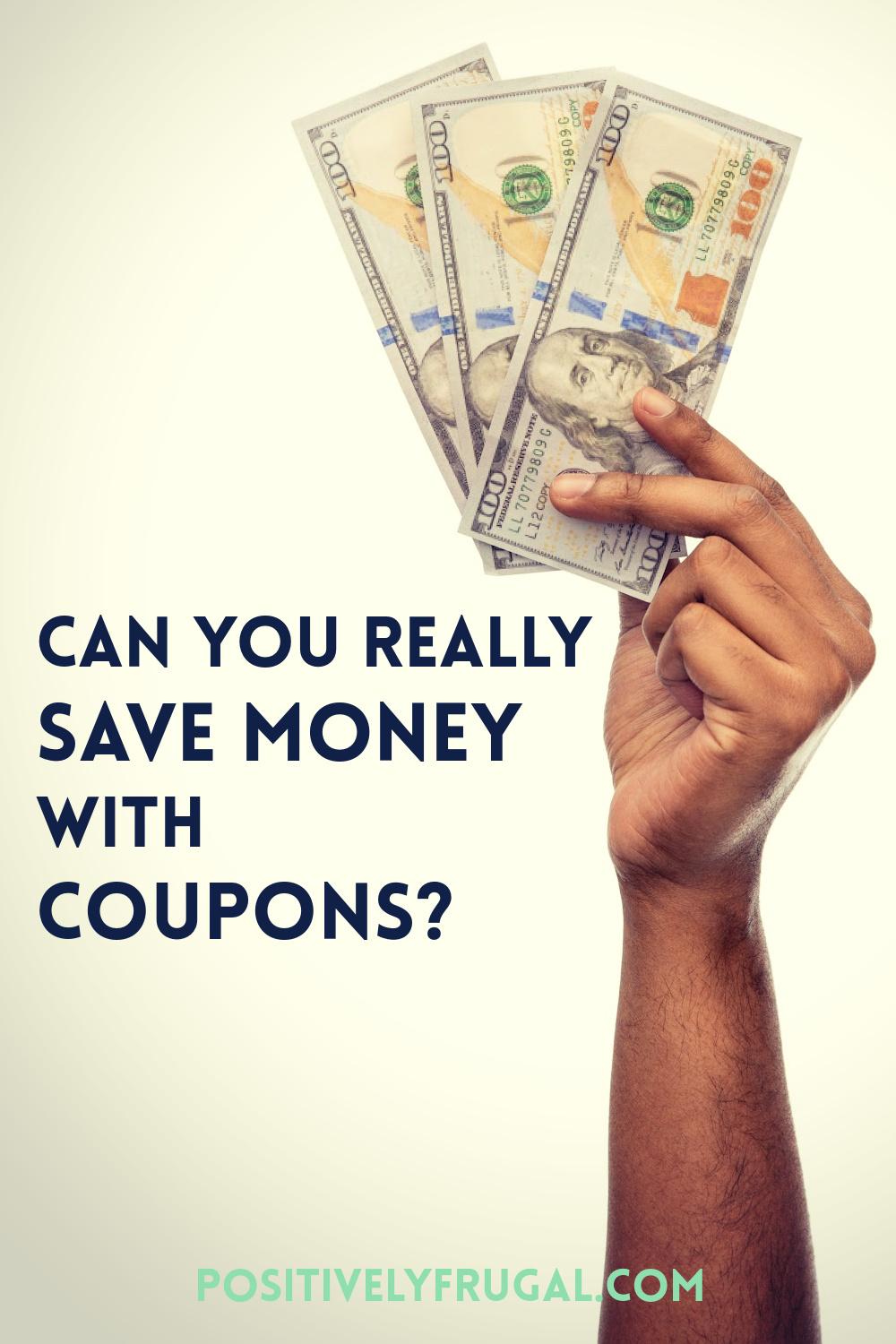 Pros of Couponing: Saving Money with Coupons
I am not a complete naysayer about couponing. There are many benefits of using coupons – namely, saving money…but there are a few other reasons to coupon, too.
Save Money on Groceries, Household Products and More
There is no doubt that coupons save money – it is exactly what they are designed to do. A specific product costs less money when you use a coupon, whether it be food, cleaning products, clothing, cosmetics or services.
In many cases, not using a coupon would be outright ridiculous. If you have a coupon for something you already plan to buy, it would be silly not to hand it over to claim the savings.
The most common saving money coupons are offered on products found in grocery stores and pharmacies. Coupon users who intentionally plan and organize shopping trips around coupons can significantly cut down expenses.
However, the biggest money saver coupons are for appliances and services, which can sometimes for upwards of a hundred dollars – so it's good to keep an eye out for those!
Helps Your Bottom Line
Along with your monthly budget, incorporating couponing into your shopping routine can certainly help your bottom line. Furthermore (and, perhaps, more importantly), couponing can help to keep money goals top of mind.
The simple act of couponing – looking for deals, clipping coupons and redeeming them – makes you more aware of the money you are saving…and the money you are spending. Although, I recommend taking it a step further by actually tracking your spending!
Becoming more conscious about your funds can help you change your relationship with money for the better.
Bulk Buys at a Discount
One of the best ways to effectively coupon is to cash in on bulk buys of your favorite products when they are on sale. The key is to wait for the stars to align so that you can use a multi-buy coupon (or multiple coupons) on a discounted sale item.
A little effort and some patience are required for optimal timing, but the savings can be huge.
Try Something New
It works out sometimes that coupons will introduce you to a new brand or product that you either didn't know about or would not have tried without a discount coupon. I'm always in favor of broadening horizons – and trying new things is a good way to enjoy different experiences.
Therefore, couponing can be worth it, just for the sake of trying something new. It can be even more beneficial if a coupon helps you to find a product that you love…and one that is less expensive than what you have used in the past.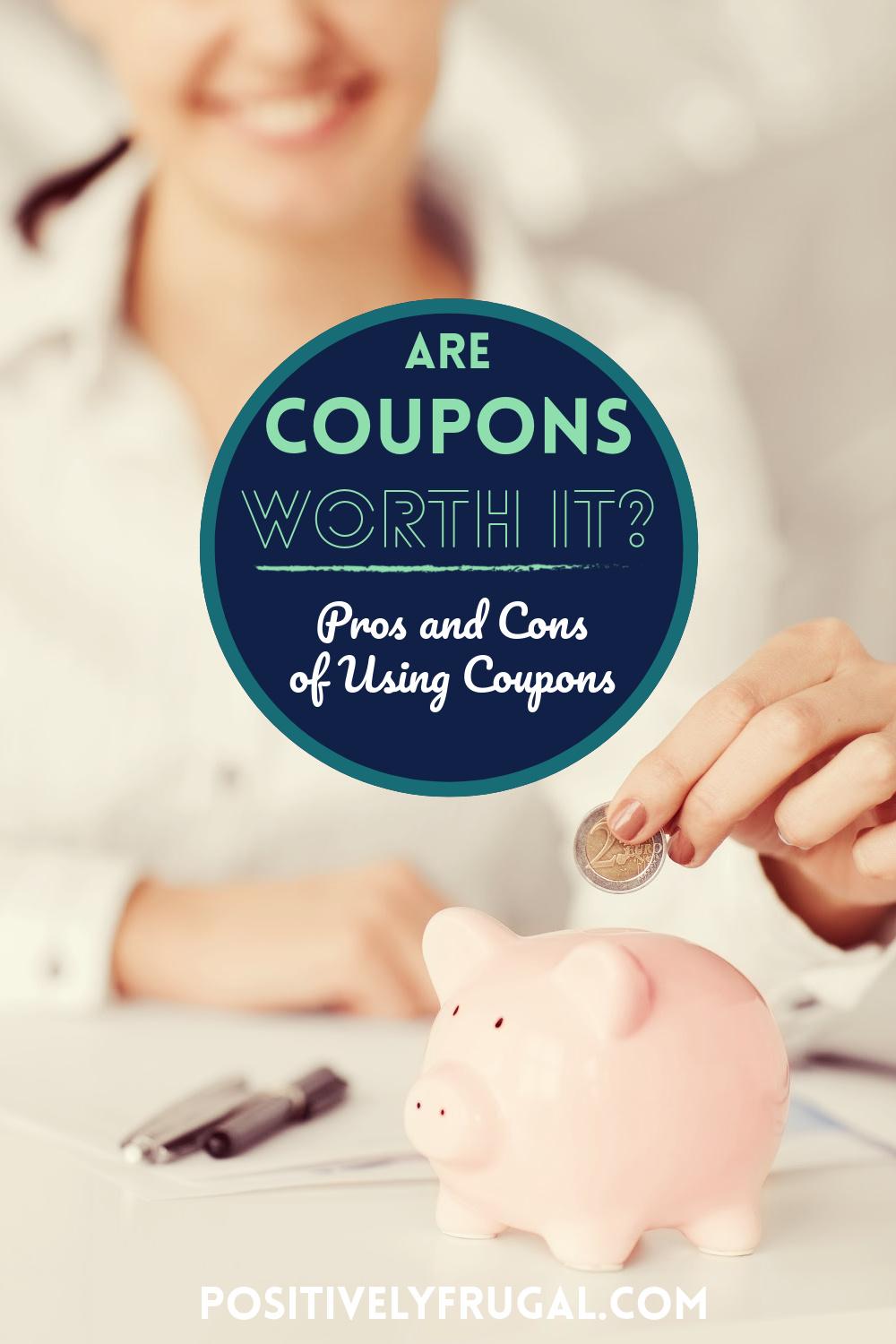 Cons of Coupons: Does Couponing Really Save You Money
I have covered some of the advantages of using coupons, but there are a few downsides to be aware of before you start clipping coupons.
Encourages Spending
One of the biggest monetary disadvantages to coupons is that it encourages shoppers to spend money. That is, in fact, the point of a coupon. At its worst, it encourages spending money on things that shoppers don't want or need.
The unnecessary purchase is rationalized by using the coupon. The reality of it, however, is that many shoppers get caught up in the 'thrill of the save', which can actually result in spending more money.
There are compelling statistics from numerous reports that show shoppers who use coupons spend more money than those who don't.
Name-Brand Products
One of the biggest disadvantages to coupons is that they are typically for the much more expensive name-brand products. It often happens that even with a coupon, the item is not as cheap as the store brand alternative.
As a long-time frugal shopper, there are very few name-brand items that make it into my cart. I definitely do not want to pay more for a name-brand item just because I have a money saving coupon. The coupon is rendered useless if it does not actually save me money.
Additionally, many of the coupons available for grocery store items are for products that are over-processed, packaged goods – which are generally unhealthy. I am a big advocate for eating healthy on a budget…and there are rarely coupons for fresh produce.
Time and Energy
Couponing takes time and energy…a lot of it. For some people, it almost becomes a frugal hobby – complete with binders and spreadsheets. That said, even casual couponers need to dedicate a reasonable amount of time to realize the savings.
Not only is it necessary to seek out coupons, but when shopping, it is essential to check the details. Coupon users need to ensure they are choosing the applicable product – and then price check it against similar products.
The entire process can be challenging and, for some, not worth the time and effort it requires.
Insignificant Savings
In the end, many people who use coupons find that the savings are rather insignificant. Sure, 25 cents is 25 cents, but if a shopper has to spend an hour finding coupons and double checking details at the store only to save a handful of change, it is not likely worth it.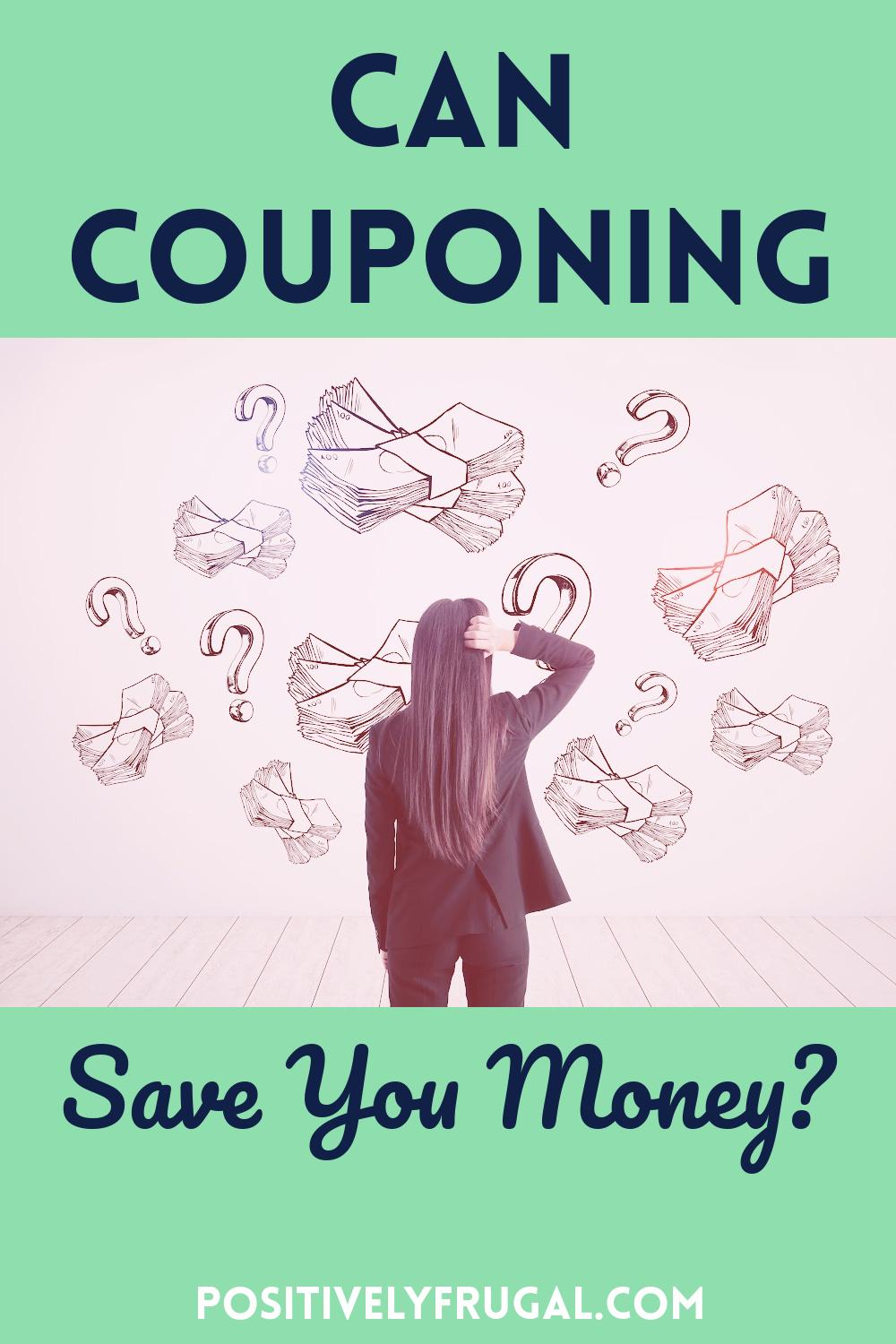 So, Is Couponing Really Worth It?
Determining whether or not couponing is worth it depends on so many factors.
Do you need a frugal hobby? Great! Couponing might be for you. Are you committed to buying name brand products at the grocery store? Coupons can cut the cost of your food bill. Do you enjoy trying new things, but are hesitant because of the cost? Coupons can be a gateway to new experiences.
Personally, I have not found couponing to be exceptionally lucrative. The energy it takes for minimal savings is simply not worth my time. That said, I am an occasional coupon clipper – and there are some coupons I like to use…because I still like to save money wherever I can!
Which Coupons to Use – and Which to Toss
Coupons come in all forms these days for a wide range of products. From my personal experience, I have found which coupons to use…and which to ignore.
Personalized Grocery Store Coupons
Grocery store loyalty coupons are some of the best in the business – and if your grocery store offers them, you should definitely take advantage of the savings.
If you have a loyalty card for a specific grocery store, they track your purchases. About once a month, the store will send you personalized coupons for the items that you most often purchase. To me, these are the no-brainer coupons – because they are for items you already buy.
Free Item Coupons
Free item offers are the golden tickets of coupons. Pharmacies and some retailers offer freebie coupons throughout the year.
Bath and Body Works is a classic example of a retailer that offers one free item – usually along with other discount coupons. Shoppers with willpower of steel can walk right into the store, claim their free items with the coupon and walk back out without spending a dime. One-hundred percent worth it!
Paper Coupons in Mail or Newspaper
I definitely think it is worth it to flip through the coupons that arrive in your mailbox or newspaper. To be honest, it takes me less than 3 minutes to scan through them and pinpoint which (if any) I might use.
My favorite in-mail coupons are for discounts on local eateries, as I have discovered some really good places I might have not tried otherwise.
Other good coupons that come in the mail are those for cleaning products and toiletry items. I tend to save the ones that are for products I already use – and then match them to when they are on sale at the grocery store.
Grocery Store Digital Coupons
My preferred grocery store has a trove of online coupons. While that might sound great, it is extremely time consuming to sort through the hundreds of coupons, which are mostly for products I would never use. Therefore, I rarely look through them.
However, when shopping online or in-store, many products are now labeled with 'Digital Coupon' prices – meaning, there is a coupon available. If it is a product I need, I can quickly open the grocery store app and find the coupon to ensure I get the savings.
Coupon Apps
As much as I want to love couponing apps, I simply cannot get on board. Just like regular coupons, apps with coupons tend to offer discounts on a limited number of goods…which happen to be items that are typically more expensive.
Shoppers who dive deep into the apps for couponing can certainly dig out savings, but it is a time-consuming process.
Additionally, coupon apps are designed to get you into a spending mode (the more you spend, the more you save), which is counter productive for people who are learning how to stop spending so much money and aiming for lofty finance goals, like becoming debt free.
Honestly, I think most shoppers would benefit far more from a good budgeting app than from a coupon app.
Better Ways to Save Money
In my opinion, there are better ways to save money than by using coupons – especially on food.
Start with my top tips for buying Groceries on a Budget. Shoppers working with a really tight budget might find my $50 Grocery List to be helpful, as well as my ideas for healthy and filling $1 Meals.
Challenge Yourself
A great way to kickstart new money habits is with a solid challenge. I share heaps of ideas in my article on Savings Games – but budgeters looking to reduce their grocery bill will likely benefit from my $5-a-Day Food Challenge.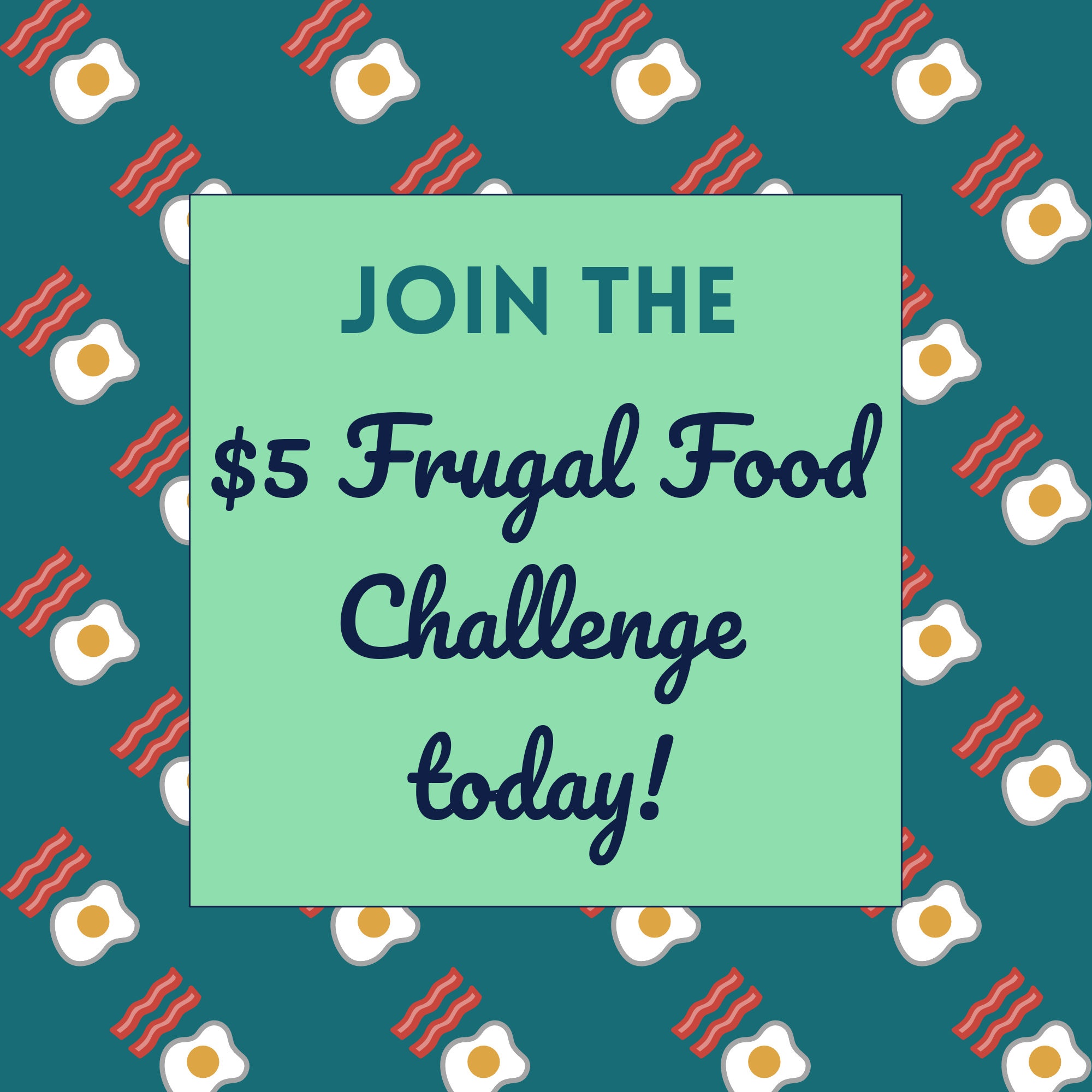 Interested in more of my Budget and Goal Tips? I round them all up on the Budget blog page!