Some of the links on this site are Affiliate Links and if you use them to make a purchase, we may earn a commission. For more information, read our Disclosure Policy.
A festive feast is a holiday tradition – but costs can quickly add up for your Christmas meal. To help keep a little more money in your pocket this holiday season, I am sharing my top tips for planning Christmas dinner on a budget.
The key to making Christmas dinner cheap is using low-cost recipes that call for budget-friendly ingredients. My ideas on how to create an impressive-yet-inexpensive Christmas dinner will help you stick to your budget this holiday season!
Want more tips on how to do Christmas on a budget? Use my complete Guide to Christmas on a Budget.
Christmas Food Budget
Before we can get into cheap holiday dinner ideas, we need to talk about your budget for Christmas. Setting a budget for the holidays is the best way to stay on track with expenditures. In addition to setting a dollar amount to spend on gifts, cards, decorations and clothes, you need to determine how much money to spend on Christmas dinner.
If you already use a monthly budget to track your expenses, then you are one step in the right direction! Additionally, if you set up a sinking fund for Christmas in the months leading up to the holiday, you should have already saved up the money you intend to spend this holiday season. Getting an early jump on the holidays is the best way to ensure you don't overspend.
That said, if you don't already have a Christmas budget, it's not too late to start! Get on track now – and even get a head start on next year – with my Christmas Budget Printables. With a solid plan, you can celebrate the holiday season without going into debt!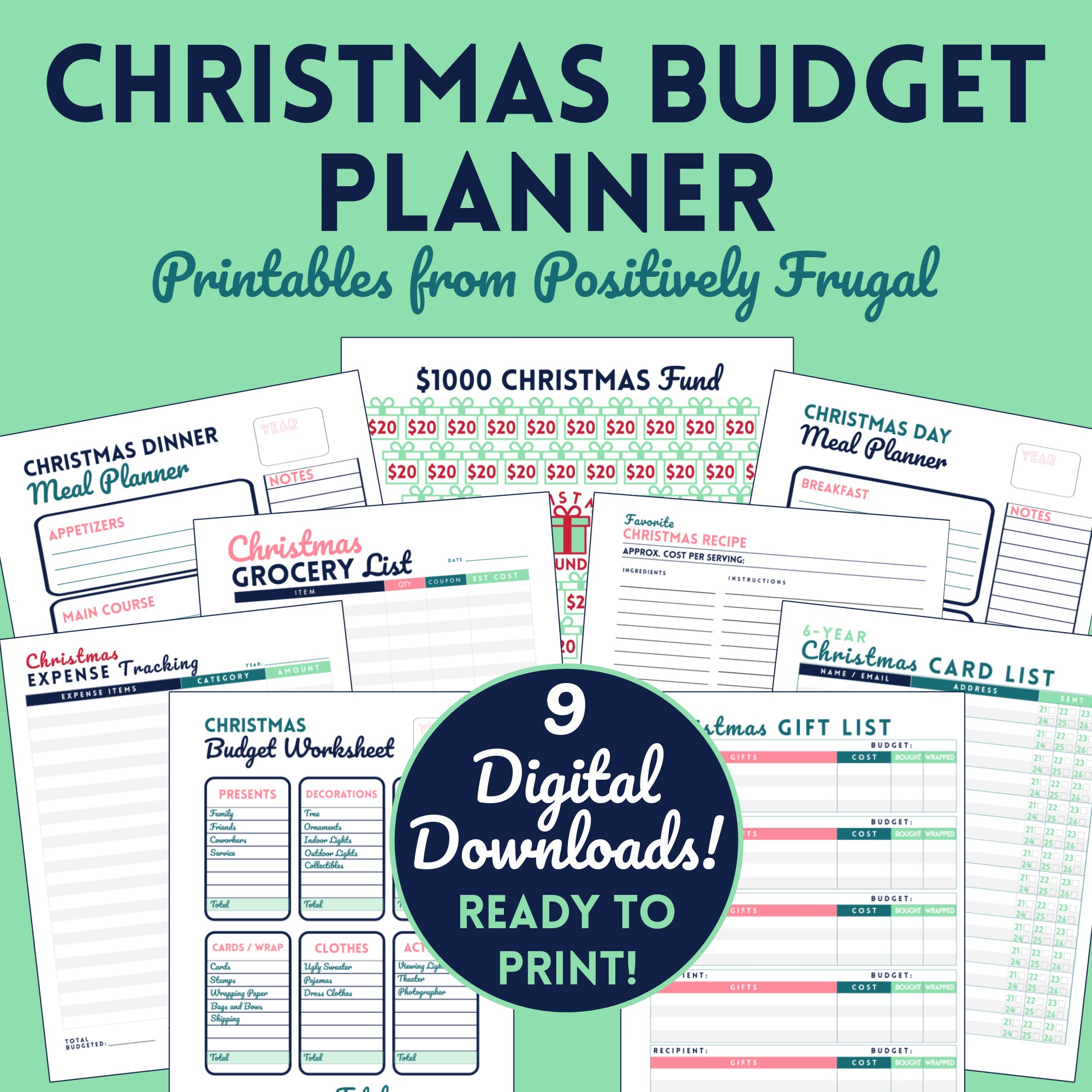 How To Do Christmas Dinner on a Budget
When it comes to making a budget Christmas dinner menu, it can be done in two ways: Classic or Creative. I'm highlighting ways to save money on Christmas dinner food that covers both options.
After we talk strategy, I share top Christmas dinner recipes on a budget that will help you prepare your holiday feast.
Whether you need ideas for hosting Christmas on a budget, advice on planning an affordable office holiday party or are looking for just a few tips on Christmas dinner foods that won't break the bank, I've got you covered!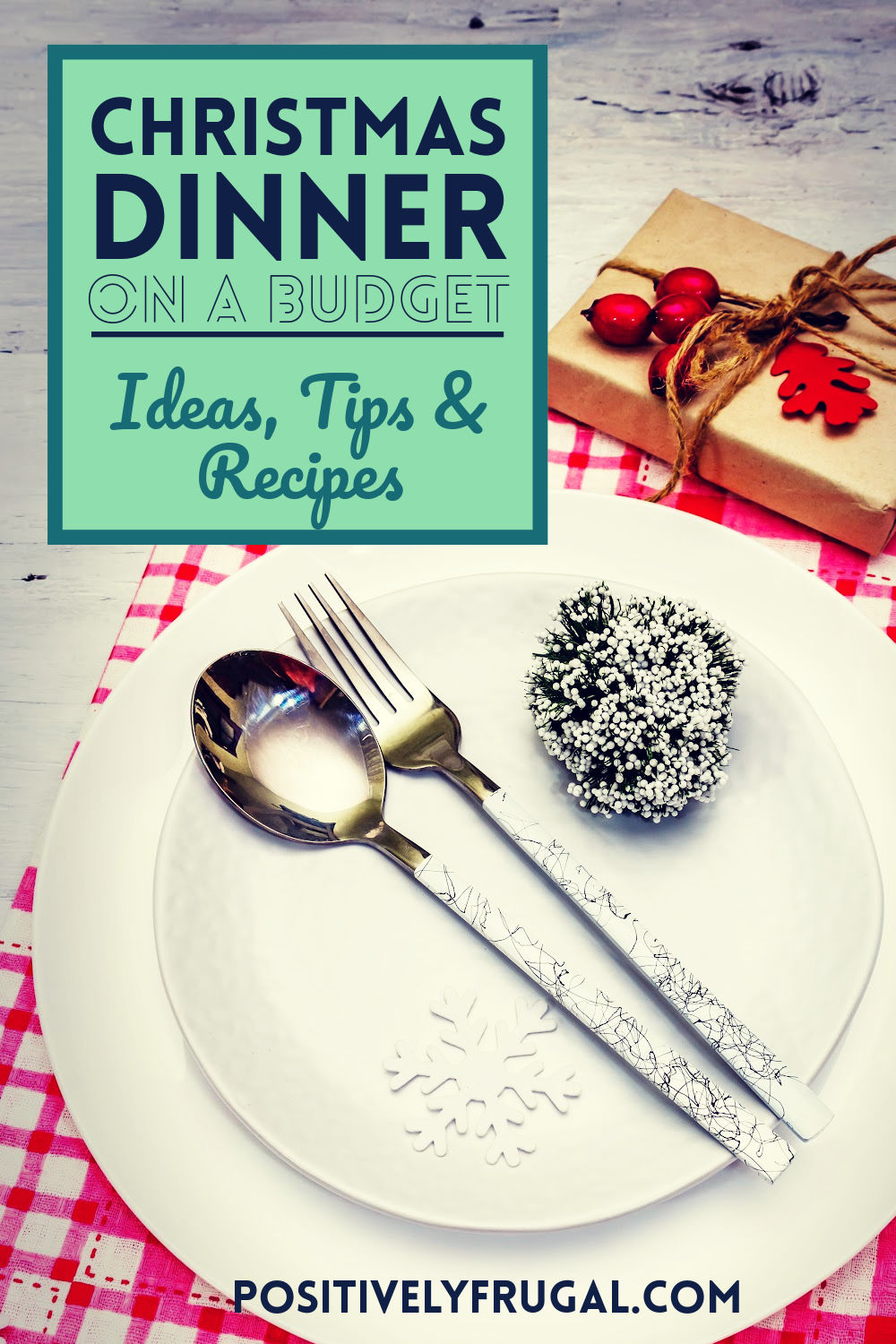 #1 Cheap Christmas Dinner: Stick to the Classics
One of the best ways to prepare a holiday dinner on a budget is by preparing all the fixings for a classic feast: Ham, potatoes and in-season vegetables.
The classic Christmas meal offers incredible bang-for-buck. Not only can it feed a crowd (or provide heaps of leftovers!), but it is also fairly simple to prepare.
What makes the classic Christmas dinner a top budget choice is that it is both traditional and affordable. The ingredients needed to make the holiday meal include items that grocery stores deeply discount in the weeks leading up to Christmas.
How Much Does a Classic Christmas Meal Cost?
To help you plan your holiday dinner budget, I am breaking down the cost the most classic, cheap Christmas meals.
Meat for a Christmas Meal on a Budget
A spiral half ham can cost as little as $1 per pound when on sale at the holidays – and it likely comes with a glaze packet (saving you from having to buy the ingredients to make your own). A 10-pound ham yields approximately 12 servings. At less than $1 per serving, it is one of the best budget Christmas food ideas.
Alternatively, a whole turkey can serve as a cheap entree for Christmas dinner. Turkeys are often on sale at Christmas, however purchasing a frozen turkey for Christmas at Thanksgiving might result in an even better deal (as long as you have space to store it in your freezer!).
Furthermore, you could score a good deal on a turkey during Day-After-Thanksgiving sales. I recently saw frozen Thanksgiving turkeys on sale for just 9 cents a pound after the holiday – making a 20 pound turkey less than $2 (which would provide the cheapest Christmas dinner entree by far!).
Sides: Cheap Christmas Dinner Ideas
Potatoes – bought in bulk or a large bag – are top sellers at the holidays and you can usually find a grocer selling them for less than $1 per pound. Simple mashed potatoes with butter and milk are an incredibly affordable side dish. If it is in your budget, you can jazz up the frugal food with garlic, sour cream, cream cheese, cheddar cheese, bacon bits or green onions.
Another spectacularly cheap Christmas side dish is in-season roasted vegetables – like carrots. A 3-pound bag of carrots can cost less than $1.50. Add a sprinkle of cinnamon or nutmeg to finish off the dish with a holiday flair.
Brussels sprouts and green beans – if they are on sale – are two other good cheap side dishes for Christmas dinner.
Total Cost of Classic, Cheap Holiday Meals
The cost of a simple, classic Christmas dinner that feeds 10 people can be as little as $25 if you stick to the absolute basics – which is just $2.50 per person. The best part is that even though it's a cheap Christmas dinner, it's classic and will taste delicious.
#2 Potluck Xmas Dinner on a Budget
Holiday potluck meals are a fantastic way to cut down the cost of Christmas dinner. Instead of the entire cost of the meal falling on the host, the cost is dispersed between the host and the guests. Typically, the host provides the Christmas entrée and everyone attending the dinner supplies a side dish – making it one of the best easy and cheap Christmas dinner ideas.
Tips for Hosting a Christmas Potluck Dinner
Hosting a potluck for Christmas dinner can be incredibly affordable for hosts. Serving ham or turkey for the entrée of your potluck meal – and having the guests bring the side dishes – can save you loads of money (and time and stress!).
To ensure the menu is varied for your affordable Christmas dinner buffet, it is best to assign a side dish to each guest. Things you can ask guests to bring are a potato dish, a vegetable dish, dessert or appetizers.
Another one of the budget Christmas buffet dinner ideas is to ask guests to bring their own drinks. Wine and beer can add a significant cost to your meal – and even providing soft drinks can get expensive.
Tips for Guests Attending a Christmas Dinner Potluck
If you get invited to a potluck dinner at the holidays, there are plenty of ways to contribute while keeping your budget in check…without looking cheap.
Offering to bring an affordable vegetable side dish is likely the best option monetarily. Classic Christmas food on a budget – like potatoes, carrots and green beans – are excellent choices. If you have a crock pot, using it to make mashed potatoes or glazed carrots is ideal for a potluck event. A traditional green bean casserole can also be an inexpensive dish to make (and it transports well!).
In most cases, it is best to avoid buying pre-made platters and dishes – as they usually cost more than making something yourself. Cheese trays and harvest salads might sound like budget-friendly ideas, but they can cost a bundle during the holidays (even if you gather the ingredients yourself!).
You could offer to bring something simple and necessary – like ice, napkins, cups and plates – but these items are not necessarily cheap…and yet bringing them could peg you as the cheapskate.
#3 Cheap Christmas Dinner Alternatives
Foregoing the traditional feast and opting for an alternative holiday dinner can be a money saver, too.
Popular budget alternatives to making a traditional Christmas dinner are pizza and Chinese food. Some pizza places and Chinese restaurants are open on Christmas day – but to make cheap Christmas meals, I recommend making your own food at home.
Other substitutes to the Christmas dinner routine are a hearty slow-cooked stew or fun Christmas tacos.
Celebrating with food from other cultures is another way to ring in Christmas in an affordable way. Eating tamales for the holiday meal is a tradition in many Latin American countries, a meal of fried Chicken is how many people celebrate the day in Japan and borscht (beet soup) and pierogies are on the Christmas menu in Poland and other Eastern European countries.
If you get a little creative, you can likely come up with cheap Christmas meal ideas that fun and festive.
#4 Christmas Party on a Budget
Planning a Christmas party on a budget is not the easiest task – but it is possible! Whether you are inviting friends over to your house or are celebrating at the office, you can plan a fun event with these Christmas party ideas…on a budget!
Christmas Party Food on a Budget
Keeping it simple with basic appetizers is one of the best Christmas party food ideas on a budget. Deviled eggs, sausage roll bites, bruschetta and homemade dips with pretzels, chips or vegetables are all easy, budget options for cheap Christmas food for your holiday party.
If you are including a meal, large pasta trays – like baked ziti or lasagna – are affordable main dishes. Round out the Christmas party menu on a budget by adding a simple Caesar salad and easy-to-make homemade bread.
Affordable Christmas Party Drinks
Alcohol is one of the biggest costs of a holiday party. In order to keep your costs low, provide only beer and wine. Check your grocery store for wine case discounts – or find an obscure, tasty and affordable wine at a warehouse store (like Total Wine). Also inquire about returning any unopened bottles – as places like Costco have a liberal policy for accepting returns.
If you do decide to offer hard alcohol, consider choosing just one signature holiday drink – like cranberry vodka with a lime garnish.
Christmas Party on a Budget Ideas: Entertainment
Entertainment for your Christmas party doesn't have to cost a dime! One of the top ways to save on entertainment is to skip hiring a DJ and instead create your own playlist.
Another festive way to entertain your guests is to organize a Christmas carol sing-along; just print out the words so everyone can participate. Christmas charades, bingo and White Elephant exchanges (one of the best affordable gift giving traditions!) are other fun budget entertainment ideas.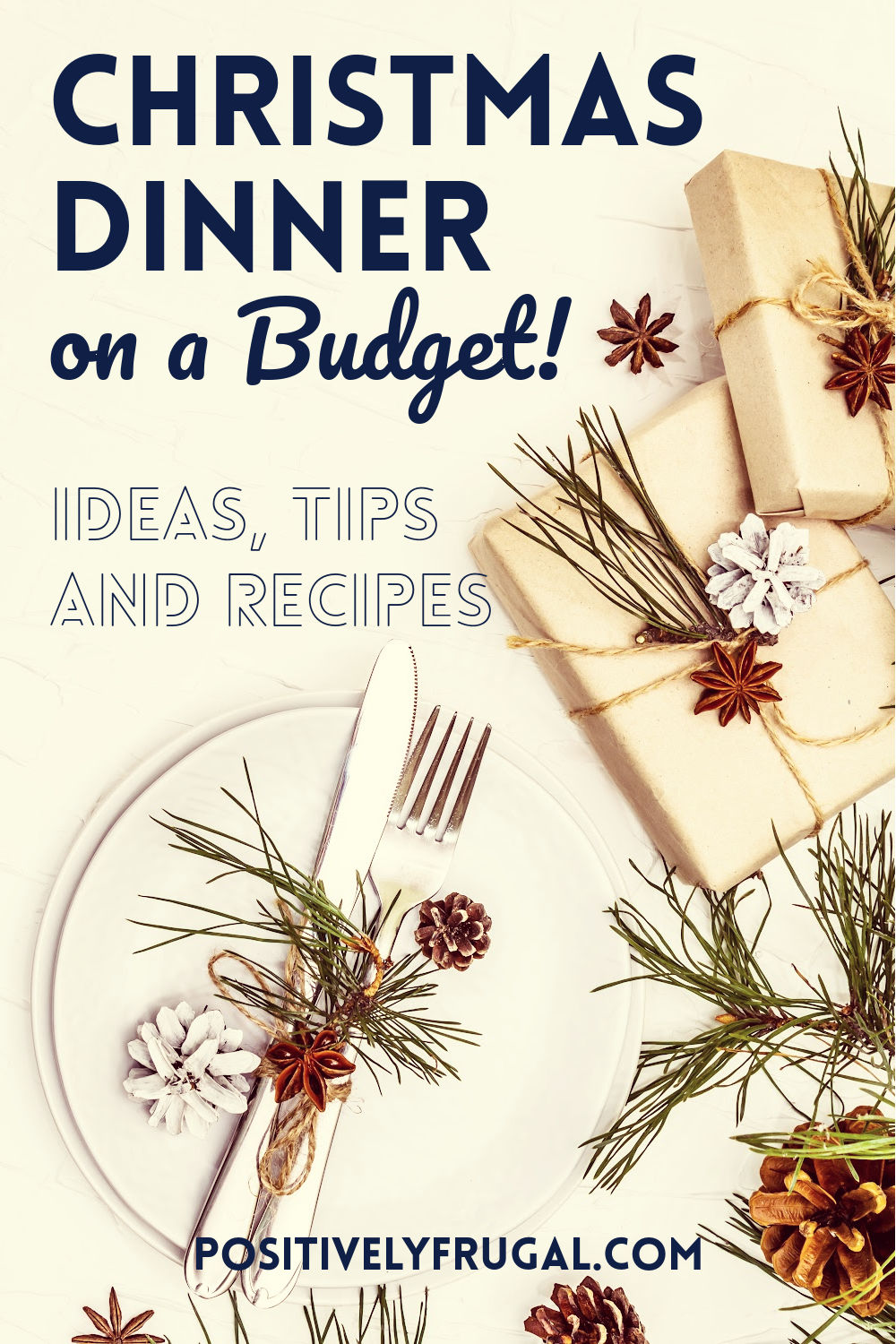 More Christmas Food Ideas on a Budget
Before we get to the recipes, I want to share a few more creative Christmas dinner ideas that might save you money.
Easy and Cheap Christmas Breakfast
A hearty, filling and cheap breakfast that can serve as a brunch is a Christmas morning casserole. An egg-based Christmas casserole is made with affordable ingredients – plus it is easy to put together the night before and bake in the morning.
Looking for unique Christmas dinner ideas on a budget? Serve the decadent breakfast casserole for dinner and have Brinner – one of my favorite cheap dinners! – for your holiday meal.
Christmas Lunch on a Budget
Rather than trying to make Christmas dinner on a tight budget, consider hosting a jubilant Christmas lunch. Inexpensive lunches are easier to pull off then cheap dinners, making them one of the best cheap ideas for Christmas Day meals. There are many cost benefits of celebrating with a Christmas lunch – including smaller portions, lighter fare and less (or no) alcohol being served.
Easy, cheap Christmas meals at lunchtime can be comprised of holiday sandwiches. Stack the sandwiches with traditional holiday fare, like ham and mashed sweet potatoes – for a tasty holiday lunch. The sandwich, which has all the favorite flavors of a classic meal, is smaller than dinner-size portions.
A charcuterie board for grazing at a lunchtime Christmas meal can also be a way to spend less – just be mindful of the items you choose. Avoid using too many expensive items – like nuts, cheese and meat – that can skyrocket your cost. Aldi and Trader Joe's are two stores where you can find deals on the items for your board.
Christmas Dinner for Two on a Budget
Making a budget Christmas dinner for two people is not all that difficult if you go in with a plan.
Personally, I'm all for going all in with a classic Christmas meal – even with just two people. Find a small ham and only make two side dishes – then freeze portions of the leftover ham to use for soups and quiches in January. On the other hand, create your feast and have leftovers for days!
Another way to create a special holiday meal for two at an affordable price is to cook a favorite dinner or something not usually on your weekly meal plan. Some ideas of classy meals on a budget are baked pork chops with fresh herbs, an herb encrusted whole baked chicken or oven-roasted turkey breast.
Christmas Food Shopping on a Budget
A little pre-planning goes a long way when it comes to the best Christmas dinner menu on a budget.
First, plan your menu; look online to review the best deals at local grocery stores and plan your meal around the best sales. Write down all ingredients required to make your meal. Next, look in your cupboards and fridge for items you already have that can be used for your Christmas dinner on a budget.
Then, make your Christmas dinner grocery list. I recommend noting the sale prices on your shopping list. When you go to the store, do not deviate from your list! I share more tips in my article on Groceries on a Budget.
Budget Christmas Recipes
Now that you have some good ideas on how to make your Christmas meal on a budget, let's get to the best budget-friendly holiday recipes. I list the top cheap Christmas recipe ideas in five categories: Appetizers, Main Entrées, Side Dishes, Desserts and Drinks.
Budget Christmas Dinner Appetizers
Start your holiday meal with fabulous money-saving appetizers. These appetizers are good for crowds and easy on your wallet.
Cranberry Meatballs: Xmas Potluck Ideas
Meatballs are a great appetizer for your holiday meal and one of the best Christmas on a budget ideas! Save time (and the need to buy multiple one-off ingredients) and buy frozen meatballs. Toss them into a crockpot with cranberry and chili sauce and you have an affordable, festive appetizer. Just don't forget the toothpicks for serving! Get the recipe!
Baked Ham and Cheese Pinwheels: Cheap Holiday Recipes
Simple 4-ingredient Ham and Cheese Pinwheels is one of the cheap holiday dishes that is simple to make – yet it stands out as a crowd-pleasing favorite. Using puff pastry, deli ham, cheese and some Dijon mustard, the bite-size snacks are a tasty treat for guests while dinner is being prepared. Find out how to make it!
Dips for Chips, Pretzels and Fresh Veggies: Inexpensive Side Dishes
Homemade dips can be incredible affordable – especially when paired with a bag of pretzels or raw carrots and cucumbers. Dill dip is easy to make if you have a robust spice rack. However, the two-ingredient budget queso dip is a winner, too!
Affordable Main Entree
Surprisingly, the main entree for Christmas dinner can be downright cheap – as long as you opt for your local grocer's deal – and it's easy to make, too!
Pro Tip: Save the bones for making broth!
Spiral Ham: Festive Food Ideas for Cheap
Spiral ham is a Christmas classic – and it is so incredibly easy to prepare! Spiral hams are already cooked – so you just need to heat it up and glaze it. Use these cooking instructions for a perfect ham.
Roasted Turkey: Frugal Festive Meal Ideas
Many people are intimidated by cooking a whole turkey – but it doesn't have to be complicated or expensive. With a few fresh herbs, an onion, an apple and a butter rub, you can cook a delicious turkey. Get the recipe!
Roasted Chicken: Cheap Christmas Recipes
A whole roasted chicken can be an economical Christmas dinner entree – especially for a smaller crowd. Much like a turkey, whole chicken recipes are easier to follow than most people think. Try this recipe for a delightful garlic and herb roasted chicken.
Cheap Side Dishes
Christmas side dishes are almost as important as the main dish – and there heaps of inexpensive Christmas dishes to complete the meal!
Mashed Potatoes: Cheap Christmas Dinner Side Dish
Potatoes – one of the cheapest things to make for your holiday meal – are an absolute must for your Christmas feast!
To stay on track with your budget, you can make simple mashed potatoes – like the ones in this recipe. However, if you want to splurge just a little, you could make this savory Loaded Mashed Potato Casserole.
Honey Glazed Carrots: Affordable Holiday Recipe
What I love about cooked carrot side dishes is that they are inexpensive, tasty and easy to make. Even better, they can be made in a slow cooker! All you need to whip up the scrumptious side dish are carrots, honey, butter and a couple of spices…and a crock pot, of course! Get the recipe!
Green Bean Casserole: Cheap and Festive Dinner Recipes
A holiday classic, green bean casserole is an easy budget side dish – especially if you use opt for canned beans (which many people prefer!). It's also a great dish to make ahead of time. Use this simple recipe to learn how.
Homemade Bread: Frugal and Delicious Side Dish
For a long time, I thought I needed an expensive breadmaker to make delicious, cost-saving bread at home. Oh how I was wrong! It's easy to make bread – even artisan bread – at home. All you need is a few basic ingredients (flour, instant yeast, salt and water), an oven and a baking tray (although a Dutch oven does work better). I use this bread recipe and get rave reviews for my fresh baked bread at holiday dinners.
Inexpensive Christmas Dinner Desserts
Creating an inexpensive Christmas dinner dessert is the perfect ending to festive budget meals!
Apple Crisp: Low-Cost Christmas Dinner Dessert
One of my favorite cheap holiday desserts is a classic apple crisp. Apples, oats, cinnamon and sugar – all budget ingredients! – are combined to create a divine holiday dessert. Find out how to make it!
Store-Bought Pie: Worth the Cost
For many people, baking on a budget is an oxymoron. If you don't usually bake and your kitchen is not already stocked with basic baking supplies and ingredients, it can be costly to gather them for one dessert.
Therefore, while I'm typically a proponent of making food from scratch in order to save money, buying a pre-made, on-sale pie for your Christmas dinner could actually be more economical than buying all of the ingredients to make one yourself.
Affordable Christmas Dinner Beverages
Highlight festive dinners with beverages that don't break the bank. I already shared a few tips for saving money on Christmas dinner drinks (in the Budget Christmas Party section), but I want to pass on a few recipes.
Mulled Wine: Fun Christmas Dinner Ideas
I love drinking hot spiced wine during the holidays – but many recipes call for expensive spices and additional alcohol, which isn't really necessary. Instead, make mulled wine that comes in under budget with this recipe.
Festive Cranberry Vodka Cocktail: Festive Food Ideas
Serving cocktails at your budget Christmas dinner will certainly add to the cost of your meal. That said, a signature cocktail – like a festive cranberry vodka – is one of the more affordable options.
Mix the cranberry juice and vodka in advance (this will help keep guests from getting heavy handed with the alcohol) – and add a splash of ginger ale. Garnish the drinks with fresh cranberries and lime wedges for a seasonal flair – like they do in this recipe.
Need ideas for budget gifts? Use my Frugal Christmas Gift Ideas – or check out my Guide to Frugal Gifts!
We Want To Know: What are your top tips for making Christmas dinner on a budget? Share your favorite inexpensive Christmas dinner ideas in the comments!
Interested in more of my Frugal Food Tips? I round them all up (including my favorite Frugal Snacks) on my Frugal Food blog page!