Some of the links on this site are Affiliate Links and if you use them to make a purchase, we may earn a commission. For more information, read our Disclosure Policy.
We've all been there. It's late afternoon – not long after lunch, but still hours before dinner – and your stomach starts to growl, begging for some sort of sustenance. You are tempted to make the Walk of Shame to the vending machine and purchase over-priced junk food – and you remind yourself for the zillionth time that you need to prepare frugal snacks ahead of time. You start wondering what cheap snacks are also healthy and filling…and you found your way here.
I'm glad that you did – because I have heaps of ideas for cheap filling snacks that are perfect for the office, school and in between any meal!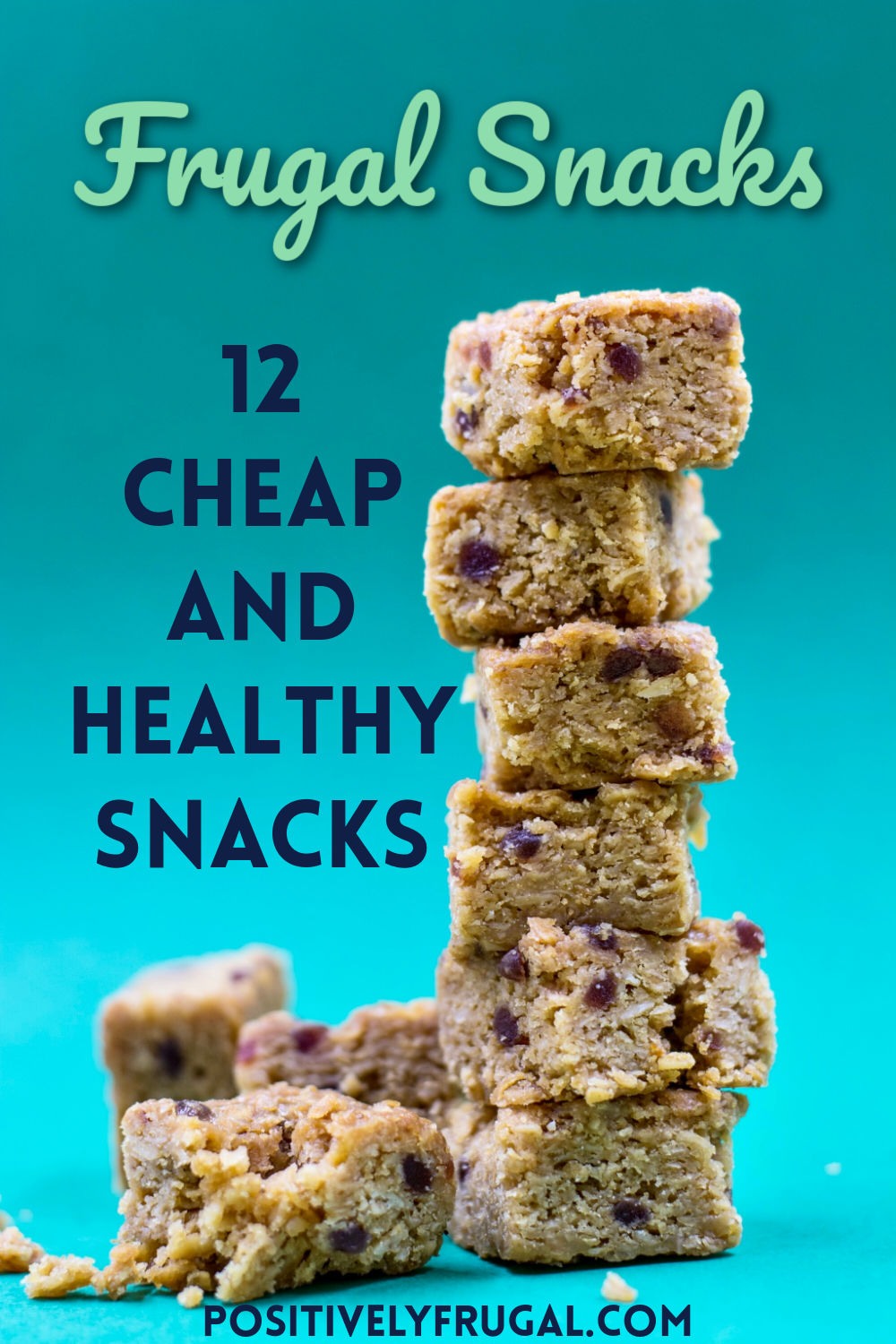 Why Frugal Snacks are Essential
When I first began changing my relationship with money and started watching every cent I spent, I was naturally inclined to cut out snack food. Traditional snack foods – like potato chips and candy bars – are frighteningly expensive (and unhealthy, to boot!).
However, afternoon hunger pangs became my nemesis – and more than once I found myself feeding my hard-earned cash into the breakroom's "Wheel of Death".
Once I came to terms with the fact that I'm a habitual snacker, I knew I had to account for it in my budget. Furthermore, in order to keep my fitness in check, I needed to find healthy snacks on a budget.
Just as I was motivated to create inexpensive breakfasts, affordable lunches and frugal dinners, I tasked myself with finding cheap snacks for in between meals, too.
Challenge Yourself to Spend Less
One of the key aspects of living a frugal lifestyle is finding affordable ways to eat. Buying groceries on a budget and learning how to cook frugally is essential to your success.
If you are up for a challenge, get inspired to eat well on a budget by joining my $5 Food Challenge.

12 FRUGAL AND CHEAP SNACKS
In my quest for healthy bites, I built a long list of go-to frugal snacks that I can prepare ahead of time. Even the cheapest snacks help to keep me satiated when my mid-day hunger rears its ugly head.
#1 Popcorn
Topping my list of cheap, filling snacks is an old favorite, popcorn. Delivering a satisfying crunch and excelling at staving off hunger, popcorn ranks as one of the all-time cheapest healthy snacks.
In fact, popcorn is so incredibly inexpensive that I include it on my Budget Grocery List.
The best way to stay on budget with popcorn is by buying whole kernels to pop on a stovetop or in an inexpensive Air Popper (which will actually save you money in the long run, as no oil is required for popping!).
Hot, fresh-popped popcorn tastes best, but popcorn lasts for days. Big batches of the cheap, healthy snacks can be made and portioned to be consumed throughout the week (so it doesn't go to waste!).
Best of all, you can get creative with your popcorn toppings. Using different spices is one of my favorite ways to Jazz up Frugal Foods. Literally shake things up by adding a dash of salt, pepper or garlic powder for your popcorn pleasure.
#2 Roasted Chickpeas
When it comes to finding snacks for cheap, chickpeas might not immediately jump to mind – but, trust me, roasted chickpeas are absolutely fantastic!
Not only are roasted chickpeas packed with protein, fiber and healthy carbs, but they are a cheap snack to make, too. All you need is a can of chickpeas, some olive oil and your preferred blend of spices.
Mix the ingredients and roast the chickpeas on a sheet pan at 450 degrees for about a half hour – and, voila, you have a crunchy, spicy, frugal snack!
Chickpeas are not the only thing you can roast into a yummy snack! Roasting pumpkin seeds and butternut squash seeds are excellent cheap snack ideas, as well.
#3 Granola Bars
Nutritious, filling and convenient, granola bars have long hailed King of Cheap Snacks for Kids. In recent years, however, you may have noticed that granola bars are not the cheapest snacks to buy; store-bought bars are actually outrageously pricey.
However, if you are looking for affordable snacks to make, then homemade granola bars fit the bill.
I have always loved granola bars as inexpensive snacks (even as an adult), but never considered making them myself until my mother-in-law shared her super simple recipe with me. I was shocked at how easy, healthy and affordable it is to whip up a batch of basic granola bars.
Recipes vary by taste (and budget!), but all good granola bar recipes use oats – a staple grocery item – as a base. Other common ingredients are peanut butter, honey, flour, sugar, chocolate chips and dried fruits. To keep granola bar snacks cheap, just make sure to choose a recipe with ingredients that fit your budget!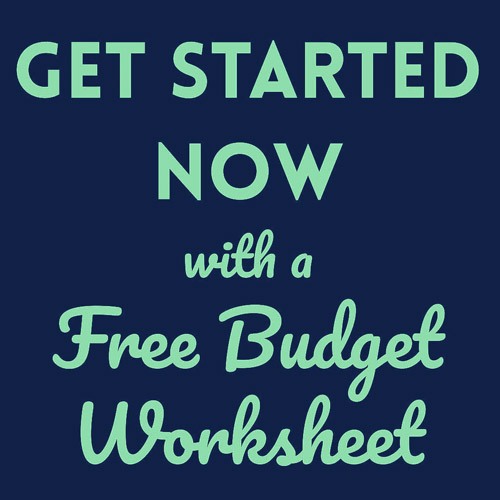 #4 Hummus and Vegetables
In my meal planning, I usually include hummus as an easy lunch or light dinner…but veggies dipped in hummus are great cheap snack foods, too!
To get the most bang for your buck, it is most affordable to make your own hummus. (Although, it can be one of the cheap healthy snacks to buy, too…just stick to buying it when it's on sale!)
The simplest recipes call for few ingredients – just toss chickpeas, olive oil and salt into your food processor then slice up some veggies and your will have easy and cheap snacks for days!
Cucumber slices, carrot sticks and red pepper wedges are my go-to dippers that work well with plain or flavored hummus.
Oh, and did you know that you can freeze hummus? So, go ahead and make a double batch, then freeze in smaller portions to use as cheap, easy snacks for the next month!
#5 Frozen Grapes
On hot summer days, there are no better cheap, easy snack than frozen grapes. Seriously, all you need to do to prepare these summertime heat-beating gems is pop them into the freezer!
Of course, fresh grapes are tasty, too – but frozen grapes are absolutely refreshing. Plus, they are a fun, unique and affordable snack for kids.
To make sure you stay on budget with grapes as cheap snacks to buy, my best advice is to purchase grapes when they are at rock-bottom prices. At my grocery store, grapes usually go on sale for less than $1 per pound at some point in the summer.
Once removed from the stem, washed and patted dry, place the grapes in a quality freezer container. The low cost snacks can be stored in the freezer for up to a year!
Other cheap fruit snacks that are fabulous when frozen are strawberries, blueberries and banana bits.
#6 Baked Apples
Apples are my top choice of cheap fruits; I swear, I eat at least one apple every day! Full of nutrients and slightly sweet, apples are little frugal all-stars.
Although I usually like bites of fresh apple mixed in with my oatmeal for breakfast (one of my all-time favorite frugal meals!), I enjoy them as frugal snacks, as well. One of the best ways to prepare apples as a snack– especially in the autumn and winter – is to bake them.
Steer clear of the recipes that call for heaps of sugar and butter and, instead, make healthy cheap snacks of thinly sliced apples sprinkled with cinnamon and baked to perfection.
In the summertime, fresh apple rings sprinkled with cinnamon or apple slices slathered in peanut butter are cheap and easy snacks, too!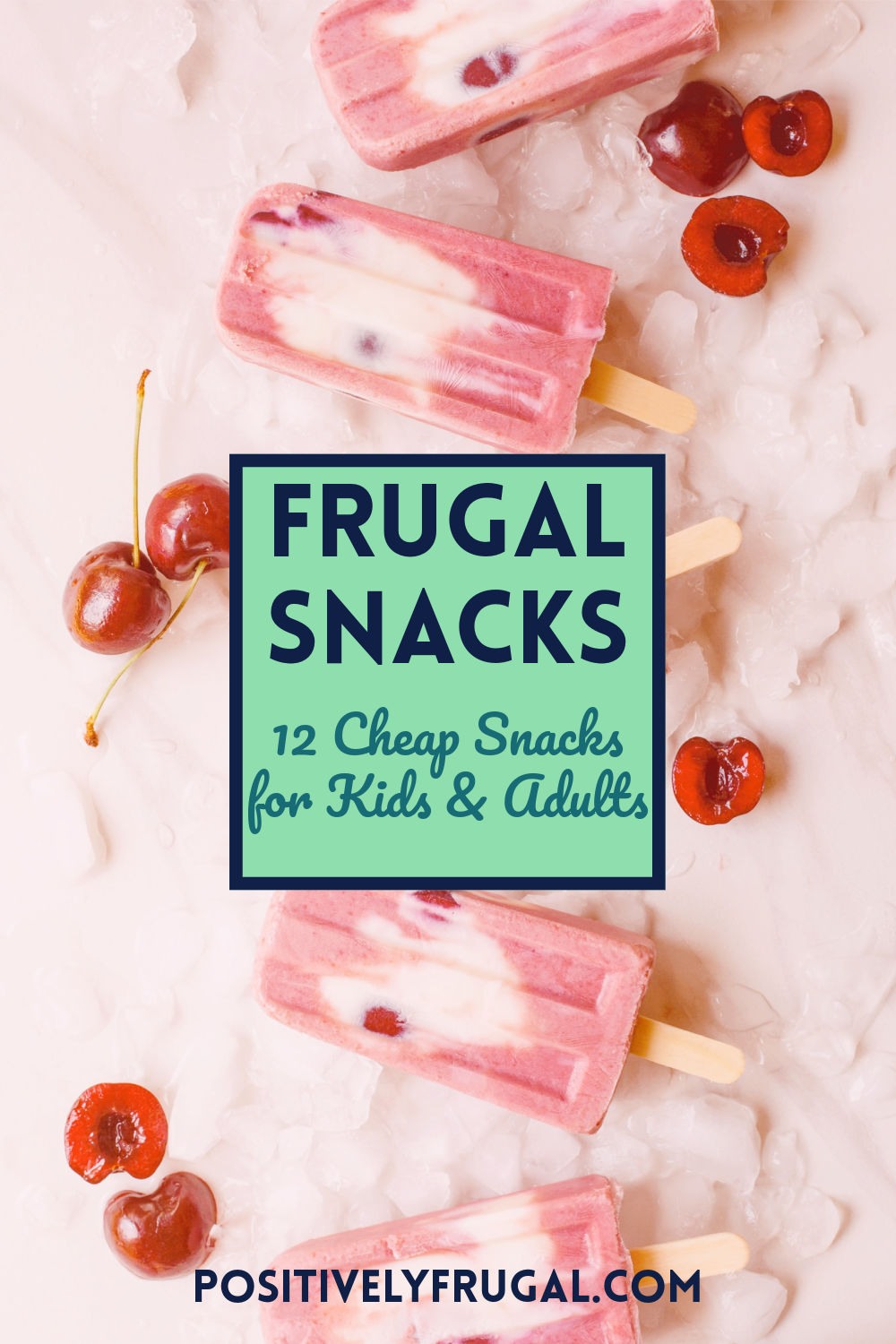 #7 Black Bean Dip
Great for parties or at your desk, black bean dip ranks as one of the best healthy, inexpensive snacks…and it's pretty easy to make, too.
Just toss canned (and rinsed) black beans into your food processor along with sauteed onion, garlic and peppers. Stir in some salt, cumin and cilantro to turn up the flavor and pair with fresh veggies for phenomenal frugal snacks.
If you are making cheap snacks for a party, consider including tortilla chips as dippers, as well.
Other cheap snack foods you can make for a fun frugal appetizer are homemade guacamole (when avocados are on sale) and fresh pico de gallo (which is even better when you can use ingredients from your own garden!).
#8 Celery Sticks with Peanut Butter
For inexpensive, healthy snacks, you can't go wrong with a stalk of celery and a jar of peanut butter!
Growing up, I practically lived on peanut butter. I would eat it on bread, with bananas or straight out of the jar. Peanut butter with celery, however, is a divine combination of crunchy and creamy – and it's one of the easy and cheap snacks to make.
Whether you opt to spread the peanut butter on the celery (my preference) or serve peanut butter on the side as a dip, the classic combo is a treat! It's one of the good cheap snacks to indulge in any time of day, any time of year.
And, although it is considered by many to be one of the inexpensive snacks for kids, adults can dive in when they get peckish as well!
#9 Frozen Yogurt Treats
Yogurt is one of the filling, cheap snacks that tastes delicious, but is healthy, too – and it's even better when you turn it into a frozen treat. While you can buy frozen yogurt in the frozen food section of your grocery store, it is likely healthier to make your own…and you will save money, too.
There are a few different ways to transform plain yogurt into fun, cheap and healthy snacks.
Yogurt Popsicles
Delicious, homemade frozen popsicles are one of the best cheap snacks you can make!
The low-budget snacks are made with a blend of plain yogurt, fresh berries and just a dribble of honey. No joke, it is as simple as that!
It is best to use an inexpensive popsicle mold but you can use disposable popsicle bags or even ice cube trays with toothpicks if you have a minimalist kitchen.
Greek Yogurt Ice Cream
Another one of the cheap, healthy snack ideas with yogurt is to make ice cream. Essentially, use the same simple ingredients as you would to make the popsicles, but skip the stick. Instead, freeze it in a tub and dish it out in bowls.

#10 Banana Oatmeal Cookies
Banana oatmeal cookies are cheap, healthy snacks to make that are certain to cure your cravings.
Although some recipes get complicated, I think simplicity is key. As a matter of fact, there are several 2-ingredient recipes – the ingredients being mashed banana and oats – for banana oatmeal cookies that I have tried and liked.
That said, adding in some peanut butter – like this recipe does – is even better. (If you are wondering why, see #8.)
What I like best about these cheap homemade snacks is that they are healthy enough for breakfast, but tasty enough to satisfy my sweet tooth.
#11 Cottage Cheese
Unlike the majority of cheese, cottage cheese is one of the cheeses that falls into the Frugal Fare category. Better yet, it is an extremely easy and cheap snack. All you have to do is swing into the grocery store and pick up an inexpensive tub.
It's one of the best cheap snacks to buy because cottage cheese is such a versatile snack! Add cucumber, tomato and olive bits to make it a Greek-inspired treat or serve with a slice of cantaloupe for something a little on the sweet side.
Plus, cottage cheese is high in protein, but low in fat. It's one of the cheap snacks that fill you up without adding a lot of calories.
While on the subject of cheese, I want to mention that cream cheese is also a quick, cheap snack when paired with pretzels or veggies. However, it has a much higher fat content than cottage cheese, so I wouldn't necessarily label it as one of the affordable, healthy snacks.
#12 Edamame
Rounding up my list of easy, cheap snacks is edamame. A superstar of health foods, edamame is rich in vitamins and minerals and packs a punch as far as protein goes. It's one of the best cheap snacks for adults – and some kids like it, too.
Edamame is sold two ways: shelled (loose beans) and unshelled (in the pod). Both varieties of the cheap and filling snacks can be found in the freezer section at most grocers.
For frugal snacking, I prefer steaming unshelled edamame and then adding a dash of salt to the shell before popping the beans out of the shell and into my mouth. Garlic, parmesan, lime and sugar are other popular options for flavor enhancers for the budget-friendly snacks.
Roasting shelled edamame is another way to prepare these tasty and cheap snacks!
Staying on Budget with Cheap Snacks
Buying cheap snack foods will certainly help the bottom line of any budget – but learning how to be frugal begins with your setting your budget and goals.
Start off on the right foot with my tips on How To Make a Budget – then snag your FREE Budget Worksheet by subscribing now.

Staying on Track with Budgeting Food
For specific help with food budgeting, use my Budget Meal Planning Printables, a printable packet which includes a weekly meal calendar, a grocery list organizer and recipe cards to record your favorite cheap meals and snacks.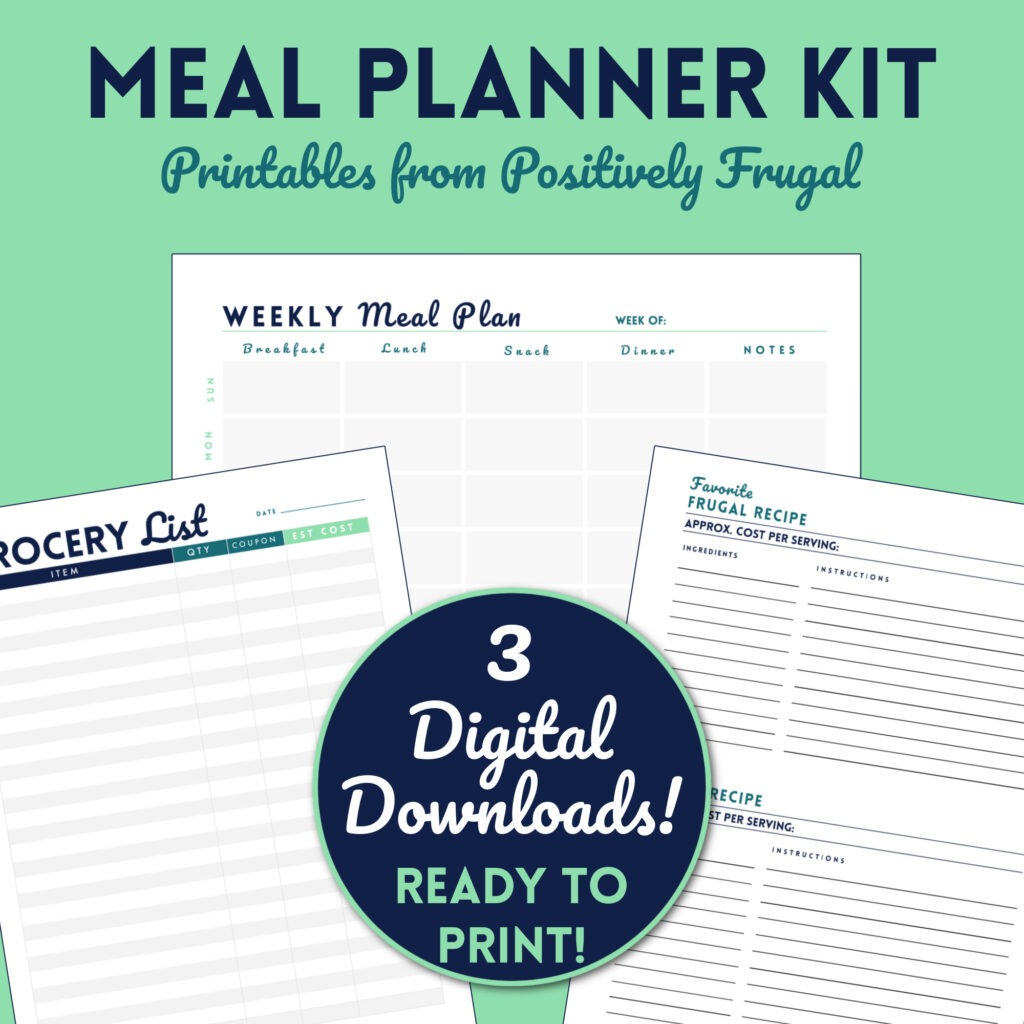 Interested in more of my Frugal Food Tips? I round them all up (including my favorite Frugal Snacks) on my Frugal Food blog page!
We Want To Know: What are your favorite Frugal Snacks? Tell us in the comments!