Some of the links on this site are Affiliate Links and if you use them to make a purchase, we may earn a commission. For more information, read our Disclosure Policy.
Making frugal meals is one of the best ways to keep your budget in tact and on track to achieving your money goals! Finding frugal recipes, however, is not always easy.
Frugal eating can be a real task – but no need to worry. I will help kickstart your frugal cooking with my favorite frugal meal ideas. My favorite frugal recipes can still cost right around $1 per serving…and they taste fabulous, too!
Frugal Healthy Meals
It's a common misnomer that healthy food costs a fortune. Don't be lured into believing that thrifty meals on a budget only come in a box from the grocery store.
In addition to making affordable and delicious frugal meals, creating healthy things to eat is a must for me. My frugal healthy meal plan incorporates fresh produce, nutritious proteins, and minimal fats.
Easy Frugal Meals
When seeking out frugal meal recipes, I always take into account how easy it will be to make in my kitchen. Cheap, frugal meals can lose their luster if it takes hours of food preparation, requires tedious steps or a long list of ingredients. Time is valuable, so opting for frugal easy meals works best for me and removes any urge to eat out.
Looking for a frugal cookbook? The Frugal Gourmet is a classic!
Challenge Yourself with Frugal Foods
Learning how to be more frugal with food is one of the best ways to save money. If you are up for a challenge, join my $5 Frugal Food Challenge! I will take you through the necessary steps to lowering your food bill and – ultimately – help you reach your money goals.

My 5 Best Frugal Meals
Simple frugal meals are satisfying, wholesome and one of the most important steps to becoming Frugal. Use my extremely cheap meal ideas to start saving more on your food bills and help you achieve your financial goals!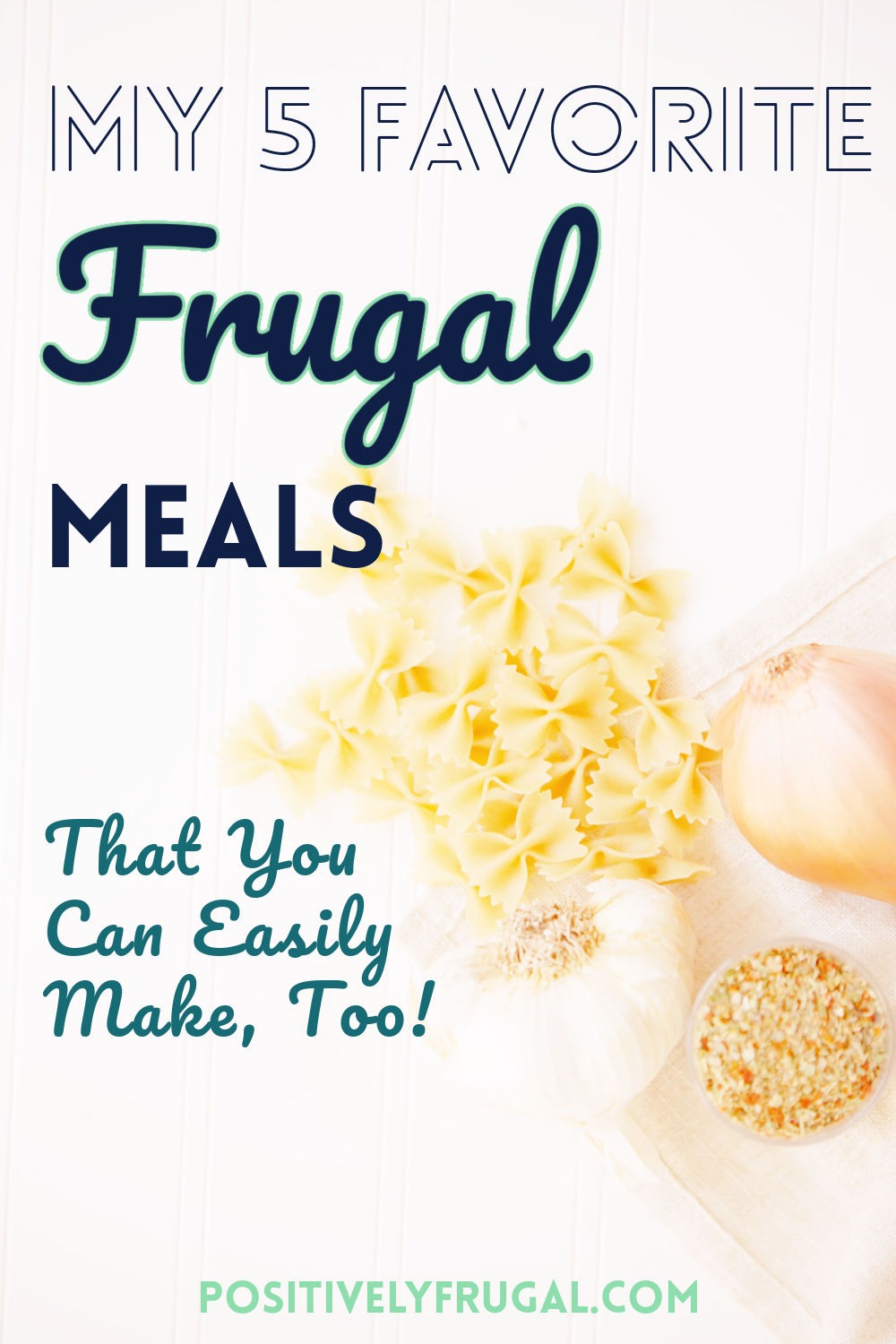 #1 Beans and Rice
When searching for very frugal meals, look no further than beans and rice. It's a dish that is featured regularly in my meal plan. It is healthy (check!), easy to make (check!) and can be spruced up with dozens of different variations (check, check!). Because it can be made in bulk, beans and rice makes fantastic frugal family meals, too. Best of all, the frugal meatless meals come in about one dollar per serving.
How To Make Beans and Rice Healthy Frugal Meals
When I make beans and rice, I start by preparing natural brown rice (not instant). While that is cooking, I sauté red onion and garlic in extra virgin olive oil. To make this an easy recipe, I used canned kidney beans; I drain and rinse them, then add them to the skillet with the onions and garlic – with a little bit of water, salt, pepper and cumin. When the rice is ready, I dish it into bowls and top it with the beans. Simple, straight-forward and satisfying.
If I want to jazz it up a little, I sometimes add fresh tomatoes, a dollop of Greek yogurt (instead of sour cream) or a sprinkle of shredded cheese. Corn and avocado are other yummy toppings. That said, almost any veggies or fridge leftovers can go into this meal – from cut up green beans to shredded cabbage to bits of leftover meatloaf.
Pro Tip: This frugal meal might be even cheaper if you start with dry beans. However, you will need to do the math – and don't forget to calculate your time, effort and energy used to cook the beans!
#2 Oatmeal with Apple
Oatmeal is one of my extremely frugal meals that I eat almost every day. It is heart-healthy, can be made in minutes and is completely versatile. It's a perfect frugal meal for one. Although I usually eat it for breakfast as a healthy way to start my day, oatmeal can be eaten as a warming lunch on a cold, wintery day, too.
When I keep it simple, this meal costs just 50 cents per serving.
Easy Oatmeal Frugal Food Recipes
To keep it low cost, skip the pre-packaged packets and start with old fashioned 100% whole grain oats (they are cheaper and healthier!). Cook according to instructions (or taste) on the stovetop or in the microwave. Add a dash of cinnamon and top with a diced apple. Voila!
On days when I want something a little heartier, I might add a couple tablespoons of walnut pieces, a small handful of raisins or a dusting of flaxseed. Other dried fruit, like cranberries, apricots and dates are also delicious on oatmeal – as are nuts like slivered almonds and pecans. Be aware, however, that many of these products are expensive; keep the cost down by seeking out sales and using coupons.
Pro Tip: When berries are in season (and cheap!) – like strawberries, blueberries and blackberries – I use those instead of apples; oatmeal with berries is one of my favorite frugal summer meals. Read the complete list of my Best Frugal Breakfasts!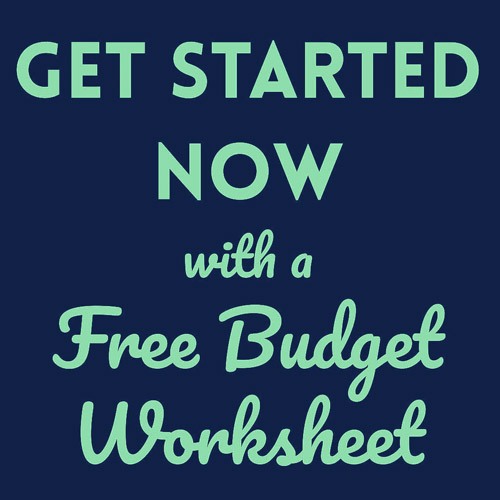 #3 White Bean Soup
One of my go-to easy frugal meals for 2 is a simple and nutritious White Bean Soup. Satisfying on its own for a frugal lunch, when I make it for dinner I usually serve it with a small side salad, or I pair it with a piece of fresh-baked bread. What I love best about this affordable meal is that it uses just five ingredients and takes less than 20 minutes to make. Oh – and each serving costs right around 75 cents!
Making Soup for Cheap Frugal Meals
My white bean soup was adapted from a Martha Stewart recipe that my mother-in-law sent me; I made a few small adjustments to make it cheaper and easier.
To start this frugal meal, I lightly sauté yellow onion and grated garlic in olive oil in a heavy, deep skillet. I add drained and rinsed white beans (I usually use great northern or cannellini), plus two cups of chicken broth (or 2 cups of water and a bouillon cube). Once I bring it to a boil, I reduce the heat and let it simmer for 10 minutes. With a wooden spoon, I smash some of the beans along the side of the skillet to make the broth thicker – and then it is ready to serve!
Some fun alterations are to add bacon bits, small ham chunks or little pieces of carrot. Rosemary, lemon or cracked pepper can also add a nice flavor.
Pro Tip: If you are looking for frugal vegetarian meals, swap out the chicken bouillon for vegetable broth.
#4 Fried Egg Sandwich
For quick-and-easy frugal meals for 1 that are filling, nothing fits the bill better than fried egg sandwiches.
Cheap egg sandwiches were one of the first things I learned to make in home economics class (so you know it is easy!) and it only takes about 5 minutes total from fridge to plate. Egg sandwiches are often associated with breakfast, but I think they can be eaten for any meal of the day. Bonus: The cost of a fried egg sandwich is right around 60 cents.
Egg Sandwich Frugal Living Recipes
All you need to make a fried egg sandwich is a pat of butter, one egg, one slice of cheese and one or two slices of bread – which I either toast in the skillet after the egg is cooked or pop into the toaster.
Make the sandwich by melting the butter in a skillet over medium-low heat and crack the egg into the skillet and break the yolk. Season with a little salt and pepper and use a spatula to form into a square the size of your bread. Give it a flip, and when it is cooked, top with a slice of cheese while still in the skillet and let it melt – then assemble your sandwich! I sometimes add onion (either in the skillet or in raw rings), avocado or tomato – and ketchup is good on it, too.
Pro Tip: Add a piece of inexpensive, in-season whole fruit – like a banana or clementine – to make it an even more nutritiously balanced meal!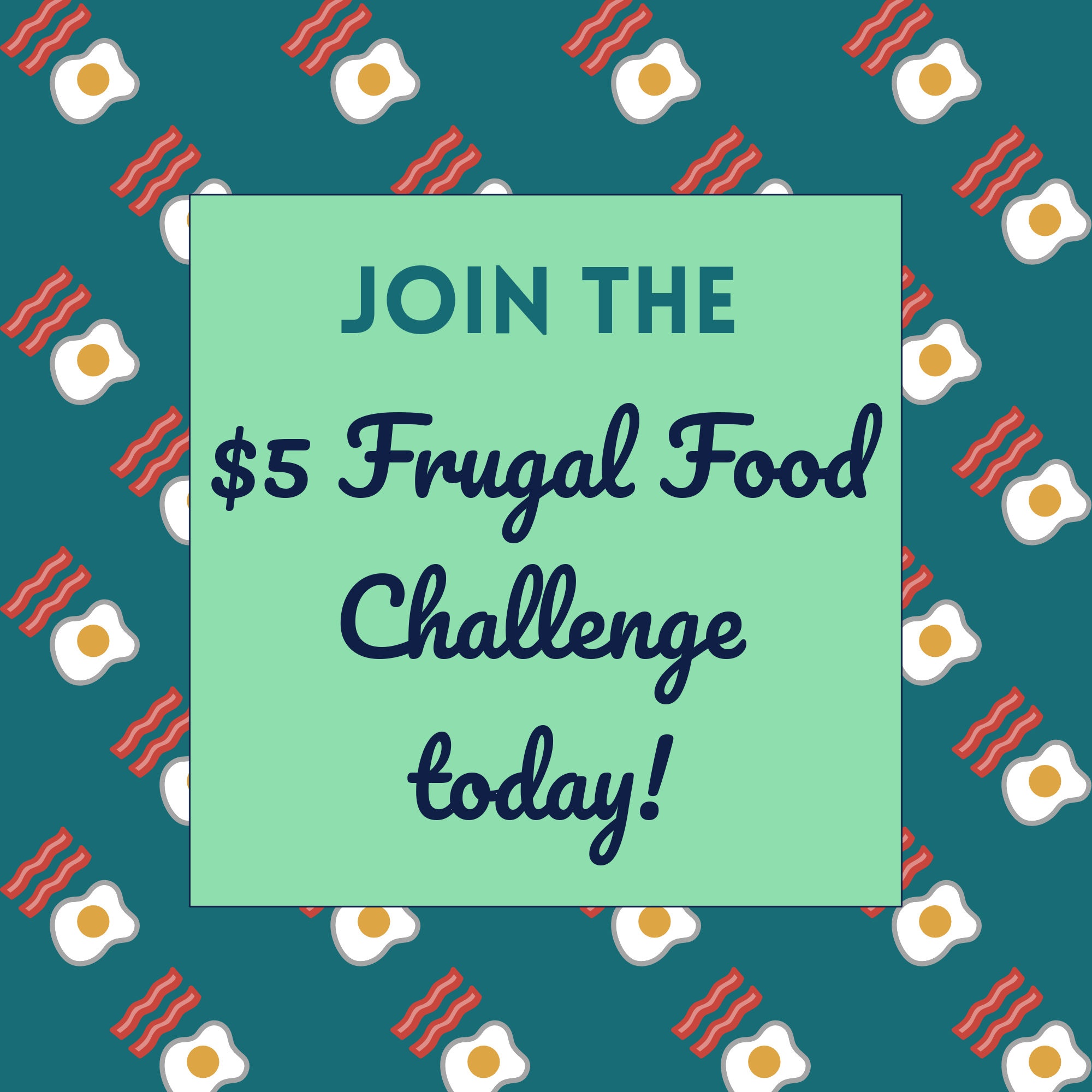 #5 Kielbasa Bowtie Pasta
Perhaps one of my all-time favorite low-budget recipes for frugal meals is kielbasa bowtie pasta. I've been making this savory and mouthwatering dish since college. My roommate's dad – a firefighter – taught us how to make it – just like he taught the rookies at the fire station. It tastes phenomenal and it costs just $1.25 per serving.
Pasta Recipe for Frugal Meals for Families
There are just four ingredients in kielbasa bowtie pasta – kielbasa, pasta, a red pepper, and Italian dressing. When I make kielbasa bowtie pasta, I make enough for four servings, but it is easy to double or halve the recipe if that works better for you.
Boil half a box of bowtie pasta, according to instructions. Slice kielbasa into half-inch rounds and add to a large skillet in a single layer; heat over medium heat and flip them when they start to brown. Meanwhile, slice the pepper into one-inch pieces and add to the skillet. When the pasta is done, drain and empty into large bowl, then mix with Italian dressing (I like Ken's Northern Italian Lite). Add the sausage and peppers, stir and serve – and that is dinner!
There are a few ways to modify this meal to different tastes. You can use a variety of peppers – including yellow, orange and green or even mini sweet peppers. Rather than using Italian dressing, you can simply use extra virgin olive oil and make your own blend of herbs to season it. Additionally, a nice sprinkle of parmesan cheese can be tasty, too. For a healthier option, you can also substitute turkey kielbasa for pork.
Pro Tip: Bowtie Pasta with Kielbasa is a suppertime all-star! You can find more evening meals on a budget in my article about the best Frugal Dinners.
---
6 More Frugal Meal Plan Ideas
I highlighted my favorite quick and easy frugal eats, but I want to share a few more delicious lunches and frugal dinner ideas to get you started with meal planning.
French Bread Pizza
One of the easy frugal recipe ideas that tends to be a big hit with kids and adults alike is an inexpensive French Bread Pizza. The reason it ranks as one of the best frugal food recipes is that it's a great way to use up day old bread and the toppings are completely versatile.
Instant Pot Black Bean Soup
I love healthy frugal meals – and Black Bean Soup hits the spot. Plus, it's incredibly simple to make with only a few common and affordable ingredients. In fact, it ticks all the boxes for extreme frugal eating when you are really trying to stretch your budget.
Creamy Tomato Soup with Grilled Cheese
One of the best old fashioned frugal recipes, tomato soup and grilled cheese is a classic. There are heaps of easy frugal recipes for a delicious tomato soup and the grilled cheese requires little more than sliced bread and one slice of cheese.
Basic Chicken Noodle Soup
Chicken Noodle Soup is another one of the cheap frugal meals that is easy to make. However, with the increased price of chicken, I recommend making air fryer chicken with a whole chicken. Then, use the bits and bones for your broth. When you start from scratch, you can take frugal healthy eating to a new level!
Slow Cooker Potato Soup
Potato Soup in a slow cooker is one of the fabulous frugal cooking recipes that is perfect for cold days. Hearty and comforting, these extreme frugal meals can cost less than $1 per serving.
Ground Beef and Sweet Potato Skillet
For one-skillet frugal healthy meals, try a concoction of savory beef and sweet potatoes. To cut down on the cost, use half the ground beef recommended and add kidney beans. Or, go completely meat-free and substitute kidney beans for the ground beef.
---
Organizing Frugal Meals
Planning and prepping are essential to frugal meal success. My Meal Plan Printables are perfect for staying focused and on budget even as food prices increase. The 3 templates included in the bundle are a Weekly Meal Planning Calendar, a Grocery List and a Favorite Recipe Card.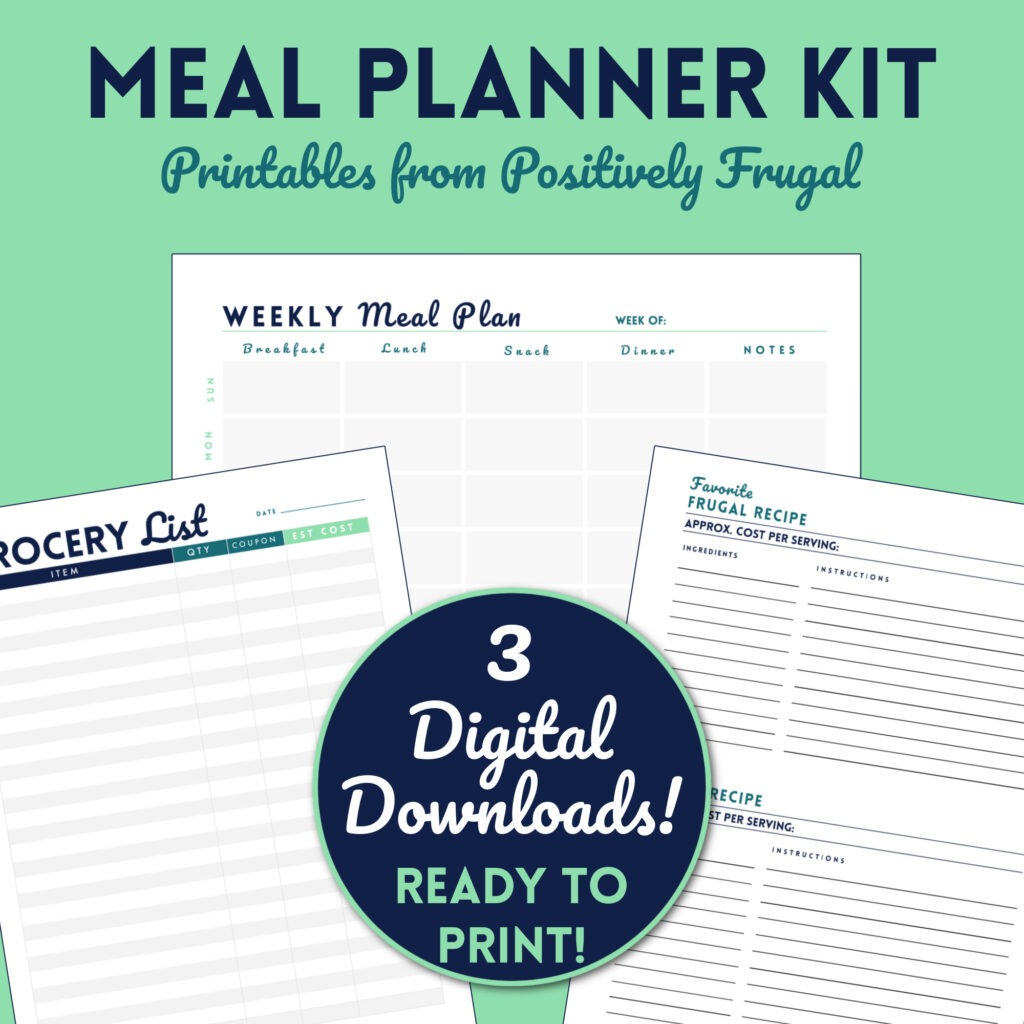 We Want To Know: Do you make any super frugal meals? Tell us about your favorite frugal meals and appetizers on a budget in the comments below!
More about Frugal Eats
Interested in more of my Frugal Food Tips? I round them all up (including my favorite Frugal Snacks) on my Frugal Food blog page!