Some of the links on this site are Affiliate Links and if you use them to make a purchase, we may earn a commission. For more information, read our Disclosure Policy.
With grocery store prices on the rise – and beef and pork leading the charge – finding cheap sources of protein can be challenging. To that I say, Bring it on.
As a frugal foodie, I'm determined to stick to my budget and eat well. I refuse to carb-load on cheap over-processed foods that are unhealthy. Instead, I challenge myself to find affordable protein foods that are both nourishing and satisfying.
In my quest, I have created a plethora of cheap protein meals that are tasty, filling and come in under budget.
Disclaimer: I am not a doctor or a nutritionist. The prices and nutritional facts noted in my list of the cheapest high protein foods are based on current prices at publication and product label information from my local grocery store.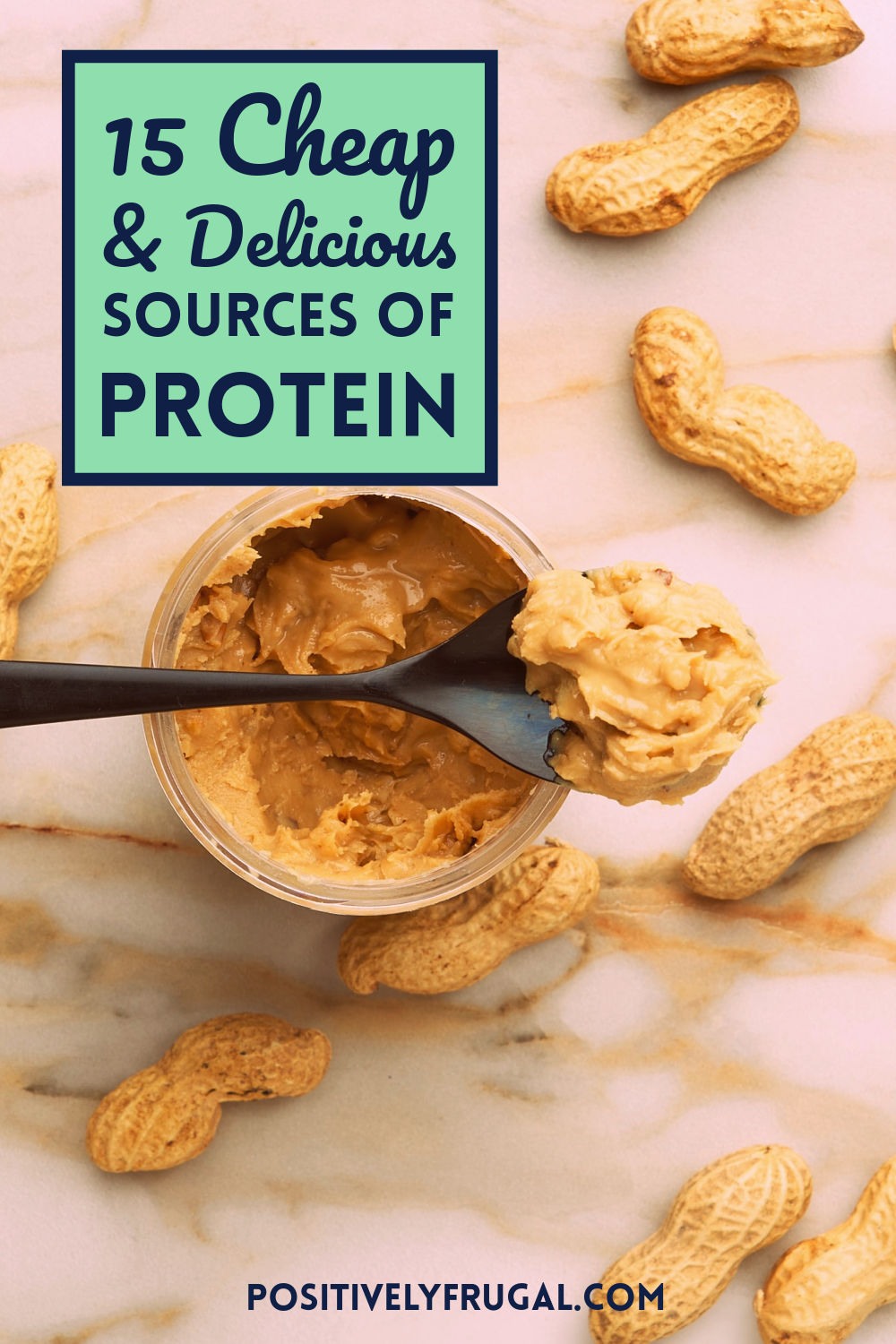 How To Get More Protein on a Budget
Protein is not just important – it is essential. The human body needs protein and its essential amino acids to grow muscle and to function properly.
Meat – chicken, pork, beef and lamb – are excellent sources of essential proteins, but they are pricey! Anyone tracking their budget will see how the high cost of meat impacts a frugal meal plan.
The obvious solution is to cut meat from your budget grocery list, but that is just the first step. While not buying meat will do heaps for your budget, you need to keep your body in check, too.
The best way to ensure you are getting enough protein – while sticking to your budget – is to replace expensive meat with a cheap source of protein. This is where affordable high-protein foods and plant-based protein options come in.
New to budgeting? I want to help you get started by giving you a budget worksheet – it's FREE when you subscribe to Positively Frugal!

15 CHEAP SOURCES OF PROTEIN
My list includes the best cheap, high-protein foods. Most of the items on my list are affordable sources of protein that are plant-based – but I include a few tips on how to score inexpensive meat as well.
My top tips for finding the best, cheap protein sources at the grocery store will help you save money on groceries. If you really need to slash your grocery food bill, sign up for my $5 Food Challenge where you are tasked with limiting your food spending to $5 per day!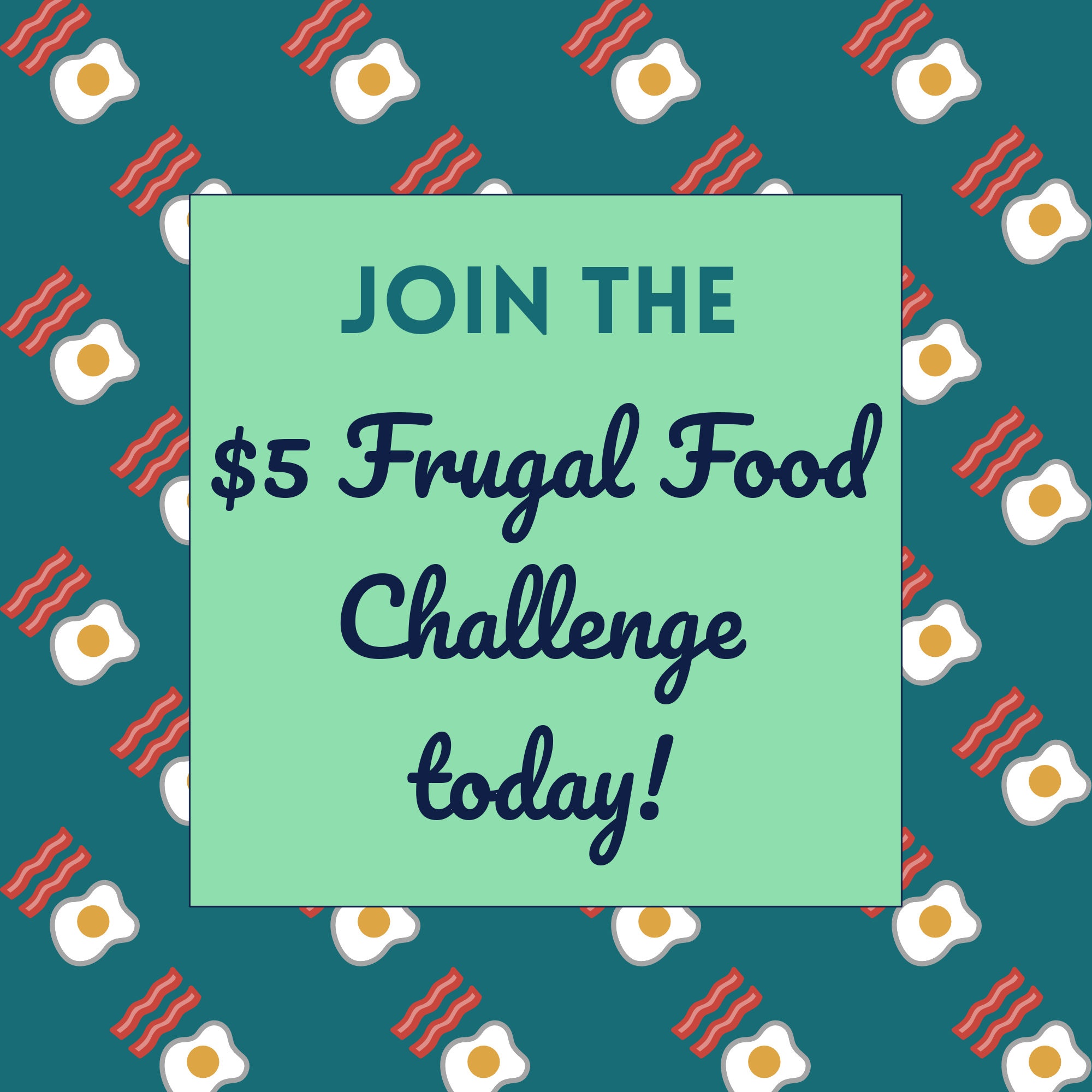 #1 BEANS as Cheapest Forms of Protein
Beans rank as one of the best and cheapest protein sources you can buy at the grocery store.
Packed with protein, iron and fiber – yet low in fat and cholesterol – beans are an amazing and inexpensive alternative to buying meat. In fact, beans are the most common and cheapest plant-based protein on the grocery shelf.
For me, black beans, white beans, kidney beans and garbanzo beans are staple pantry items. Because they are one of the cheapest protein foods, many of my favorite frugal meals feature beans and they usually cost less than $1 per serving. I use beans in main dishes, soups and salads because for me, honestly, it is the cheapest way to eat protein.
Pro Tip: While it is even cheaper to buy dry beans, for the convenience, I opt for the high-protein canned foods. If you, however, are seeking the absolute cheapest form of protein then dry beans are better for the budget.
#2 EGGS are a Cheap High Protein Food
There is a reason they call it The Incredible, Edible Egg. One of the best cheap protein sources, eggs also excel nutritionally. In fact, according to Healthline, eggs are one of the healthiest foods in the world.
Eggs feature regularly in my menu lineup. What I love about eggs is that, not only are they one of the best and cheapest protein options, but they can be used in a variety of dishes as well.
Pro Tip: Poaching and boiling eggs is the healthiest way to prepare eggs…but any way that you eat them will add protein to your meal.
#3 PLAIN GREEK YOGURT as One of the Best Cheap Sources of Protein
Greek yogurt is one of the inexpensive protein sources that I always keep in my refrigerator. Boasting more protein and less sugar than regular yogurt, Greek yogurt is also creamier.
Commonly eaten at breakfast, I actually use plain Greek yogurt as a substitute for mayonnaise and sour cream. I use it in salads (like egg salad) and for dips, too. Plus, you can add a dollop of Greek yogurt to turn meatless dishes into cheap, protein-packed meals.
Greek yogurt has tons of other health benefits! In addition to protein, it contains probiotics, calcium and B-12.
Pro Tip: While Greek yogurt is one of the best low budget protein foods, name brands can be pricey. To ensure that your yogurt falls in the Budget Protein Foods category, opt for the less expensive store brand.
#4 NUTS as Healthy Protein Sources
Nuts are often touted as being one of the best cheap protein options. Somewhat surprisingly, peanuts contain the most protein – which is great because they also tend to be the most affordable nuts at the grocery store.
Almonds and walnuts are other high protein options – but they can get expensive. (Keep an eye on them though; a recent increase in US nut production is causing prices to drop.)
To ensure that nuts are low-cost protein options, buy the packaged grocery store brand – or find a store that sells bulk nuts for less.
Pro Tip: To figure out if nuts are worth including in your food budget, use the calculator on your phone at the store (this is one of my top budget grocery shopping tips!). Price out the cheapest nuts and calculate the price per serving.
#5 OATS as One of the Best Natural Protein Sources
Containing 5 grams of protein and priced at less than 10 cents per serving, oats are the cheapest source of protein I have found at the grocery store.
Oats are an inexpensive breakfast meal – I start almost every day with a bowl of oatmeal made from old fashioned oats. That said, oats are a cheap healthy protein that can be used to 'beef' up numerous dishes, as well.
Some of the meals I have enhanced with oats are hearty casseroles, lentil stews, tasty biscuits and black bean burgers.
Pro Tip: While oats hold rank as the least expensive protein grain, other grains that offer high protein at a low cost are quinoa, couscous and wild rice.

#6 CANNED TUNA as a Low Cost Protein
Long hailed as one of the cheapest protein sources, canned tuna can be used to make cheap lunches and hearty, delicious dinners.
The high-protein canned food boasts an astounding 24 grams of protein in a single tin – plus it is low in fat.
Pro Tip: One of my favorite cheap meals high in protein is tuna salad. I punch up the protein by using albacore tuna, Greek yogurt (instead of mayo), celery and onion – and sometimes I add white beans, too.
#7 COTTAGE CHEESE for Inexpensive Sources of Protein
When it comes to tasty, cheap foods with protein, cottage cheese ticks all the boxes!
I often consume cottage cheese as one of my cheap, high-protein snacks. Creamy and filling, one serving of grocery store brand cottage cheese can cost as little as 30 cents, while providing 12 grams of protein.
Pro Tip: Need more cheap, mid-day snack ideas? I round up my favorites in my Frugal Snacks blog post!
#8 EDAMAME as Top Low Cost Protein Foods
Edamame is a cheap, healthy protein that can be eaten numerous ways! You can find edamame in your grocer's freezer section, where it is often priced at less than $2 a package.
Still in the shell, edamame is perfect as a snack or frugal appetizer. Shelled edamame, however, can be used to make a variety of high-protein budget meals – like Buddha bowls, stir fry dishes and fresh salads.
Shelled edamame can also be prepared as an affordable protein side dish, which is perfect for parties and potlucks!
Pro Tip: Buddha bowls, stir fries and salads are all fantastic frugal dinner ideas! Find more of favorite meals in my blog post, Frugal Dinners!
#9 CHIA SEEDS for Cheap, Protein-Rich Foods
I stumbled onto chia seeds when I was searching for a cheap plant protein to add to my morning oatmeal – and I haven't looked back since.
Chia seeds are one of the cheap foods high in protein that can be added to just about anything!
In addition to my oatmeal, I sprinkle chia seeds on salads, into smoothies and onto rice dishes to jazz them up a bit. You can also bake them into breads or pancakes, as well.
One of my favorite new ways to use chia seeds is as an egg substitute – which is great for vegan dishes!
Pro Tip: Flax seeds are another plant-based source of protein that are inexpensive and easy to use. In fact, you can mix chia and flax seeds together as toppings or a meal enhancement.
#10 TOFU as Cheap Food Rich in Protein
Tofu is one of the most famous cheap protein alternatives to meat – but for many years I snubbed my nose at it. Then I went to Southeast Asia and discovered just how delicious tofu can be.
Originating from China and – in my opinion – best in Asian cuisine, tofu can be prepared in many different ways in a variety of cheap, high-protein meals.
A few of my favorite cheap, meatless tofu meals are Cold Asian Noodle Salad, Tofu Pad Thai and General Tso's.
Pro Tip: The texture of tofu can be smooth and soft or crisp and crunchy. I recommend experimenting with tofu to find out which way you might like it best!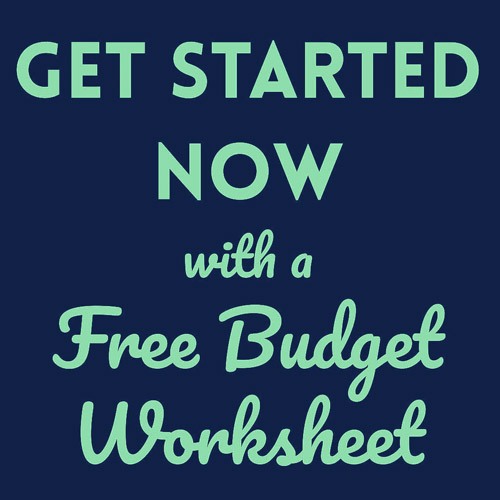 #11 LENTILS for High Protein on a Budget
One of the cheap, high-protein foods that I absolutely love is lentils! There are endless ways that lentils can be used in meals – either as the all-star of the dish or using in conjunction with other protein sources.
Lentils are excellent in vegan curries, vegetarian stews and even salads – which are just a few of my favorite cheap protein meal ideas.
I like both red and green lentils – and will eat them in hot and cold dishes. They are inexpensive and easy to prepare, so get creative!
Pro Tip: Lentils are one of the cheap vegetarian protein sources that I buy dry in the bag. For the best taste, rinse before cooking and add a little seasoning to the pot so the lentils soak up the flavor.
#12 MILK as a Healthy Cheap Protein
Milk is often overlooked as one of the cheap, protein rich foods because, well, it's a liquid. However, one cup of milk contains 8 amazing grams of protein.
Considering that there are 16 cups in a gallon, milk is definitely one of the inexpensive, high-protein foods that should not be dismissed.
Pro Tip: If you are like me and are sensitive or allergic to milk, soy milk is a good alternative! Although twice as expensive (but still relatively affordable), soy milk has the same amount of protein per serving.
#13 CHICKPEA HUMMUS for Cheap Protein Ideas
Hummus made from chickpeas is one of the cheapest sources of protein – especially if you make your own at home!
I love making homemade hummus. It's easier to make than most people think, plus it is healthier than store-bought hummus. To really up the protein content, add Greek yogurt (it will also make it creamier!) or blend in some flax seeds.
Pro Tip: Hummus can be kept in the freezer for up to four months – so next time you whip up a batch at home, get a jump start on your meal prepping plan and make extra to freeze and use later!
#14 PUMPKIN, SQUASH and SUNFLOWER SEEDS are Cheap Proteins
Seeds – especially pumpkin, squash and sunflower seeds – are good, cheap sources of protein.
Typically, I like to add sunflower seeds to salads, and I garnish soups with pumpkin and butternut squash seeds. That said, roasted pumpkin, squash and sunflower seeds are all good, cheap protein snacks on their own, too.
Pro Tip: Whenever I make Butternut Squash Soup, I save the seeds and roast them myself. I do this at Halloween, too, when I carve my pumpkin. Just save and rinse the seeds, add a little salt and roast on a sheet pan!
#15 PEANUT BUTTER as a Classic Cheap Protein
Peanut butter is one of the classic cheap protein foods that I have favored since I was a kid. I slather peanut butter on bread, toast, crackers, bananas and apples – or just eat it by the spoonful – for a mid-day protein boost.
The only downside is that peanut butter has a high caloric and fat content, as well. Worse is that store-bought peanut butter contains added sugars and oils.
That said, it is incredibly easy to make your own healthier natural peanut butter; all you need is peanuts and a food processor.
Pro Tip: A food processor can be a luxury in a minimalist kitchen – but if you don't have a food processor, you can use a blender to make peanut butter instead!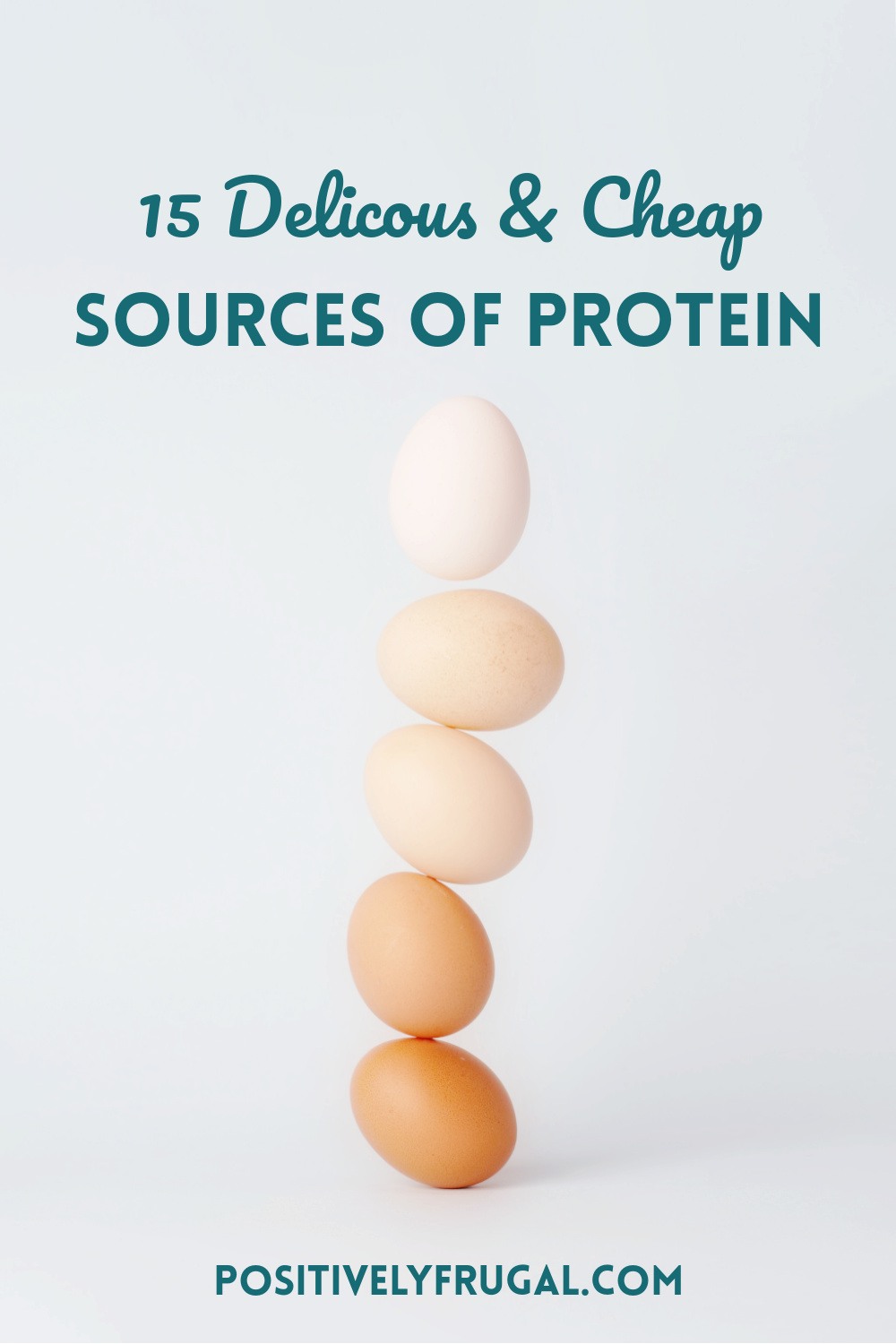 The Cheapest Way To Buy Meat
Let me be completely honest here: I love meat. There might be nothing more delicious in this world than a perfectly cooked steak. What I dislike, however, is how much that steak costs. Because, it costs a lot.
Above, I have outlined some of the best ways to buy cheap food with high protein – all of which are fabulous protein substitutes for meat. However, I have a few tips and tricks for buying cheap meat at the grocery store that can help with your bottom line as well!
Buy Frozen Meats
One way to buy cheap protein at the store is to go to the freezer section. Raw, frozen meat – like frozen boneless chicken breasts – are often cheaper per pound than fresh meat.
I would caution you, however, to do the math. While frozen meats can be cheaper, it is not always the case.
Opt for the Less Expensive Cuts of Meat
Sometimes the best protein for the money is simply a less expensive cut of meat.
Liver costs less than steak. Pork shoulder is cheaper than pork tenderloin. White fish is less expensive than salmon.
By opting for the lower-priced cuts of meat, you can find excellent and affordable protein sources.
Purchase Meat in Bulk
One of the best ways to buy budget protein is to buy meat in bulk. Cuts of meat in bulk packages can be much cheaper than buying smaller packaged meats.
My grocer always offers bulk meat at lower prices, but warehouse stores, like Costco, often sell bulk meats for even less.
Whole chickens offer a great value, too. And, if you really want to get serious about buying meat in bulk, consider buying a whole pig or cow from a farmer, having a butcher cut up the meat and storing the meat in a deep freezer to prep your meals over an entire year!
Shop After Holiday Specials
One of my favorite ways to buy protein on a budget is to buy meat after big holidays. The grocer needs to clear out the holiday meat for other food – and the prices per pound plummet.
The best post-holiday meats to look for are ham after Christmas, turkey after Thanksgiving and corned beef after St. Patrick's Day.
The cheapest protein meat I ever saw was whole turkeys on sale for 9 cents a pound post-Thanksgiving. That made a 20-pound turkey less than $2 – and meat just doesn't much cheaper than that!
Get Meat on Manager's Special
Perhaps the cheapest way to get protein is to shop the Manager's Specials. Fresh meat is steeply discounted when it is about to expire – which means you can get excellent cuts of meat for a fraction of the regular price.
I don't like to count on Manager's Specials for my weekly menu, but I do peruse the meat section, searching for the bright orange stickers, to stock up my freezer for future meals (and avoid any food waste as well!).
Do you need to get organized with your weekly meal plan and grocery shopping list? My Meal Planning Printables are the perfect solution! In addition to a weekly meal calendar, I have templates for your grocery list and favorite frugal recipes, too!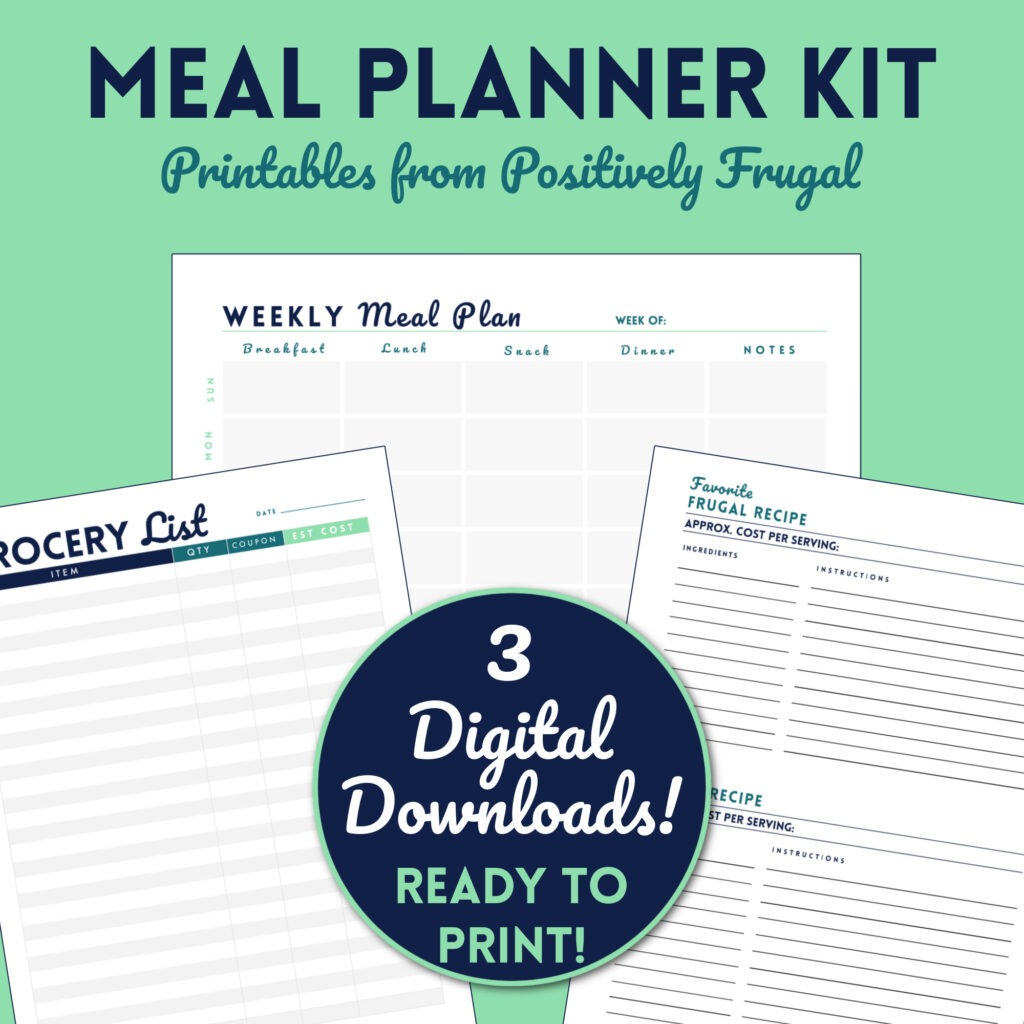 What About Faux Meat and Protein Powders?
In my opinion, faux meats (like those made by Impossible and Beyond Meat) are not ideal protein sources for budget eaters. They tend to be expensive (sometimes costing more than double what real meat costs) and are highly processed foods.
When looking for cheap vegan protein sources, whey protein powder often comes up as an option. While vegan protein powder is likely less expensive than meat, it is almost always more expensive than natural, plant-based proteins.
In my opinion, there are enough cheap foods with lots of protein that you can buy at the store that make spending extra for fake meat or pricey protein powder not worth the cost.
---

Interested in more of my Frugal Food Tips? I round them all up (including my favorite Frugal Snacks) on my Frugal Food blog page!
We Want To Know: What are your favorite cheap sources of protein? How do you find healthy protein sources on a budget?