Some of the links on this site are Affiliate Links and if you use them to make a purchase, we may earn a commission. For more information, read our Disclosure Policy.
When I first started budgeting for my frugal life, one of my exorbitant expenses was eating out…for lunch! The midday meal is supposed to be affordable and there I was, blowing my budget on $15 deli sandwiches and embarrassingly expensive sushi nibbles. I had to shake my habit and replace my overpriced meals with a cheap and frugal lunch.
The amazing thing is that when I adopted a frugal diet for lunch, not only did I reel my spending in, but I began eating healthier food, too. Like many frugal living tips, it was a win-win – and who doesn't like to win?!
Keep Your Budget in Check with a Cheap Lunch
Frugal lunches are now a solid part of my meal plan – and it is not just because cheap lunches save me money. Most of my meals are cheap vegetarian lunches that are low-fat, high-protein and heart healthy – and yet, they are extremely filling and completely satisfying.
Furthermore, I found that I was less stressed and could enjoy my lunchtime break when I started bringing my homemade cheap lunches for work. There was no need to dash out to buy food and waste my precious one-hour break in traffic and standing in lines. Simply put, by incorporating cheap lunch ideas into my meal prep plans, it improved my overall frugal lifestyle.
Plus, because I created a good rotation of fun frugal lunches, I was never bored with my meals.
Challenge Yourself to Eating Cheaper Lunches
You can also evade budget meal boredom by challenging yourself to eat cheaper for a day, week or month. You can get started right now with my $5 Frugal Food Challenge that will take you through the necessary steps to lowering your food bill so you can save money.

Frugal Lunch: 12 Cheap, Healthy Lunch Options
Stumped on what to make for a frugal lunch? Bored with peanut butter toast and grilled cheese sandwiches? No worries! Whether you are new to frugal eating or just need a few new ideas, I've got you covered with my favorite frugal lunch ideas!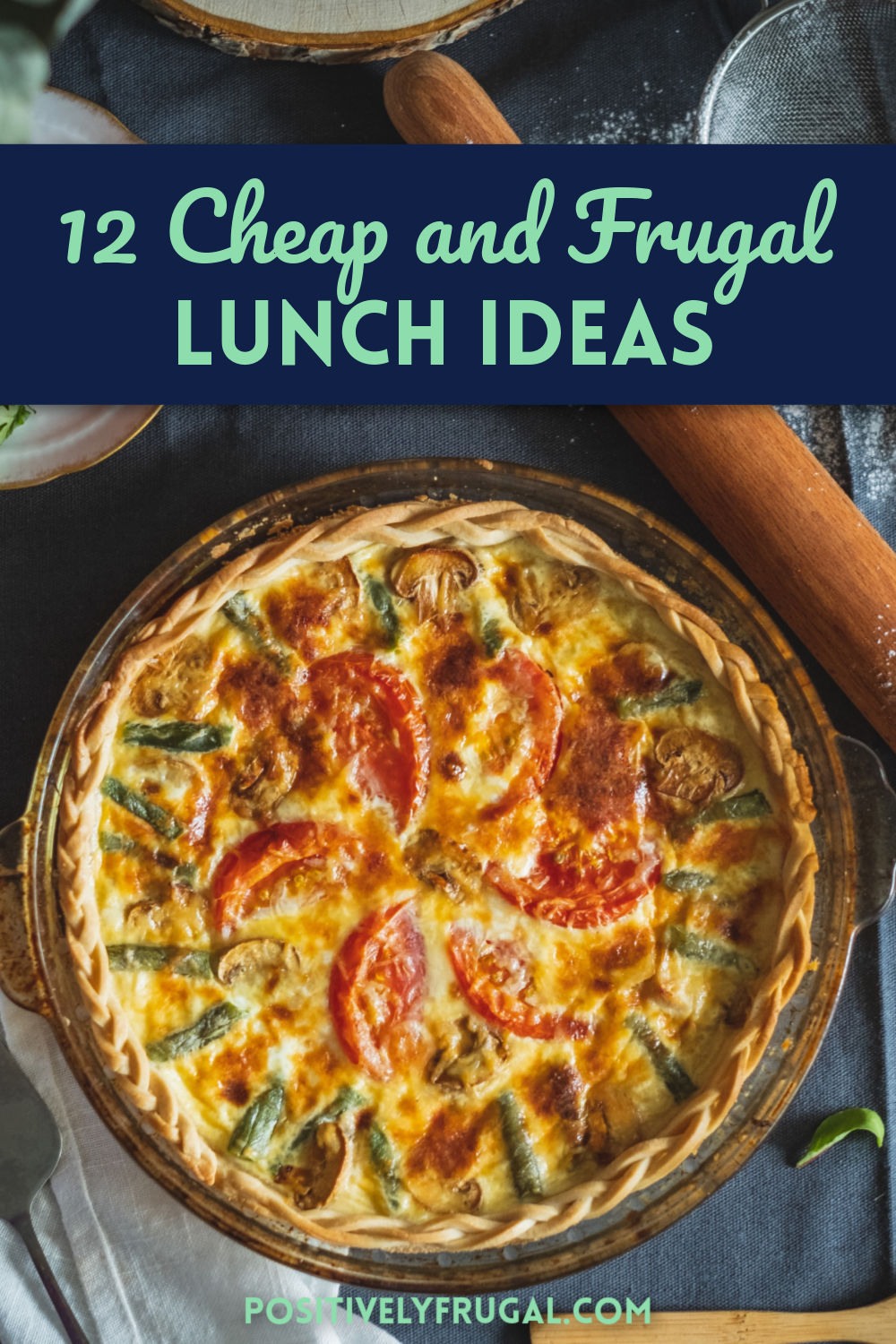 #1 Tuna Salad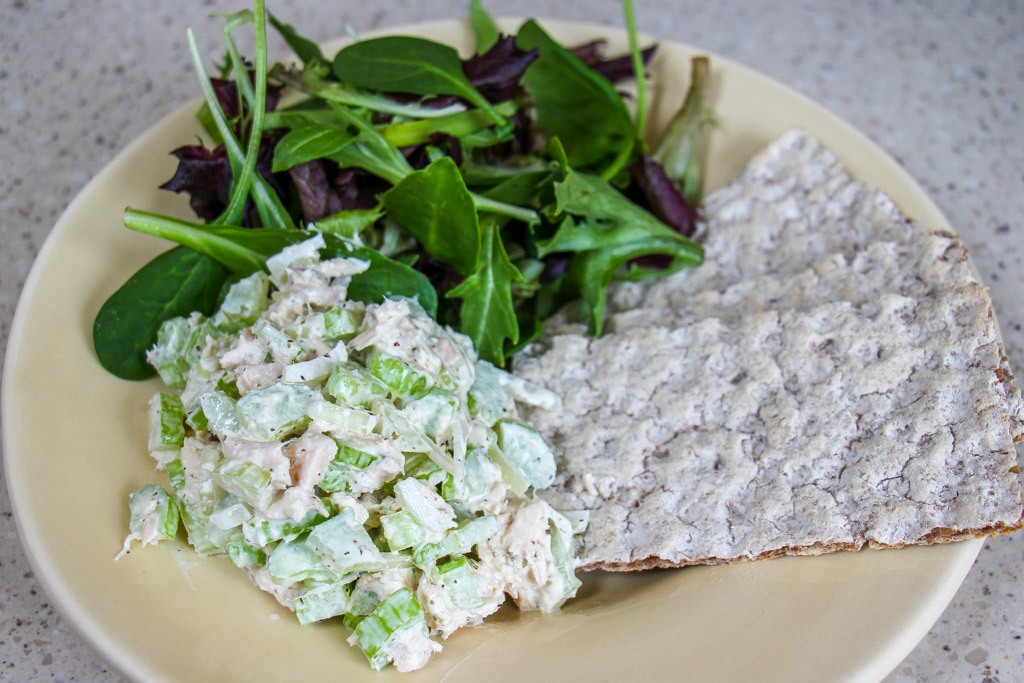 I'm kicking off my list with a classic frugal lunch: Tuna Salad. For my tuna salad, I forego the cheapest option and splash out with a small splurge on wild caught, solid white albacore tuna, which usually costs about $1 or $2 a can.
To stretch one can into two servings, I add a ton of veggies (like celery, onion, fresh cabbage, carrots, peppers or cucumbers). I also use nutrient-rich Greek yogurt instead of mayonnaise, which makes it both healthier and more filling.
For a light lunch, I serve the tuna salad on a bed of lettuce – or, if I'm a little bit hungrier, I use a healthy wrap (and include the lettuce inside). That said, a classic tuna salad sandwich still fits the bill for cheap and healthy lunch ideas on a budget.
#2 Lentils and Rice with Cabbage
When I first started including lentils in my frugal meal plan, I used this recipe for Sexy Lentil Salad. However, over the many years of frugal eating I have altered the recipe so much that my cheap lunch food lentil meal is now a distant second cousin to the original salad.
I still prepare lentils from scratch (basically following the advice for preparing Sexy Lentil Salad) and use a similar homemade dressing, but I pair the lentils with brown rice and shredded cabbage (either green or purple). Then, I add whatever other vegetables I have on hand – like carrots or squash.
What I love about this meal is that, not only is it hearty and tasty, but it can be made in big batches that make at least 5-6 meals. Better yet, it can be eaten cold or heated, so it is a perfect refreshing summer salad or a warm winter meal. The versatility – and ability to make it ahead – makes it one of the best cheap work lunch ideas.
#3 Crustless Quiche
Quiche is a great make-ahead frugal lunch for work! To keep it healthy and less expensive, I make crustless quiche. It is so incredibly easy – and can be jazzed up about a million different ways.
For a four-serving quiche, I use five eggs, about a half-cup of heavy cream (or milk), a handful of shredded cheese and a dash of my favorite seasonings – like rosemary or basil.
When I need a really cheap lunch, I make it plain – with only the ingredients listed above. However, there are numerous affordable fillers that can be added to take the quiche from simple to simply amazing. Ham and potato, bacon and onion, black beans and peppers and chicken and broccoli are all delicious combinations that can be used sparingly to enhance the dish without adding too much cost.
Quiche is one of the great cheap lunch ideas for family, but if you are cooking for just one or two people, you can refrigerate or freeze the extra portions.
#4 Curry Chickpea Salad
One of my super simple and cheap lunch options is a 5-ingredient curry chickpea salad. All I use to whip up this flavor-popping dish is chickpeas, carrots, raisins, olive oil and curry powder. Bam! Lunch is ready!
I like to make this meal ahead of time so that the flavors really mesh together. It can be eaten straight from the bowl – but I have also eaten this frugal lunch in lettuce wraps and even on a small bed of arugula for a little spicy kick.
Regardless of how you eat it, curry chickpea salad is one of the most incredibly easy-to-make cheap vegetarian lunches.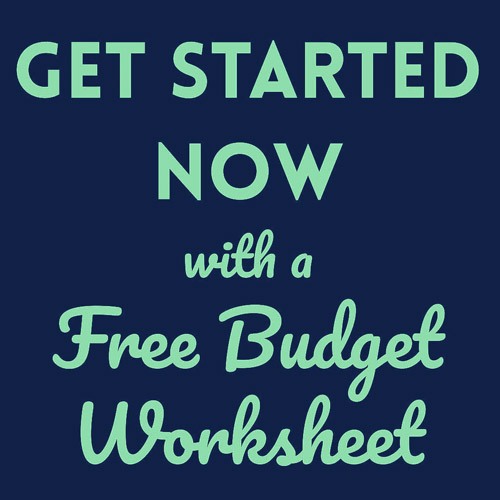 #5 Mexican Salad
Mexican salad is one of my favorite frugal bean recipes – and it's a meal that I eat for both lunches and frugal dinners! When I eat this as my main course, I like to consume it from a large bowl, where I can really give it a good mix. My colleagues used to tease me when I would bring this cheap, easy lunch to work in a gigantic bowl, but – really – it is the best way to eat it!
This budget lunch requires only a few basic and inexpensive ingredients: Romaine lettuce, black beans and a thick salsa. Seriously, it is that simple.
Of course, you can add other affordable toppings and it can still rank as one of the best budget lunch ideas. Avocado (if in season), a sprinkle of cheese, fresh cilantro, a dollop of fat-free Greek yogurt or your own homemade pico de gallo are good in the salad, too. And, if you don't want a vegetarian lunch, you could add shredded chicken or ground beef.
#6 White Bean Soup
One of my most extremely frugal meals is a basic white bean soup – and it ranks as one of my all-time favorite frugal meals.
Costing less than a dollar per serving, the soup has few ingredients and takes little time to prepare. White beans, onion, garlic and bouillon are all that go into this spectacular dish. Once heated, I like to crush some of the beans to thicken the broth.
It can be seasoned to taste with fragrant herbs (like rosemary) or fresh citrus (like lemon) – but any way you make it, it will remain one of the best cheap ideas for lunch.
#7 Asparagus White Bean Salad
This warm, one-skillet frugal lunch is healthy, scrumptious…and it looks pretty, too! While this is one of my cheap, easy lunches, it is not particularly great for taking to work (but only because I'm not a fan of reheated asparagus; if you are or plan to eat it cold, then no problem boxing it up for a weekday lunch at the office!).
My asparagus white bean salad is a combination of asparagus (1-inch pieces), yellow peppers (roughly cut the same size as the asparagus) and cannellini beans. I start by sauteing the asparagus, add the peppers and – once those are tender – add the beans (drained, if canned) to the skillet. Once heated through, mix in a zesty homemade lemon vinaigrette, and serve!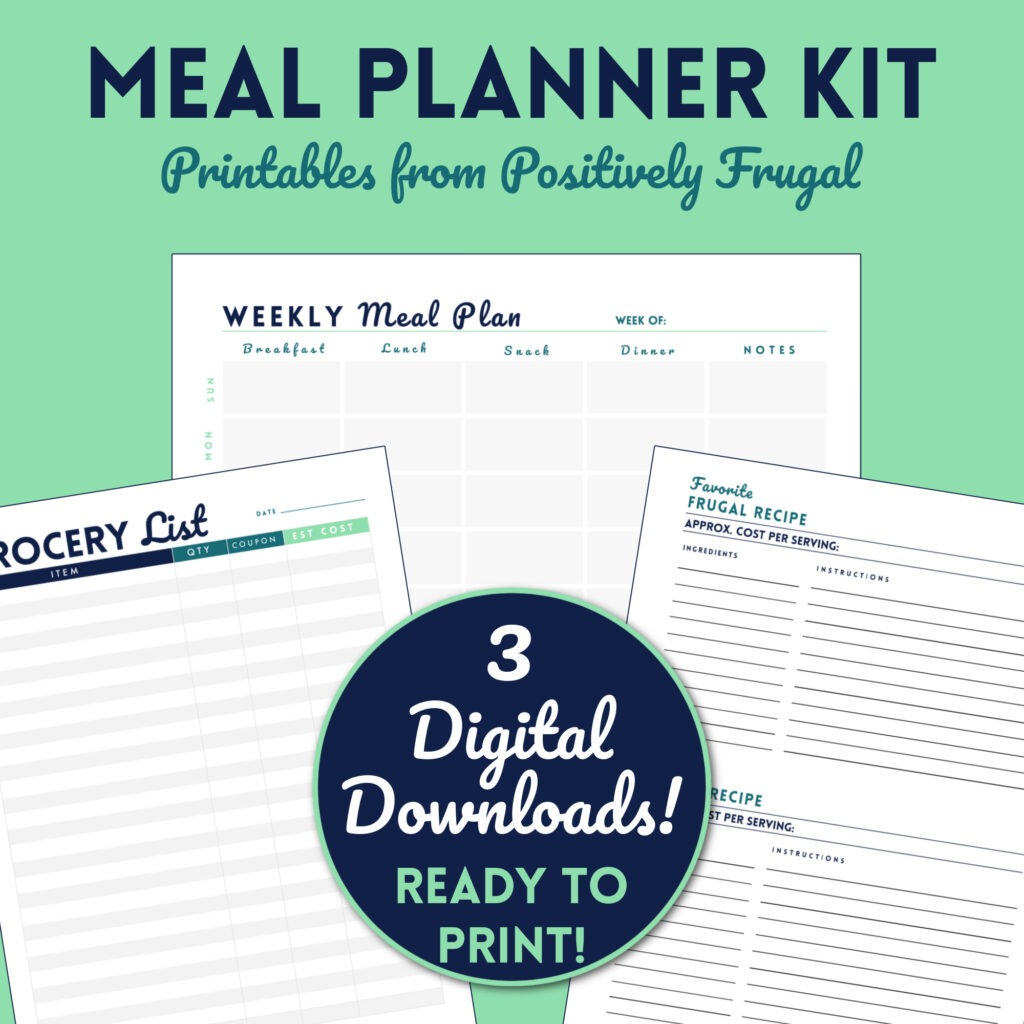 #8 Butternut Squash Soup
Hearty, creamy, full of flavor and cheap to make, butternut squash soup is a fabulous frugal lunch. I was introduced to this perfect midday meal when we were living in Australia – where it's called Pumpkin Soup. When a neighbor invited us over for 'pumpkin soup' using ingredients she had harvested from her own garden, we were eager to try it…and it was absolutely divine.
When I raved about how delicious it was, she explained the oh-so-simple recipe and supplied me with everything I needed to make it myself. The satisfying meal quickly became one of my favorite thrifty lunch ideas.
All that I put into my butternut squash soup is the squash, a sweet potato, white potato and brown onion (all peeled and cubed), two cups of chicken stock and seasonings (I use pepper, salt, cumin and rosemary). After cooking on low in a crockpot for several hours, I use a mixer to blend the soup, then add a half cup of heavy cream. And that is it!
Butternut squash soup is now a staple on my frugal menu during the winter for inexpensive healthy lunches. In fact, I have a batch simmering in the crockpot right now!
#9 Egg Salad
When it comes to frugal foods, eggs are excellent! I always include eggs on my budget grocery list. There are endless ways to prepare egg dishes, but egg salad is one of the easiest cheap lunch ideas for work on a budget. The affordable lunch can be prepared on the spot for a single serving or in a vat that will last all week long.
A basic egg salad needs little more than hard boiled eggs and mayonnaise (or fat-free Greek yogurt for a healthier option). However, I like to spruce mine this cheap healthy lunch with onions (red, green or pickled!), mustard (any variety!) and fresh herbs (like basil!).
Hard-boiled eggs are one of my suggested frugal healthy meals to eat for breakfast. You can find all of my frugal meal ideas for breakfast in my blog post, Delicious and Cheap Breakfast Ideas.
#10 Homemade Hummus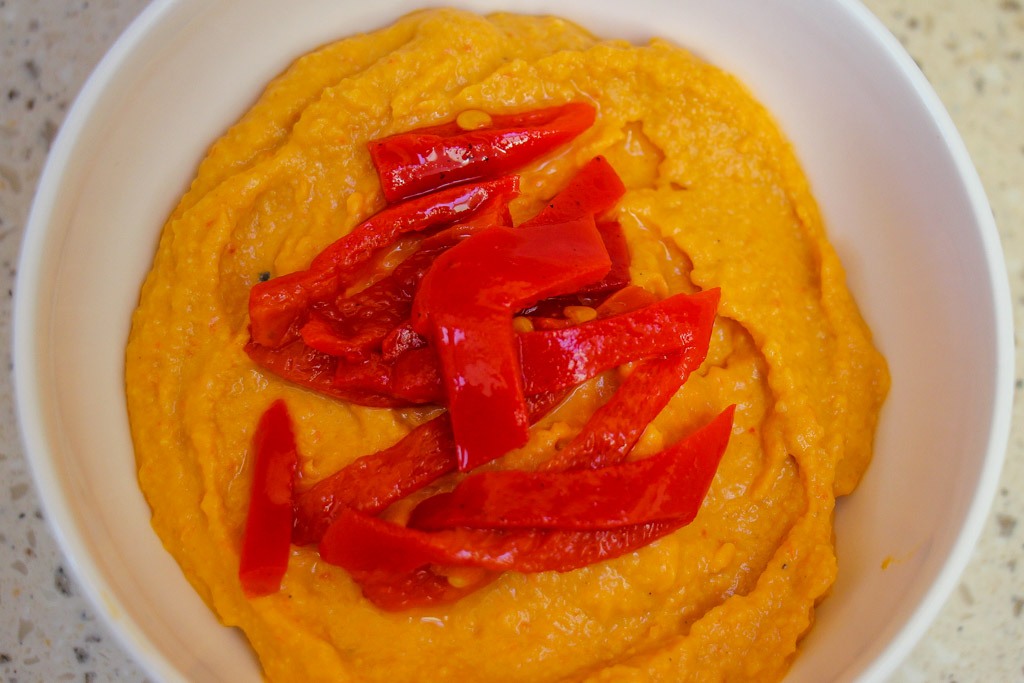 In the summertime, hummus and fresh veggies are a perfect cheap, healthy lunch. While it is easy to grab a tub of pre-made hummus from the store, frugal eaters know that it is even cheaper (and likely healthier!) to make your own hummus at home.
Not only is homemade hummus with vegetables a good cheap lunch for work, but it is one of the best frugal school lunch ideas and a super frugal appetizer, too!
The basics of making hummus are quite simple; all you really need are chickpeas, olive oil and salt. I skip the tahini because it tends to be pretty expensive – and frugal cooking is all about using affordable ingredients. If I want to add flavor to my hummus, I blend in my own roasted red peppers and garlic in the food processor or blender.
Find out more about the Minimalist Kitchen Essentials I recommend!
#11 Chicken Caesar Salad
With only 4 affordable ingredients – chicken, romaine, dressing and parm cheese – chicken Caesar salad is a fantastic cheap lunch option.
Just like my Mexican salad, I like to use an enormous bowl for my chicken salad with Caesar dressing – that way, I can mix it well to ensure all the lettuce is coated (and, ultimately, use less dressing, which is both healthier and cheaper).
To ensure this is one of your cheap lunch meals, I recommend buying chicken when it is on sale or buying a less expensive whole chicken to cook at home (and save the bones for making broth!).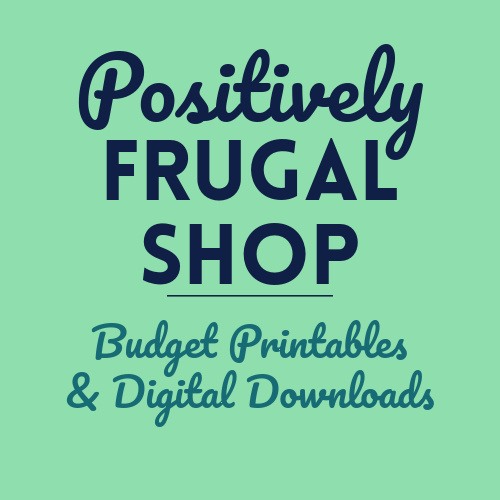 #12 White Bean, Tomato, Cucumber Salad
A fresh summer salad, like this white bean salad, tastes phenomenal on hot days – and it is a cheap and easy lunch, too.
To make this low budget lunch salad, I like to chop cherry tomatoes and the cucumber into bits the same size as the beans (I use Great Northern beans). I toss the beans and vegetables with olive oil and red wine vinegar, then use a sprinkling of fresh basil. Fresh bits of mozzarella are also good on this salad, but I only use it if I can find fresh mozzarella on sale.
Budget Your Frugal Lunches
The best way to start making frugal lunch meals is with the items you purchase at the grocery store. Staying at budget at the store isn't always easy, so I rounded up my best tips for sticking to buying Groceries on a Budget.
That said, creating a monthly budget will help immensely when attempting to be more frugal with your food. A budget will help you meet your goals and stay more organized.
Useful budget printables are designed to help you succeed – and my 18-piece Budget Planner Kit comes with helpful frugal meal planning tools, too.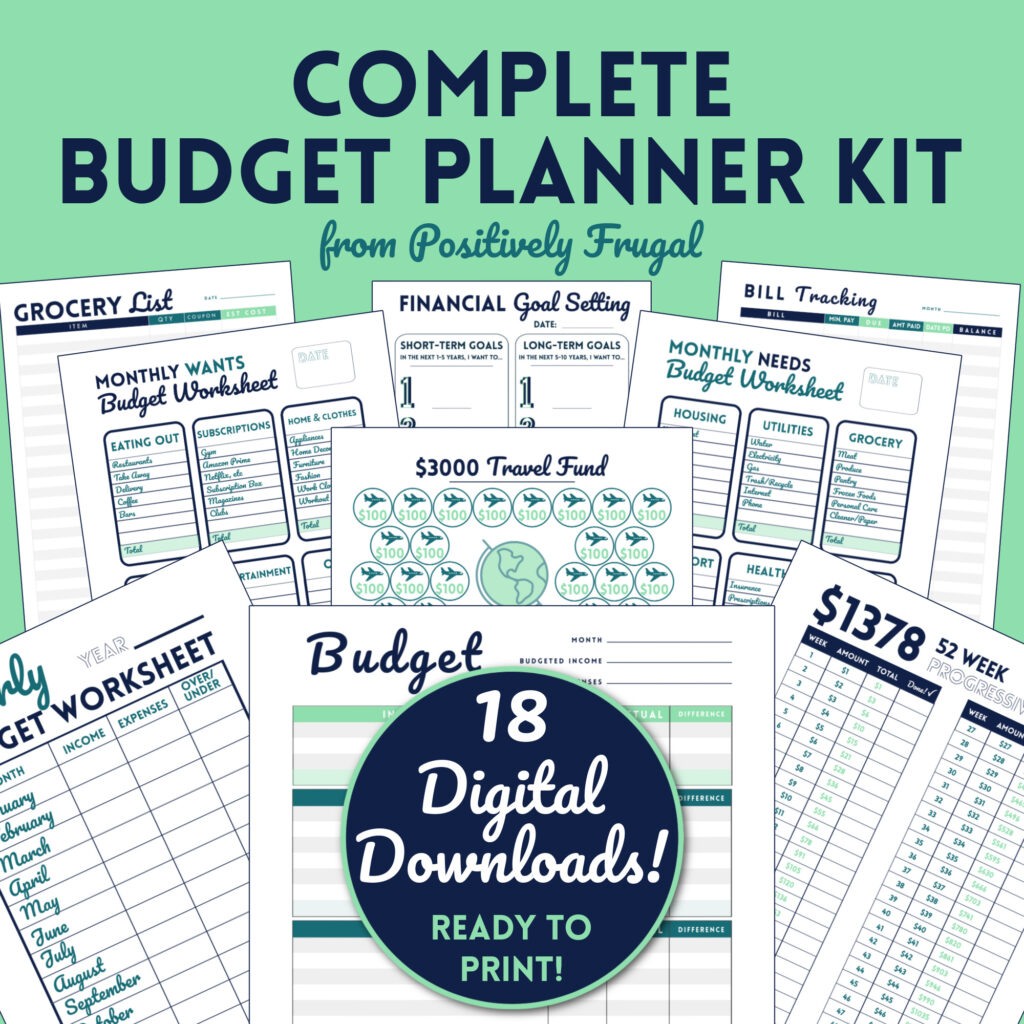 Interested in more of my Frugal Food Tips? I round them all up (including my favorite Frugal Snacks) on my Frugal Food blog page!
We Want To Know: What is your favorite frugal lunch? If you have recipes to your go-to easy and cheap lunches share them in the comments!