Some of the links on this site are Affiliate Links and if you use them to make a purchase, we may earn a commission. For more information, read our Disclosure Policy.
Many people think that $1 meals are a myth or a legend that still swirls around from the days of yore, when food prices weren't quite as high as they are today. I can assure you, however, that 1 dollar food meals are not a thing of the past or an impossibility!
Meals that cost less than a dollar are very real – and I'm not talking about $1 fast food or Family Dollar meals that are saturated in sodium and preservatives. What I'm talking about is food for $1 that is healthy, tasty and filling.
To prove that meals for a dollar still exist, I'm sharing my 12 super cheap meals on a budget.
Why Make One Dollar Food Meals
I've said it before and I'll say it again (and I will keep saying it louder until the people way in the back hear it, too): Food expenditures are one of the easiest budget items to control – especially in short-term scenarios when you are pinching for funds.
How much you spend on food can make or break your budget. Of course, eliminating eating out at restaurants is essential when planning meals on a tight budget – and there are so many simple ways to save money at the grocery store, too.
Creating meals that cost $1, however, will significantly reduce your food expenditures and help to balance your overall budget.
New to Budgeting? Use my tips for How To Make a Budget and then get started with my Free Budget Printable today!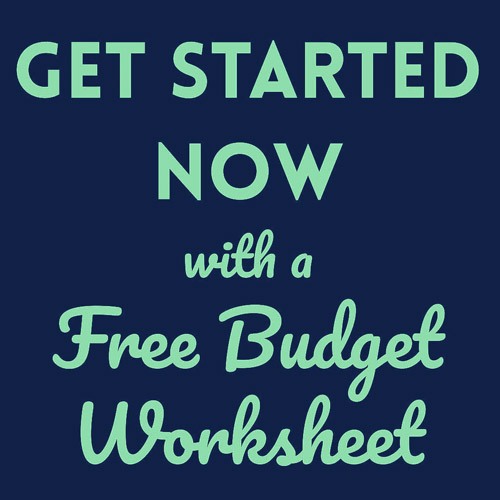 How To Make $1 Meals that are Healthy, Tasty and Filling
Whether you are short on cash or saving up money for something big, spending less money on food can help you find the funds that you need. Learning how to make meals under 1 dollar can help you meet your money goals – and it is not as difficult as you might think!
That said, it is important to make meals that are healthy, tasty and filling– and there is a little finesse that goes into making one dollar eats that hit the trifecta.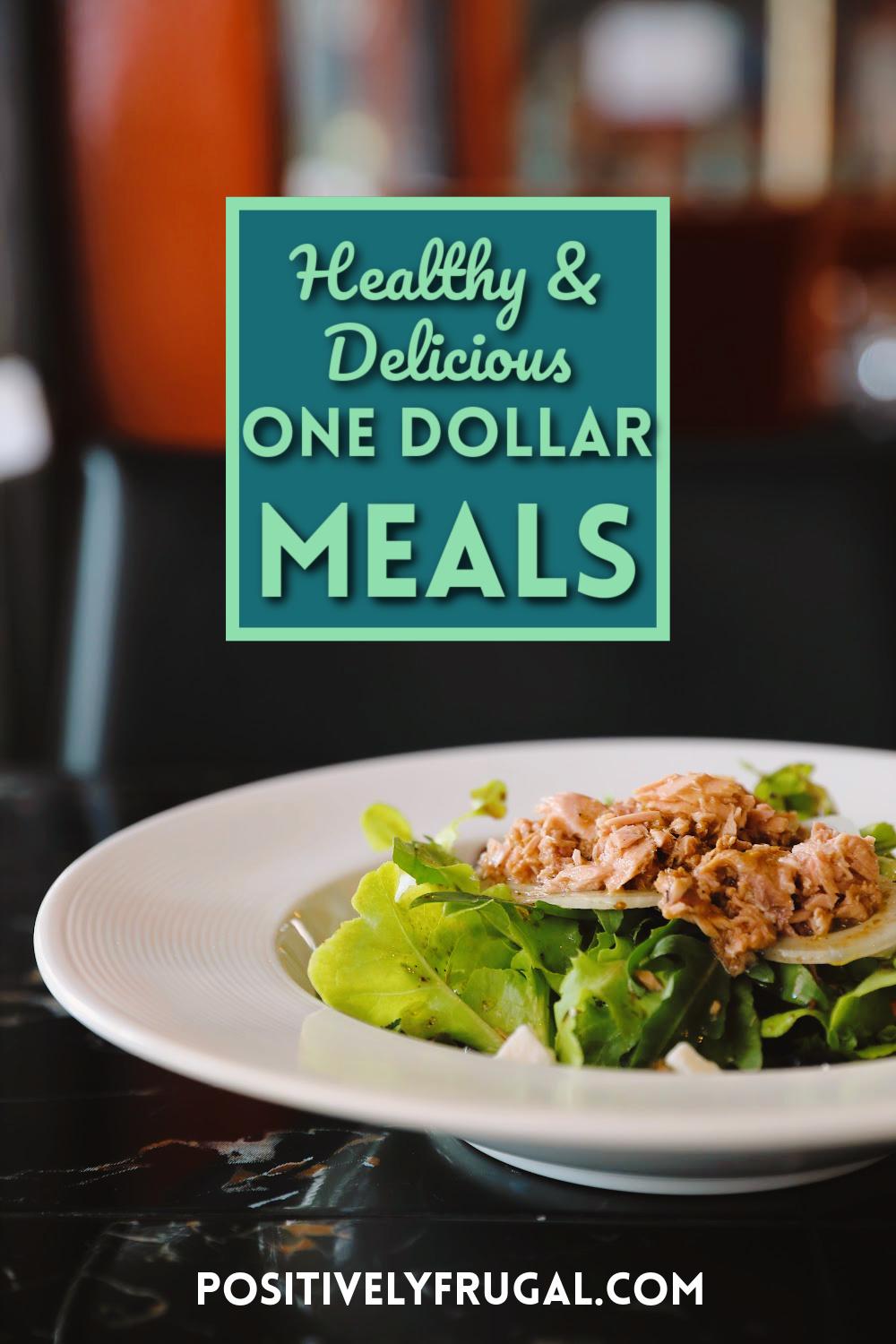 Keep It Simple – but Add Seasoning
When making cheap meals for a dollar, it is imperative to keep it simple. I recommend using common ingredients – and jazzing up the flavor with the seasoning of your choice.
Use Store Brand – and Shop for Clearance
Grocery store brand products are typically the cheapest foods to buy at the store. When making meals for just a dollar, the store brand will likely be your biggest ally. However, when creating the lowest cost meals, clearance shelves can be a great resource (just don't count on them when you make your budget grocery list!).
Skip the Meat – but Not the Protein
Meat is not cheap and incorporating meat into meals rarely keeps the overall cost of a meal under one dollar. (Unless, of course, you score big with a deeply discounted clearance) Protein, however, is essential to a healthy diet, so you will need to find budget protein sources for your meals. My go-to protein source is beans.
Plan Ahead – and Make a List
It's a lot easier to make meals for one dollar or less if you go in with a plan. Check what food is already available in your kitchen – and then make your grocery list based on items you already have. Take a look at my $50 Grocery List for inspiration.
Need more tips for an ultra-low food budget? See how low you can go with my $5 Food Challenge!

12 BEST 1 DOLLAR MEALS
My list features super cheap $1 meals that are some of my personal favorite eats. The cost per serving for each meal is less than a dollar, based on current costs at my grocery store (your results may vary), excluding sale prices.
While these $1 cheap meals are for 1 person, many of the recipes can easily be doubled, tripled or quadrupled for make-ahead meals or cheap family meals.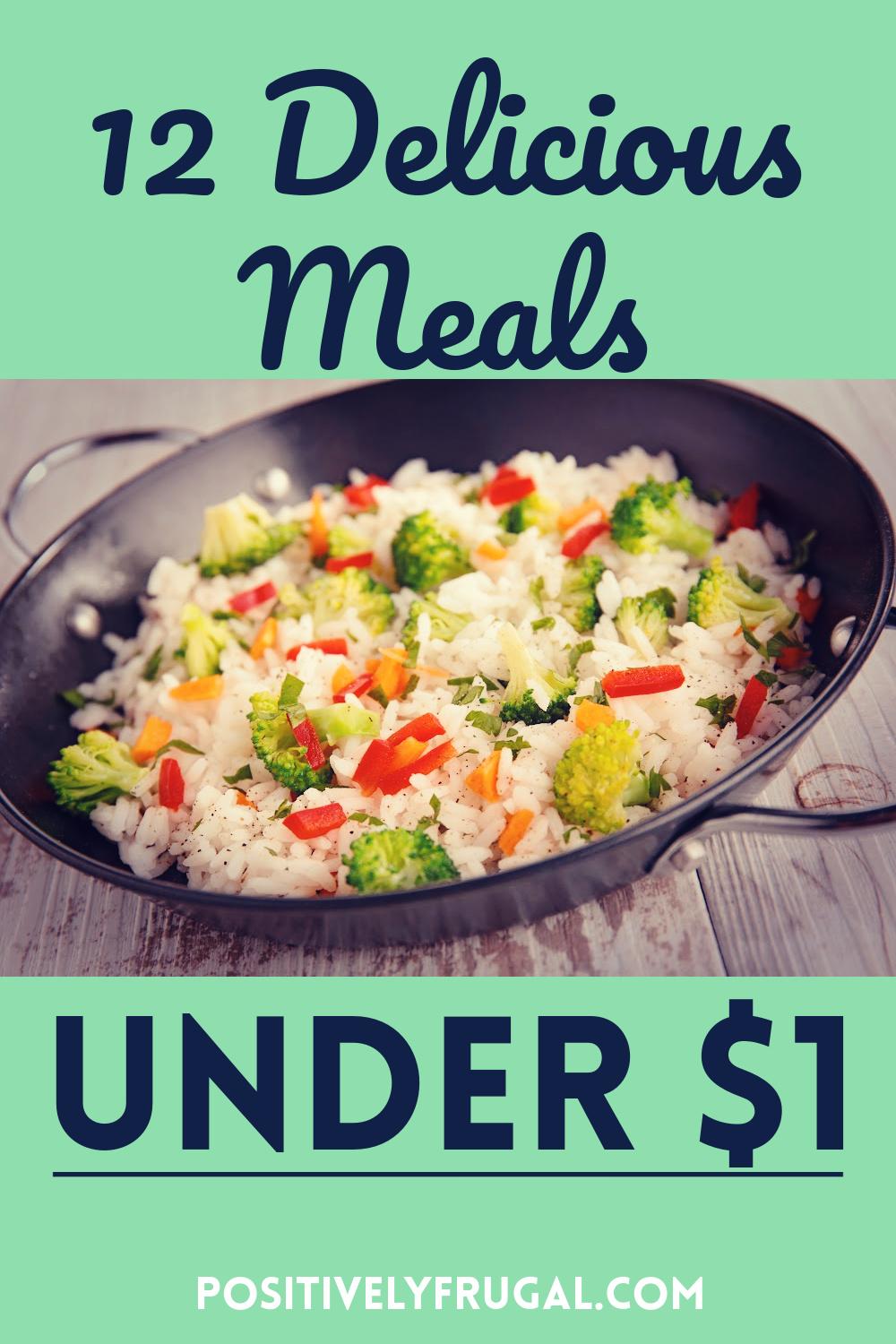 #1 Rice and Beans
A simple meal of beans and rice is a classic $1 food meal that fits the bill when you need food that is filling, yet cheap. The meal is a staple in my food rotation because it's quick, cheap and can be made ahead of time, too.
The basic meal can be enhanced about a hundred different ways. Adding sauteed onion, carrots and garlic will boost the flavor, while still keeping the meal less than a buck. Cumin, chili powder or paprika can add a dose of flavoring, too.
Cheap Meal Tip: Typically, I like to use brown rice (which is a bit healthier than white) and half a can of kidney beans (I used canned beans for convenience, but dry beans are cheaper).
#2 Fried Egg Sandwich
Long one of my favorite One Dollar meals, a fried egg sandwich can really hit the spot. Although it is naturally thought of as a cheap breakfast meal, it's also great for a simple, budget lunch or quick, inexpensive dinner!
To keep this meal under one dollar, I use one egg (fried in a small amount of butter or oil), one slice of bread and one slice of cheese. Ketchup or hot sauce can really take the flavor up a notch.
Money Saving Tip: Buy eggs in bulk (either an 18 or 24 count carton) to help keep the price per egg at the lowest cost. Furthermore, you will likely need to skip the organic, free-range options and buy the cheapest eggs available in order to keep your meal at under $1.
#3 Oatmeal with Apple
My go-to meal in the morning is a humble bowl of oatmeal. It's a fantastic one-dollar breakfast that is cheap and versatile. To keep it simple and inexpensive, use whole rolled oats (purchased in bulk, not the individual packets) and cook it with water (instead of milk).
A variety of toppings can be used to add both flavor and texture; I like to use half an apple and a sprinkle of cinnamon. Raisins, chia seeds and shelled sunflower seeds are a few more toppings to use on this 1-dollar breakfast.
Menu Planning Tip: When planning your meals on a budget, consider eating oatmeal for lunch or dinner, too. While oatmeal is a great one dollar breakfast, it can really be consumed any time of day!
#4 Lentil Curry
Bursting with flavor, Lentil Curry is one of the best meals under $1 that you can make. As a bonus, it is easy to cook it in a big batch that will feed an entire family – or the leftovers can be used for 1 dollar budget meals throughout the week.
The best recipes for lentil curry do include some uncommon ingredients – like coconut milk, ginger and curry powder – but the recipe yields six portions and can be paired with inexpensive rice in order to keep it under a buck per serving.
Budget Food Tip: Don't be afraid to alter recipes to make the cost of the meal fit into your budget. Find substitutions for expensive items (for example, swap out coconut milk for heavy cream) and eliminate optional spices (like extra turmeric and cayenne pepper, if you don't already have it on hand).
#5 White Bean Salad
One of the best fresh and delicious meals under $1 per serving, white bean salad is a favorite summertime lunch – and there are dozens of ways to make it!
Start with a tasty white bean – like canned cannellini or great northern beans – and then add fresh, in-season vegetables. Tomatoes and cucumbers are typically the cheapest vegetables to use. However, zucchini, peppers and even avocado are good with white beans, but they will likely push the price of the meal over one dollar, unless they are on sale.
Toss the beans and veggies with a drizzle of olive oil and Italian spices, salt and pepper – and you have a cheap and healthy $1 meal!
Cheap Party Food Tip: White bean salad is a great cheap appetizer for a summer potluck or picnic party!
#6 Bean Burrito
When it comes to 1-dollar dinners, bean burritos are one of the best! I used to pay a huge upcharge for bean burritos at my favorite Mexican restaurant…but when I learned how to make them at home, I never looked back.
All you need to make absolutely delicious bean burritos is half a can of mashed pinto beans (or low-fat refried beans), sauteed onion and garlic, a shake of cumin, a large tortilla and a sprinkle of cheese.
Budgeting Food Tip: Learning how to make your favorite restaurant meals at home is a great way to reduce how often you eat out – but there are ways to enjoy budget meals at restaurants, too!
#7 Unboring Tuna Salad
A half can of tuna can be a stellar main ingredient in a 1-dollar lunch – and it doesn't have to be boring, either!
Rather than mixing tuna with mayo and celery, mix it up a bit! For a zippy meal, use plain yogurt (it's a lot healthier than mayo…and costs half as much), cucumbers and fresh dill. Another great tuna salad features olive oil along with diced onion, carrots and red cabbage.
Get creative and use up whatever veggies are already in your fridge (so that they don't go to waste!).
Cheap Meal Tip: Wasting food is wasting money – but my Food Hacks will show you how to cut down on on your food costs by being less wasteful!
#8 Veggie Stir Fry
A veggie stir fry is one of the fun dollar meals to make when you are on a budget – because almost anything goes!
Cheap and healthy fresh veggies – like carrots, cabbage, broccoli and onions – are great in stir fries. That said, store brand frozen vegetables can be a good cheap option, too. For an inexpensive protein, add canned chickpeas or shelled edamame from the frozen food section.
Time and Money Saver Tip: Meal prep your veggie stir fry ahead of time to make it a quick and easy weeknight dinner.
#9 Black Bean Taco Salad
Delicious and nutritious, a healthy taco salad with black beans is an inexpensive meal that costs less than a dollar.
Start with a bed of lettuce (I like to use romaine, but iceberg lettuce is likely less expensive) and top it with half a can of black beans. Add just a sprinkle of shredded cheese and stir in a heaping spoonful of salsa (instead of salad dressing). It's simple, tasty and cheap.
Other toppings that can be added – without adding too much cost – are canned corn, fresh cherry tomatoes, scallions, diced red onion or shredded cabbage.
Cheap Kitchen Tip: I do almost all of my dicing, shredding and chopping with a paring knife, but a small food processor is one of the kitchen gadgets that can save budget cooks a lot of time! I share more tips in my article, Minimalist Kitchen Essentials.
#10 Pasta with Veggies
Pasta is notoriously known as being the base for many cheap meals that cost a dollar or less. In fact, one of the most famous cheap dishes is pasta with a basic tomato sauce. However, pasta sauces from the jar often contain high levels of fat, sugar and salt.
A healthier serving of food for one dollar is spiral pasta tossed with olive oil and topped with fresh veggies. Zucchini, tomatoes and black olives are good choices – and chickpeas or white beans can be added for a plant-based protein.
Frugal Food Tip: Pasta with Vegetables is a meal that can be consumed either hot or cold. Make a double batch of the $1 meal and include it in your meal plan; serve it hot on the first round and then eat it cold later in the week to add a little variation to your meals.
#11 Bean Enchilada Casserole
One of the top cheap family meals on a tight budget, bean enchilada casserole is an outstanding and oh-so-easy meal. One casserole elicits four helpings of food for less than a dollar per serving.
Only four ingredients are required to make the casserole: I can of black beans, 6 corn tortillas, 1 can enchilada sauce and half a small bag of shredded cheese. Stack the ingredients in three layers in a square baking dish and bake until bubbling. It's superb!
Budget Meal Planning Tip: Use a 9×13 baking dish and double the recipe for 8 servings. Cooking for one? The extra servings can be individually frozen for consumption later in the month.
#12 Sweet Potato Chili
Chili is a favorite comfort food, but the high price of beef increases the cost of the stew significantly. Frugal cooks, however, can swap out the meat and use sweet potatoes instead. A batch of sweet potato chili can make satisfying meals for under $1 per serving.
The basics of chili are still the same – onion, garlic, kidney beans, canned tomatoes and chili powder are the key ingredients. Rather than adding ground beef, add cubed sweet potatoes.
Tip to Get More Bang for Buck: Need to stretch the stew further? Add one-third cup of whole rolled oats! Trust me on this one. Not only does it bulk up the dish, but it enhances the texture.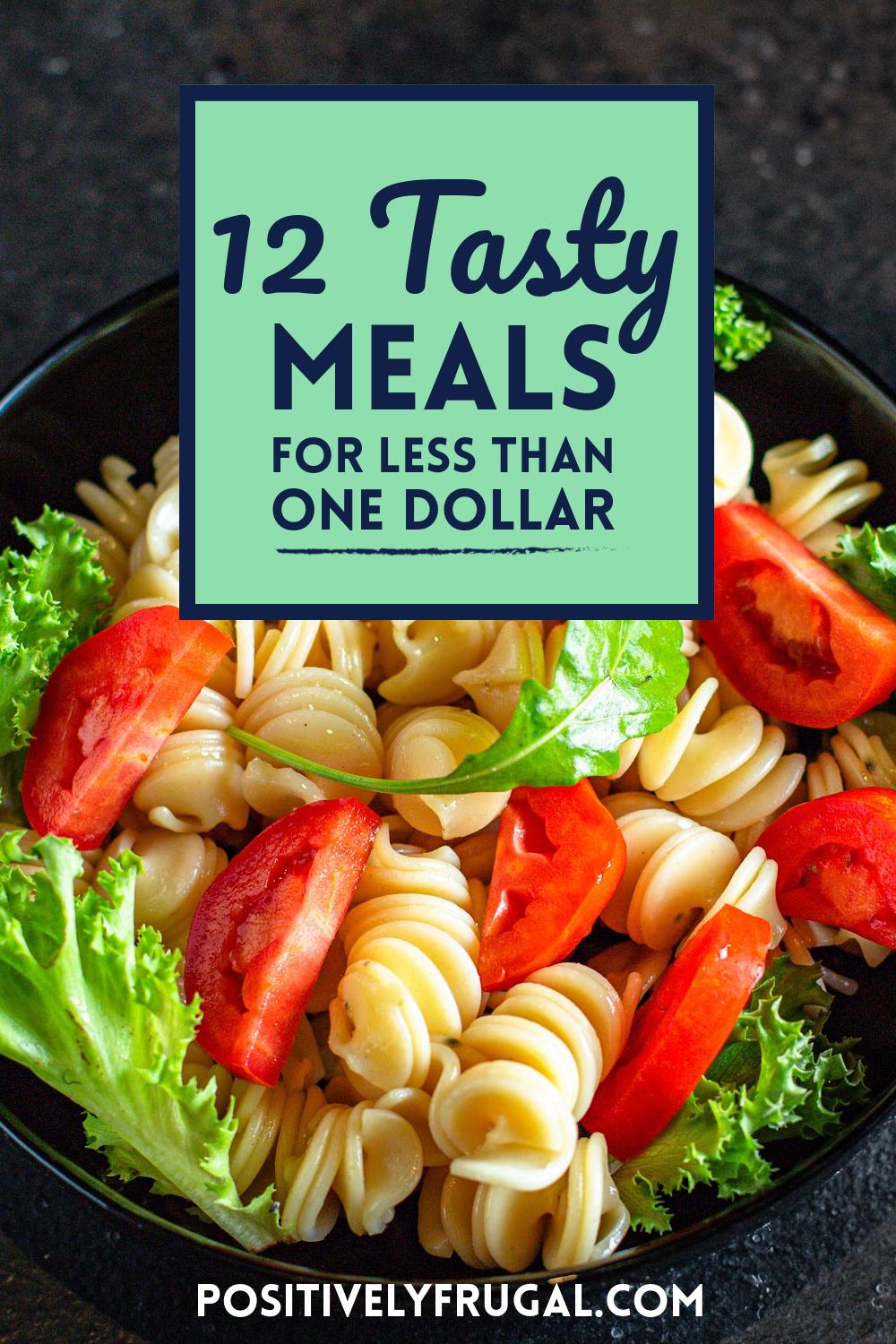 Stay Organized to Stay on Budget with Food
A little organization can go a long way when cooking cheap meals. Make your grocery list. Write down your favorite recipes. Create a weekly meal plan. Use my Meal Planner Kit Printables to stay on budget with food!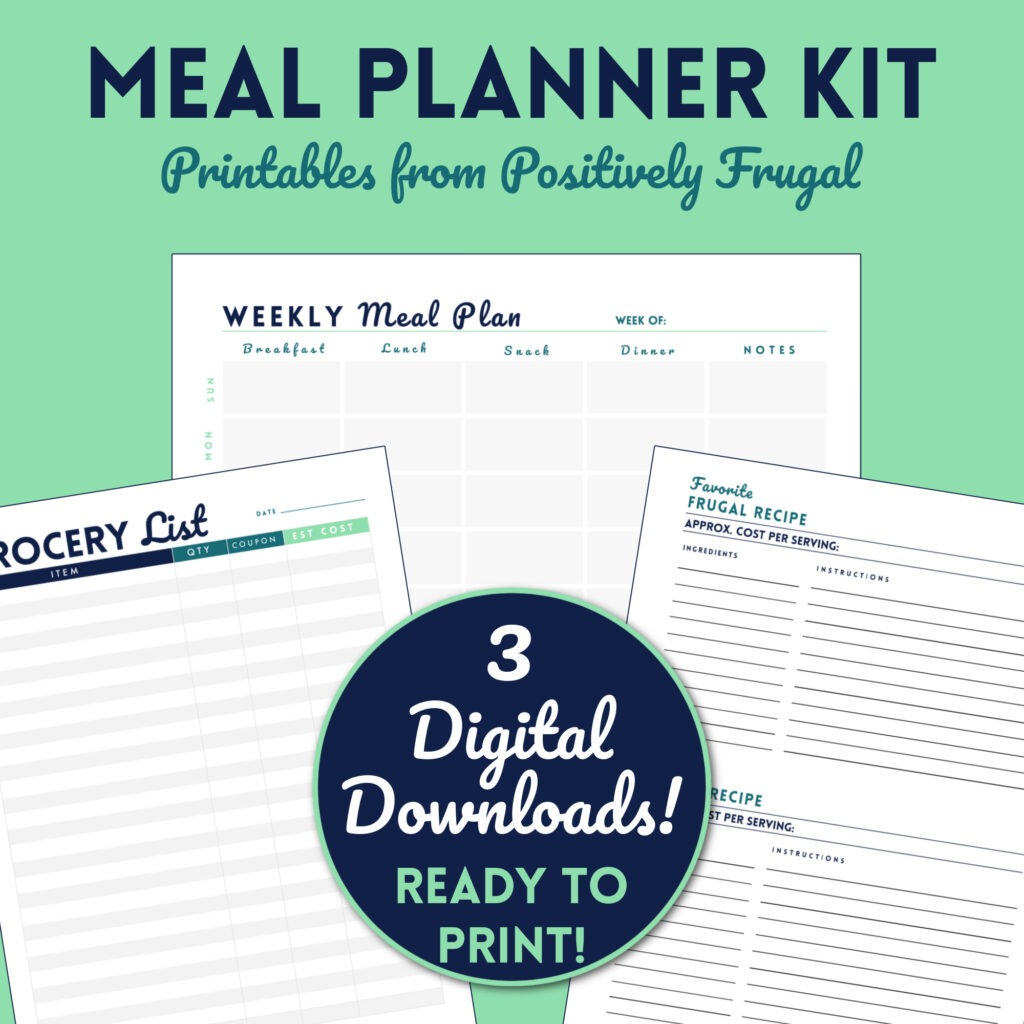 Interested in more of my Frugal Food Tips? I round them all up (including my favorite Frugal Snacks) on my Frugal Food blog page!