Some of the links on this site are Affiliate Links and if you use them to make a purchase, we may earn a commission. For more information, read our Disclosure Policy.
Think a $50 a week grocery budget is impossible? Think again. My $50 grocery list proves it is possible.
To help wrap you head around the food possibilities, I'm not only sharing my cheap shopping list for a week, but I am also revealing my weekly meal plan. By the end of this article, you will see that a 50-a-week food budget is 100% possible.
While it is far from an elaborate weekly food endeavor, my meal plan and cheap grocery list for a week is totally doable – plus it's delicious and nutritious.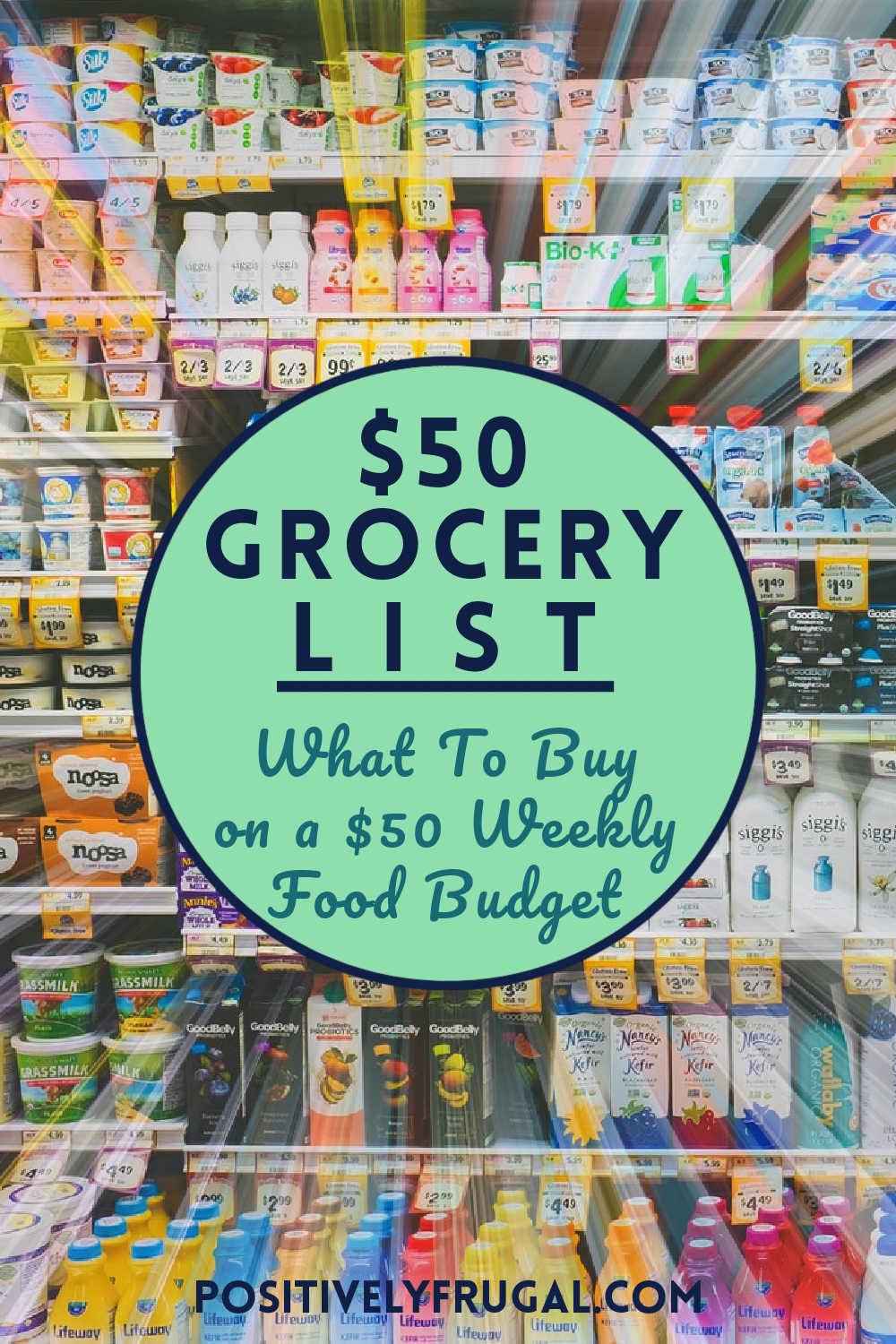 $50 Grocery List: What You Need To Know
Before we get into the nitty gritty details of what I think is the best cheap grocery list, there are a few things you should know. Therefore, I'm answering a few of the most frequently asked questions about my 50 a Week Food Budget.
Can You Really Buy Groceries for 50 Dollars a Week?
My $50 grocery budget is very real. The foods on my list are ones that I actually buy and eat…not just occasionally, but regularly. These foods are some of my favorite frugal meals – and ones I can rely on when money is tight or when I am fiercely trying to save money or am dedicated to reaching a financial goal.
My 50 Dollar Budget Grocery List provides 3 meals a day, plus a snack for an entire week. At $50 per week, the cost per serving is less than $2.50.
Where in the World Can I Use this $50 a Week Grocery List?
My sample food budget and meal plan can be used almost anywhere in the world! Of course, prices will fluctuate depending on where you live, inflation, and the store where you shop. Generally speaking, the items on my $50 shopping list tend to be the most affordable items in grocery stores around the globe (even though it may not come out to exactly $50).
Does Your $50 Weekly Grocery List Cost the Same Every Week?
The weekly $50 grocery list that I created is a starter list. You may already have some of these items (like salt and pepper) and will not need to purchase them as part of your $50 weekly grocery trip.
Furthermore, many of the items (like oats, spices and oils) will last longer than a single week – possibly even an entire month, which will make subsequent week's grocery trips even less expensive.
You have a few options regarding how you want to formulate your future 50 Dollars a Week Grocery List. With the extra funds, you could stock up on pantry items (like extra beans or whole grains), use the money to add more meat into your weekly menu or simply save the money and spend even less at the grocery store.
Is This a $50 Grocery List for One?
It should also be noted that I created this $50 weekly grocery list on a budget for one person. If you are creating a budget grocery list for a family or need a cheap grocery list for two adults, you can still use the ideas I share as a base for your list.
Also note, that while this is a cheap grocery list for one person, using it for two people or a family of four does not necessarily mean doubling or quadrupling the cost to $100 or $200 per week.
As mentioned in the previous point, this essential grocery list on a budget contains many items that won't be completely used by a single person during one week. When creating a $50 grocery list for 2 or 4 (or more!), be sure to account for the number of servings…don't just double the list.
Do You Have any Grocery Store Tips?
Before you race off to the grocery store or start your online grocery order, take a moment to plan out your grocery shopping strategy. I highly recommend you read my tips for Groceries on a Budget for more advice on grocery store shopping.
You can also read the detailed information in my Budget Grocery List post – for more tips about the types of items that you should (and shouldn't!) include in your list. Furthermore, check out my take on the Pros and Cons of Couponing and Store Brand vs Name Brand before your next grocery run.
Are there any 50 Dollar Grocery Budget List Tips?
I believe I have created the best grocery list on a budget. It works fantastically for my tastes. That said, based on your food preferences and requirements, you may want to substitute some of my suggestions for budget items that are most pleasing to your palate.
Also, you may notice that I include one frozen pre-made meal in my $50 food budget; this is a backup, a gimme, a freebie…just in case something goes wrong in the kitchen. Therefore, the frozen meal is not listed in my weekly $50 meal plan (which you will find below the list). You can hang onto it in your freezer until you absolutely need it!
List of Groceries for $50
My $50 healthy grocery list contains all of the items you will need to buy to create a week's worth of meals.
| | |
| --- | --- |
| Food Item | Estimated Cost |
| 2 Pork Chops | $4.00 |
| Kielbasa (or sausage) | $3.00 |
| Dozen Eggs | $2.00 |
| 5 Bananas | $1.00 |
| Bag of Apples (7) | $4.50 |
| Bag of Clementines | $4.00 |
| Bag of Potatoes | $3.50 |
| Bag of Onions | $2.50 |
| Garlic Bulb | $0.50 |
| Bag of Carrots | $1.50 |
| Fresh Cabbage | $2.00 |
| Great Northern Beans | $0.75 |
| Black Beans | $0.75 |
| Chickpeas | $0.75 |
| Canned Tuna | $1.00 |
| Whole Oats | $2.00 |
| Bowtie Pasta | $1.00 |
| Brown Rice | $1.50 |
| Lentils (dry) | $1.50 |
| Popcorn | $2.00 |
| Extra Virgin Olive Oil | $4.25 |
| Cinnamon | $1.00 |
| Cumin | $1.00 |
| Salt and Pepper | $1.00 |
| Chicken Broth | $1.00 |
| Frozen Meal | $2.00 |
| TOTAL | $50.00 |
$50 per Week Grocery Budget Meal Plan
Spending $50 a week on groceries may not seem like much, but now I am going to show you what you can make with the food!
Meal planning is essential when sticking to a $50 grocery budget. You need to ensure that the food you buy from the store can be turned into healthy, filling meals.
Using the items from my $50 Grocery List for a week, I created a perfect budget meal plan.
My meal plan only includes items purchased using the above grocery list for cheap meals. I offer suggestions for cheap breakfasts, frugal lunches and inexpensive dinners – as well as a daily snack.
$50 Weekly Meal Plan
My Weekly Meal Plan showcases the meals you can make with my 50 Dollar Grocery List.
| | | |
| --- | --- | --- |
| Day | Meal | Food Plan |
| Sunday | Breakfast | Oatmeal w/Apple & Cinnamon |
| | Lunch | Lentil Cabbage Salad & Clementine |
| | Snack | Banana |
| | Dinner | Pasta w/Kielbasa, Onion & Garlic |
| Monday | Breakfast | Hard-Boiled Egg & Apple |
| | Lunch | White Bean Soup & Clementine |
| | Snack | Popcorn |
| | Dinner | Beans & Rice w/Onion & Garlic |
| Tuesday | Breakfast | Oatmeal w/Apple & Cinnamon |
| | Lunch | Chickpeas w/Carrots & Banana |
| | Snack | Clementine |
| | Dinner | Leftover Pasta w/Kielbasa |
| Wednesday | Breakfast | Oatmeal w/Apple & Cinnamon |
| | Lunch | Tuna & Cabbage Salad w/Banana |
| | Snack | Popcorn |
| | Dinner | Eggs & Potatoes w/Onion & Garlic |
| Thursday | Breakfast | Hard-Boiled Egg & Apple |
| | Lunch | Leftover Beans & Rice w/Clementine |
| | Snack | Banana |
| | Dinner | Baked Pork & Roasted Potatoes |
| Friday | Breakfast | Oatmeal w/Apple & Cinnamon |
| | Lunch | Lentil Cabbage Salad & Clementine |
| | Snack | Popcorn |
| | Dinner | Rice w/Veggies & Egg |
| Saturday | Breakfast | Oatmeal w/Apple & Cinnamon |
| | Lunch | Leftover Eggs & Potato Dinner |
| | Snack | Banana |
| | Dinner | Baked Pork & Roasted Potatoes |
Meal Plan and Grocery List on a Budget of $50
My $50 meal plan and basic grocery list on a budget is the perfect place to start saving money on food! Hopefully, you see that with my easy, cheap grocery list, it is more than possible to make a week's worth of food for $50.
Budgeting Expenses
Creating a budget for all of your monthly expenses – housing, transport, entertainment and food – is ideal if you are trying to track your funds and limit your expenses.
You can get started now with my FREE budget template, which I email to you when you subscribe to Positively Frugal (plus, you will get all my latest articles!)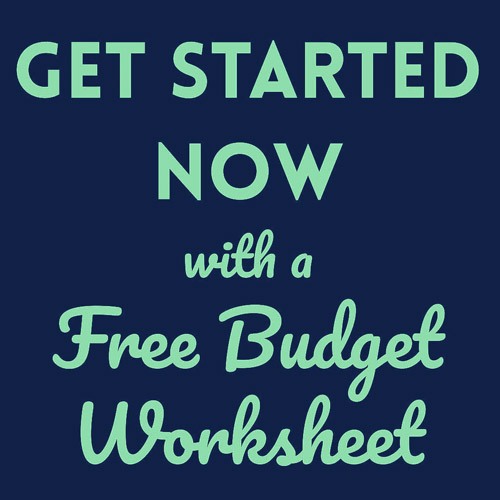 Food Budget
While Food is a line item on my Free Monthly Budget Printable, sticking to a tight food budget is much easier when you are organized. In order to stay on top of your food expenses, it is wise to create your own weekly meal plan, detailed grocery list and hang on to your favorite budget recipes that are also super sources of protein.
My affordable Meal Planner Kit contains the templates that you need to succeed at staying on budget with your food!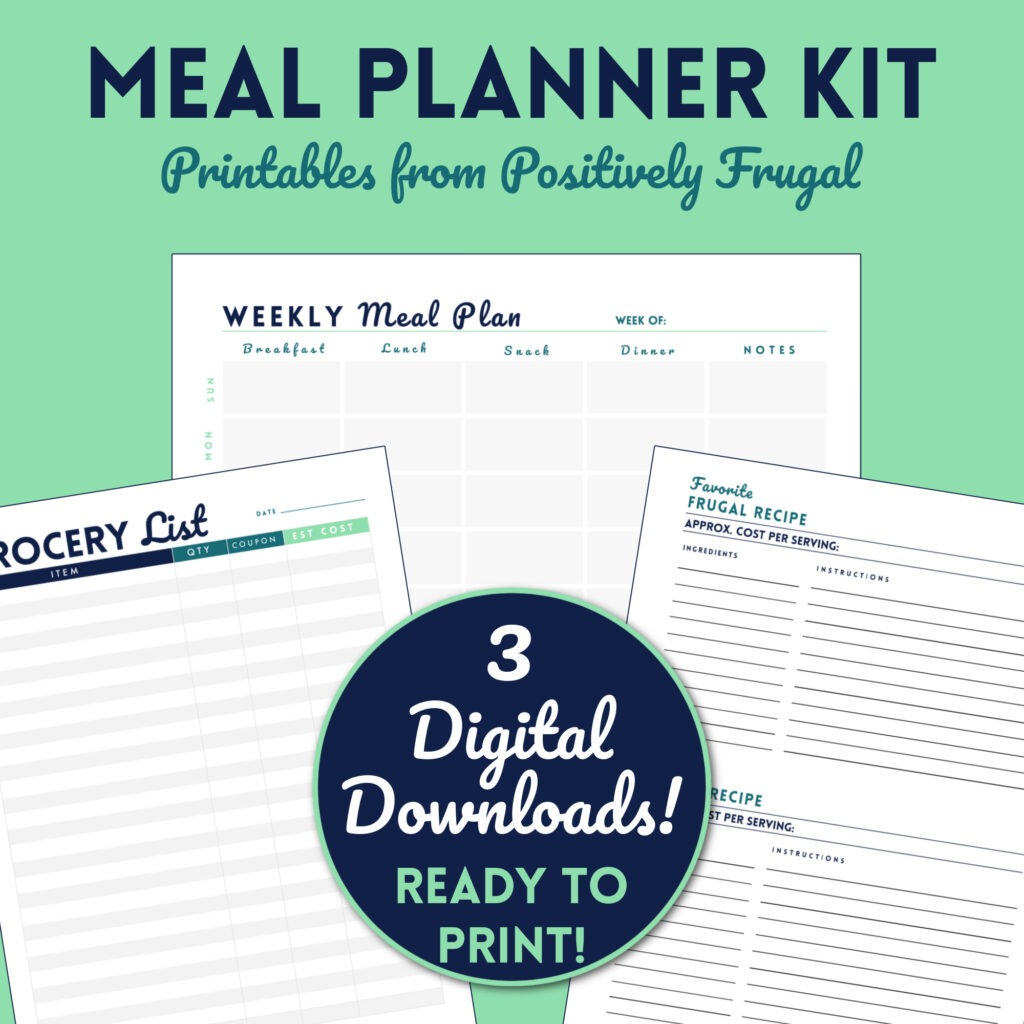 Food Challenge
If you really want a challenge to budget your food, sign up for my $5 Food Challenge. Rather than spending $50 a week on groceries, you are tasked with limiting your weekly food expenditures to just $35. Are you up for the challenge?

Interested in more of my Frugal Food Tips? I round them all up (including my favorite Frugal Snacks) on my Frugal Food blog page!
We Want To Know: Have you used my $50 grocery list and meal plan? What are your go-to items for a budget friendly grocery list of $50 or less? Share your tips and advice in the comments below!