Some of the links on this site are Affiliate Links and if you use them to make a purchase, we may earn a commission. For more information, read our Disclosure Policy.
Being on a budget doesn't sentence you to a life without fun! With a little creativity and big sense of adventure, you can find heaps of cheap and free activities that will provide endless hours of fun frugal entertainment. To help get you started, I have rounded up a gigantic list of free fun things to do!
Why Seek Out Free Activities and Cheap Entertainment?
Too often, we fall into the trap of thinking we have to spend money in order to have fun – and that is simply not true.
Whether on a mission to save money or set on getting out from under the debt of credit cards, there are many reasons to seek out free fun activities.
Can You Really Have Free Fun?
Yes, you can absolutely have fun without spending money. Seeking out fun free things to do has always been a passion of mine, as I naturally gravitate toward budget entertainment and free activities. Spending time in the outdoors, learning new skills and enjoying budget-friendly hobbies are just a few of the ways that I have learned how to be frugal and stay entertained.
In fact, some of the very best ways to have fun is to participate in cheap activities that cost little to no money.
Cheap and Free Activities
Whether you are looking for free stuff for kids to do or cheap things to do with friends, I've got you covered. Put your wallet away and get inspired by my massive list of cheap, fun things to do!
FREE OUTDOOR ACTIVITIES
Enjoying the outdoors is one of the absolute best things to do with no money. Get in touch with nature and take a deep breath of fresh air with the activities featured on my list of things to do outside for free.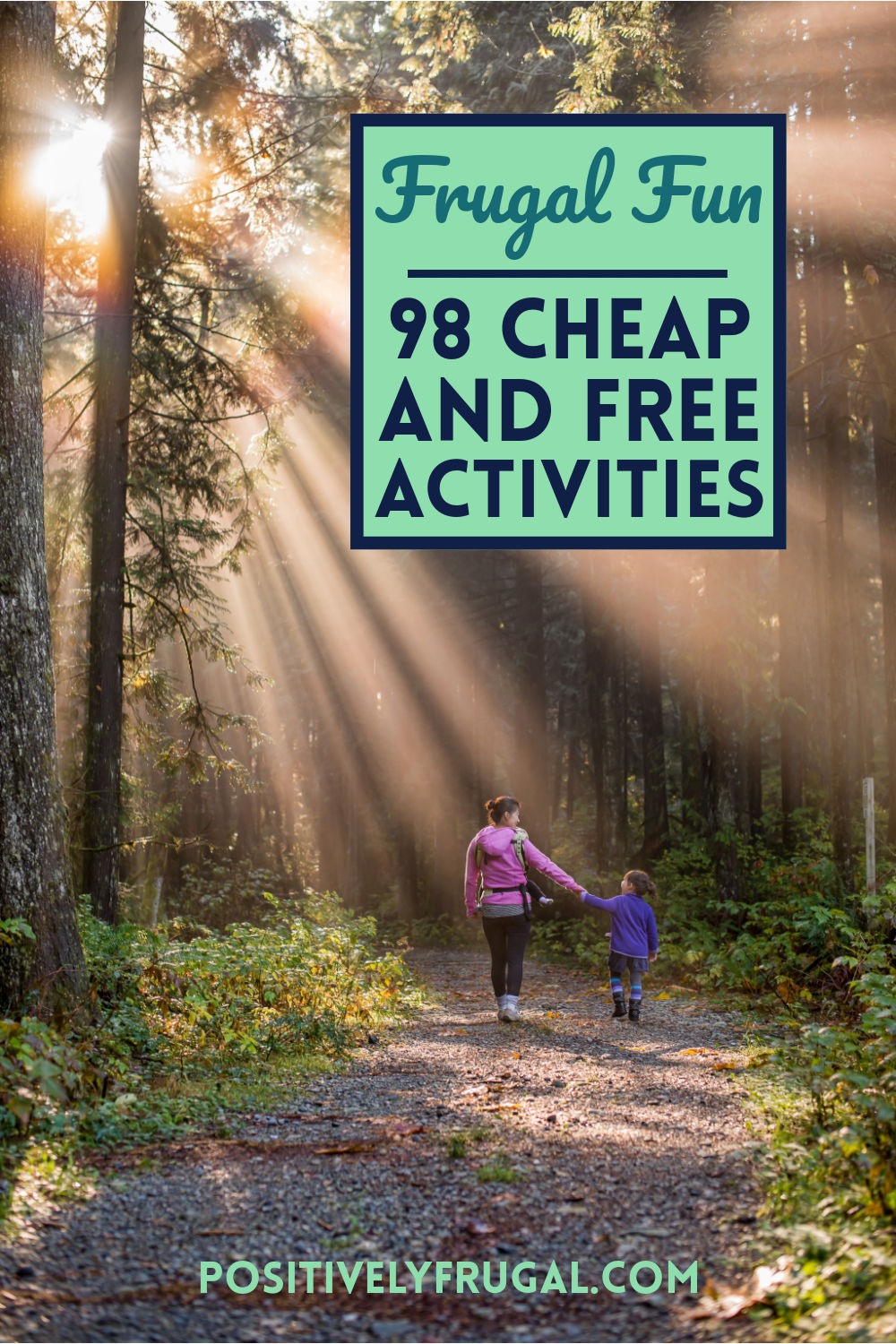 #1 Go Hiking
When you are bored and looking for fun and cheap things to do, hit the trails! Hiking is not only one of the best frugal entertainment ideas, but it is good for your health, too. In fact, it's one of my favorite forms of frugal fitness. I have found free hiking trails around the world – so I'm sure you can find some treks near you as well!
#2 Take a Walk
One of the best places to go for free is right out your front door…and then continue on down the street. Taking a walk around your own neighborhood is 100% free. You can do it alone or bring the whole family along. Just go out and enjoy it!
#3 Explore Your Hometown
When you are really stumped for ideas of what to do for free, alter your perspective and view your hometown through the eyes of a tourist. Check with the local tourist office to see if they provide informational pamphlets or have suggestions of free sights to see and then set out on your Frugal Staycation!
#4 Create a Self-Guided Walking Tour
I love creating self-guided walking tours! In fact, walking tours are one of my favorite free things to do in any city. You can create your own themed tour – like architecture, history or street art – or route your way to the city highlights.
#5 Seek Out the Obscure
A pet cemetery, a field of concrete corn cobs and a wild buffalo range are just a few of the obscure things in my hometown…and visiting them doesn't cost a dime. See what unusual and interesting free things you can find near you.
#6 Look for Unique Viewpoints
One of the free things to do with friends, a partner or by yourself is take in the landscapes from a scenic viewpoint. Riverbanks, hilltops and lakesides are all promising choices for epic viewpoints and a top pick for things to do on a budget.
#7 Watch the Sunset
Observing nature is one of the top things to do when you have no money…and one of nature's best spectacles is the setting sun. Whether you watch the sunset from your backyard or find a secluded spot to watch the sun go down, it is a perfect way to end the day.
#8 Watch the Sunrise
On the flipside, watching the sunrise is one of the free things to do outside in the morning. It is a simply spectacular way to start your day in an extremely frugal way!
#9 Throw a Frisbee
If you are looking for some good old-fashioned free family fun, dig out the frisbee and dust it off. Throwing a frisbee around can provide an entire afternoon of entertainment and cheap exercise. Plus, you get to spend time together with your family or friends.
#10 Toss a Ball
Tossing a ball – a baseball or football – is one of the classic things to do for free with kids, friends and family. Hopefully, you already have a ball hanging out in your garage, but if you do have to buy one, check at the local thrift store or sports re-sale shop (like Play It Again Sports) – or even the dollar store.
#11 Play Disc Golf at a Local Free Course
I have never played disc golf, but there is a free course at a nearby park – and playing is clearly one of the fun things to do with friends for free. People are always out playing on the course – even in the snow!
#12 Spend a Day at the Park
Local parks are one of the best free places to go – as the options for entertainment are plentiful! You can bring your dog, take a blanket or grab a book. You can visit alone, with your family or meet up with friends. You can sit in the sun, sit in the shade or walk the paths. Parks are perfect for a free day of fun! Many parks also host fun free outdoor activities – like ranger talks, guided walks and family fun events, as well.
#13 Ride Bikes
When we lived in Phoenix, riding bikes was one of our favorite free outings on the weekends. We would ride for hours around the city, discovering new neighborhoods and rolling through the city parks.
#14 Go on a Scenic Drive
If you want cheap stuff to do, then hop in the car and go for a scenic drive. Take a long drive in the countryside or detour through a particularly pretty neighborhood.
#15 Play in the Piles of Leaves
In the autumn, when the weather is turning crisp and the leaves start to drop, gather them up and play in them. No joking, it doesn't matter how old you are; playing in the leaves in one of the best free things to do in fall!
FREE SUMMER ACTIVITIES
Summertime fun doesn't have to be expensive! Use my ideas for free things to do in the summer to get inspired about a summer season of fun.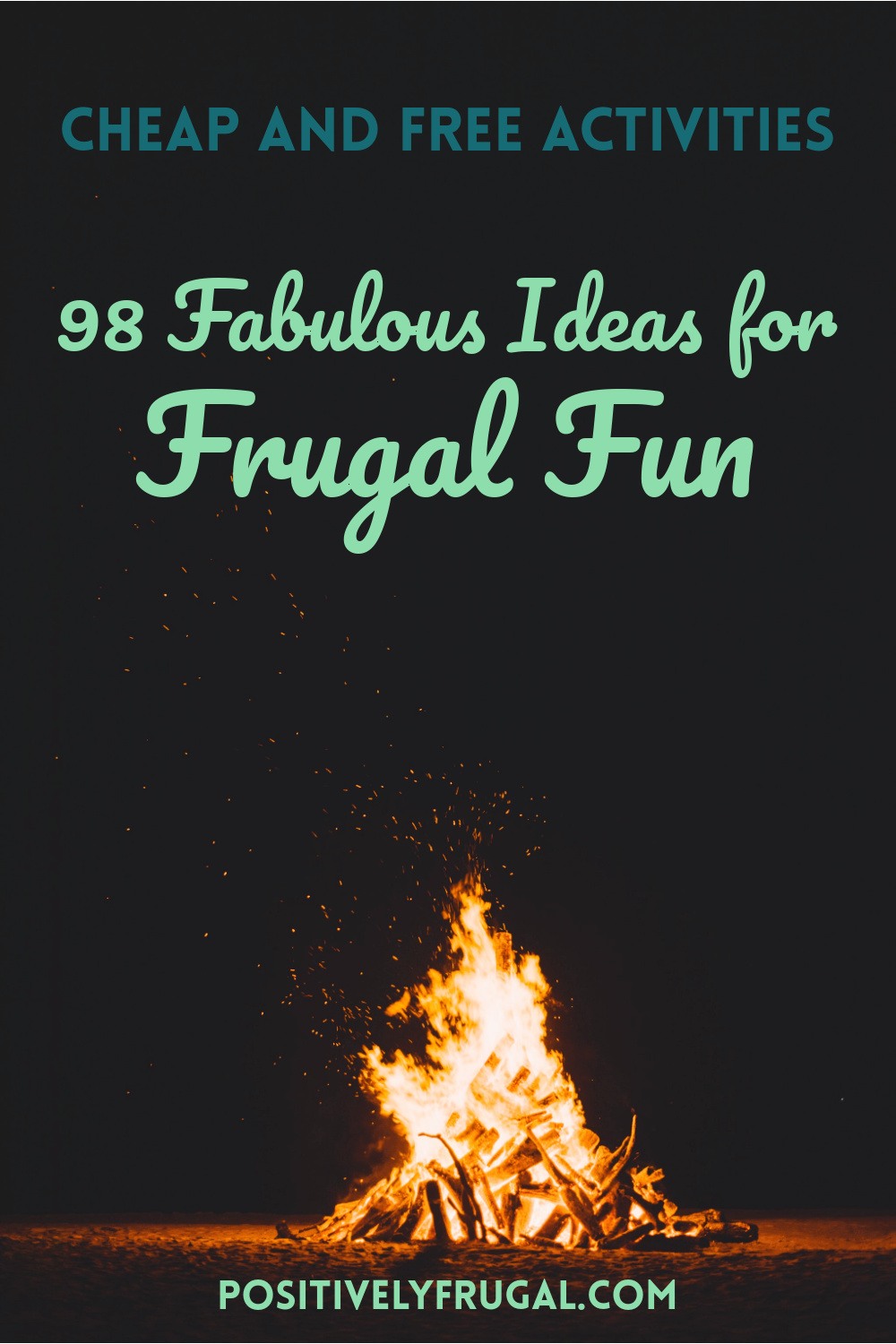 #16 Firepit Socials
Hosting firepit socials are one of the fun things to do for cheap in the summertime. One of the best frugal fun ideas is to invite family or friends to join you for a fireside chat in the backyard for an evening of fun.
#17 Plan a Picnic
Picnics are one of my ultimate favorite fun things to do for cheap. Everyone has to eat – so why not make it a fun? It is easy to plan a picnic outing, just pack up your frugal food and feast on it picnic-style in a picturesque spot. You will simultaneously be saving money on the cost of eating out and create a memorable experience.
#18 Look at the Stars
Stargazing is one of the fabulous free things to do at night! Looking up at the stars is totally free – and you can find information about constellations and planets for free online or at the library.
#19 Camp in the Backyard
Camping has long been regarded as one of the best cheap things to do in the summer. However, if you don't have the funds to pay for campground fees, just pitch your tent in the backyard. My brother, sister and I did this often growing up – so I can verify that it is one of the cheap, fun things to do with kids. In fact, it almost like a Free Vacation!
#20 Watch a Movie at the Park
Community events – like Movie in the Park Nights – are favorite summertime activities. Find out if your city provides a free Movie Night in the Park or other fun free stuff to do in the summer.
#21 Find a Free Place to Swim
Everyone knows that swimming is one of the top summertime activities. While most pools charge an entry fee, finding a local, natural swimming hole is one of the fun and free things to do.
#22 Dollar Store Fun
Finding free outdoor activities for adults and children – that cost zero dollars – can be a struggle. However, with just a few bucks, you can find plenty of cheap fun family things to do at the dollar store. Items like a bucket of sidewalk chalk, bubbles, hula hoops and water squirters – each priced at just one dollar – can provide hours of fun frugal entertainment.
#23 Go Fishing
Fishing is a fun summer pastime that gets high praise – but it can be high-cost, too. You will have to invest in gear, licenses and bait (but you can opt to dig up your own worms!). After the initial cost, however, fishing is one of the best cheap family activities that will keep you entertained…and possibly fed! Now, that is frugal living at its finest!
FREE WINTER ACTIVITIES OUTSIDE
Fun things to do for free outside are not limited to summertime activities! Spend some time outdoors in the winter with these free outdoor activities.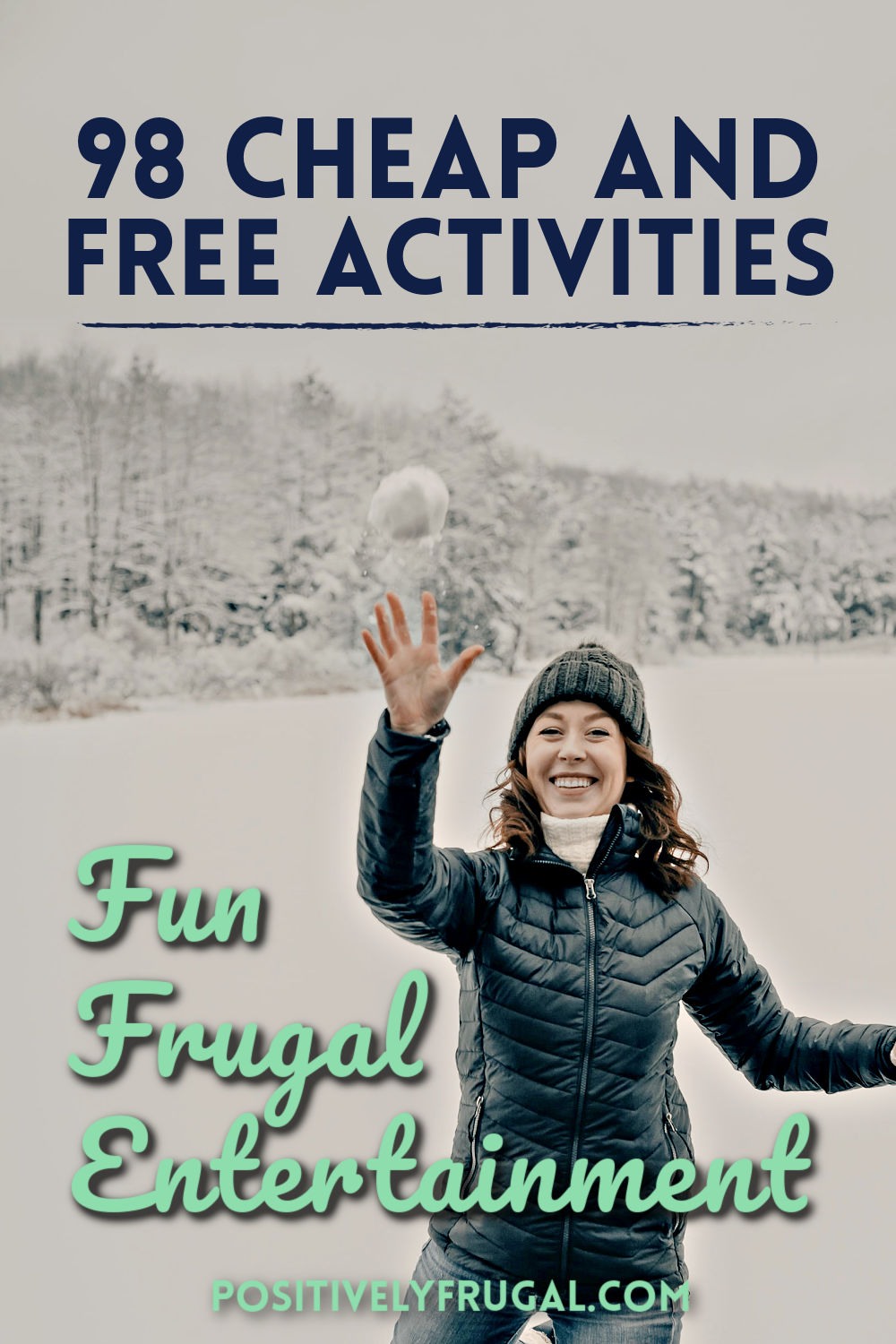 #24 Drive (or Walk) Through Holiday Lights
One of the cheap fun places to go during the holidays is to neighborhoods decked out in lights. A recent trend in some neighborhoods is to coordinate their holiday lights to music; all you need to do is tune into the designated radio station and take a drive.
#25 Go Sledding
If you are lucky enough to get winter snow, then don't miss out on sledding! While sledding is one of the fun free things to do with kids, adults can join the fun, too! Watch this video of a sledding grandma that clearly demonstrates that sledding is fun for people of all ages!
#26 Build a Snowman
Another one of the fun free things to do outside in the wintertime is to build a snowman! Not only is it entertaining, but it's good exercise as well.
#27 Start a Snowball Fight
Snowball fights are wintertime fun for everyone! Whether you have an organized battle or impromptu skirmish, snowball fights rank high as one of the top fun things to do with friends for free in the winter.
#28 Make Snow Angels
If snowmen and snowball fights aren't your thing, there is other free outdoor stuff to do in the winter…like making snow angels!
#29 Enjoy Bird Watching
Kris teases me that I'm a bit of a bird nerd. But, believe me, if you are in need of free stuff to do, birdwatching can be quite enthralling – especially in the wintertime. If birds don't naturally gather in your yard, make inexpensive pinecone feeders to lure them into view.
FREE INDOOR ACTIVITIES
When it is not nice enough to be outdoors, there are still plenty of fun things you can do for free inside!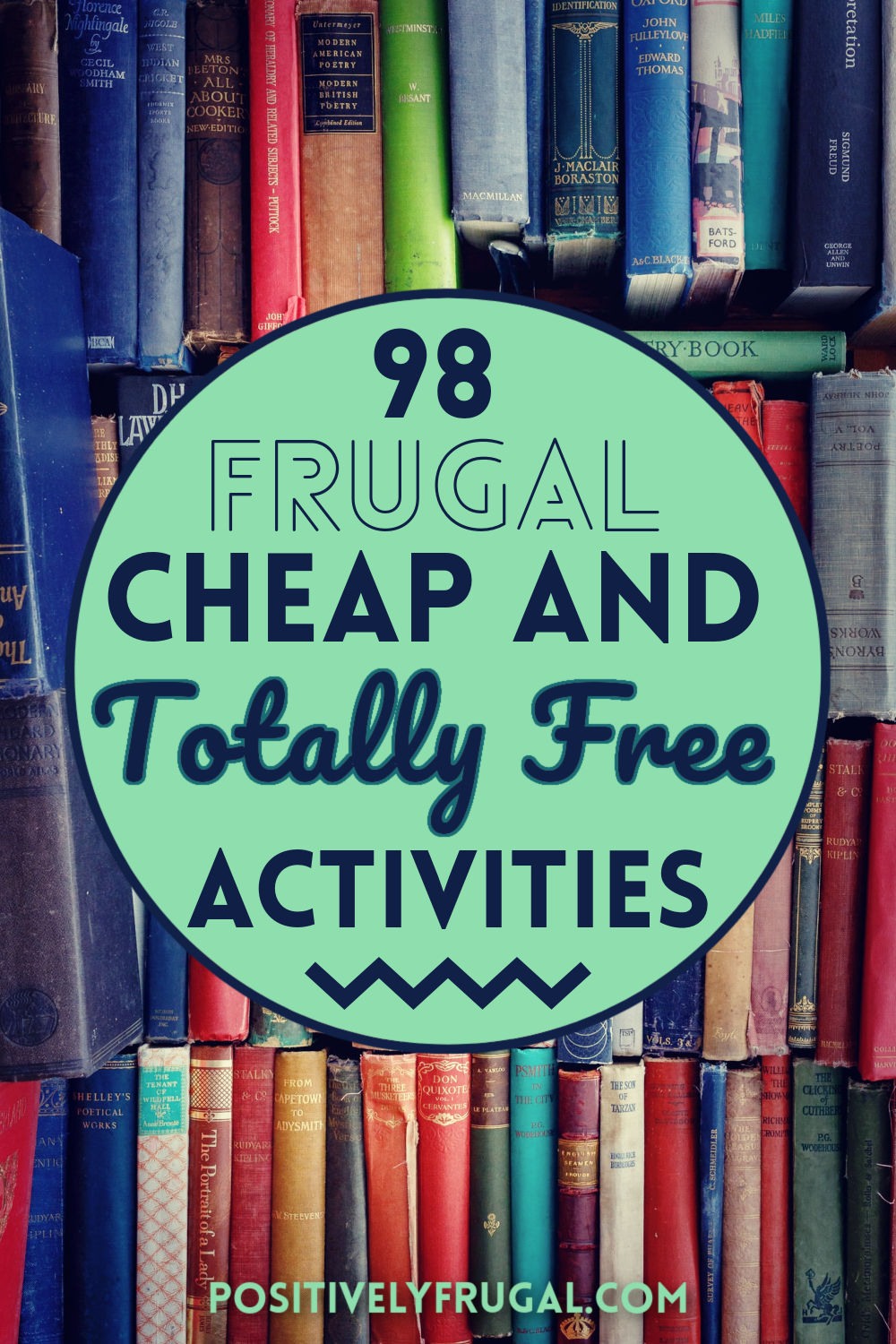 #30 Sort Old Photographs
If you are anything like me, some of your photos have ended up in boxes shoved in the back of your closet. Pulling those boxes out and sorting through old photos is one of the fun inexpensive things to do when you want to be indoors. Make it a more entertaining project by creating photo albums or scrapbooks – or even scan the photos to your computer. (By the way, you can find cheap albums and scrapbook materials at the thrift store.)
#31 Get Your Workout on YouTube
Gym memberships are expensive…but working out with YouTube videos is free! There are thousands of YouTube workout videos, but I like this 20-minute beginner workout by Pamela Reif.
#32 Tour City Buildings
One of the free things to do downtown in most cities is take a tour of the city government buildings – especially if you live in a capital city or one that has historic buildings. Also check to see if you can tour the local fire station; it can be one of the fun things to do for kids for free.
#33 Spend Time at the Library
Libraries are one of the fun places to go for free. Seriously, I could entertain myself for hours perusing the bookshelves at the library. However, another reason to go to the library – besides aimlessly wandering and thousands of books – is the free programs. Most libraries offer free toddler activities, and many provide programs and free things to do for adults, too. Using computers (and the internet) is free at most libraries, as well.
#34 Borrow Books from the Library
While the library is one of the cheap attractions you can enjoy, borrowing materials from the library is another one of the things to do without money. In addition to books, most libraries lend out magazines and movies, too.
#35 Listen to Audiobooks
Technology now makes it possible to borrow digital ebooks and audiobooks from the library – without even leaving your home. Listening to an audiobook is one of the free things to do with family, your partner or on your own. Kris and I like to borrow audiobooks that we both want to hear and then listen to them together. It's one of the fun things to do for free at home.
#36 Listen to Music
When it comes to things to do that are free, listening to music gets high marks! It is completely cost-free to tune into the radio, Spotify or Pandora (as long as you are willing to listen to the ads). Meanwhile, an inexpensive music hobby is thrifting for vinyl. Old records are cheap and portable record players can be affordable.
#37 Host a Dance Off
Dancing is one of the fun free activities to do with friends or family – and you can do it just about anywhere! If you have a big group of people, organize a dance off in your living room or backyard for hours of entertainment.
#38 DIY Crafts
Crafts are the king of free fun stuff to do with kids – but don't discount crafts for adults, too! Simple, easy DIY crafts can be entertaining and inexpensive. You can find some craft ideas here for cheap fun things to do.
#39 Take a Bath
Taking a bath is one of the cheap activities to do that feels like a little slice of luxury. Enhance the experience with essential oils or your own cost-effective homemade bath bombs.
#40 Give Yourself a Spa Day
If you are looking for cheap things to do on a Sunday, why not dedicate the entire day to self-care with an at-home spa day? Learn DIY techniques for facials, manicures, pedicures, waxing and hair care.
#41 Host a Boardgame Night
Boardgames have long been a cure for boredom. Gathering your family or friends to play boardgames definitely ranks as one of the cheap things to do for fun!
#42 Play a Card Game
A single deck of cards can provide hours of fun stuff to do for free. There are thousands of card games that you can play – including about 150 solitaire card games that you can play all by yourself.
#43 Get Everyone Involved with a Game of Charades
Charades is a game that doesn't cost a single cent – as no equipment (besides some scratch paper and a pen) is required! The game is often thought of as one of the free things to do with children, but it is just as much fun for adults!
#44 DIY Home Projects
Home projects can be fantastically fun free indoor activities for adults! Rearranging furniture, redecorating bookshelves and changing out display cases can be entertaining – and the result can perk up your space. With a little cash, you can engage in fun cheap things to do, like these home projects for less than $10.
#45 Clean Out a Closet and Donate
Cleaning out closets, decluttering and donating are all fun family things to do for free. Sometimes we don't even feel the weight of all our stuff until we lessen it (which was my experience as I became a Frugal Minimalist!).
#46 Reorganize the Junk Drawer
Oddly satisfying (although some might argue the value of 'fun'), reorganizing your junk drawer is definitely something to do for free!
#47 Unearth Treasures in the Attic
Attics can become an abyss of long forgotten treasures. Unearthing the relics that have been buried in the attic for decades can provide a full day of fun family activities for free.
#48 Refurbish Furniture
Breathe new life into an old piece of furniture! Fix drawer handles, sand down blemishes, wax or paint. Reviving furniture is one of the creative and cool free things to do.
#49 Organize the Garage or Basement
Cleaning out your garage and basement might linger on your list of chores, but when you get the whole household involved, it really is one of the fun family things to do for free. If you are struggling to get everyone to buy into the 'fun' part, have a celebration planned (like the next freebie on my list) when the task is completed.
#50 Arrange a Fun Movie Night
Arranging a movie night at home is free entertainment for families and friends at its finest! Keep it simple (and cheap) by watching movies you already own (or can borrow from friends) or movies that you can watch on free streaming services. You can keep the snacks inexpensive, too, by popping a big batch of popcorn on the stovetop!
FREE THINGS TO DO WITH KIDS
Struggling to come up with ideas for free things for kids to do? No worries! My list of free activities to do with children will help spark your imagination…and theirs.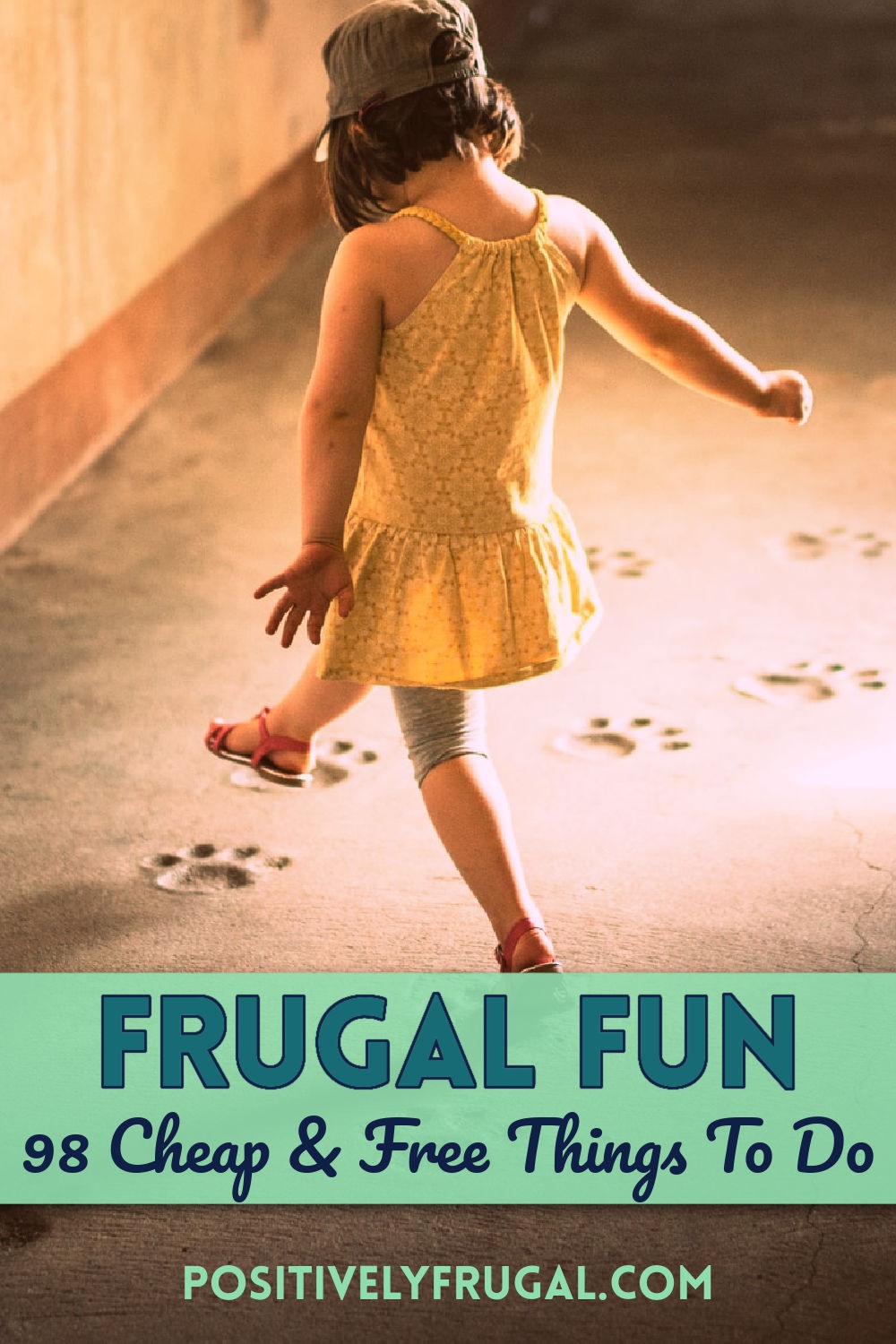 #51 Play Hide and Seek
When it comes to free stuff to do with kids, it doesn't get more classic than a game of Hide and Seek. A perfect game for toddlers indoors, older kids will get a kick out of playing Hide and Seek outside or in a park.
#52 Create a Scavenger Hunt
There is no question about it: Scavenger hunts are awesome fun free activities for kids. Find free resources online or start from scratch and create your own hunt!
#53 Go Geocaching
Geocaching is considered to be the world's largest treasure hunt – and is the perfect antidote when you are looking for cool free stuff to do. To play, you will need to create an online account and have access to GPS (likely through your cell phone) – then let the fun begin!
#54 Build a Fort
Building forts is, hands down, one of the most fun things to do with kids for free. Let their creativity run wild with old sheets, boxes, couch cushions and tables.
#55 Feed the Ducks (but Not Bread!)
Kids love ducks…and feeding ducks has been one of the fun free activities to do with kids for decades. However, in recent years, it has come to light that bread is not good for ducks. Of course, you can still take your kids to see the ducks, but if you want to feed them, follow the guidelines from National Geographic.
#56 Create an Obstacle Course
If you are looking for free stuff for kids to do, an obstacle course is an excellent way to entertain kids! While there are budget-busting ways to create a course, it is likely that you already have items that can be used to create a fun obstacle course in your backyard. Get some ideas here.
#57 Let Your Kids Cook a Meal
One of the cheap things to do with family is to the let the children become the chefs. Using items you already have in the pantry and fridge, let your kids plan the menu and make the meal. Perhaps not a 5-star dining experience, but fun all the same! Get inspired with my list of ideas for easy frugal meals.
#58 Play Dress Up
Dressing up is fun for everyone – but especially kids. For an afternoon of fun free things to do with family, get everyone involved in the dress up game. Come up with a theme – superhero, fancy or silly – and get decked out!
#59 Ask Questions and Record Answers
Simply sitting down and asking questions can be fun free stuff to do with kids. You can find lists of thoughtful questions to ask online. It's best, however, to record their answers (either write them down or audio record them speaking) as a memory for yourself.
FREE THINGS FOR COUPLES TO DO
Finding free adult stuff to do for couples isn't always easy – but it's not impossible either! My ideas for fun free evening activities for couples are a good starting point and be sure to also read all my advice on how to get your Partner to be Frugal and all my best Frugal Dating Tips!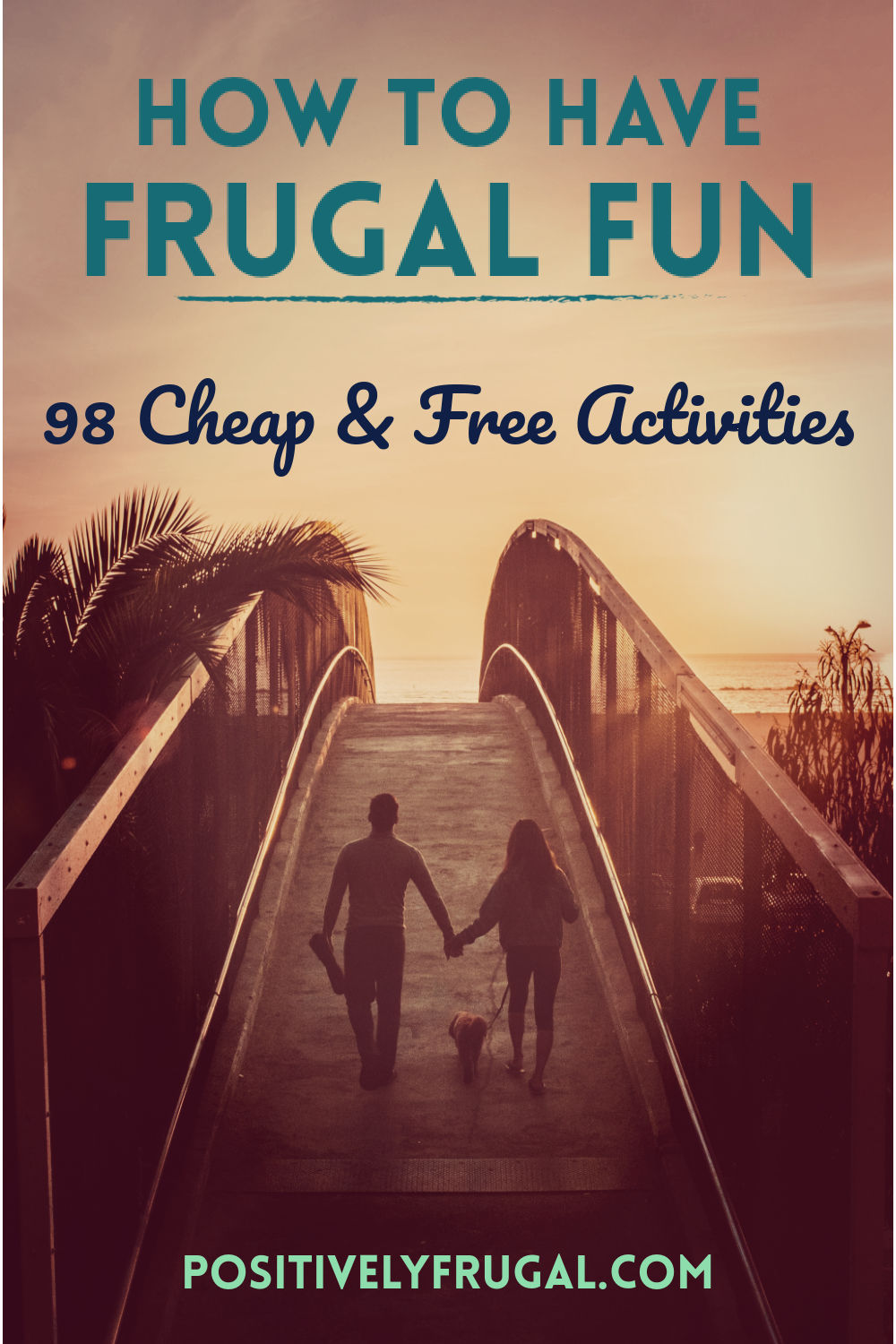 #60 Date Night at Home
When you are looking for things to do at night for free, skip the date night out and stay in instead. However, don't just crash on the couch in your jammies. Get dressed up and dine by candlelight.
#61 Give Each Other Massages
Getting a massage by a professional is expensive…but getting a massage from your partner is one of the things you can do for free.
#62 Cook Together
In many households, the responsibility of cooking falls on one person. Shake things up a little. Cooking a meal together is a fun and free activity for couples that is so simple that it is often overlooked. Find my top tips for frugal cooking in my blog posts, Cheap Breakfasts, Inexpensive Lunches and Economical Dinners.
#63 Set Up an At-Home Wine or Beer Tasting
Consuming alcoholic beverages at bars and restaurants is expensive. For fun things to do in the evening that cost less, consider setting up an at-home wine or beer tasting.
#64 Play Truth or Dare
Rather than vegging out in front of the television, couples can entertain themselves with an adventurous game of Truth or Dare. It is one of the free night activities that can last for hours.
FREE EVENTS
I love, love, love participating in free local activities. Most communities offer free events, which are usually listed on the city's website – so I'm sharing the kinds of events you might want to look out for and how to find them.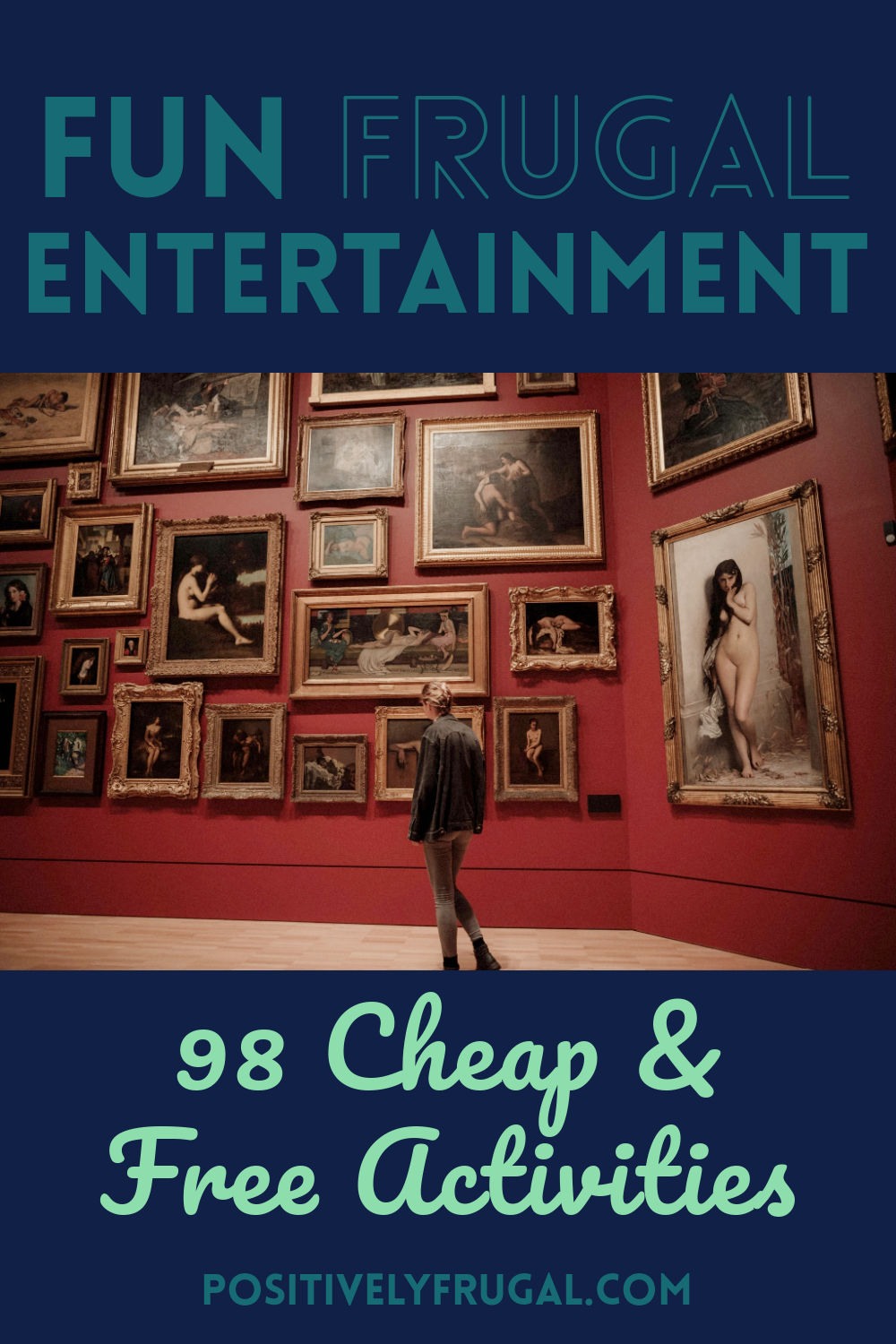 #65 Find Free Community Activities
Some of the best free things to do on the weekend are free community events. Activities can range from parades to community-wide garage sales to educational lectures. Check for free events on the city website – but also look at sites for the parks and rec department and local colleges and universities, too.
#66 See Free Theater Performances
Many theaters offer opportunities for taking in free performances – which are always fun free things to do with friends. In fact, my hometown offers free theatrical performances throughout the summer at the local park. Check to see what free performances you can watch in your hometown – and don't forget to check with the local high school and free online theater performances, too!
#67 Attend Festivals
Festivals are fantastic free weekend activities! Art, food, music and cultural events are top picks for good times without spending a dime. A local farmers market is another event that can be fun to attend…even if you don't intend on buying anything.
#68 Visit Museums for Free
One of my favorite local things to do for free is visiting museums. In addition to seeking out free museums, I look for ticketed museums that offer free admission on specific days or evenings.
#69 Volunteer Your Time
If you are looking for free indoor places to hang out without wearing out your welcome, then consider volunteering your time. Love animals? Volunteer at the local animal shelter. Love performances? Volunteer at the local theater. Love art? Become a docent at the local museum. Love nature? Help out at the local park. When you volunteer, you can enjoy your favorite free things to do indoors and out!
#70 Attend a Free Art Show
Art shows and art walks are two things to do for fun for free. Find out about art events in the community newspaper or online on websites like Eventbrite.
#71 Go to a Free Concert
Complimentary live music concerts are some of the best things to do in the city for free. Hosted in a variety of venues, local event newspapers and websites are the best resources for finding free concerts.
#72 Open Mic Night at the Local Coffeehouse
For fun free local activities for adults, look no further than the community coffeehouse. Your locally owned cafe likely sponsors heaps of fun events. I personally enjoy attending entertaining open mic nights!
#73 Trivia Night at the Local Bar
Bars are not known as cheap places to visit – but you can score a deal if your local pub offers a free trivia night. Of course, it can be even better if there are cheap drink specials.
FREE THINGS TO DO ONLINE
Easy access to technology and the internet has exponentially expanded the ability to find free entertainment. I could go on for days, but instead I'll just highlight a few favorite free online activities.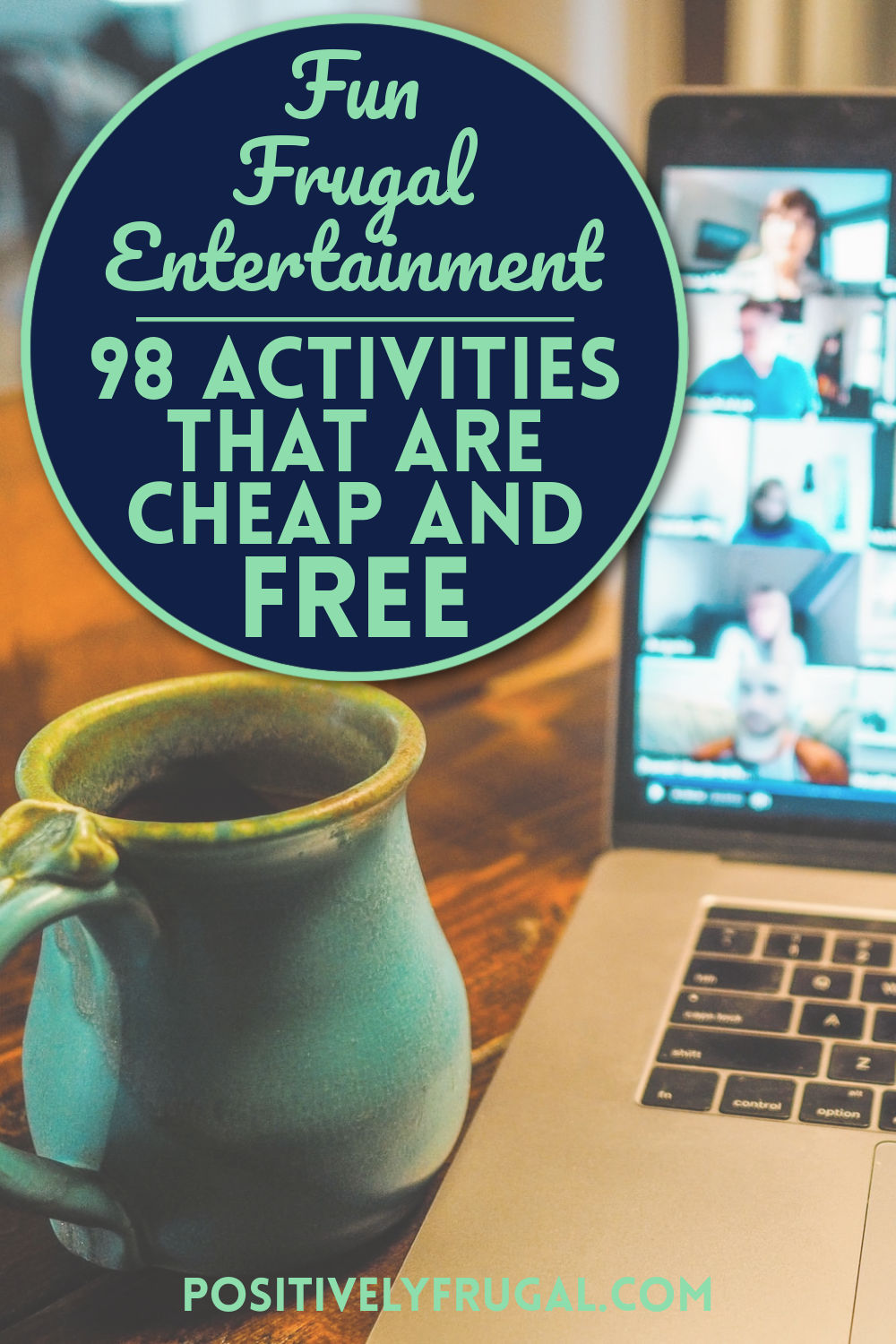 #74 Set Up a Video Chat
Some of the best free stuff isn't stuff at all, but time with friends and family. Whether near or far, you can visit with friends and family via video using free services like Zoom or Skype.
#75 Start a Blog
Do you have a hobby or a wealth of knowledge you want to share? Start a blog and share your thoughts! Starting a blog is one of the fun things to do that's free.
#76 Read Blogs
Reading blog posts and following bloggers are fun and free activities that you can do anywhere you have an internet connection. (You can subscribe to my blog here and never miss a new post!) In 2020, an astounding 4.4 million blog posts were published every single day – so you can likely find a blog that is interesting to you!
#77 Sing Along with Online Karaoke
One of the fun free activities for teens, adults and children is to sing along to karaoke songs online. No microphone or equipment required if you are just belting out songs in your house with your family and friends.
#78 Listen to a Podcast
Podcasts are a great source of free entertainment for people of every age! Like blogs, podcasts cover an array of topics – so you will likely find one that speaks to you.
#79 Watch YouTube Videos
I never thought of watching YouTube videos as one of the fun free activities to do with friends until one night, a few years ago, my friends and I spent hours huddled around a computer, looking up YouTube videos and howling laughing. You can find videos about anything and everything on YouTube!
FREE LEARNING
Expanding your knowledge is one of the best things you can do for yourself. While many classes cost money, there are ample learning opportunities that are free and cheap things to do.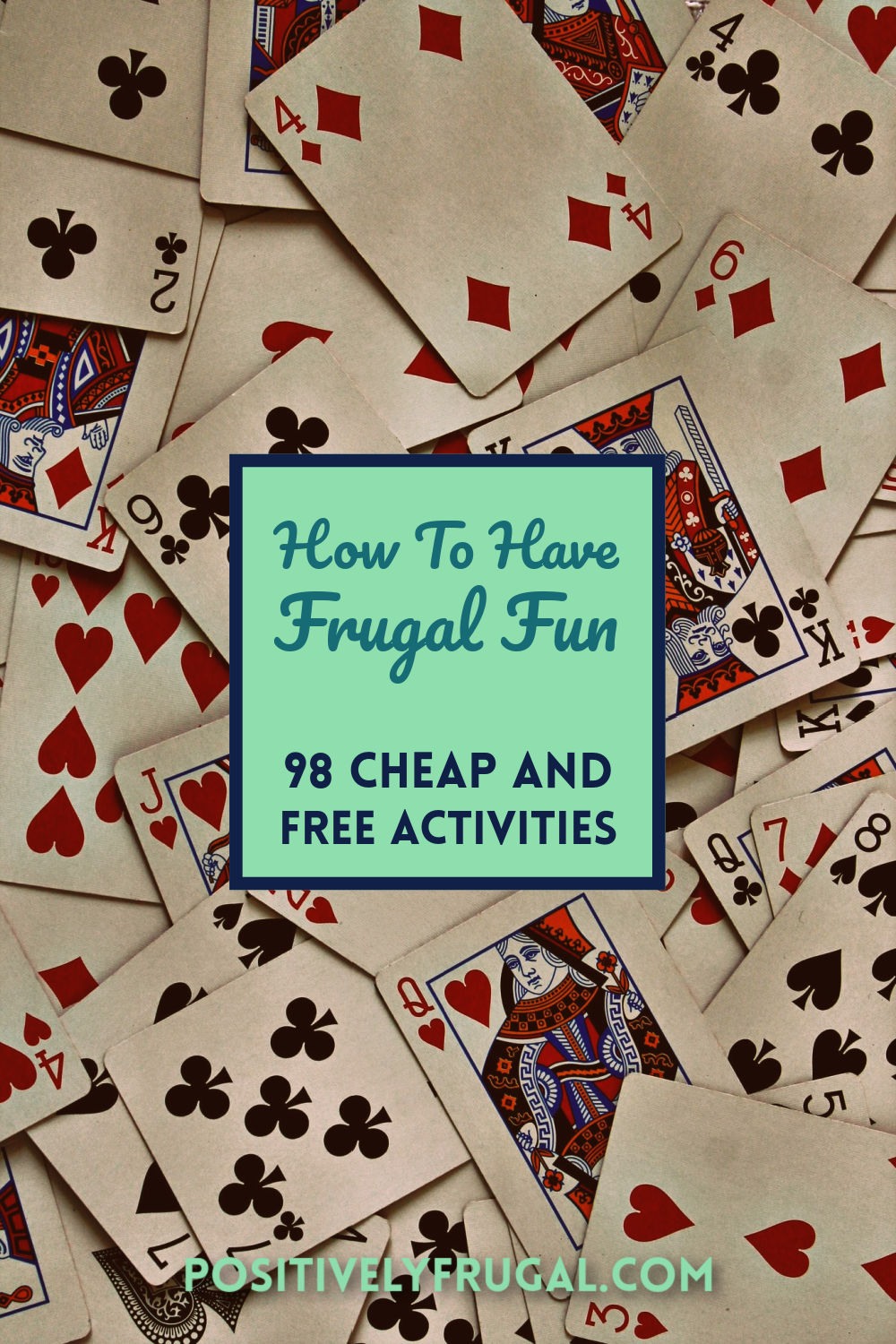 #80 Get Trained in Photography
While getting into photography is seldom thought of as something cheap to do, it really doesn't have to be expensive. Almost everyone has a camera on their phone (some phones even have advanced camera controls). Learn how to take better photos – even if you are only using a phone. (Tip: There are heaps of videos on YouTube that teach you how to enhance your photography skills!).
#81 Gain a Better Understanding of How to Edit Photographs
After taking your photographs, learning how to edit them is another one of the fun affordable things to do. Canva is a free online editor that can provide endless fun with photos!
#82 Teach Yourself How To Make Videos
Making videos is one of the fun things to do with family for free – or all by yourself, for that matter. Again, using the camera on your phone, you can create – and edit – all types of videos. Then, you can post your videos on your own YouTube channel (which is also free to create!).
#83 Master Card Tricks
When you need fun, cheap stuff to do, an entertaining way to spend your time is learning card and magic tricks. The internet and library books are a great resource for learning sleight of hand tricks.
#84 Commit to Learning a New Game
Classic games – like chess, Othello, checkers and backgammon – can be challenging to learn. Committing to understanding new games and spending time playing are free family things to do.
#85 Take a Free Online Course
Taking online courses are fabulous free inside things to do…and they are not difficult to find! Just do a Google search for a subject you want to learn and see what online classes are offered for free.
#86 Take a Free In-Person Class
While most in-person classes cost money, there are some free courses available through community programs. Additionally, if you are looking for free things for seniors to do, check out the free class offerings at universities (find more info on AARP).
RELAXATION & HOBBIES
Sometimes the best free fun is time alone or enjoying your favorite leisurely pursuits. I have a few tips on seeking out these freebies, too.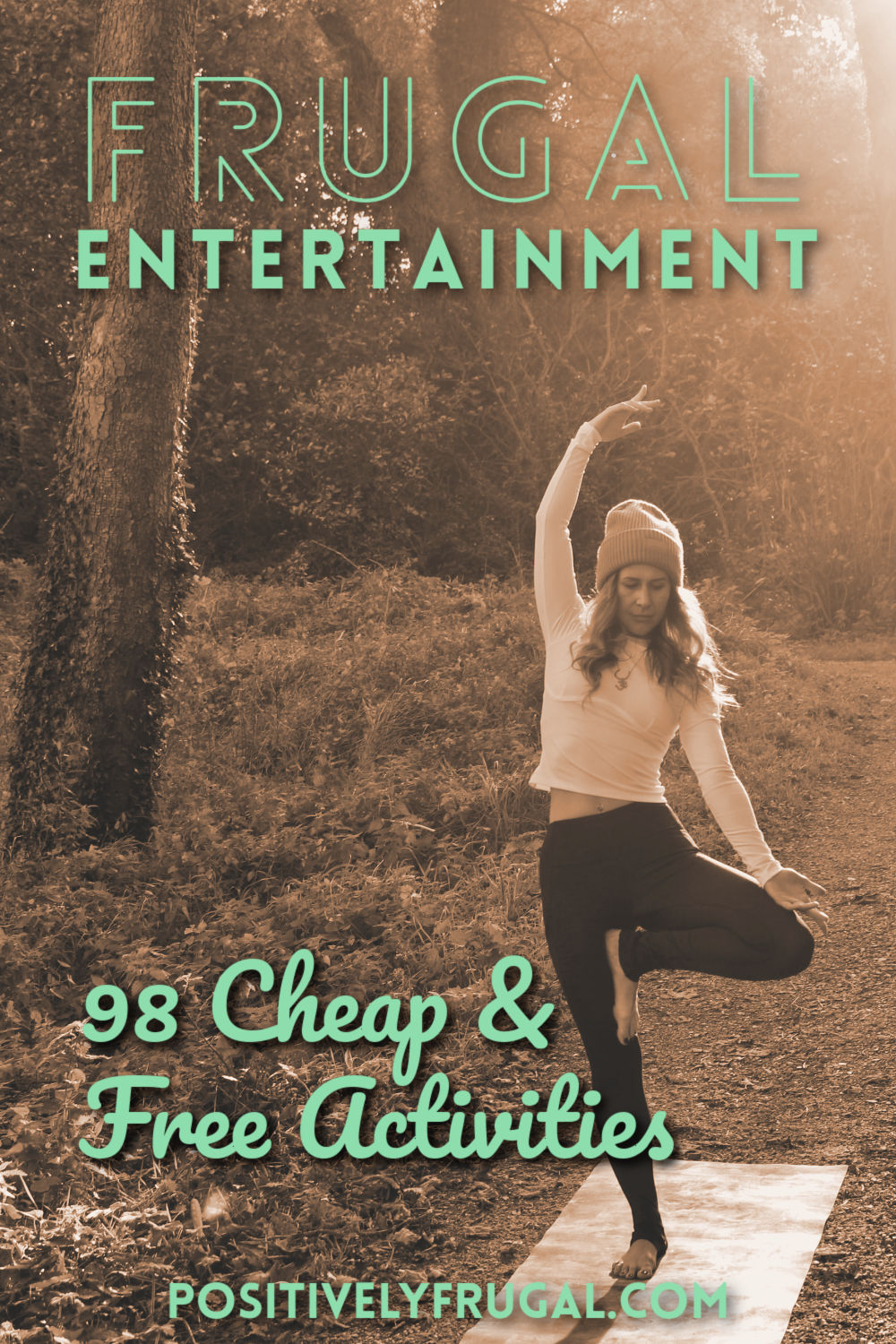 #87 Learn Yoga
Yoga classes can be pricey – but there are hundreds of free online videos covering everything from beginner yoga breathing to advanced yoga poses. Also, check around your community for free fun events promoted by yoga studios – like sunrise yoga or yoga in the park.
#88 Practice Meditation
Learning how to meditate is one of the cheap activities for adults that is truly priceless (at least in my opinion!). There are free blogs, videos, podcasts and books all dedicated to teaching meditation.
#89 Write a Journal
Journaling is a free thing to do…anywhere! You don't need an expensive journal either; just a cheap spiral notebook will do.
#90 Start Coloring Again
Remember how much fun it was to color as a kid? Well, coloring happens to be one of the cool cheap things to do as an adult, too! You don't even need a coloring book; use free online printables – and invest in an inexpensive set of coloring pencils.
#91 Hone a Forgotten Skill
If you already possess a skill, refining it is one of the cool free things to do. Do you have a musical instrument in the corner of a room or painting supplies stuffed under the bed? Pick up where you left off and hone your talent.
#92 Try a New Recipe
Cooking can be good free weekend fun! To stay on budget, try to only use food items that you already have in your pantry or fridge. Find more food tips on my Frugal Food blog page.
#93 Bake Cookies
Baking cookies is one of the fun cheap family things to do! For just a couple of dollars, you can have hours of fun cranking out dozens of cookies.
#94 Start (or Join) a Book Club
Book clubs are fun free activities to do with friends and neighbors. If you love to tuck into a good book and talk to others about it, then consider starting your own book club or find one to join.
#95 Learn How to Sew
Sewing – or knitting, crocheting or quilting – is free family entertainment or solo fun! Thrift stores are a phenomenal resource for finding sewing materials if you don't already have them.
#96 Start (or Join) a Free Community Share Program
Starting a free community share program is not only fun stuff to do for free with friends, but also an excellent way to give back to the community. Community share programs that you can start are Little Libraries, Garden Share Spots or Toy Exchanges.
#97 Organize Your Finances
Okay, I admit, organizing your finances might not be fun, but it is free! Besides, once you get your bills and money organized and have a clearer vision of your personal finance situation, you will better know how much money you can spend on fun.
#98 Create Your Budget
Yeah, I know, creating a budget doesn't top a lot of lists of fun things to do either…but, again, it is free and an incredibly valuable process. Learn how to set your goals and make a budget so that you can better control your money. You can get started now with my Free Printable Budget Template when you subscribe.

Looking for more frugal tips? In addition to free activities, I share valuable information about living a Frugal lifestyle, how to Budget and Set Goals and heaps of tips on Frugal Food.
We Want To Know: What are your favorite free activities and things to do with no money? Share your best tips for fun frugal entertainment in the comments below!
More Money Saving Articles