Some of the links on this site are Affiliate Links and if you use them to make a purchase, we may earn a commission. For more information, read our Disclosure Policy.
Do you think that the only place to get a good workout is at the gym? That is 100% NOT true! Anyone interested in finding a frugal fitness routine will quickly learn that there are many free ways to exercise. No gym membership required. If you are looking to save money, it might be time to ditch the gym pass and learn how to exercise for less!
Learn How to Exercise for Less Money
Exercise is an important part of your daily routine. It's good for your body and your mind. But what if it's not good for your bottom line?
Exercising does not have to cost a fortune. In fact, it doesn't have to cost any money at all!
If you are trying to be more frugal or are in the process of changing your relationship with money, then you might be re-thinking the amount you spend at the gym, on fitness classes or for a personal trainer.
I understand. I was in the same position. I was well aware of how much my gym membership was costing – I had organized my finances and was tracking my spending. For a long time, it was a price I was willing to pay.
However, when I set a big financial goal, I had to seriously consider how much money that gym membership cost.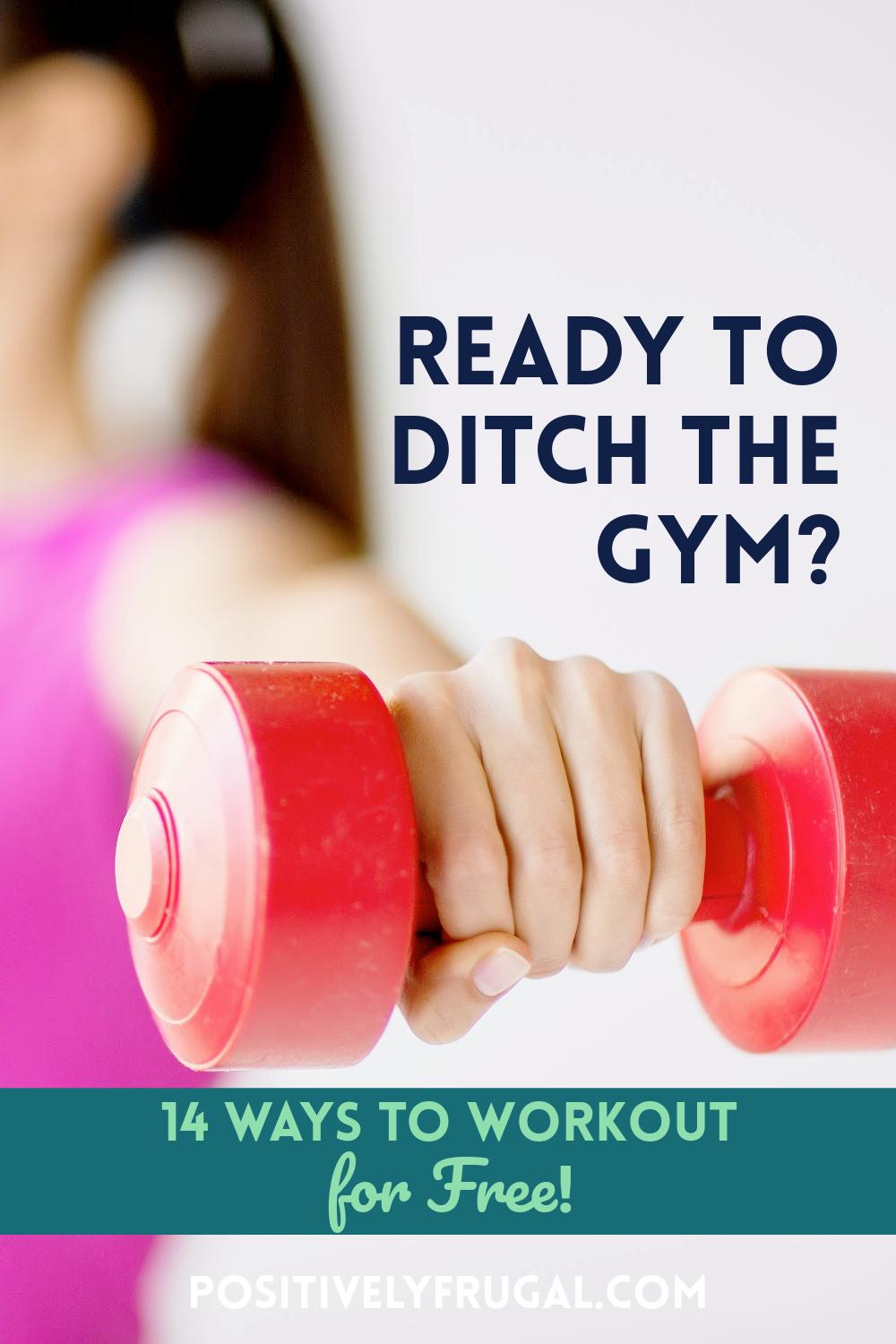 Frugal Fitness: Is a Gym Pass Worth It?
When I first signed up for my gym membership, it was pretty cheap. I was dedicated to going to the gym every day after work – and stayed late 3 times a week for the free yoga classes that were included with the membership. For a long time, my gym pass was totally worth it.
As the years ticked by, however, the price of my gym pass doubled – then tripled – in cost. My work schedule got more hectic and started consuming many of my evenings, which kept me from partaking in the free classes. I suddenly realized I was spending a ridiculous amount of money to walk on a treadmill – and the extra expense was not helping me achieve my money goal.
When I reviewed my budget, it became obvious how wasteful it was to pay for a gym membership. I had to cancel it…but I wasn't willing to simply quit working out.
Instead, I sought out frugal fitness options – and I learned that there are some pretty great ways to exercise for free.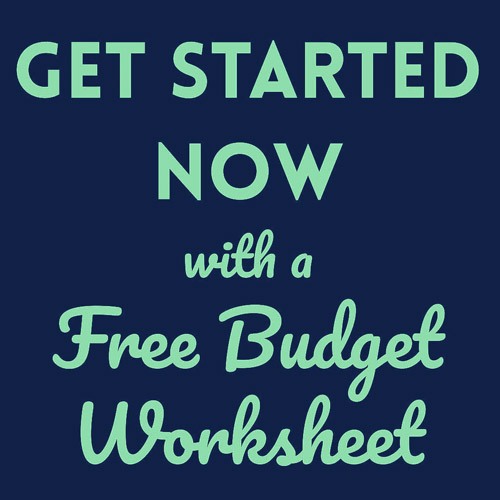 14 WAYS TO EXCERSIZE FOR FREE
Finding free ways to exercise is an excellent way to keep both your budget and body in check! I am highlighting a few of my favorite ways to get a workout – free of cost!
#1 Walk
Walking is one of the very best ways to exercise for free! You can walk almost anywhere – from city streets to neighborhoods to parks.
And, when the weather is foul, you can always head inside the local mall. (Just bear in mind that if you have trouble with spending too much money, you will need to keep a sharp focus on the walking…not the shopping!)
If you want to track your mileage, use a free app (like Map My Walk) or create a route on Google Maps so that you can be sure to hit your target distance.
#2 Jog or Run
Jogging or running is another fantastic free workout – and one that you can do just about anywhere.
That said, I think it is best to run in quiet neighborhoods or city parks, where you can really get your momentum going. A track is another great place to get a running workout for free – just inquire with your local middle school or high school to find out when the track is open to the community.
#3 Bike
Riding a bicycle is a fabulous form of free exercise! Once I quit paying for a gym membership, I started riding my bike to keep up my workout routines. I loved cruising around the neighborhood on two wheels on weekend mornings.
Of course, there is the initial startup cost – the bike itself, plus a helmet and any other necessary gadgets. Rather than paying full price, I recommend finding a used bike. Thrift stores, garage sales and online Buy Nothing groups are great resources for finding a new-to-you bike for cheap or even free.
#4 Hike
Hiking is one of my favorite ways to exercise for free (and one of my all-time favorite free activities!).
What I love about hiking is that there is something for everyone – trails range from easy hikes to difficult climbs and everything in between. You can go to a local park after work for a quick hike or hit the trails on the weekend for a challenging trek.
Keep in mind that some parks may require a fee – either to enter or to park your car. Before paying a single-use fee, find out if there is an annual pass that could be cost effective.
#5 Climb Stairs
Climbing stairs is a great way to get free exercise. Forget about the Stair Climber machine at the gym and use your stairs at home, in public buildings and the great outdoors.
If you have stairs in your house or apartment building, climbing them is a good at home exercise.
However, if you need to find a set of stairs to climb, you might have to get a little creative. Multi-story malls typically have stairs that are seldom used by shoppers – and parking garages can be a good option, as well. You might also find stairs that are free to use in civic buildings.
#6 Ditch your Car
An often overlooked – but a highly useful – way to exercise for free is by ditching your car. Although some people might think this is a form of extreme frugality, it's really a win-win.
First, by walking or biking where you need to go, instead of driving, you will surely start burning more calories. As I already mentioned, walking is one of the best forms of exercise, but a bicycle will surely get you from Point A to Point B a lot quicker. Second, you will save money on gasoline and upkeep by driving less.
I'm not necessarily suggesting that you go completely car-free, but walking to the store or biking to work instead of driving can be a great way to exercise for free…while saving a little money at the same time.
#7 Dance
Want an exercise to do at home that's free and fun? Turn up the tunes and DANCE! Not only can you get your heartrate up and burn some calories, but dancing is actually fun!
Create your own playlist of upbeat music and try dancing for at least 30 minutes. How you groove doesn't really matter – no one is watching! Just be sure to engage your entire body – even your arms – for a full body workout.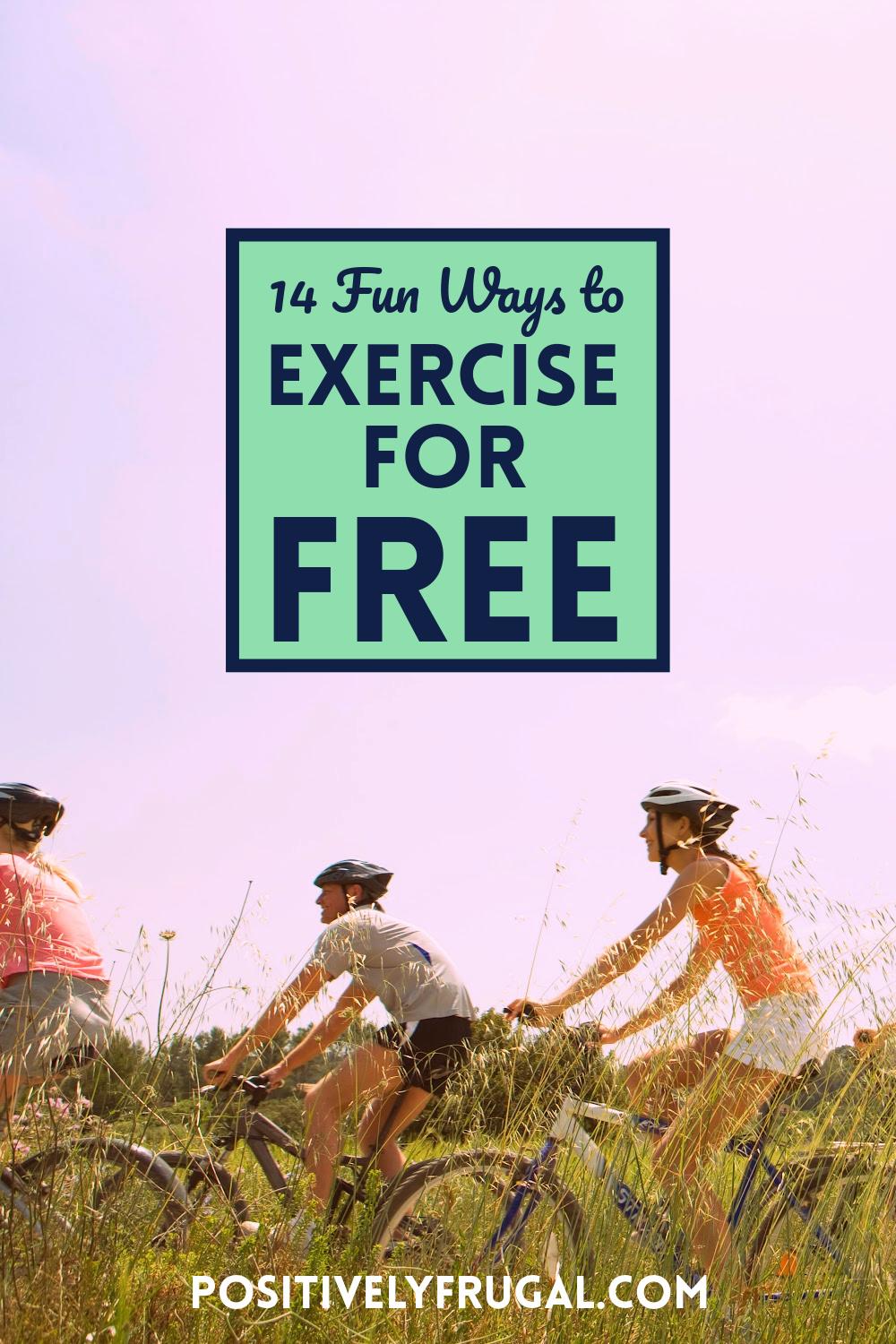 #8 At Home Exercising
Exercising at home is one of the best ways to workout for free! In fact, in-house exercise requires little more than comfortable clothes and your own motivation. You might be wondering, How can I exercise at home without a gym equipment? Lots of ways!
Squats, lunges, push-ups, planks and burpees are all great free exercises to do at home that don't require a single piece of equipment.
If working out is new to you – or you simply want a little guidance – the internet is a phenomenal resource. NerdFitness, for example, offers multiple at-home, no-equipment workout programs for free.
#9 Increase your Workout with Basic Household Items
Want to take your workout up just a notch? You still don't need to go out and buy expensive equipment – just use items that you already have around the house.
For example, use cans of soup as dumbbells for your arm workout – or go heavier by using mop buckets filled with water or sand for curls. Use your laundry detergent or filled milk jug as a kettlebell.
Rather than buying pricey workout bands, use an old pair of pantyhose or tights.
Your couch can be used for triceps dips, a folding chair can serve as a weight bench and the wall in your house works just as well as the one at the gym for thigh-strengthening wall sits.
Find more ideas about using household items for workouts here.
#10 Free Workout Videos
If you are looking for a free place to exercise, home might be the best option – and there are countless workout videos that are free. Some of the best places to find free home exercise videos are YouTube, Amazon Prime and even Cable TV.
YouTube is my go-to resource for finding home exercise videos for free. I particularly like Pamela Reif's YouTube channel, where she has posted numerous fun and free workout routines.
That said, there are an endless number of YouTube workout videos. YouTube has free exercise videos for seniors and kids' yoga videos; there are low-impact, full body workouts and high-intensity cardio videos that will help you lose weight. Simply search until you find one that suits your style.
With an Amazon Prime membership (which you can trial for 30 days for free!), you have access to an incredible number of free workout videos – including several yoga videos for free.
And, if you have cable television, you may be able to find channels that offer free daily exercise videos. Also, check with your local library; they may have a collection of workout DVDs that you can take out on loan.
#11 Workout Apps
If you are going to keep fit at home, you need to keep up your enthusiasm. If you need a little encouragement for your at-home workouts, then an app might provide just the right inspiration. The best apps for working out are robust with heaps of useful features – like personalization and tracking.
One of the best free workout apps is Nike Training Club. The app hosts a multitude of workouts and new daily content, as well as tools to set your personal workout goals.
The Strong app comes with pre-loaded exercise plans – but you can add your own to create a perfectly tailored workout. The app also has a feature that allows you to track progress and keep record of your weight.
Strava is a useful app for tracking your performance and progress – plus, it allows you to engage with the community of Strava users, which helps keep you motivated.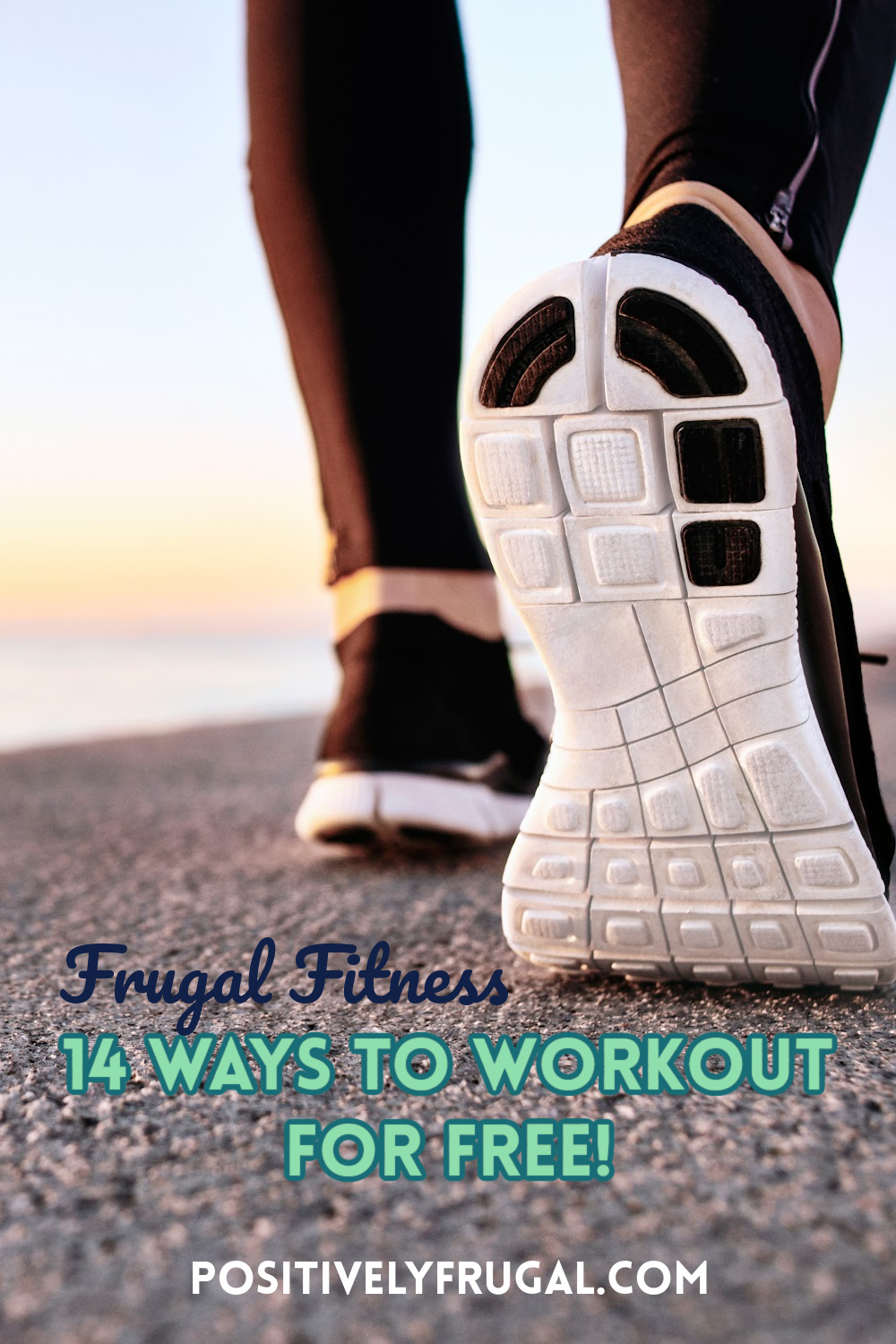 #12 Join a Free Workout Challenge
I love challenges – I find that they are way more motivating than just creating a schedule. If you are like me, then free workout challenges might be just what you need!
You can find exercise challenges online, on YouTube and on apps.
The Darebee website has one of the best databases – featuring more than 150 workout challenges (and new ones are added every month). Each of their 30-day challenges focuses on a unique goal or body part – from getting better abs to increasing your daily cardio.
#13 Equipment at Community Parks
Many cities provide free workout stations – usually at parks, along popular trails or sometimes near playgrounds. These stations typically feature stationary equipment designed to work out your arms, legs and abs – and you can definitely get a good workout!
Free community obstacle courses are also available in some communities now. A park in my hometown has a challenge course that includes climbing through tunnels, scaling a rope wall and walking across wood logs.
Inquire with your parks and rec department to find out if there are any free-to-use workout stations located in your area.
#14 Free Community Classes
Many communities offer free workout classes – and if you are lucky enough to live in an area that does, you should definitely take advantage of the offerings!
There are many resources for finding free group classes in your community. Your local church, library and the city parks and recreation department are good places to start. You may find no-cost aerobic classes, free yoga in the park or even no-pay bootcamps.
Another place to look for free workout classes is fitness shops and outdoor stores. Also, if you are fortunate enough to have an outdoor Fitness Court in your area, they offer free classes!
Pro Tip: If you have free time, you might also be able to score free classes at a gym or yoga studio by working for a few hours a week in exchange for free classes.
---
Eating nutritious food is an integral part of your overall health. If you are looking for ways to save money on food – but still eat healthy and delicious meals – pop over to my Frugal Food blog page for top tips!
Cheap Ways to Exercise
Okay, so I covered how to work out for free, but I have a few tips for cheap exercise ideas, too. These tips will almost certainly cost less than a single month of your gym membership.
Inexpensive Workout Equipment
I already talked about how to get exercise at home for free, but there are a few inexpensive items you can buy that will enhance your workout.
Exercise Ball
Costing less than $20, a basic exercise ball is inexpensive exercise equipment that compliments low-impact workouts. Fantastic for strengthening your core, you can also use the ball for deeper, more intense challenges.
Basic Dumbbells
A basic set of dumbbells – with a set of 2, 3 and 5 pound weights – costs less then $50 and can substantially increase your arm workout. *already in spreadhseet. That said, you might be able to find a set of dumbbells for less at your local thrift store.
Jump Rope
A quality jump rope – costing less than $10 – is inexpensive fitness equipment that can provide a chap workout and take your fitness to the next level.
Hula Hoop
Using a weighted hula hoop is a fun way to get a solid workout! A good, exercise hula hoop costs around $20 (which is definitely less than I was paying to go to the gym!). However, a hula hoop from the dollar store can provide a good basic workout routine, too.
Frugal Home Gym
I detailed how to exercise at home without equipment – but is there a way to create an inexpensive home gym? Absolutely!
There are many inexpensive exercise machines for home use (although, be weary about buying something that is cheap and will fall apart).
Alternatively, consider buying used home gym equipment, where you can really score a deal! Craigslist and FB Marketplace are two great places to find in-home gym equipment for rock bottom prices.
That said, purchasing gym equipment will likely still be a big investment. If you don't have funds available, I recommend setting up a Sinking Fund to save up the amount you need for the equipment you want.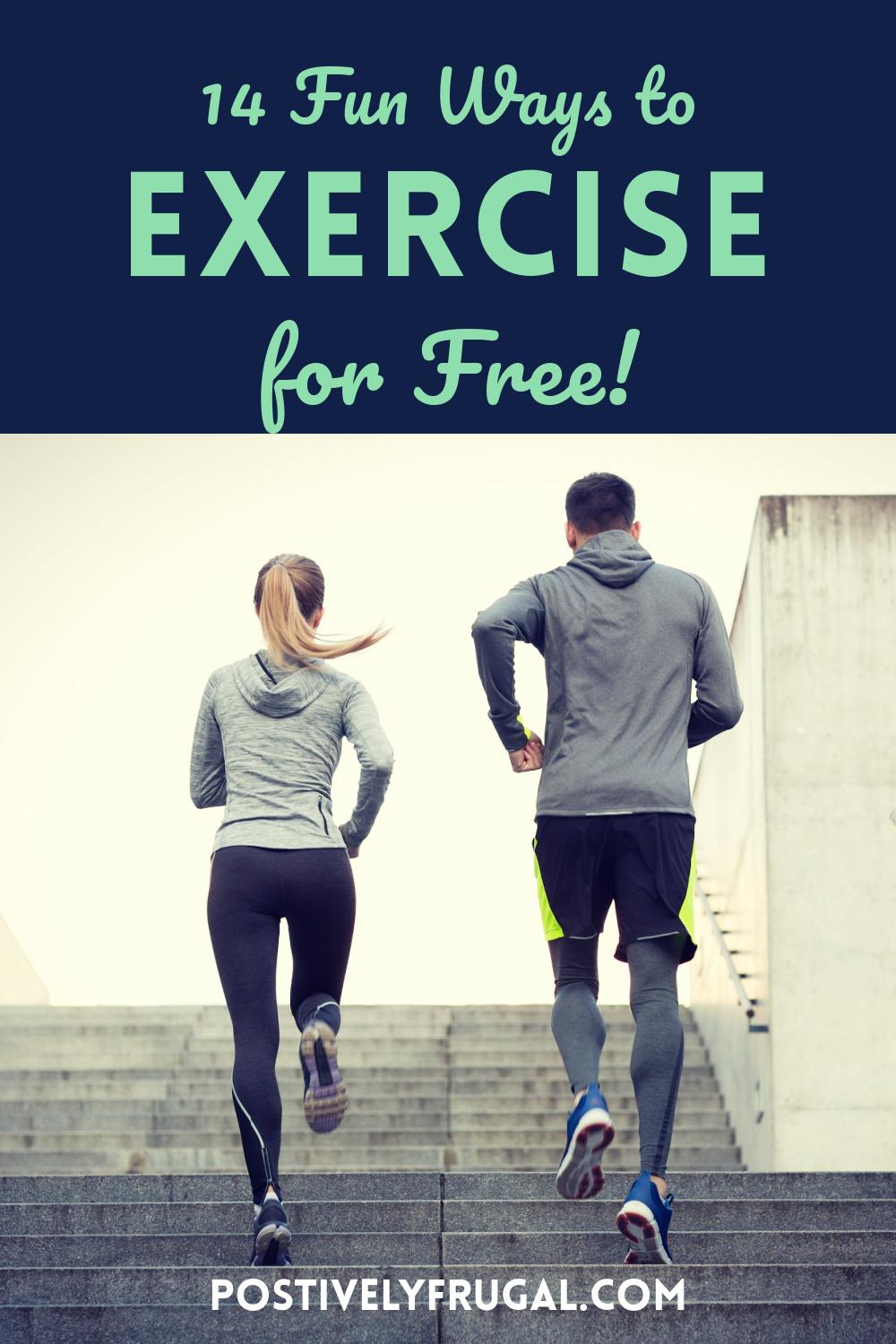 Affordable Workout Clothing
Regardless of whether you decide to workout at home or in the outdoors, you will need appropriate clothes for your exercise routine.
Name brand sportswear is incredibly expensive – so are the alternatives? Of course! There are plenty of ways you can find inexpensive workout gear.
Comfortable and functional clothing works best for working out – and it's likely an old t-shirt and shorts that you have at home will suffice. However, the best workout clothes are made from moisture-wicking materials.
You can find good workout clothes at some discount stores – like Kohl's, Target or TJ Maxx. You can score a deeper discount if you buy workout clothes at the end of the season (one of my favorite frugal fashion tips!). Additionally, don't shy away from gently used workout gear that is available at thrift stores.
---

Interested in more of my Life and Entertainment Tips? I round them all up on the Frugal Lifestyle blog page!
We Want To Know: What are your favorite ways to exercise for free? Share you best advice on how you exercise for less in the comments!