Some of the links on this site are Affiliate Links and if you use them to make a purchase, we may earn a commission. For more information, read our Disclosure Policy.
Fashion on a budget – is it possible? Fashion and money seem to go hand-in-hand, but I have learned some of the best ways to save money on clothes. My frugal shopping tips will show you how to be fashionable on a budget.
Frugal Fashion on a Budget
I've always considered myself to be a fairly frugal shopper – especially when it comes to clothes. I seek out deals and steer clear of short-lived, wasteful and expensive fashion trends. However, as I transformed my life to become a frugal minimalist, it became clear that I was still spending too much money on clothing.
When my husband and I set a big financial goal– to save enough money to quit our jobs and travel the world – we spent months paring down our belongings. When the time came to tackle the contents of my over-stuffed closet, it was evident that my money spent on fashion was excessive.
Inside my closet, I found 18 pairs of black work pants, enough shoes to wear a different pair every day for a month, and clothes with tags still attached that had obviously never been worn. The wastefulness was painful.
Clothes Shopping on a Budget
Once I created a budget to save money and started tracking my expenses, the true facts of my spending became crystal clear. I altered my ways. I became incredibly conscious of my spending and looked for more creative ways to save money on clothes.
I made some mistakes and sometimes lapsed into old habits, but along the way I discovered that it is possible to dress in style on a budget.
There is no doubt that limiting how much you spend on clothes is one of the big ways to save money – which is why I'm sharing my top tips for buying clothes on a budget.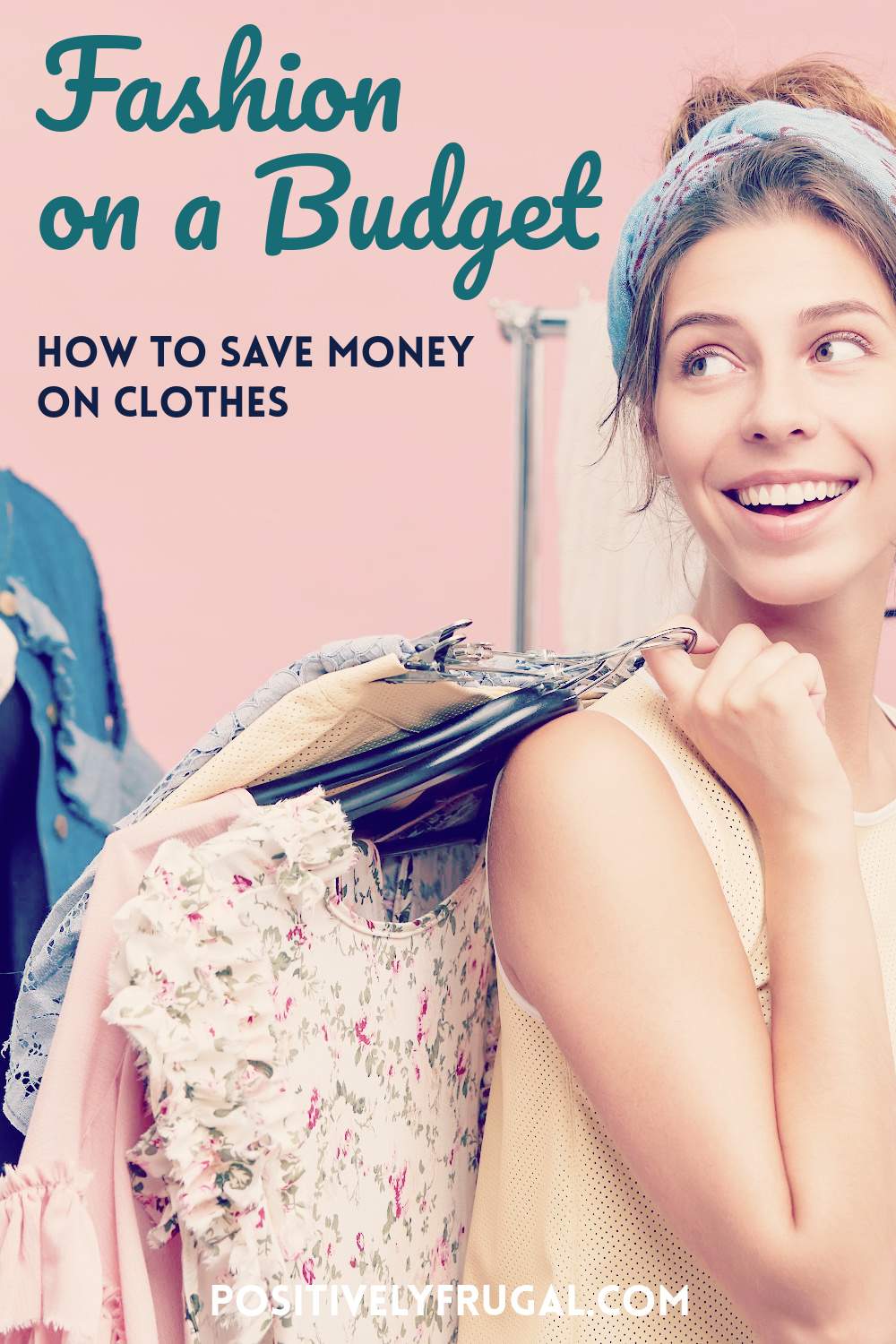 How To Save Money on Clothes
My list of money-saving tips includes both obvious and clever ways to save money on clothes. These tips can be applied to frugal female fashion – as well frugal men's fashion, kids' clothes and clothes for work.
With my tips on how to save money clothes shopping, you can look stylish on a budget!
#1 Only Buy Clothes You Actually Like
This tip for frugal clothes shopping seems so obvious, but it has burned me more than once – so it actually needs to be said.
One of the best ways to save money on fashion is to only buy clothes that you like and are comfortable wearing. If it doesn't fit right, is not really your style or is made from material that makes you itch, you will likely never wear it.
I can tell you from experience: It does not matter what the price is, it's not frugal clothing if it just sits in your closet!
#2 Resist the Temptation to Buy Just Because It's On Sale
One of the tried-and-true best tips to save money is to purchase items when they are on sale. Buying something for less than full price is a usually a good deal. Usually.
Clothing sales are an area that get a lot of shoppers in trouble with overspending. Just like in grocery shopping, sales are a way that marketers get you to spend. They make the deals too good to pass up – but is it really a good deal?
Rather than just buying clothes because they are on sale, take a minute to think about whether or not you really need the item, if you will even wear it, if you even like it.
#3 Don't Wait until the Last Minute to Buy Something You Need
One of my top tips for How To Stop Spending Money is to stay out of stores (and that includes online shops, too!). However, it's not a great tip for how to save money on clothes if you know you are going to need a particular item in the near future.
Waiting until the last minute to buy something that you absolutely need will push you into a corner. You will have to buy whatever is available at the price they are asking. You lose your power to shop around for the best price possible.
Whether it's a new dress for a specific event or replacement socks for the ones that are wearing thin – you can save money by starting to research and shop for the item sooner rather than later.
#4 Shop within Your Budget
One of the best frugal fashion shopper tips is to create and stick to your fashion budget! If you don't know how much you can afford to spend on clothes, then it's easy to overspend.
Create a budget (using this FREE budget worksheet) and designate a specific, realistic dollar amount to fashion.
With an actual figure written down, it is much easier to limit your spending.
#5 Shop with a List (and Cash)
When I was in the process of learning how to be more frugal, I started shopping with a list. I wrote a list every time I went to the grocery store, stopped by the hardware store and entered the mall. The simple act of writing down what I needed at the store – and only buying the items written on the list – has likely saved me thousands of dollars.
If you struggle with sticking to the list, leave the credit cards at home and pay with cash instead. In fact, if you really struggle with sticking to your list, before you start shopping for clothes, budget how much you intend to spend and only bring that amount of cash to the store with you.
#6 Be Mindful of Where You Shop
When buying clothes on a budget, where you go shopping can heavily impact your spending. Boutique shops, name brand retailers and high-end department stores tend to have the highest prices. Instead, find Fashion on a Budget stores where you can shop for nearly the same clothes at a much lower price point.
Avoid expensive stores and find an affordable alternative. Instead of shopping at Nordstrom's, find discounted items at Nordstrom Rack. Rather than going to the mall, head for the outlet mall. Skip the brand name stores and find recognizable fashion brands at stores like TJ Maxx.
If you do your research and price out which store offers the best bargains, you can definitely be dressing well on a budget!
#7 Seek Out a Good Thrift Store
One of the best places for low budget fashion is a good thrift store. A treasure trove of bargains, I have scored some pretty phenomenal deals on budget clothing. Just keep in mind that thrifting can be time consuming – and it is imperative to thoroughly check each item for rips or stains.
The best way to save a fortune is to have a solid understanding of what brands make quality clothes – and the typical cost of buying those clothes new.
Another hot tip for how to be fashionable on a low budget: Find a thrift store in an affluent neighborhood where residents are more likely to discard expensive, brand name clothes. At these thrift stores, it is easy to piece together low budget outfits!
#8 Wait for End of Season Sales
Long one of the best tips for how to save money on clothes shopping, End of Season sales can result in big money savings.
The biggest discounts are on the most seasonal items – as stores do not want to put the clothing in storage. So, if you are in the market for a new swimsuit, wait until the end of summer. Need a new winter coat? The best time to buy is in the spring.
Fashions don't change that quickly, so buying something on sale at the end of the season will have you looking good on a budget!

#9 Exchange Clothes with Friends
A fun way to find fashion on budget is to swap clothes with friends. The impulse to spend money on clothes is strongest when we are sick of wearing the clothes in our own closet. You can get new-to-you clothes by setting up an exchange with friends.
In fact, a clothes exchange among friends can be a fun (and inexpensive) social gathering. Get a group of 8-10 friends together and host a bi-annual Clothing Swap party.
Pro Tip: Swapping clothes is also one of the best hacks for how to save on maternity clothes!
#10 Free Groups
Buy Nothing and other free exchange groups are a brilliant way for how to save on clothes! Join your local Buy Nothing Group (Facebook or BuyNothing.org are the two best places to get started) and start saving!
In my area Buy Nothing group, neighbors offer up an array of goods – from furniture to school supplies to stylish clothing.
Pro Tip: If you are looking for ways on how to save on Back to School clothes shopping, free exchange groups are great option!
#11 Online Used Clothing Shops
If you are looking to dress stylishly on a budget, online thrift stores are a great resource! Similar to eBay (and even on eBay, for that matter), sellers offer a range of gently used clothes for sale.
ThredUp and Poshmark are my two favorite online retailers for used clothes. Shoppers can search by name brands or styles. Being fashionable on a budget is easy with the robust websites!
#12 Yard Sales
Yard and Garage sales are a notorious place for frugal finds. While, perhaps, not the best avenue for finding something specific, yard sales are a great place for frugal shoppers to save money on clothes, shoes and other accessories.
Just like at thrift stores, be sure to check over the product before making a purchase!
#13 Double Down Sales with Coupons
Using coupons is a fantastic way to save money on clothes. The best way to get coupons is by signing up for loyalty programs at department stores and your favorite retailers.
However, the real trick to how to save money shopping for clothes is to double down your coupon by using it to purchase something that is already on sale. You can really reap the rewards! (Not all stores allow you to use coupons on discounted items, so always read the fine print on the coupon before heading to the cash register.)
Pro Tip: When making purchases, use a credit card that will earn you rewards! I use my Discover Card for the cashback rewards when shopping – and pay off the balance every month. (Earning rewards is not worth going into debt!)
#14 Upcycle Old Clothes
One of the fun DIY Ways to save money on clothes is to upcycle your old clothes! Jeans with worn and ragged cuffs can become jean shorts. Give an old t-shirt new life with a few fun embellishments. Get creative and have fun with it!
On that same note, don't toss a shirt just because it's missing a button or has a small tear. Do the repair yourself! You can save money on buying clothes by learning a few basics about sewing.
Learning how to Upcycle is one of the fun, free hobbies that allows you to use your creativity!
#15 Buy Quality, Forever Fashionable Items
One of the best tips for dressing classy on a budget is to purchase high quality clothing that is timeless. Fast fashion can put a big strain on your wallet – as well as the environment. Cheap clothes – as in, poor quality and materials – don't last and quickly take up space in a landfill.
Creating a capsule wardrobe of classic pieces – complete with fashion basics – is one of the best ways to participate in sustainable fashion on a budget.
#16 Invest in Eye Popping Accessories
Want to look stylish on a budget? Instead of buying new clothes, enhance your already-owned budget outfits with fun accessories.
Brightly colored shoes, a statement handbag or a classy scarf can all go a long way to making your wardrobe feel fun again.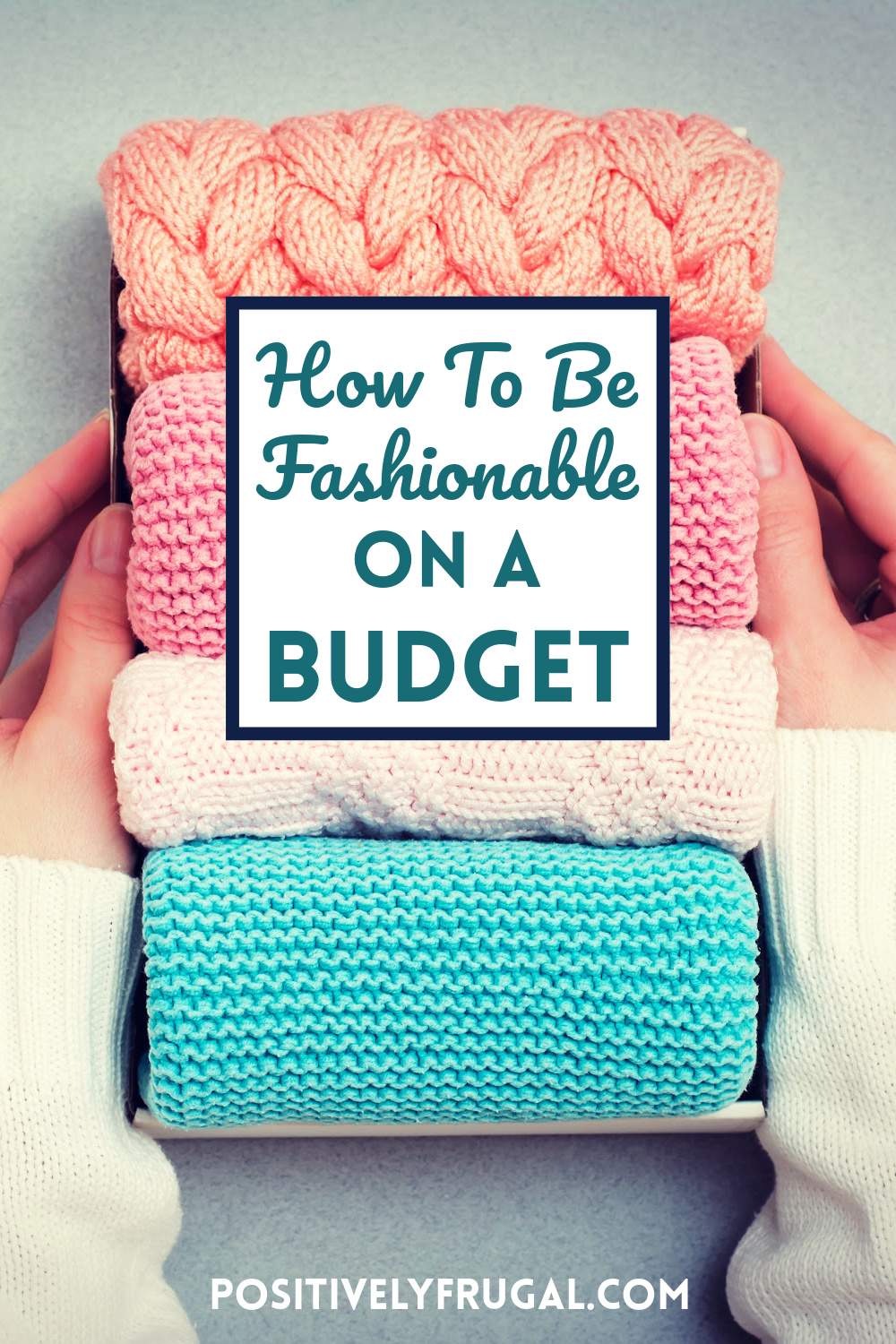 More Frugal Fashion Tips
I have shared tips on how to save money when shopping for clothes, but I want to share some basic frugal fashion advice.
Take Care of Your Clothes
My frugal shopping tips are worthless if you don't take care of your clothes after you buy them. Read – and adhere to – the washing instructions. Immediately tend to spills to prevent stains. Fix loose threads before the completely unravel.
One of the best ways to save on clothes is to properly care for the ones you already own.
Use the 30 Day Rule to Save Money on Clothes
Want to know how to save money while shopping for clothes? Shop but don't buy…at least for 30 days.
Putting a 30 day hold on any impulse purchase will help you decide if the item is really worth your hard-earned money.
One In, One Out Rule
The One In, One Out Rule tests you to make hard decisions. In this case, for every item you purchase, you need to make room for it in your closet by getting rid of a similar item.
This can be a great way to save money on clothes shopping…because if you are not willing to give anything up, then you can't make a new purchase!
Sell Old Clothes
If you have a closet full of clothes that you rarely wear (or have never worn!) like I did, then consider selling your old clothes – either online or through a consignment shop.
Realizing that you have enough clothes and being willing to sell the items that you don't wear is one of the best ways save money and make money.
In fact, decluttering your closet can pave the way to a better relationship with money and stuff. In the book, A Year of Less, which is one of the best financial books for beginners, the author clears the clutter from her life and gains a better perspective of her spending.
Set Up a Sinking Fund for Clothes
A great way to keep you budget your clothes expenditures is to set up a Sinking Fund for fashion.
With a Sinking Fund, you save up for your purchases – and know exactly how much money you have in the fund for fashion purchases.
Save your Savings
I love money challenges to save money – and Saving Your Savings on clothes is a fun one! Whenever you realize savings – whether it's using a coupon on discounted clothes or foregoing a new clothes purchase altogether – celebrate by saving the money your saved. As in, put the amount you saved into a bank account.
It's a fun challenge that will help you rack up your savings fast!
Want other fun money challenges? Use my tips for the Best Money Saving Games!
Find Frugal Alternatives to Shopping
All of my tips are designed to help you dress well on a budget – and are ideal for people who are trying to save money. While learning how to save money on clothes shopping is key to keeping your budget in check, you may actually need to change some of your habits.
For instance, instead of heading to the mall for entertainment, partake in fun frugal activities where there is zero temptation to spend. If you can learn to completely control your spending, you will find that it becomes easier to save money everywhere!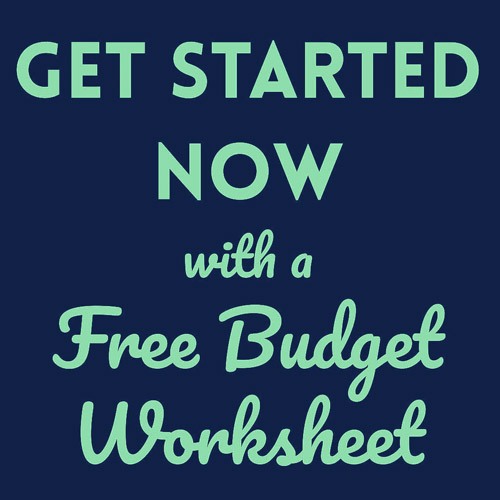 Interested in more of my Life and Entertainment Tips? I round them all up on the Frugal Lifestyle blog page!