Some of the links on this site are Affiliate Links and if you use them to make a purchase, we may earn a commission. For more information, read our Disclosure Policy.
Cheap hobbies are an excellent way to keep your budget in check while still having fun!
Hobbies bring joy and purpose to your life…but enjoying life doesn't have to be expensive. Whether you are tight on cash or saving up for something big, with my list of cheap hobbies to pick up, you can escape the grips of boredom.
What Are Cheap Hobbies?
Hobbies are leisure activities that you regularly enjoy. Cheap hobbies are simply hobbies that don't cost much money. Most frugal hobbies have little to no up-front costs – and require minimal money going forward.
Cheap hobbies will keep you entertained on a dime – and not just for one afternoon. When you find cheap, easy hobbies that you love, you will have fun for weeks and months into the future.
Need some quick ideas of what to do this weekend? Use my mega-list of Fun Free Activities!
41 FRUGAL HOBBIES: CHEAP WAYS TO HAVE FUN!
My list of frugal hobbies will keep boredom at bay and cash in your wallet! Because my list of cheap hobbies is so massive, I have categorized the content so that you can quickly find ideas best suited to you. That said, I would recommend scanning the entire list – you never know what might spark an idea for a new hobby!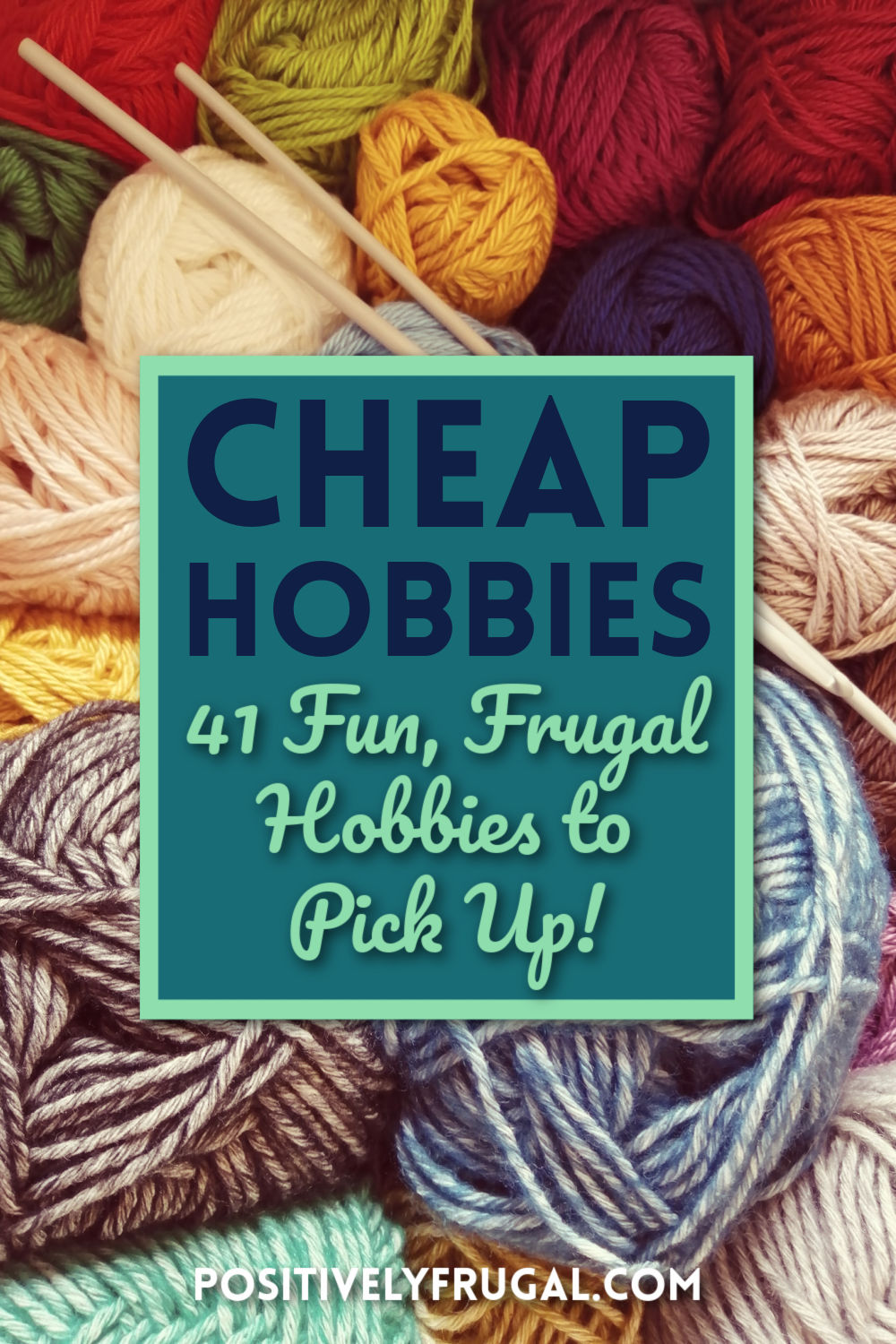 At Home Hobbies
I'm kicking off my list of inexpensive hobbies for entertainment you can have at home. At home activities are fantastic new hobbies to try and con provide hours of cheap fun and free entertainment. See what inspires YOU on my At-Home Hobbies list!
#1 Play Games
Playing games is not one of the new hobby ideas; humans have been playing games for thousands of years. There are classic board games and modern online games. A fun hobby is to challenge yourself to learn new games.
Play Board Games
Long hailed as one of the best inexpensive hobbies at home, playing board games can provide endless fun. Games (and even regularly scheduled Game Nights) are one of the best cheap hobbies for couples and families.
That said, some popular games can be quite expensive. To keep your costs to a minimum, buy games at discount stores, pick up second-hand games at garage sales or even swap games with neighbors or friends.
In my opinion, learning to play games that require knowledge and skill – like chess – are especially good hobbies, because it takes time and patience to improve.
Play Free Games Online
Another fun hobby that can be even cheaper than board games is online games. There are heaps of free resources online for free games.
247 Games, AGames and MSN Games are all sites that offer free online games that anyone with an internet connection can play.
#2 Put Puzzles Together
Putting together puzzles is one of the classic low-cost hobbies. Not only is it fun to put a puzzle together, but there are heaps of other benefits – like improving your IQ, reducing stress and increasing your memory.
As a hobby, you can work on a puzzle for a few minutes every day or dedicate an entire weekend to completing your puzzle masterpiece. Either way, puzzles won't break your budget – there are many puzzles for less than $25 USD.
#3 Read Books (or Join a Book Club)
One of my personal favorite free hobbies is reading books! I regularly pick up books (yes, even books on frugality) from the local library or book exchanges – so there is absolutely zero cost!
However, with the digital age, you can get the books you want downloaded to your device on demand. Most public libraries now offer digital books as part of their collection – but you may have to wait for a copy to become available.
If you are an avid reader, you may want to consider getting a Kindle Unlimited membership. The $10 monthly fee provides immediate access to more than 1 million digital books – and you get your first 30 days FREE.
Joining a book club – or starting one – is another one of the fun, cheap hobbies for book lovers!
#4 Listen to Podcasts
With more than 2 million podcasts, it is easy to find a podcast that you can listen to and enjoy on an on-going basis. Plus, it is one of the best hobbies for free – as podcasts don't charge you to tune in.
So, what are podcasts anyway? Podcasts are audio entertainment. They are similar to radio talk shows, in that it is an audio-only format, but also like a television series, because most podcasts have episodes. There are celebrity podcasters and hosts who are just regular Joes wanting to share their thoughts or knowledge.
To get started with this easy hobby, all you need is an internet connection, a device and maybe some headphones. To access podcasts, you will need to download an app, like Google Podcasts or Spotify.
#5 Start a Podcast
If you are passionate and knowledgeable about a specific subject, then starting a podcast can be a fun, inexpensive hobby to take up!
There are some fees associated with starting a podcast. At minimum, you will need to buy a microphone and pay for monthly hosting. Both of these can be relatively low-cost when you are first starting out. Later, if it becomes a hobby you love, you can upgrade your equipment and turn it into a money-making hobby!
#6 Watch YouTube Videos
Watching YouTube videos is one of the cheap hobbies to get into for anyone with an internet connection.
As a hobby, you can find YouTube channels that most appeal to you – or search for videos from a variety of YouTubers based on your interests.
For example, music lovers can take up a hobby of watching NPR YouTube interviews and documentaries with both superstars and undiscovered artists. A new hobby for DIYers might be to start watching The King of Random. Seriously, the options on YouTube are literally endless.
#7 Make YouTube Videos
As far as budget hobbies go, making YouTube videos fits the bill! Any adult can create a YouTube channel and start posting videos for free!
Of course, you will need a recording device – but many YouTubers simply use their smart phone. There are basic editing software programs that are free, too.
While this is one of the good hobby ideas for adults, making YouTube videos is fun for kids, too. Teenagers are permitted to have their own channel – but they do need parental permission.
#8 Start a Blog
Along the same lines, starting a blog is one of modern cheap hobbies that anyone with a computer (or even a smart phone!) can start for very little money.
If you have a passion that you want to share or enjoy writing as a creative outlet, then blogging can be an excellent hobby.
It takes minimal funds to start a blog as a hobby. There are free platforms, inexpensive hosting and a million tutorials that will help you start a blog.
#9 Be a Pro Coupon Clipper
There are a lot of hobbies that don't cost money, but couponing as a hobby can actually save you money.
Generally speaking, it is my personal belief that couponing tends to be one of the frugal habits that don't pay off – but that is only because I'm not dedicated to putting in the time or the effort required and it is simply not a frugal hobby of mine.
If you, however, take up couponing as a hobby – and devote the energy needed to find and use coupons – then you are not just saving money on your hobby, but saving money on your shopping as well!
#10 Balance Your Budget Regularly
Budgeting it another one of the affordable hobbies that can make a big difference in your bottom line. While some people might argue that this is not one of the FUN hobbies to pick up, I personally think it is one of the best free hobbies to do at home.
When I first started making a monthly budget and tracking my expenses, it was out of necessity. I wanted to get my spending under control so that I could really start saving for a big financial goal.
However, I learned that I loved working with the numbers – and now budgeting is firmly a hobby of mine. If you haven't tried budgeting before, give it a go. You just might turn it into a hobby!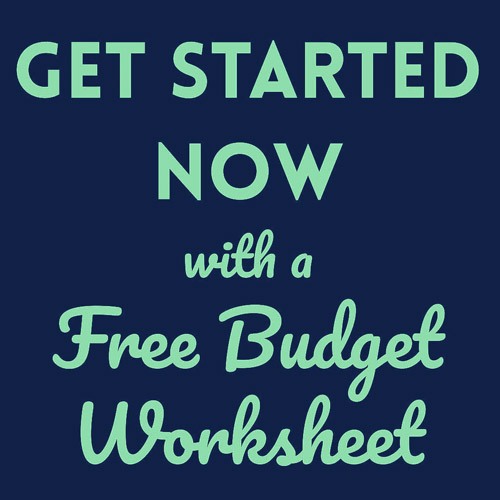 #11 Gardening as a Hobby
One of the cheap at-home hobbies, Gardening is a fun way to spend time in your own backyard.
Your budget garden can be full of beautiful flowers – or you can decide to double-down on your money-saving hobby and grow vegetables and herbs for consumption.
To ensure that hobby gardening stays in your budget, do a little research before you start. Find out what grows best in your region and – if you decide to grow veggies – make sure they are ones that you actually want to eat!
#12 Journaling
Journaling is a cheap hobby that anyone can do with an inexpensive pad of paper and a pen. Write down your thoughts, sketch some drawings, or express yourself in a poem.
You can even add an artistic flair to your hobby journal by investing a small amount in a Bullet Journal, which includes stenciling and stickers.
#13 Scrapbooking
Scrapbooking is so much fun – and an excellent way to preserve your memories. One of the best low cost hobbies is to dig out your old photographs and organize them in a beautiful scrapbook.
Scrapbooking starter kits (like this one!) are fairly affordable. However, while it can most definitely be an inexpensive hobby – it can also be a pricey one.
To make sure your scrapbooking hobby stays on budget, you will need to steer clear of expensive embellishments and tools and, instead, stick to using affordable materials.
Alternatively, another one of the easy hobbies to pick up is creating personalized photo books. Online services – like Shutterfly – have easy-to-use platforms that makes it easy to create professional quality photobooks from your digital images. In order to making photobooks one of your low budget hobbies, however, it is best to utilize coupons and promo codes.
#14 Join an Online Discussion
The internet age has opened a world of possibilities for cheap at-home hobbies. From the comfort of your home, you can interact socially with people who share your same passions and interests.
Online chats and group discussions are one of the fun cheap hobbies that require no money. The site, Reddit, is a fun online source.
Furthermore, you share your knowledge in forums (Quora is a fabulous one!) or submit your tips on websites (like Atlas Obscura). If you are well-versed on a subject, you can even edit and enhance Wikipedia pages.
Another way to share info online is via product reviews and contributions to Google Maps.
#15 Become a Movie or TV Buff
It is easier than ever to watch movies and TV. With affordable streaming services, you have thousands of movies and television series at the touch of a button. Therefore, becoming a movie buff is one of the easy cheap hobbies to try.
Commit to watching an entire series, start watching iconic movies that you have never seen or delve deep into documentaries.
You can get even more into the hobby by watching (and later discussing) the films with a group of friends or chat online about it.
#16 Get Passionate about Cooking
Cooking as a hobby can be a real win-win! You can enjoy cooking, while also saving money on eating out.
It can be fun to try new recipes and learn new techniques. In fact, if you have a knack for it, you just might find that your home cooked meals are better than anything you could get at a restaurant.
Frugal cooking is one of my favorite hobbies! I like challenging myself to make inexpensive meals or cheap appetizers – and love to tinker with recipes to jazz up frugal foods.
You can find all my tips – like Budget Grocery Lists and Minimalist Kitchen Gear – on my Frugal Food blog page.
DIY Hobbies
Do-It-Yourself hobbies are engaging and fun. Plus, they can be turned into hobbies that make money!
#17 DIY Crafts
Crafting is an excellent hobby! You get to be a little creative and have fun while you are at it.
There are hundreds – thousands – of inexpensive craft hobbies to take up, but I think the best cheap craft hobbies are ones that result in a product that you can use or give to someone as a frugal gift.
For example, you could take up knitting – and gift hats, scarves and sweaters to your friends as Christmas gifts. Instead of buying birthday cards, you could make your own using your scrapbooking materials.
With Craft DIY hobbies, the possibilities are endless!
Plus, DIY crafts can turn into cheap hobbies to make money. If you find that you truly excel at a craft, try to sell it online (Etsy is a great space!) or at your local market.
#18 Upcycle
Upcycling – taking a product destined for the trash can and repurposing it – is a commendable hobby. Not only are your using your creative mind, but you are saving objects from ending up in a landfill.
What is even better is that these handmade hobbies can actually turn a profit if you find a good fit.
Maybe you refurbish thrift store furniture or turn wine bottles in vases. While these are great for your own home, you can also turn these inexpensive creative hobbies into a viable business.
#19 Tinker with Stuff
Traditionally one of the cheap hobbies for men, I think this is one for women or can be done as a frugal couple activity, too! Using your hands and learning how stuff works is invaluable – and a fun way to spend your extra time.
Not only is tinkering with stuff one of the budget friendly hobbies, but it can actually save you money, too.
Try to get the old lawn mower started or figure out how to get that lamp to work again. You probably don't even need prior knowledge or experience; in the age of YouTube, you can find online tutorials for just about anything!
Active Hobbies
Active hobbies – ones that get your body moving – are not only a good and fun way to pass the time, but they are good for your health, too. The good news is that there are many cheap or free hobbies that will get your blood flowing – and once you get into them, you can ditch the gym membership and save even more money!
#20 Hiking
Hands down, hiking is one of the best cheap, fun hobbies that people can pick up. Very little is needed in the way of start-up fees – you just need a pair of decent shoes, a reusable water bottle (which is a product that will save you money in the long run) and a trail to hike!
I typically like to hike trails in parks that are free; city and state parks are both excellent places to go. That said, many forests and most national parks require a fee – so do the math to figure out if it is more economical to buy a yearly pass.
#21 Walking and Cycling
Walking and cycling are two fun outdoor hobbies that are fabulous for your health and your budget!
Walking
When it comes to easy, cheap hobbies, walking takes the cake! In fact, it likely tops my personal list of Favorite Hobbies that Don't Cost Money.
Walk in a park, walk to work, walk out your front door and down the street or around the block. Walking is always free – making it an excellent Frugal Fitness Opportunity!
Bicycling
Likewise, cycling can be one of the cheap active hobbies that benefits both your wallet and your health. It only requires the cost of the initial upfront investment (the bicycle and required gear) and minimal upkeep (tires and maintenance).
Biking can be one of the cheap hobbies to do alone or one of your fun social hobbies if you join a cycling group or go bicycling with friends or family.
Plus, not only is cycling one of the hobbies for fun, it can also be a mode of transit as a car alternative (thus, saving you even more money!).
#22 Running Club
One of the cheap adrenaline hobbies, running is fun to get into – especially if you join a local running club.
Running with a group allows you to meet other people who share your same passion and it will also help you stay motivated. Some running clubs charge a membership fee – so look for free running groups first – or start your own!
#23 Join a League
Sports team leagues are fantastic cheap exercise hobbies that are social and fun! Some of the classic league hobbies are bowling and softball – but there are even fun leagues for lawn games, like cornhole and croquet.
Before you join a league, however, find out all of the associated costs. There will most certainly be a fee to join, but inquire if there will be additional fees, like for team shirts, equipment or other game fees.
#24 Dancing
From line dancing to ballroom dancing, there are ample opportunities to get in the groove. Dancing is one of the frugal hobbies that you can do as a couple, with friends or by yourself.
Dance studios can be on the pricey side, so it might be best to look for community classes or events where you can dance.
If you already know how to dance, you could turn your passion into a little bit of cash and teach a class at the community center!
#25 Yoga
Yoga can be one of the cheap hobbies to start…as long as you find an affordable studio or free community class.
Beginners should definitely learn the basics from an instructor. Then, once you are comfortable with yoga positions, you can take you hobby home and use free online yoga videos.
#26 Meditation
Meditation, on the other hand, is one of the good cheap hobbies that you can start to learn on your own.
There are tons of great books and online resources that will guide you through the basics of meditation practice. The book, How To Meditate, is a good place for beginners to start.
Cheap Outdoor Hobbies
It is fairly easy to find outdoor hobbies that are cheap – you just need to know where to look!
#27 Birdwatching
My husband teases me that I'm a Bird Nerd – but that's okay, because he's an AvGeek (see #29). It's also one of my favorite fun, inexpensive hobbies!
It doesn't take much to be a birdwatcher; all you really need it to just look! Of course, a bird book or app (like Merlin) is helpful in identifying the different species and a pair of binoculars can be useful, too.
#28 Stargazing
Gazing at the stars is another one of the best hobbies on a budget. All you really need is a clear night sky!
There are tons of useful online resources and books that can help you find constellations and stars. If you find that you truly have a passion for stargazing, you can invest in a telescope. Decent telescopes might be more affordable than you think – a new telescope can cost as little as $100 and thrift stores often have telescopes for even less.
#29 Watch Airplanes
One of the super cheap hobbies you can try is becoming an Aviation Geek. There are a lot of people (like my husband) who like watching airplanes take off and land; you can be one of them and it won't cost a cent!
Find out where the Av Geeks congregate around the airport that is closest to you. You can also tune into live feeds (try LiveATC.net), watch YouTube videos and track planes on apps like FlightRadar24.
#30 Geocaching
Geocaching is one of the fun, cheap hobbies for teens and adults. This worldwide treasure hunt requires nothing more than an internet connection and a GPS location on your mobile device.
How geocaching works is that you create an online account, select an item you want to find, and then use the information and GPS coordinates to go find the selected item. Oh – and it is absolutely, 100% FREE!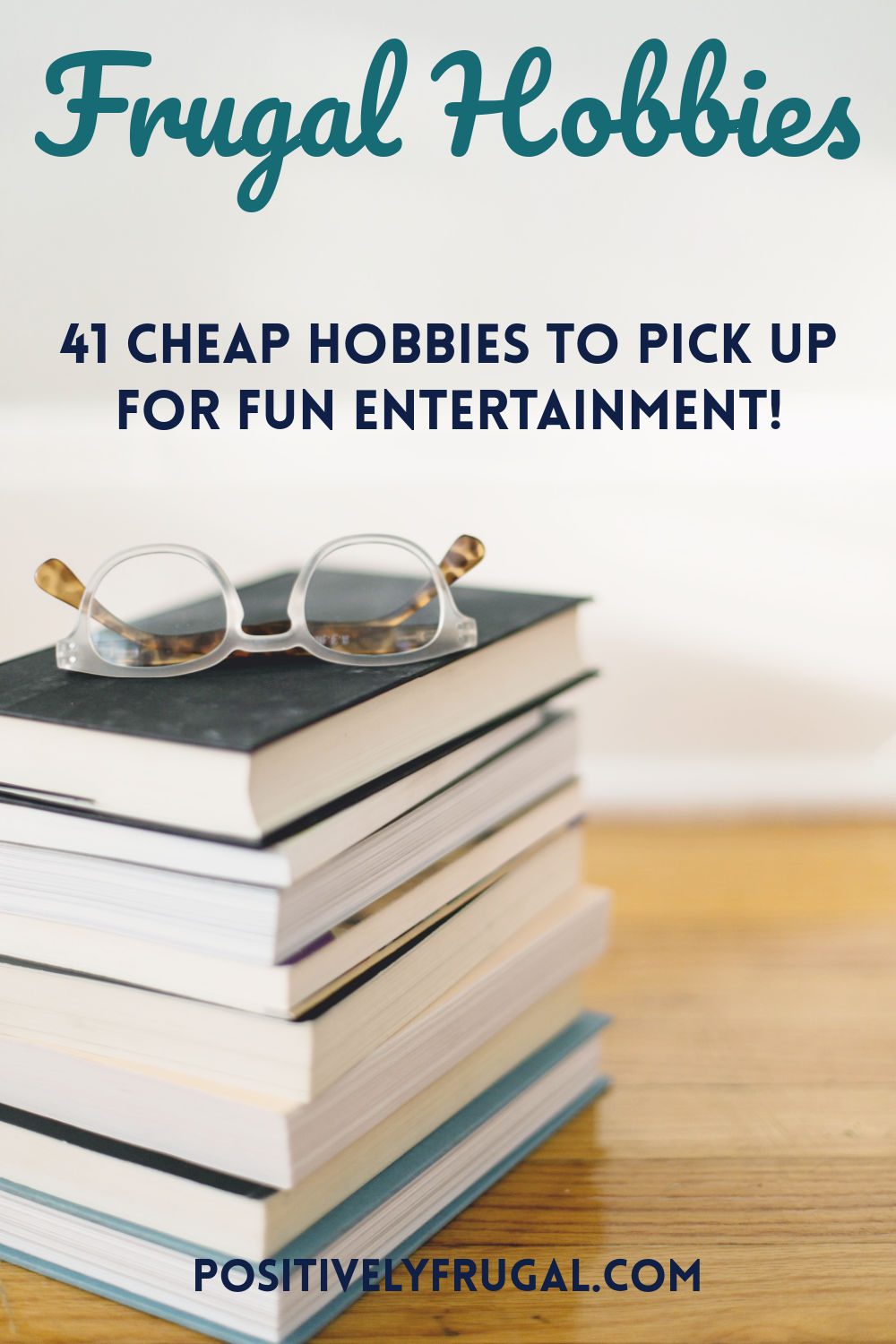 Creative Hobbies
Being creative is a form of expression – and one of the many benefits of creative hobbies is that you can freely express yourself. As a bonus, just like DIY craft hobbies, creative hobbies can sometimes be turned into profitable side businesses, as well!
#31 Learn a New Skill
Learning any new skill can open a world of possibilities. In fact, I think learning new skills is one of the best hobbies to pick up!
You could learn calligraphy or computer coding, public speaking or speed reading. Any new skill you learn can transition into a great hobby – and any one of them can be fun, cheap hobbies that make money.
#32 Woodworking
Woodworking, and more specifically whittling, is one of the cheap creative hobbies that requires just a small start up cost.
A beginner whittling set costs around $25 – and can provide countless hours of entertainment. (And, the end result is a product that you can keep, gift or sell!)
#33 Painting and Artwork
Painting and works of art are more examples of hobbies that can be frugal hobbies that make money.
While there are fees for supplies – like your canvas, paint and brushes – selling one piece can easily cover the cost of the materials.
Even if you don't plan to sell your artwork, painting can be an incredibly gratifying and relatively inexpensive hobby.
#34 Learn to Knit
Knitting and crocheting are cheap hobbies at home that are fun to learn and exciting to master.
What makes knitting such a fabulous hobby is that you can do it alone, with a group of friends, while watching TV or listening to a podcast. Your final products can be given as gifts – or sold online or at craft fairs…or you knit things that you will wear yourself!
#35 Learn a New Language
Learning a new language is one of the best cheap hobbies – especially when you are saving up money for a trip abroad to a foreign country.
Not only will learning the new language keep you motivated to save money for your trip, but there are several mental health benefits to learning a new language, as well.
#36 Learn the History of Your City
Every town, every city has a history. One of the cool cheap hobbies is to dig deep into the history of the place that you live.
Go to the local cemetery, find the first map of your town, visit historic sites, learn who lived on the land before you did. What you discover can be absolutely fascinating!
#37 Learn your Ancestry
Learning your ancestry can be enthralling. Try to trace back your roots and find out exactly where your ancestors came from.
Digging into your ancestry can be one of the free or cheap hobbies, depending on how you approach it. Online programs that help you locate records are helpful – but they are not free. However, you can attempt to track your ancestors through city records, parish registries and even census information – which you should be able to obtain free of charge.
#38 Celebrate Your Heritage (or Any Culture!)
Celebrating your own heritage or any culture is one of the cheap hobbies to do at home. You can make a hobby out of learning different languages, foods and customs.
For example, dedicate an entire week or month to learning about a new culture. Learn the basics of the language (on YouTube or with library books) and taste the cuisine (by making their most known dish at home).
Learning about foreign cultures is one of the interesting hobbies that can be done alone or with friends.
The Cheapest Hobbies
The very least expensive hobbies are absolutely free – and I'm highlighting a few of the best freebie hobbies to finalize my list! These are hobbies that cost no money, but do require your time (and commitment, in some cases!).
#39 Find Free Stuff
If you are looking for hobbies that are free, then seeking out free stuff is one of the best cheap hobbies to pick up.
With several online resources and community share programs, you can easily make a hobby out of finding free stuff.
The Facebook Marketplace has a section for free stuff – and you can join your local Buy Nothing Facebook group, too. Additionally, find out if there are any community freebies, like free book exchanges, toy exchanges and clothes exchanges (and, if there isn't, then start one yourself!).
Free community vegetable gardens (or corner stands) are also a big hit!
#40 Do Free Stuff
One of my all-time favorite fun and cheap hobbies is finding stuff to do for free.
Free day at the museum, I'm there! Free community event, count me in! Free yoga class at the park, sign me up!
When you make a hobby out of finding free stuff to do, you will reap the benefits of being entertained and saving your money!
#41 Volunteer
Volunteering is one of the top cheap hobbies for adults. Food shelters, animal shelters, city events, local theaters and church programs all welcome volunteers.
Most people find that volunteering is both entertaining and an excellent way to give back to the community – and it is completely free!
A Final Word about Fun and Cheap Hobbies
Most hobbies – even the cheapest hobbies – have some cost associated with them…even if it is just the small start-up cost or gas to drive there.
It is best to put a definitive price tag on any of your interests from the get-go so that your frugal hobby doesn't end up costing more than it is worth. You don't want to go into credit card debt trying to have affordable fun, so make sure your cheap easy hobbies fit well within your budget!
We Want To Know: What are your favorite cheap hobbies? Share your tips for hobbies on a budget and other frugal hacks in the comments below!
Interested in more of my Life and Entertainment Tips? I round them all up on the Frugal Lifestyle blog page!