Some of the links on this site are Affiliate Links and if you use them to make a purchase, we may earn a commission. For more information, read our Disclosure Policy.
Going out on dates can cost a pretty penny – but it doesn't have to. In fact, sometimes, cheap dates are the best dates. Skip the expensive dinner and pricey tickets to a show and get inspired with my free and cheap date ideas!
Whether you are running low on funds, saving money for something special, looking for something new to do or just being frugal, you can use my list of cheap-but-fun date ideas.
The budget date night ideas on my list are separated into four categories: Budget Date Night Ideas for Couples, Cheap Dates Ideas at Home, Inexpensive First Date Ideas and Best Date Night Ideas on a Budget for Young Couples.
That said, just because I list something under Low-Budget Dates for Teens, it can still be a good idea for married couples! I highly recommend scrolling through my entire list of budget-friendly date ideas so that you can find the prefect activity for your next night out.
Is It Okay To Go on Cheap Dates? Let's set this straight from the start. Spending time with your significant other – or getting to know someone on a first date – does not have to cost a fortune…or anything at all, for that matter. When I use the term Cheap Date, I am referring to the actual monetary cost of an evening out. In no way does spending less money on dates imply cheapness. There is a big difference between being Frugal and Cheap – and it is important to understand the difference between the two!
Benefits of Planning Cheap Dates
Coming up with ideas for a cheap date night can feel like a lot of work. Wouldn't it just be easier to splurge on the traditional fancy meal? Sure, it might be easier, but, trust me, implementing fun cheap date ideas has many benefits!
Save Money on Inexpensive Date Nights
Of course, the top benefit of going on cheap fun dates is that they are easy on the wallet. The less you spend, the more you save.
By going on a few inexpensive dates this month, you can save up for a big night out next month – or save for anything else that you need or want. (This is exactly how Sinking Funds work – and they are brilliant for budgeting!)
Plus, when you start considering budget date ideas, you begin thinking about other ways you can better budget your life. When you start budgeting better, you start getting ahead of the game.
You can find all of my top budgeting tips on my dedicated Budget and Goals Page.
Get Creative with Affordable Dates
Simple date night ideas don't have to be boring! It's actually quite the opposite. When you plan a date night on a budget, you are tapping into your creative side. Being creative with the person you love – or a person you are getting to know – can help to improve your relationship.
In my experience, creative cheap date ideas are usually incredibly memorable – even ones that don't cost a dime!
Try New Things on Cheap and Fun Dates
One of the best things about cheap date nights is that you can open yourself to new experiences. Dinner and a movie is great once in awhile, but the routine can get dull.
By challenging yourself to come up with low-budget date night ideas, you force yourself to do something different. Not only do you push your boundaries and step outside of your comfort zone, but you get to do it alongside your significant other.
Focus More on Each Other with Easy, Cheap Date Ideas
Another one of the benefits of cheap ideas for date night is that you and your partner can get to know each other even better.
You don't even have to plan cheap romantic dates to achieve this (although I do include several ideas for romantic dates on a budget on my list!). Just by getting creative, trying new things and spending quality time together, you will likely form a stronger bond with your significant other.
Working on your Family Funds? If you are planning cheap, fun date nights to help reel in your spending and start planning a better financial future for your family, then make sure to read my tips for Organizing Family Finances!
52 CHEAP DATE IDEAS
From simple date ideas that are cost effective to cheap romantic date ideas that are completely cost-free, I've rounded up my all-time favorite date ideas on a budget.
My comprehensive list covers a wide range of activities. However, if you don't find what you are looking for on my Best Cheap Dates list, then pop over to my 98 Cheap and Free Activities list for more inspiration!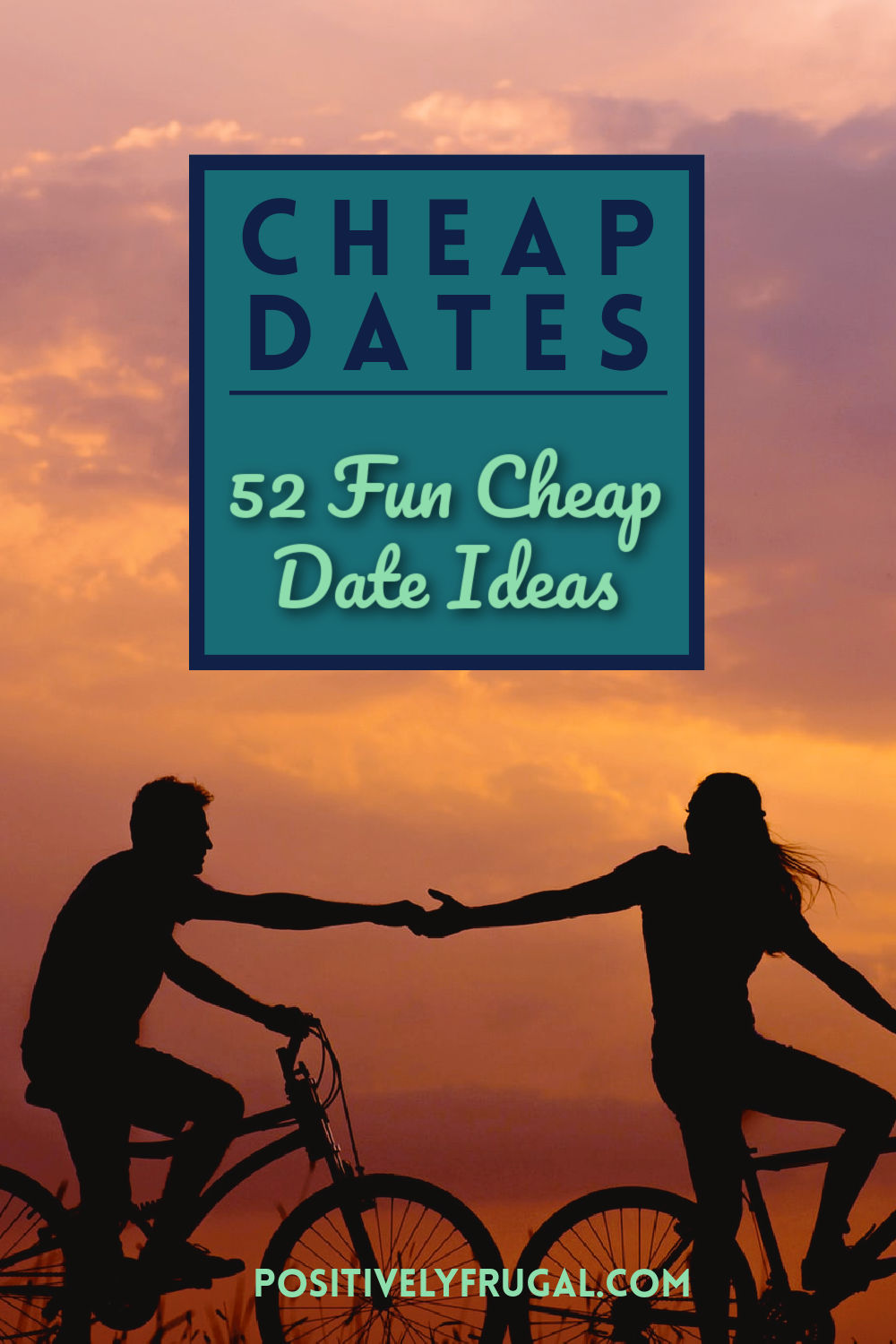 CHEAP DATES FOR COUPLES
I'm kicking off my list with cute date ideas for couples. These affordable date night ideas are fantastic when looking for something to do with your boyfriend, girlfriend, husband or wife!
#1 Watch the Sunset or Sunrise
Without a doubt, one of the cheapest dates you can plan is watching the sunset or sunrise. It's absolutely free and incredibly romantic to go somewhere and watch the sun on the horizon.
Do a little research first for these fun and inexpensive date ideas. Scout out a spot with an epic view – then grab a blanket and go!
If you want to take it up a notch, you can enhance your sunset viewing with low budget date ideas – like bringing along a bottle of wine, snacks or some tunes.
#2 Eat Out on Taco Tuesday
One of the classic cheap night date ideas is to score discounted eats at a restaurant. Rather than pay full price for a meal on a weekend night, find a restaurant that offers discounted tacos on Taco Tuesday or cheaper burgers on Burger Night.
Restaurant Week is another great opportunity to get deals on food at restaurants in your hometown – and it's one of the fantastic fun but cheap date ideas. Be sure to check out all my top tips for dining out on a budget so that you don't have to take it a step further and eliminate eating out all together!
#3 Mix It Up with a Matinee Movie or Theatre Performance
Matinee shows are fantastic cheap things for couples to do! Tickets to daytime movies and theater performances are often priced at 50% off the normal price.
When you go on matinee budget dates, consider going out for a bite to eat after the show (rather than before, like you typically would at an evening performance). With the right timing, you could hit Happy Hour (which is next on our list of Cheap and Free Date Ideas!).
#4 Cash In on Happy Hour
Happy hour is one of the fun cheap date night ideas where you can really feel like you are going out…but you spend a whole lot less. To make sure the outing stays in line with cheap but fun date ideas, it's best to find restaurants that offer both drink and food specials to maximize your outing (and your savings!).
Because happy hour is such a social event, it's one of the great cheap double date ideas, too!
#5 Complete The Story of Us Book
Completing The Story of Us book is an excellent way to spend time together and I think it's one of the best cheap dates for married couples and long-time duos.
The fillable memory journal offers prompting questions about how you met, when you fell in love and provides a place for you to record your best memories as a couple. Not only can you spend an inexpensive romantic date night putting the book together, but the book of your story becomes an invaluable keepsake for years to come.
By the way, the inexpensive book makes a fabulous Valentine's Day gift or inexpensive one-year anniversary date idea, too!
#6 Test Your Skills at a Cooking Class
Cooking classes can be one of the best cheap dates for couples! Together, you will learn something new and share a superb meal.
To keep this within budget for fun cheap date night ideas, you will need to find an affordable cooking class in your area. Some cooking classes are expensive – so find out if there are any community sponsored events or check online for a free class that you can follow along with at home.
#7 Sit Back Under the Stars
Stargazing is one of the cute cheap date ideas that is both romantic and affordable. If you want to simply sit back on a blanket and watch the night sky, it is a totally free date night.
However, with a book like "100 Things To See in the Night Sky" (which costs less than $15), you can locate constellations, planets and satellites – that you can see without a telescope.
#8 Attend a Local, Free Festival
Free festivals and non-ticketed local events are always great options for the budget, especially for fun inexpensive dates! From county fairs to farmers markets, the best free festivals offer cost-free activities and sometimes live music.
While festivals do rank high as one of my favorite cheap date ideas for couples, eating at festivals can get pricey. If you don't want to pay the high price for fair food, make plans to eat before you go or bring snacks along to tide you over.
#9 See a Live Band or Free Concert
If you are a couple then likes music, then free live music events should be at the top of your list of inexpensive date ideas.
Musical performances range from acoustic soloists performing at cafes to popular bands playing at community events. In the summertime, check to see if a city near you offers free concerts at the park.
#10 Paint a Masterpiece
A night of creating art at a studio is one of the best inexpensive dates for couples. Not only is it super fun, but it can be super cheap!
Where I live, some of the studios offer canvases for as low as $15 – plus they provide all of the paint and professional instruction. As a bonus, many places let you BYO – so you can bring water, wine and snacks from home to ensure the expenses stay within the range of low budget dates.
However, if you don't have a studio in your area, check out these low-priced painting kits that include everything you need for a Painting Date Night at home.
#11 Go on a Bike Ride
Riding bikes is one of the best cheap activities for couples – and it's a great frugal exercise option, too! When we lived in Phoenix, my husband and I loved riding bikes through the historic downtown neighborhoods on Sunday mornings and on cool autumn evenings.
If you don't already have bikes, Black Friday and end-of-season sales are the best time to buy discounted bicycles. You can also find deals on used bikes at thrift stores and on Facebook Marketplace.
#12 Take a Community Class Together
If you are fortunate enough to live in a place where they offer community classes, take advantage of the well-priced activities!
Some of the best community classes for cheap date ideas are pottery classes, glass art workshops, dance lessons and sports for two – like tennis.
Inquire what unique cheap date ideas are offered at your community center.
#13 Check Out Your Local Sports Teams
Sporting events are fabulous cheap fun date ideas! While tickets to most professional sporting events are expensive, tickets to minor league baseball, college games or even high school sports can be very affordable.
#14 Feast Somewhere Fantastic (but Cheap!)
Dinner out doesn't always have to be expensive! You can dine for less when you seek out cheap restaurants for dates.
Some of the best inexpensive date night ideas are eating at a famous food truck, checking out a fast-food joint that is new in the area or finding an affordable diner that offers home cooking. All of these dining establishments offer meals for a fraction of the price of a fancy restaurant dinner.

#15 Volunteer Together
A guaranteed way to have a cheap couples' day out is to not spend a dime…but instead spend your time volunteering! Schedule a date helping at a local animal shelter or donating your time at a food bank.
Not only will you get to enjoy a free date, but you will be giving back to your community!
#16 Spend the Night in a Tent
One of the best fun cheap dates for couples is a night camping! A spot at a campground costs way less than a night in a hotel – and tents are incredibly affordable (especially if you plan to use them more than once). It's also an excellent way to have a Frugal Vacation!
If you don't have the funds for the campsite or the tent, see if you can borrow a tent from a friend and pitch it in your own backyard!
#17 Float on a River
In the summertime, spending time on the water can be one of the best inexpensive activities for couples! Renting a canoe, kayak, raft or tube to float down the river can be an affordable day date.
Finding a secluded, local swimming hole is another one of the budget friendly dates during the day. In fact, it can be absolutely free!
#18 Start a Couples Card Club or Board Game Night
If you are looking for cheap couple dates for multiple couples, consider starting a weekly card club. Whether you play poker or euchre or Go Fish, getting couples together for a night of playing cards is a fun date night!
Likewise, you can institute a game night and play board games as one of the ways to spend less on date night. You can play classics – like Monopoly or chess – or invest in one of the modern board games made just for couples.
#19 See a Fortune Teller
Perhaps a bit of an oddity, but nonetheless fun, getting your fortune read is one of the unique cheap couple date ideas.
How much it costs to get a psychic reading will depend on where you live and who you go to see. Do a little research to make sure you get the best price for the experience.
#20 Spend an Afternoon Antique Shopping
Spending a few hours treasure hunting for antiques is a fun, cheap activity for couples who are looking for entertainment at a low cost. Both antique stores and thrift stores are excellent destinations for finding vintage items.
For even more fun, you can make a game out of it. See who can find the most outrageous item or the most expensive piece. If you stumble across things you used as a kid, tell each other stories.
#21 Visit a Quaint Town
For cheap fun days out for couples, plan a road trip to a nearby town or village. Spend the day learning about the history of the town, browsing at the stores and find a place where you can eat an inexpensive local dessert.
The best things about these low cost dates is that you get to go on an adventure and explore a new place without going too far from home or spending a lot of money. It's almost like a Free Vacation!
#22 Go on a Cemetery Walk
Okay, some might argue whether this is one of my cheap cute date ideas or just creepy, but I think cemeteries are absolutely peaceful.
Cemetery walks are cool dates for couples on a budget because 1) they are free and 2) they are unique. Do a little research in advance to find out if anyone famous is buried at the cemetery. Also find the oldest part of the cemetery and find out if there are any ghost sightings on record.
#23 Walk through Christmas Lights
One of the best charming-but-cheap winter dates is a stroll through Christmas lights. Walking through neighborhoods decorated in holiday lights is totally romantic – and totally free!
#24 Dream House Window Shopping
Looking for cheap date night ideas for married couples? Spend a night out window shopping for home décor for your Dream House!
Ikea is an excellent place to go and get lost for a few houses with your significant other. Talk about what you like, what you don't like and how you envision decorating your Dream Home.
If you are actually looking for a house, plan cheap couples' day dates at real estate open houses – another completely free date idea!
#25 Swirl and Sip at a Wine Tasting
Wine tastings can be surprisingly inexpensive dates! Find out if there is a local wine tasting where you can go and sample the wine (and maybe even stroll through the vineyards!).
If there are no wineries where you live, check with local grocery stores, bars or liquor stores for tasting events. Of course, you could always buy a few inexpensive bottles of wine from the grocery store and do your own wine tasting at home.
During your wine tasting, use a wine journal to jot down what you both like.
CHEAP DATE NIGHT IDEAS AT HOME
When you don't want the stress and hassle of going out, you can find something fun to do on my list of cheap date ideas at home!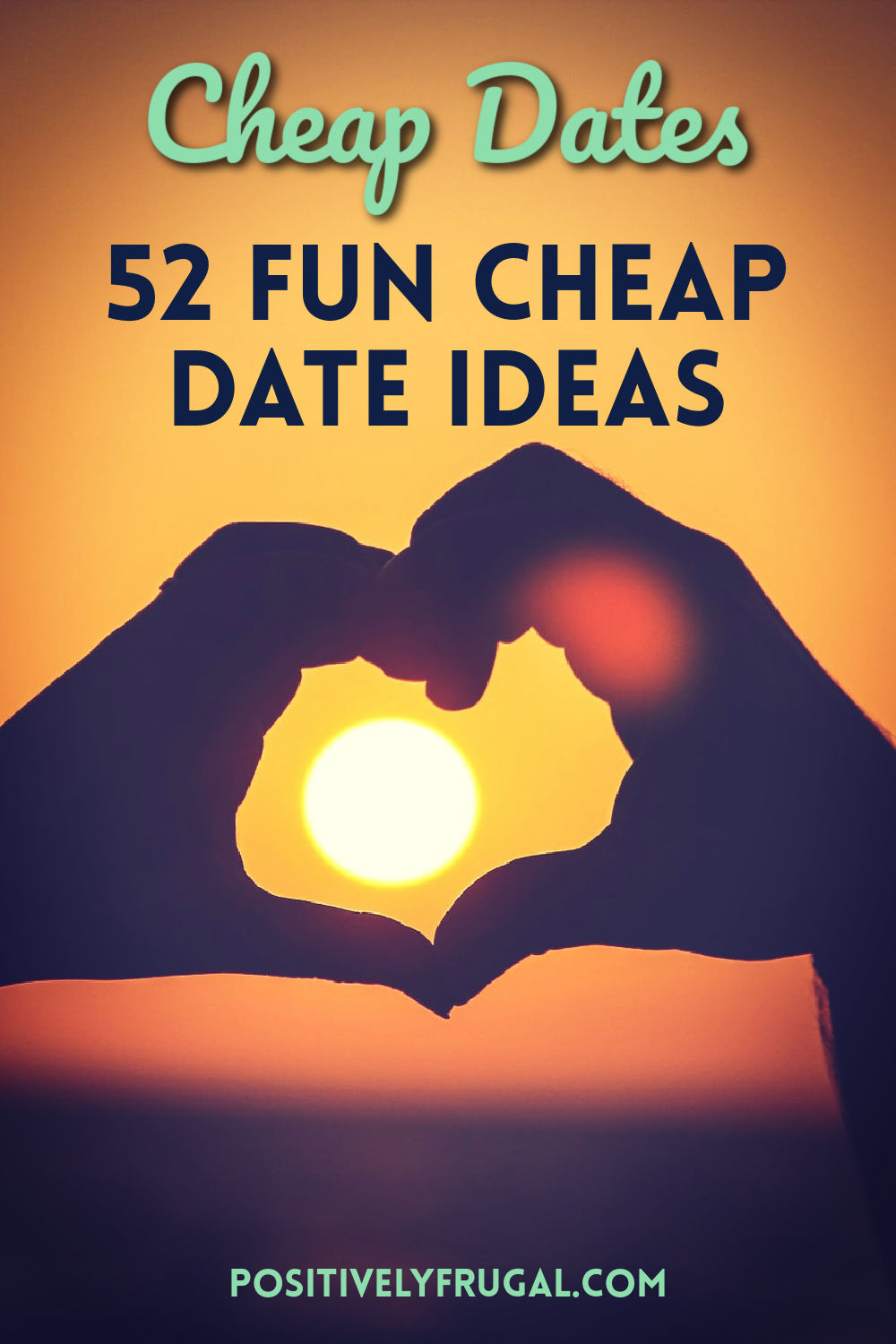 #26 Learn to Dance
Learning to dance is both fun and romantic – and it's one of the best cheap dates at home! Instead of going to dance lessons at a studio, find a dance class that you can take online.
YouTube is a great resource for free lessons online. If you don't have a smart TV, you can use Wi-Fi or an HDMI cable to connect your laptop to your TV for a bigger, better video.
#27 Invite Couples to a Potluck Dinner
One of the best double-date, low-cost date ideas is to have a supper party with another couple. Rather than taking on the cost of the dinner on your own, ask the other couple to pitch in and bring sides and drinks to have with the meal.
#28 Create a Playlist and Listen to It
Couples who like music can spend a date night listening to favorite tunes. Plan ahead and create a playlist of songs that will remind you of the special moments in your relationship.
Other cheap at-home date night ideas for music lovers are listening to albums that came out around the time you started dating or playing music that you danced to at your wedding.
#29 Play a Couples' Questions Game
Get to know your partner better with a game of questions. You can come up with your own list of questions – but the Our Moments cards provide thought provoking conversation starters that are practically guaranteed to get you and your significant other chatting.
Questions games are fun for any date night, but it's also one of the cheap things to do for Valentine's Day or cheap anniversary date ideas.
#30 Write Poems to Each Other
If you are looking for cheap romantic date ideas at home, then spend an evening writing each other love poems.
There are no rules for writing poems to your loved one, but you can get a few tips for poetry basics in this book to get started. You can even buy special paper to write down your best poems that you want to keep.
By the way, this is another one of the good inexpensive Valentine's Day ideas!
#31 Give Each Other Massages
Another one of the cheap romantic ideas at home is to spend time together as a couple giving each other massages.
Use YouTube to learn a few basic techniques and buy some affordable massage oil for an intimate and romantic night in!
#32 Start a Book Club for Two
A great way to spend date night is by reading and discussing the same book – it's kind of like your own personal book club. While this is listed as one of the cheap date nights at home, you could take your books to a cafe, a park or even the library.
Also, instead of reading, you could get an audiobook that you listen to together. Your library likely has heaps of audiobooks that you can download for free and listen to together at home.
#33 Have Movie Night at Home
Perhaps the most classic, cheap at-home dates are movie nights on your own coach. With Netflix and Amazon Prime you have access to hundreds of movies.
Make it an event by creating a movie theater experience. If you have extra speakers, plug them in for surround sound. Buy movie theater style candy boxes. Pop some popcorn (one of my favorite frugal snacks!) and make it movie theater-style by adding melted butter.
#34 Play Strip Poker
For fun, cheap dates at home that are a little spicy, play a game of strip poker…or strip twister…or strip Go Fish.
Take it to the next level and practice moves from Kama Sutra.
#35 Take a Stroll Down Memory Lane
One of the best cheap date ideas for married couples is to simply stroll down memory lane. Pull out an old photo album from your first trip together or play your wedding video.
If you collect ticket stubs or boarding passes, go through them together and reminisce about your past.
#36 Work Together on a Jigsaw Puzzle
When you are looking for cute cheap date ideas at home where the most important thing is spending time with each other, get out a jigsaw puzzle and put it together!
Puzzles are relatively inexpensive and can provide hours of date night entertainment (making them a great Frugal Hobby for any time!). Want to really make it special? Find a puzzle with a scene of where you spent your honeymoon or the destination of your dream vacation – and, when it is complete, frame it!
#37 Cook a Special Meal Together
Cooking is one of the cheap things to do as a couple that is both practical and fun for a date night – especially if the cooking is usually left to one person.
Any meal you cook together will likely be memorable but making a special meal can be unforgettable. Use a special recipe passed down from your grandparents or recreate the meal that was served at your wedding.
#38 Cuddle by the Fire
A fire in the fireplace or a bonfire in the backyard have long been favored cheap home date ideas.
In fact, fireplace fires are one of my favorite cheap winter date ideas. Cuddle up and get cozy!
#39 Dress Up for Dinner at Home
One of the downfalls of dinner dates at home is that it can all feel so routine. Shake things up and have romantic cheap dates at home by dressing up.
She could put on a dress, makeup and heels. He could wear a button-down dress shirt and jacket. Then, to really show you care about making it romantic, dine by candlelight at your dinner table.
CHEAP FIRST DATE IDEAS
It can be difficult to date on a budget – especially taking someone out for the first time. If you are worried about first impressions, you can't go wrong with my good, cheap date ideas for first dates! (By the way, these are good Second Date ideas, too!)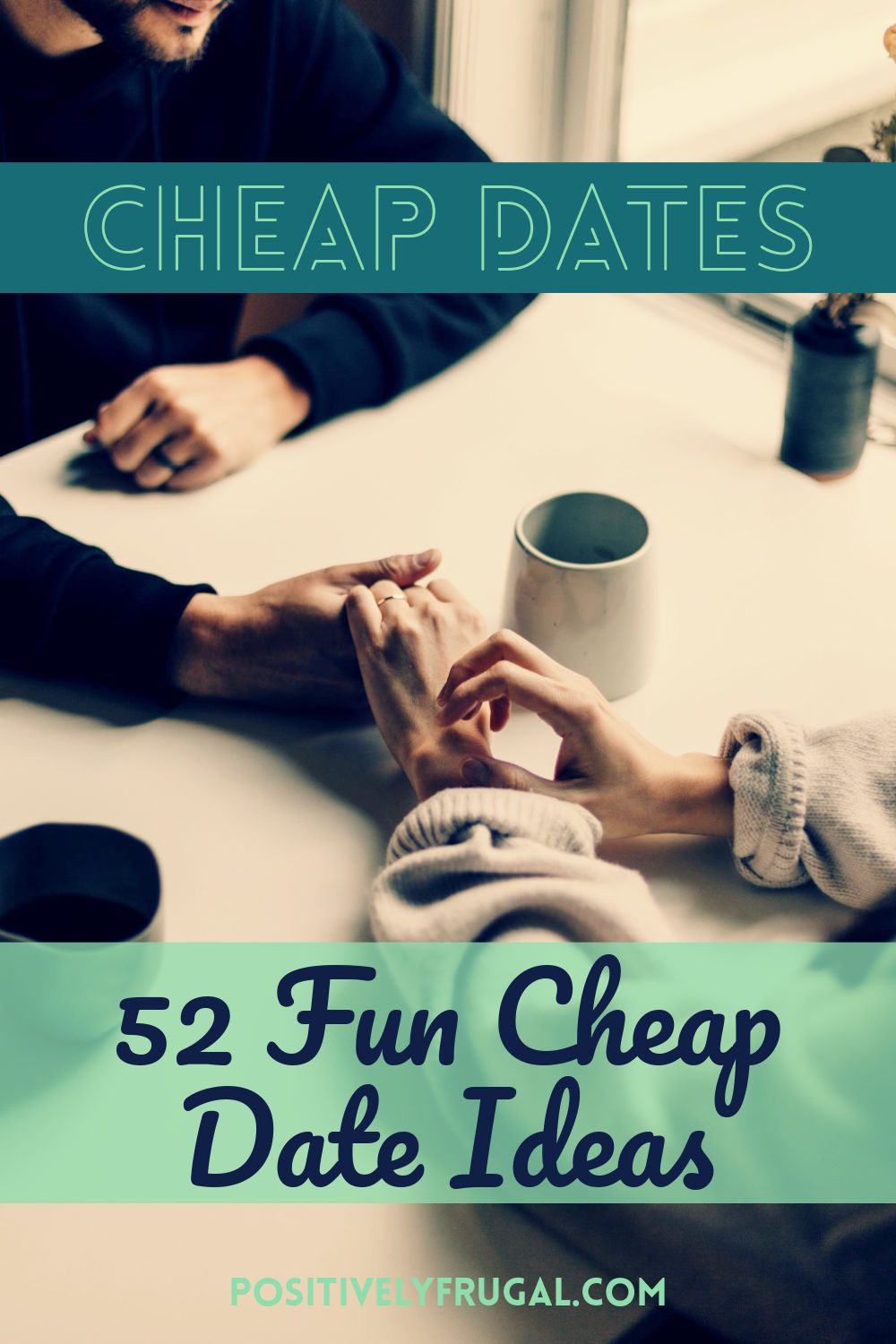 #40 Enjoy a Picnic at a Park
One of the best cheap first dates is a picnic at the park. Pick a place with picturesque scenery – and consider combining it with a sunset view.
Keep the food simple, but thoughtful – charcuterie is perfect. A bottle of wine is a nice touch. A picnic basket makes a better first impression than a plastic grocery bag and don't forget a blanket and tableware!
#41 Meet for a Coffee Date
Going to a coffee shop – instead of a pricey dinner date at a restaurant – is one of the best inexpensive first date ideas.
Meeting over a cup of coffee at a cafe is usually much more relaxing and personal than a dinner date, anyway!
#42 Go Out for a Sweet Treat
You can also avoid the pressure and priciness of a dinner date with a Dessert Only date. Some of the fun cheap first date ideas that are dessert only are getting ice cream at an artisan creamery or homemade pie from a diner.
In fact, an ice cream date is a fun idea for any duo – because, seriously, who doesn't like ice cream sundaes on date night?!
#43 Watch a Movie at the Park
Okay, this is one of the cheap summer date ideas that is good for any couple, but it is especially good for cheap fun first dates!
Movies are a classic date night – but you can make it a memorable (and free!) first date if you watch a community-sponsored Movie at the Park.
#44 Join a Free Tour
Free tours are fabulously affordable date ideas! Find something that you are mutually interested in – like architecture, history or art – and see if you can find any free tours that relate to your mutual interests.
The best places to look are at museums, historic neighborhoods and government buildings (the library can be a good resource, too!).
#45 Go on an Art Walk Gallery Hop
Most cities sponsor art walks or gallery hops – and they are fantastic fun and cheap date ideas for first dates! On gallery hops, there is a variety of art on display, which is certain to spark conversations and help you get to know your date better.
On a first date, it is best to have a few places in mind that you want to see. However, the true beauty of art walks is that you don't have to have every detail planned down to the minute, so let it flow and have fun!
CHEAP DATE IDEAS FOR TEENS AND YOUNG ADULTS
Finding affordable things to do with your girlfriend or boyfriend can be a challenge when you are in high school or college. Since it's been a few years since I was in school, I rounded out my list of the Best Cheap Date Ideas for Young Couples with the help of my college-aged nephews.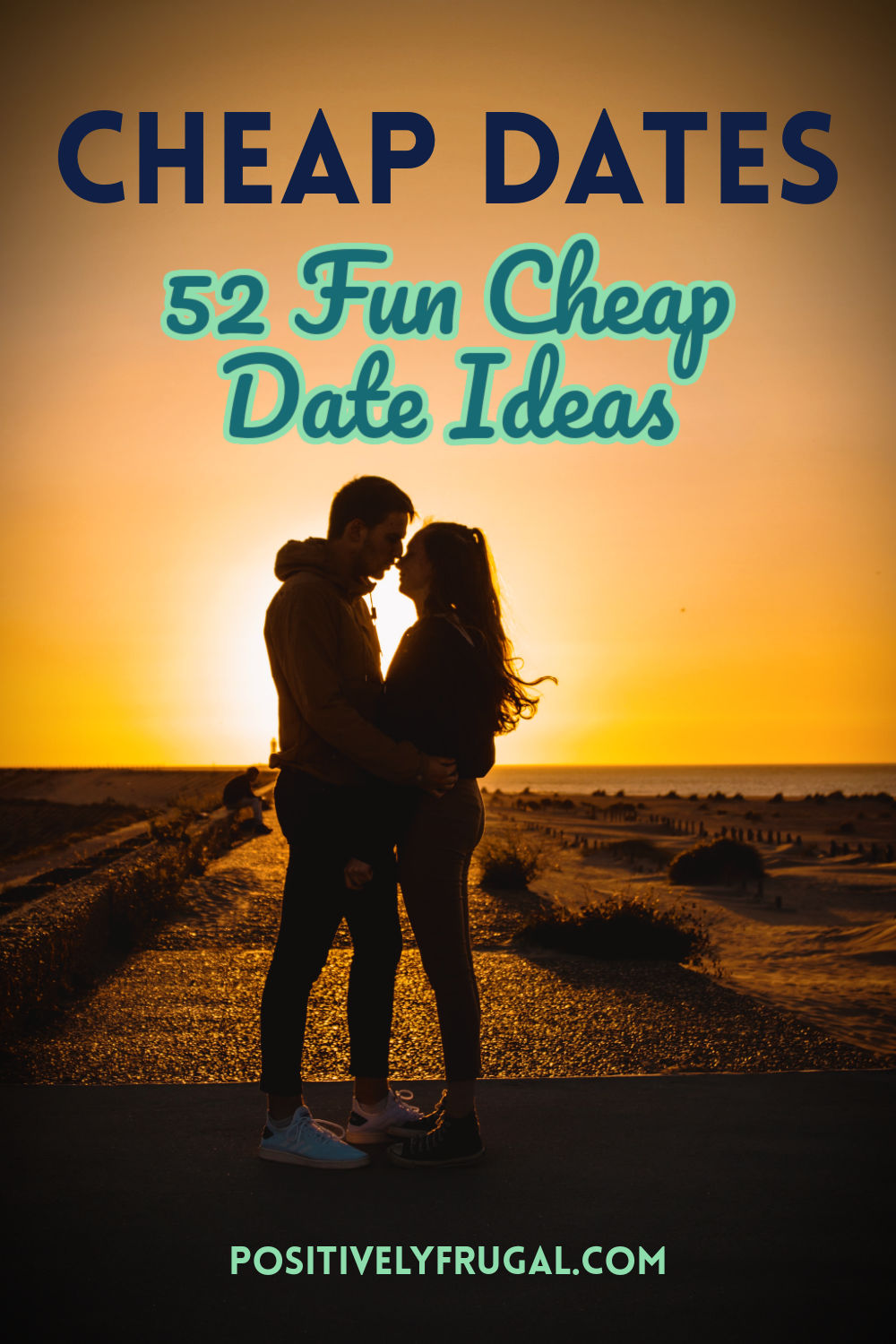 #46 Spend a Sunny Day at the Botanical Garden
Parks, gardens and conservatories are great places for cheap dates for teens! If the gardens in your city charge a fee to enter, inquire about free days or discounted student admission.
State parks with hiking trails can also be fun date ideas for teenage couples – and most state parks don't charge entrance fees, so it's completely free!
#47 See Art at a Free Museum
Free museums are one of the great cheap date ideas for teens – and for any couple, honestly!
Many museums are free all the time, but almost all art museums offer free entry on a certain day of the week or month. Check specifically to see if any museums in your area offer free evening entry – as evenings at the museum are fun cheap nights out for couples!
#48 Sing Karaoke Together
You don't have to be a great singer to have fun singing with your significant other – and singing together is one of the great cheap dates for teenagers.
A pair of cheap karaoke microphones and some YouTube songs is all you need!
#49 Create Something Together
Arts and crafts projects are fun cheap dates for teenage couples – and there are hundreds of fun things to create! Get inspired with these ideas from DIY Projects for Teens.
#50 Take a Swing
Going to the driving range or batting cage are two cheap fun dates for young couples. Grab a bucket of balls or step up to the plate for an entertaining evening for two!
An active night out is definitely one of the cheap date ideas under $50.
#51 Find a Spot for a Cheap Dinner with a View
Many cheap teen dates include fast food – it's a good way to keep your budget in check. However, you can take it up a level to cool cheap dates when you grab food to go and then take your date to an epic scenic viewpoint where you can eat the meal.
#52 Explore the City on Scooters
Exploring a city on inexpensive city scooters can be one of the fun, cheap dates for teenagers.
Plan the route ahead of time or just zip around the city and see what you find. Who knows, you might enjoy it so much, you could consider ditching your car all together!
---

Resources for Fun Cheap Dates
Looking for more cheap and fun date night ideas? There are a few excellent resources for cheap, inexpensive dates that you can use to plan your next night out!
Groupon
Groupon – a website for discounted activities and restaurant deals – is an excellent resource for finding things to do on date night for cheap!
Discounted Tickets
When buying tickets for any date night activities, remember to ask for any applicable discounts. Many places offer discounts to students, seniors and military members – so it never hurts to ask!
Membership Rewards
Sometimes it pays to be a member – especially when membership is free! Restaurants and attractions often have loyalty membership clubs; in exchange for your email address, they send you coupons, discounts and special offers.
Community Calendars
Community calendars are great resources for cheap date nights! Find out what is going on for FREE in your community – and turn it into a fun night out!
We Want To Know: Have you had success getting your spouse to be frugal? What are your favorite cheap date ideas? Share your frugal hacks for dates in the comments below!
Interested in more of my Life and Entertainment Tips? I round them all up on the Frugal Lifestyle blog page!