Some of the links on this site are Affiliate Links and if you use them to make a purchase, we may earn a commission. For more information, read our Disclosure Policy.
Who needs a vacation? YOU need a vacation! Everyone needs a vacation. The question is: How do you afford a vacation when your budget – or your bank account – are telling you to stay at home? You could rack up credit card debt on an expensive trip – but the better option is to plan a cheap getaway.
Planning a low-cost trip isn't always easy, especially right now. However, with my frugal vacation tips and ideas, you will be packing your bags and on your way!
Why Plan Frugal Vacations?
When you are sticking to a budget or are determined to save money, taking a vacation may seem like an unnecessary expenditure. It can be difficult to justify shelling out cash for a trip when you are saving for a house or paying off credit cards to become debt-free.
On the flip side, vacations are good for the mind…and usually the soul. We need a break from routine, an opportunity to hit the reset button. Studies have shown that vacations can improve both your physical and mental health – as well as reduce stress, improve motivation and enhance your overall happiness.
Therefore, regardless of whether you are low on funds or are diligently tracking your spending, a vacation is a good idea.
In order to stay in line with your money goals and keep your budget in check, plan a low-cost frugal vacation that allows you to get away and enjoy!
Is a Frugal Vacation Worth It?
Absolutely! A frugal vacation can have just as much value as a pricey trip. Don't get conned into thinking that a getaway has to cost a lot of money – because that is just not true.
In fact, some of my favorite frugal family vacations are my most memorable.
Whether trying to come up with ideas for cheap family vacations, inexpensive solo adventures or cheap vacations for couples, my tips and ideas can help you plan the perfect trip!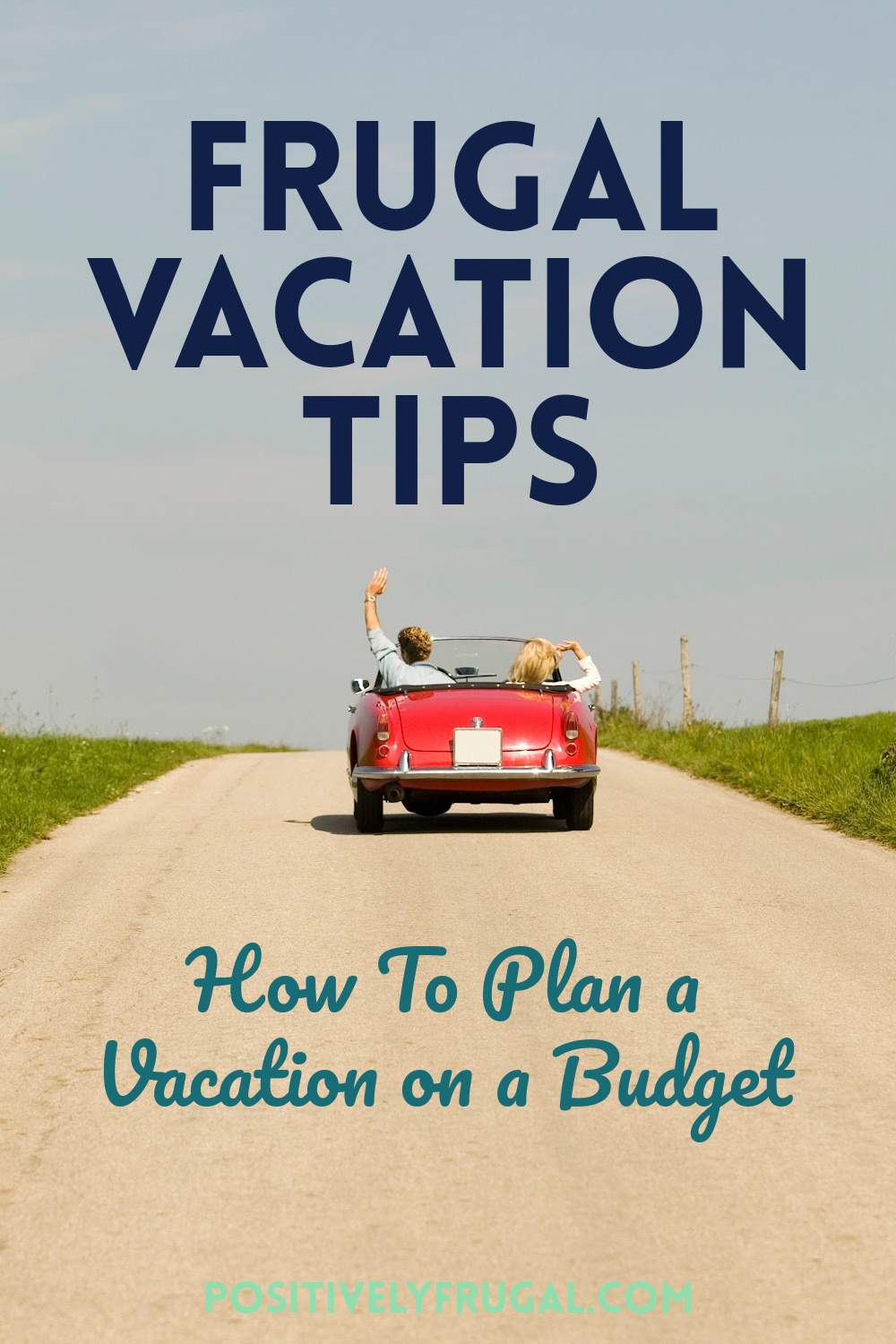 Fun, Cheap Vacation Ideas
If you are stumped for ideas for cheap vacations, no need to worry. I have rounded up a few of the top picks for fun frugal family vacation ideas, cheap trips for two and low-cost solo retreats!
Visit Friends or Family
One of the cheapest family vacations you can plan is to visit – and stay with – family or friends. Accommodations usually account for a large portion of a trip budget, so eliminating the cost will save you heaps of money.
Just remember to repay the favor or to bring a thoughtful frugal gift as a token of appreciation.
Frugal Road Trips
Road trips are incredibly fun – and a great way to save money on trips. While the price of gas keeps increasing, the cost to fill the tank is still likely cheaper than buying a plane ticket. And as they say, the journey is half the fun!
Don't forget to plan ahead and pack cheap snacks for your frugal car trip. You don't want to waste your savings at the gas station convenience store.
Frugal Camping Trip
Taking a camping trip is a classic cheap family vacation. Campsites range in prices but are typically less than $30 a night and sometimes as cheap as $10.
That said, camping gear can be expensive (and much of it is completely unnecessary). If you are new to the idea of camping, I recommend borrowing gear from a friend or find a free tent through a Buy Nothing group before you commit to a purchase.
Frugal Getaways to State and National Parks
One of the best frugal vacation ideas is getting out of the city and in touch with nature. Both State and National Parks are a fabulous resource for cheap fun and fitness. Hiking trails and ranger programs are usually free of charge and can provide days of entertainment.
However, there may be entrance fees or a charge for parking. Before paying a daily usage fee, check the price for an annual pass, which may provide big savings (even if only using it for a week).
Frugal Beach Vacations
Beach trips can be expensive, but there are several ways to plan cheap vacations for two or for the whole family.
The first rule for frugal holiday ideas at the beach is to avoid the peak season, as that is when accommodations cost the most. Second, skip the pricey snack stand and waterfront restaurants and bring your own food to the beach for picnic meals. Third, plan free activities – like walking the beach, building sandcastles, playing games, reading books and cheap date nights – instead of high-priced pursuits like jet skiing, parasailing and evening cruise dinners.
Go on a Staycation
Taking a 'Staycation' is one of the simple vacation ideas that is often overlooked – which is a shame, because it can be incredibly cheap. Personally, I love Staycations, as they allow me to feel like a tourist in my own city.
When I lived in Phoenix, I often planned cheap Staycations at posh resorts in the summer off-season and paid less than half of the peak season prices.
To get the most bang for your buck on a Staycation, seek out the super-duper deals. Sign up for local resort or hotel emails, search for off-season specials and inquire about discounts for locals.
Day Trip Vacations
One of the fun family vacation ideas on a budget is to take day trips from home, rather than paying for overnight accommodations.
From most cities, you don't have to travel far to find something that is unique and interesting. Just an hour or two in the car can lead to fantastic state parks, fascinating cities or intriguing small towns.
Frugal families, couples and solo travelers can also plan day trips to destinations for a single purpose – like a daytime baseball game, attraction theme park or a specific museum.
Pet Sitting Vacations
A fun way to travel without paying for a place to stay is to take a Pet Sitting Vacation. Although taking care of someone else's pet is a big responsibility, it is also an opportunity to experience another place.
I recommend using a site like Trusted Housesitters that works as an even exchange for the homeowner and housesitter. A small annual membership fee is required, but you can get a discount off the price when you sign-up here.
Get a 'Friend Rate' on a Vacation Home
Another way to save money on a trip is to utilize a friend or family member's vacation home or cabin.
If they normally rent out their second home, ask if there is a special 'friend' rate. They may even let you stay for free. Just remember to thank them with a gift.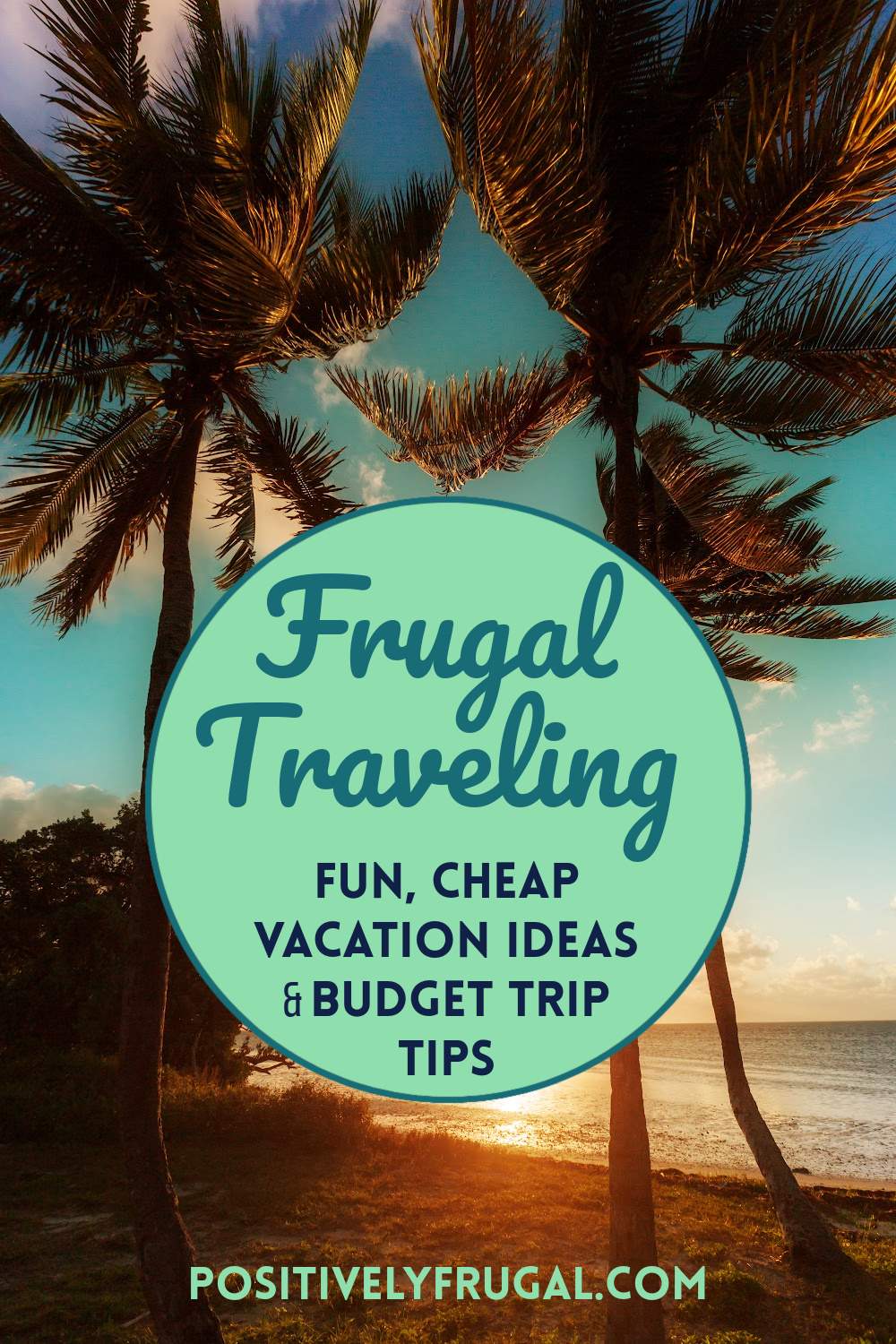 Frugal Travel Tips
I have highlighted some of the best ideas for cheap solo trips and family budget vacations, but I have a few more budget travel tips that will keep your trip costs to a minimum.
Create a Trip Budget
It's tough to plan a frugal trip if you don't know how much you can spend. Therefore, before planning frugal vacations for families and couples, create your trip budget.
If you already have a budget – and you should! – then creating a budget for a trip should be relatively easy. If you are new to budgeting, then grab my Free Budget Worksheet to get started.
When you have a clear picture of what you want to spend on your trip, then you can make plans that fit within your price point.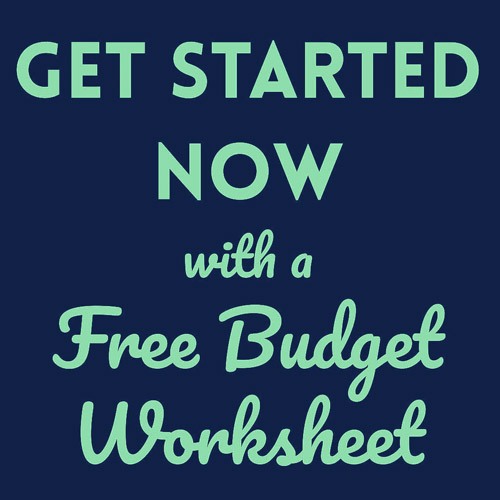 Start Planning Early
A key to successfully planning a frugal vacation is to start planning as early as possible. By starting the process in advance, you will have ample time to search for the best prices for cheap flights, inexpensive accommodations and a frugal car rental.
Additionally, by allowing more time for research, you can seek out special deals, claim limited coupons and find insider tips.
Travel in the Off-Season
I already mentioned that off-season travel can save you a lot of money, but it's worth saying it again (because, seriously, the savings can be huge!).
Traveling in the peak season practically guarantees the most expensive accommodations and the priciest flights. If you adjust your travel dates to the off-season or shoulder season, you will likely pay less…a lot less.
My preferred time to travel is in the shoulder season. There are far fewer crowds to contend with – and it is clearly reflected in the lower prices.
Find Frugal Vacation Destinations
One of the best ways to plan fun inexpensive vacations is to go somewhere cheap. While I am a big believer that any city can be affordable, there is no doubt that some places are more expensive than others.
For example, New York City is a pricey place to visit; it's ranked as one of the most expensive cities in the United States. With high-dollar attractions and tiny, basic hotel rooms that cost upwards of $200 per night, a trip to NYC can cost a bundle. Although it is possible to plan a budget NYC trip, it does require thorough planning.
When seeking cheap destinations, however, it's best to look at the overall price, rather than just one aspect. A destination with high-priced hotels might have heaps of free or frugal activities that helps to off-set the total price of the trip.
For instance, Washington DC has pricey hotels, but it can be one of the cheap vacation ideas for families with kids who are learning about US history and like museums – as top attractions in DC are completely free of charge. Traveling to Phoenix, where hotels are affordable, can be one of the low-budget vacation ideas for couples who like hiking.
Stay in Accommodations with a Kitchen
A phenomenal way to keep your family vacation on a budget is to stay in places that have kitchens where you can cook frugal meals. The savings can be astronomical.
Plus, it can be fun to make meals as a family or couple. On the other hand, if you don't want to be bothered by cooking every night while on vacation, prep some freezer meals on your first day of the trip.
You can use my Frugal Food Tips for preparing simple and cheap breakfasts, affordable lunches and frugal dinners.
You can search for a hotel room with a kitchen, stay in a hostel with a shared kitchen or find a vacation rental condo.
Forego the Rental Car
When flying to a city for a vacation, forego renting a car and, instead, use public transportation as a money-saving measure.
Renting a car can add a big cost to your overall trip plan. Not only do you have to pay the per day fee, but you also need to pay for gasoline and, often, parking in the hotel garage or city streets.
Utilizing the public transport can save you money and hassle!
Skip Expensive Entry Fees
While vacationing in a city, it can be tempting to see and do it all…but that can be incredibly expensive. Find a balance in your sightseeing and seek out free things to do in the place you are visiting.
Rather than paying for a guide, join one of the free walking tours – or create your own self-guided walking tour to the places you most want to see.
Another one of the cheap ideas for family vacations is to purchase All-in-One attractions passes, which can offer substantial savings if you are intent on seeing multiple major attractions.
Some cities and attractions also offer special family rates – so do a little research on admission specials for high-priced tickets.
Price Out Cheap Vacation Packages
Generally speaking, I think that travelers get the best rates when they plan the trip on their own. However, that is not always the case.
Sometimes, you can score cheap family vacation packages or all-inclusive deals.
The key is to do your research. Find out exactly what is included. Price out the deal on your own to see if you can find it for less. And, always read reviews before booking anything that is non-refundable.
Use Points to Fund Your Travels
I am a big fan of credit card points rewards, especially when it comes to frugal traveling. When you use your credit card on normal purchases – like grocery store food, gasoline and necessities – you can earn points that earn you free travel. This can go a long way in your vacation budget.
There are dozens of different travel point rewards credit cards – so you have to find that one that makes the most sense for your style of travel.
In the past, I have used credit cards tied to a specific hotel, but I eventually found that to be limiting to my travel interests.
Now, I use a Chase Sapphire Credit Card that earns bonus points when booking travel – and uses fewer points when booking travel (than other redeemable awards). While there is an annual fee for the card, I have found that the points I earn more than cover the cost.
See if the card will work for you – and earn massive bonus points when you use this link.
Keep in mind, however, that earning points only makes sense if you pay off your credit card in full each month. Paying interest on a credit card negates the savings that the points provide.
Set up a Sinking Fund
Without a doubt, the best way to plan a frugal trip is by using funds that you already set aside for your vacation in a Sinking Fund. In fact, a Vacation Fund is the most fun Sinking Fund category to create.
Once your Sinking Fund is up and running, keep track of your savings with a motivating Savings Tracker!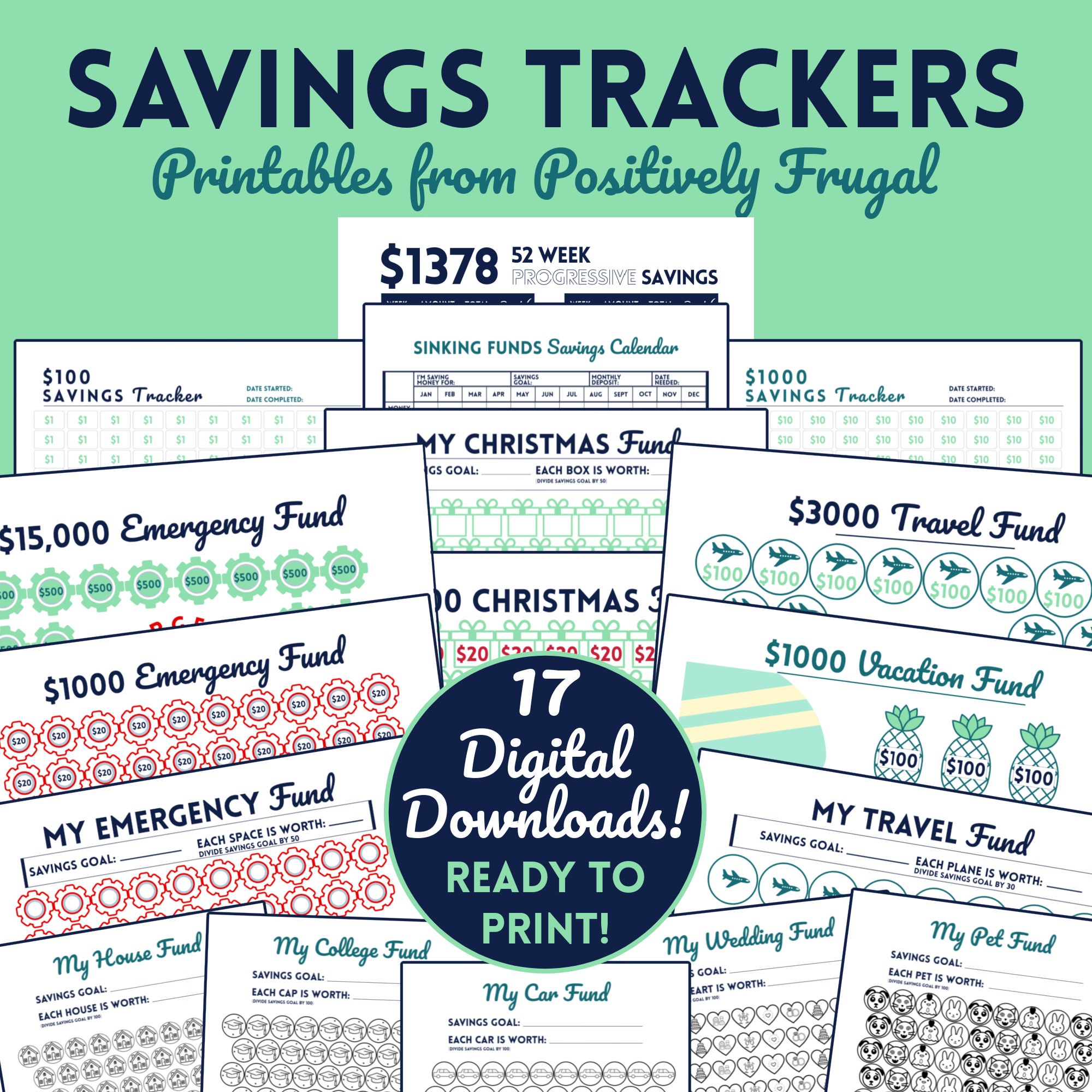 We Want To Know: What are your best Frugal Vacation Tips? Tell us in the comments!

Interested in more of my Life and Entertainment Tips? I round them all up on the Frugal Lifestyle blog page!