Some of the links on this site are Affiliate Links and if you use them to make a purchase, we may earn a commission. For more information, read our Disclosure Policy.
Stumped on frugal gift ideas? Feel like you are walking a fine line between gifting the perfect frugal present and giving someone a cheap gift? Before you abandon your budget and spend money you might later regret, get inspired by my ideas for fabulous frugal gifts.
My frugal-minded gift guide is crammed with thrifty gift ideas. Whether you are committed to sticking to your budget, find yourself in a position where you need to give gifts when you have no money, or need to find gifts for frugal friends, I've got you covered with my best frugal tips for gifts.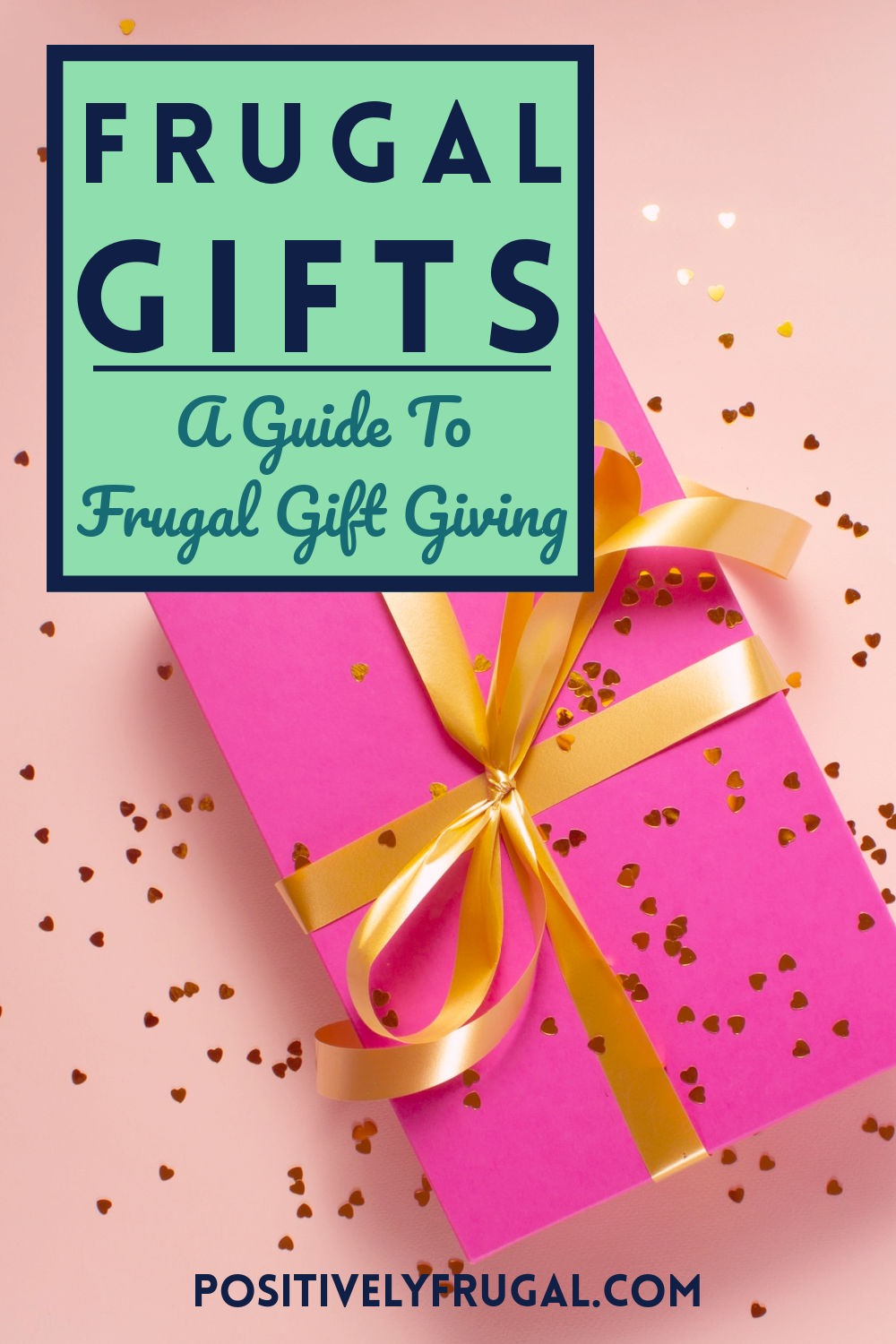 What Are Frugal Gifts?
When I talk about frugal gifts, I don't mean cheap; there is a big difference between frugal and cheap…and, let me tell you, being frugal definitely has the upper hand.
I think the best frugal presents are affordable (or free!), yet thoughtful. Most often, the presents are aimed at experiences, rather than materialistic possessions. Moreover, a frugal gift will provide a perceived value to the receiver – which may be sentimental or memorable – but doesn't necessarily have to cost money.
A cheap gift, on the other hand, is one that is inexpensive – but lacks thought, concern or care for the recipient. By this definition, a cheap gift can actually cost more money than a frugal one.
In this post, I give specific examples of budget gifts; for fun ideas for frugal gift giving, read my blog post: Gift Giving on a Budget!
Frugal Gifts for the Win
It is easy to throw money away on expensive gifts, but frugality in gift giving requires thought and consideration. What I love about frugal gifts – and a frugal lifestyle, in general – is that committing to spending less and adhering to a budget requires gift-givers to be more attentive and creative – which is reflected in my gift ideas.
I think there are frugal presents for every occasion – you just have to get a little creative in order to save money! For the items on my list, I am featuring ideas that should cost about $10 or less.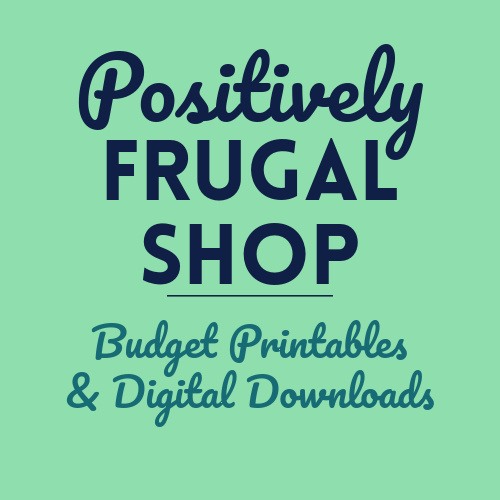 Frugal Birthday Gifts
Birthdays are all about celebrating! You want to make the birthday boy or girl feel special on their day – and I am highlighting ways to do just that…while on a budget.
Entertaining Gamebooks
Gamebooks like Mad Libs , Would You Rather and Trivia Books are excellent inexpensive birthday presents that the giver and receiver can play together.
Gratitude Journal
Another excellent birthday gift is an affordable book is a 52-Week Gratitude Journal that the recipient can use every week of the year.
Happy Birthday Wine Glass
A special Happy Birthday wine glass is a perfect affordable birthday present – and when you pick one up a the dollar store, you will have enough money left over to buy an inexpensive bottle of wine from the grocery store to go with it!
Balloons
Helium balloons are fabulous frugal gifts for kids' birthdays (and adults, for that matter!). While balloons can be expensive, they are priced at just $1 each at most dollar stores (just remember to bring your own weight so that you don't have to buy one at the store!).
Birthday Decorations and Embellishments
If you decide to bypass swapping gifts (which is one of my recommendations for Gift Giving on a Budget), then mark the special day with decorations. You can find heaps of festive banners and party hats at the dollar store.
Birthday Girl Tiara and Sash
One way to make the birthday gal feel important is with a fun tiara and sash. In fact, I think this is one of the fun frugal gifts for coworkers!
Bake a Cake
Forego buying any gifts and save the cost of buying a cake by making a cake yourself! It's even better if you make their favorite flavor and use special (and reusable) decorations on the cake.
Design Your Own Card
Birthday cards have gotten expensive over the years (although they are still pretty cheap at the dollar store). Instead of spending money on a card that will be thrown away, get creative and design your own birthday card – either on the computer or DIY craft-style.
Cook a Favorite Meal
Skip the expensive meal out and cook at special meal at home to celebrate a birthday. Just a word of caution (from experience!), don't try to splash out with exotic and expensive ingredients…just make their favorite dish. (Go to my Frugal Food blog page for more cooking tips!)
Homemade Sugar Scrubs
Easy DIY sugar scrubs make fantastic, affordable birthday gifts! All you need to concoct a good sugar scrub is sugar, olive oil, essential oils and a mason jar – and jazz it up with a few fun birthday embellishments. Get more details here.
Mason Jar Gifts
There are tons of great DIY birthday gift ideas that can be assembled in mason jars. Recipe ingredients, sewing kits, snow globes – and more! Get inspired with these fun mason jar gift ideas.
Photo Displays
One of the most personal and fun frugal gifts to make for birthdays is a photo display. Inexpensive photo displays consist of nothing more than string, paperclips (or clothes pins), nails and the photos you want to use – but you can get more creative ideas here.
Frugal Graduation Gifts
My fun list of frugal grad gifts are ones that I have both given and received. Hopefully there will be one that will fit the bill for your list, too!
Book with Special Inscription
A classic grad gift is the Dr. Suess book, The Places You'll Go – and you can make it even more special with a personal note scribbled on the inside cover (which is what I gifted my nieces and nephews when they graduated from high school).
Life Essentials Gift
As your grad steps out into the world, equip them for anything that comes their way with two life essentials: WD40 and DuckTape.
Shower Caddy
If the gradate you are buying a gift for is heading off to college, then consider gifting one of the fun frugal gift basket ideas for grads, like a shower caddy. A useful and practical present, the caddy can be filled with necessities – like soap, shampoo, a loofah, and comb. You can find inexpensive totes, like this one on Amazon…but you can probably find them cheaper at the dollar store.
Starter Toolbox
When I graduated from high school, one of the best grad gifts I received was a starter toolbox. You can assemble your own toolbox gift – but buying a tool set might be even cheaper. (If you are seeking frugal gifts for women grads, they now make pink toolboxes, too!)
Succulent Planter
Another frugal DIY project gift that is a fun, low-cost gift for graduates is a succulent planter to brighten their dorm or first apartment. Check out all of the unique ideas for succulents!
Frugal Mother's Day Gifts
There are millions of ways to show your mom you appreciate her…without breaking your budget!
What I Love About You Book
Score big points with your mom when you buy – and complete – this sentimental journal, What I Love About Mom – and gift it to her on Mother's Day.
Breakfast In Bed
One of the all-time classic frugal homemade gifts for mom, breakfast in bed is a great gift to show your mom how much you appreciate her.
Plan a Day Together
A phenomenal and affordable gift to give your mom is to plan an entire day together as family. To make sure the outing stays on budget, plan free activities like visiting a garden, enjoying a picnic lunch, walking at a park, watching a movie or spending time together baking in the kitchen.
Clean the House
If you are seeking gift ideas with no money, then gift your own services by cleaning the house. Whether you tackle the entire house or deep clean the bathroom or spruce up the garage or clean out the gutters, your time and energy will not go unnoticed!
Write a Letter
Another gift you can give to your mom that doesn't cost a cent is writing her a letter. Handwritten or typed, on pretty paper or plain, a heartfelt sentiment will be a cherished gift.
Frugal Valentine's Day Gifts
In my opinion, Valentine's Day has become so overly commercialized and competitive that I think it causes more heartaches than happiness. However, when you have a good relationship with money, you will realize there are hundreds of frugal gifts that you can give for Valentine's Day (or any day of the year…because why limit celebrating your love to just one day?!).
Write a Love Poem
There just might be nothing sweeter than forming the words of your love for someone into a poem. Write it in a card or put it in a frame, a love poem is sure to please (plus, it's one of the great gift ideas without spending money!).
A Journey of Memories
Take a trip down memory lane as you spend an entire day celebrating your relationship. Whether you go virtually or recreate key moments of your past in person, you can incorporate the place you met, your first date, your wedding song or the thousands of other memories you share.
Frugal Craft Ideas for Your Love
Growing up, mixed tapes were the ultimate frugal gift of love and friendship. While tapes are a thing of the past, music is not. Consider creating a romantic playlist for your significant other as a frugal gift.
Other frugal crafts that you could make for Valentine's Day are mason jar candies, candles or kisses. Find frugal craft inspiration here.
Valentine's Day Treats
One of the fun frugal gift ideas for kids is to bake sweet treats together. Get out the heart cookie cutters or get creative (find ideas here) to celebrate the holiday with your kids.
Celebrate Big…a Day Late
One of the best ways to be frugal on special days is to wait to buy anything until the hype is over. In the case of Valentine's Day, that means celebrating a day (or week) later. Take advantage of Day-After-Valentine's-Day sales – and scoop up deals of half-off heart boxed chocolates and clearance-priced Valentine's Day decor. Also be sure to check out all my Frugal Date Ideas!
Wedding Gifts on a Budget
Frugal presents for weddings are a little bit trickier, but not impossible. If you are on a really tight budget, consider pooling your money with friends for a nicer gift.
Registry Gifts (with Coupons)
Most wedding couples register for gifts – which can be good or bad, depending on how expensive their tastes are! If you do purchase something from the registry, check for coupons or rebates – or even price match with other stores. Bed, Bath and Beyond – a popular registry store – has great coupons.
Thrift Store Finds
Shopping at a thrift store might seem like an odd choice for a wedding gift, but thrift shops can be a treasure trove for gifts! My top tip is to look for unique antiques or brand-new kitchen items (that are still in the original box!). The Facebook Marketplace or yard sales are also good places to find these kinds of gifts.
Frugal Wine Gift
A moderately priced bottle of wine makes a good gift…but a personalized label bottle of wine makes an incredible frugal gift! For the label, you can use a copy of their wedding invite, a favorite marriage/love quote or a photo of the couple. Learn how to make a DIY wine label.
Framed Wedding Invite
Another inexpensive but memorable gift for a wedding is to frame the wedding invite. You can frame the invite by itself or buy a frame with another space for their favorite wedding photo.
Date Night Dinner Box
If you want to give an affordable gift of an experience, you can opt for a giving a box of items that can be used for a date night at home. Fill the box with everything they will need to make dinner – ingredients to make a gourmet pasta are a popular choice – plus wine and candles (or steal some inspiration from this pasta gift basket).
Frugal Holiday Gifts
It can be really tough to figure out what to buy for Christmas gifts when you have no money.
Don't stress! I share my best ideas – from gifts to meals – in my blog post: Frugal Christmas Gifts!
In fact, when you are on a budget, it's not just frugal Christmas gift ideas that are problematic, but how to affordably celebrate the entire holiday – from the gifts to decorations to the Christmas Dinner. Creating a Christmas Budget is highly advised – and my affordable Christmas Budget Printables can help get you started!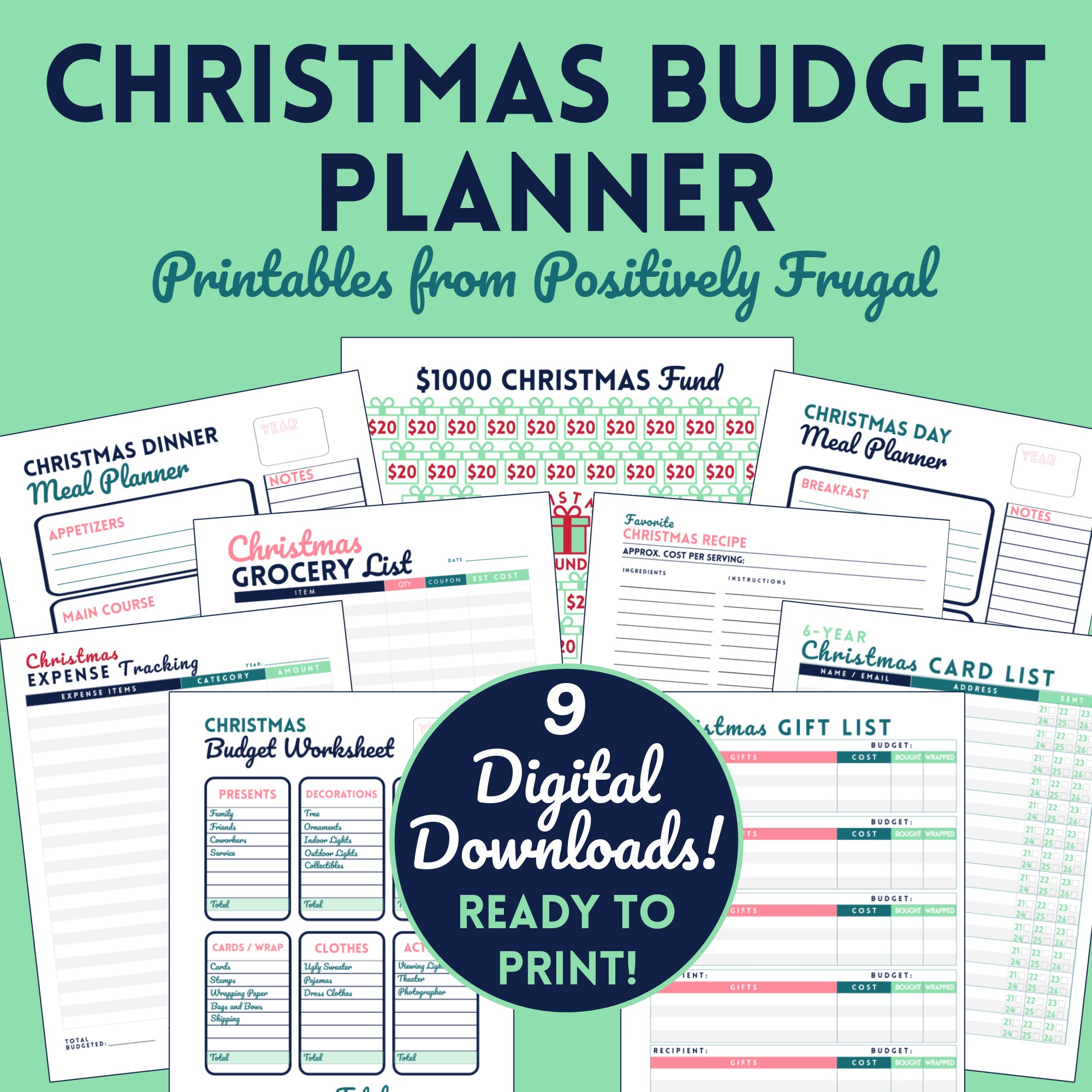 Gifts for Frugal Friends
Okay, now that we have you covered for frugal gifts to buy when you are on a budget, let's switch gears and talk about gifts to get your frugal friends.
If you are exchanging gifts with friends who are frugal or minimalistic, then you might be bewildered by the kinds of gifts they will like. No worries: I can help with these extremely frugal tips!
Living Herbs
Most frugal people do a fair amount of at-home cooking – and fresh herbs are a wonderful addition to any meal! Living herbs in planters are ideal – as they will keep producing.
Kitchen Accessories
Along the same lines, Kitchen Accessories – that are either time saving or money saving – make excellent gifts for the frugal-minded. Some top frugal kitchen accessories are reusable kitchen cloths, silicone reusable bags and small kitchen helpers – like a garlic press or apple corer.
Timeless Accessories
Fashion accessories that stand the test of time are ideal gifts. For example, one of the great gifts for frugal women is a versatile scarf that can be used to spruce up various outfits. A quality hat, belt, watch or chain are all good enduring gifts for a frugal man.
Useful and Repurposed Wares
Don't underestimate the value of repurposed items – they can be an absolute delight to frugal people! To hit the mark right on this one, make sure the present is in line with what the person likes and will use.
Budgeting for Frugal Presents
One of the best ways to ensure you will have funds for presents is to account for gift giving in your budget. If you don't already have a budget, you can get started right now! When you subscribe to Positively Frugal, I will send you a FREE basic budget printable that you can print and complete today.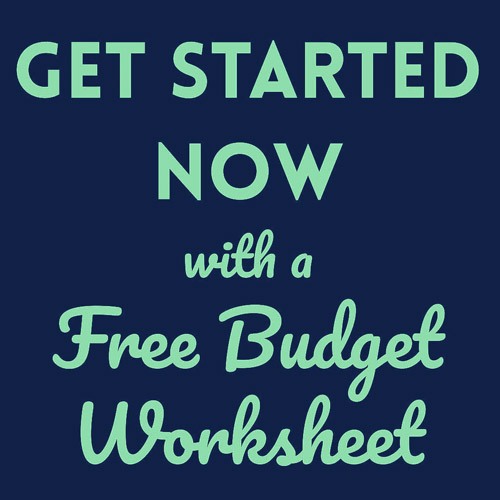 Setting your budget and goals will help substantially when organizing your finances. To help get you set up for success, I offer affordable detailed budget forms, meal planning kits and savings trackers on my Shop Page.

Interested in more of my Life and Entertainment Tips? I round them all up on the Frugal Lifestyle blog page!
We Want To Know: What are the best frugal gifts you have ever given? Do you have a favorite frugal present that you received? Have you ever been gifted a horrible cheap gift? Tell us about it in the comments!