Some of the links on this site are Affiliate Links and if you use them to make a purchase, we may earn a commission. For more information, read our Disclosure Policy.
Christmas might be the most wonderful time of the year…but it is also a time when a lot of people go into unnecessary debt. If you are struggling with how to have Christmas on a budget, I can help! With my tips and a little pre-planning, it is possible to have a frugal Christmas celebration while keeping your budget intact.
Christmas on a Budget
Believe me, I love Christmas. The lights. The scents. The merriment. It's magical.
Stress and anxiety – and any resulting debt – however, are not magical…they are misery.
Instead of buying into the idea that you have to overspend to have a merry Christmas, you can celebrate Christmas on a budget. And, trust me, it's as much – if not more – fun!
The key to having an affordable Christmas is to make a Xmas budget, plan ahead and prioritize. My frugal ideas for Christmas cover the full range of holiday expenditures – from food to decorations to greeting cards.
Pro Tip: Looking for cheap Christmas present ideas? I share my top tips below and specific ideas in my blog post, Frugal Christmas Gifts!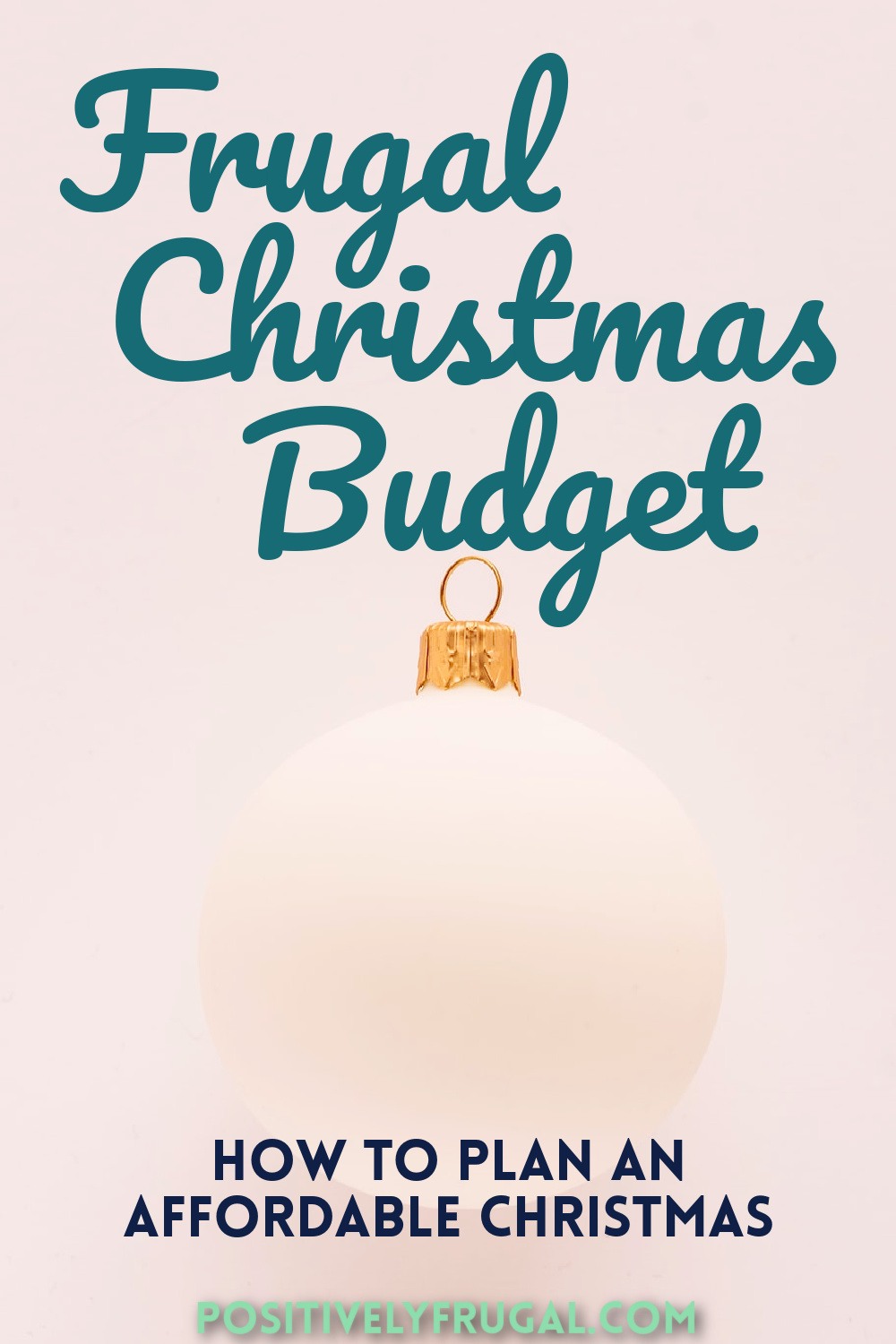 Frugal Christmas Ideas
Being frugal at Christmas doesn't mean you have to be a Grinch. You can celebrate the holiday and stay on track with your money goals – and I have a few tips on how to pull it off!
When you celebrate Christmas on the cheap, bear in mind that your thoughtfulness will be your biggest commodity. A little time and effort can go a long way when planning Xmas on a budget.
#1 Create a Christmas Budget
In order to escape the holidays without overspending, the first thing you need to do is set your frugal Christmas budget. If you are already operating on a budget in order to meet your financial goals, then budgeting for Christmas won't be an immense task. However, if you are new to budgeting, you will probably want to set aside an hour or two to complete your Christmas budget.
Why is a Christmas Budget Important?
Like with any budget, if you don't have a plan for your Christmas money, you will likely come to the end of the holiday season wondering where it all went. Making a budget and tracking your Christmas expenses will help you stay on target and keep you from overspending.
According to statistics, about 30% of people overspend on Christmas when they don't have a budget – and they spend significantly more than those who do budget.
Based on some stats, the average Christmas budget in the USA is set at about $1000. How much you choose to spend on the holidays, however, is completely up to you! You should set your Christmas budget to an amount that you are comfortable with…and can afford without going into credit card debt.
How To Create a Christmas Budget
To create your holiday budget, take the total sum you want to spend on Christmas and allocate a specific dollar amount for every single holiday related expense.
If you track you expenses or save receipts, it might help to look back at what you spent last year (and make adjustments, if necessary). Otherwise, you will just have to make a best guess as to how much money to spend on each category.
You can, of course, write your budget on any piece of paper – but if you want something a little more organized, you can use my affordable Christmas Budget Planner templates.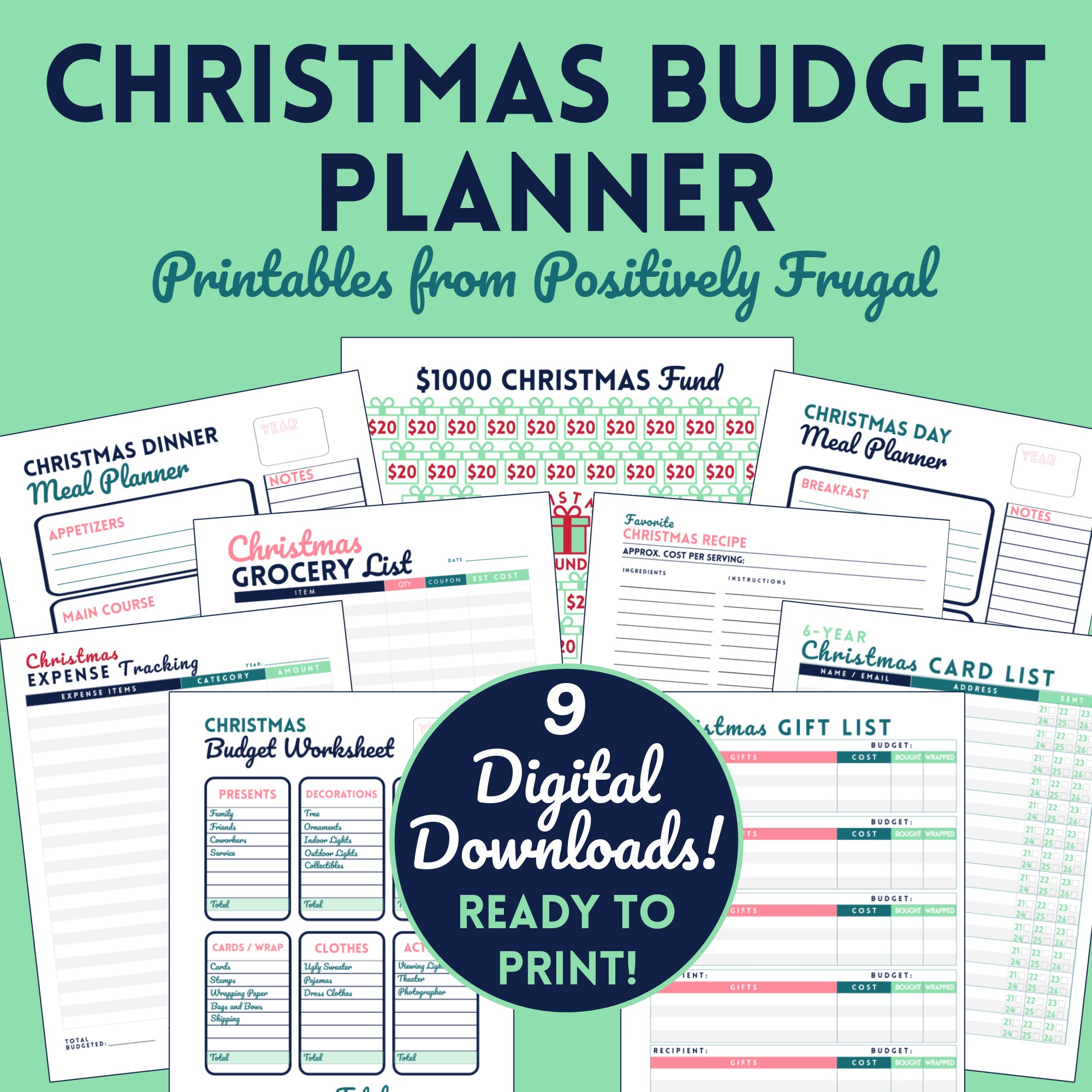 When To Start Budgeting for Christmas
I personally think it is best to complete your frugal budget for Christmas in January. By including 'Christmas' as a line item in your monthly budget and creating a sinking fund for the holiday, you have the whole year to plan and save for Christmas.
However, if the holidays have snuck up on you (like they tend to do!), then it is never too late to start. Just commit to getting a head start for next year and start your planning the day after Christmas.
Don't have a monthly budget? Get started with budgeting today! When you subscribe to Positively Frugal, I will send you a FREE Budget Template!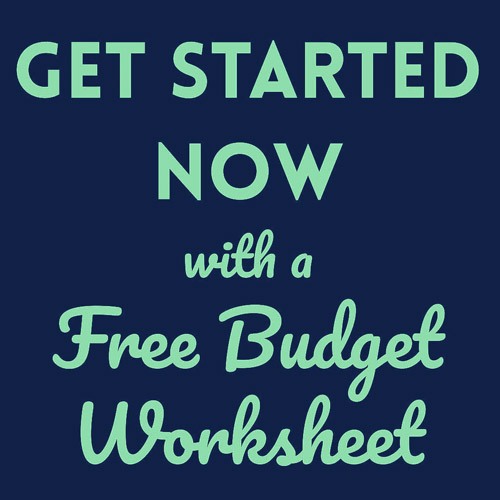 Christmas Expenses to Include in Your Budget
The key to staying within you spending limits is to plan ahead and include every conceivable Christmas cost into your frugal holiday budget. Some of the essential categories to include in your budget for Christmas are holiday cards, clothing, decorations, tree, dinner, activities and, of course, presents.
Below I highlight the most common expenditures and offer cost-saving measures to ensure you celebrate Christmas frugally.
#2 Money Saving Holiday Cards
Christmas cards are a classic holiday tradition – but they can be pricey. The good news is that there are plenty of ways to cut down the cost.
DIY Photo Cards
Photo Christmas cards are fun to give (and receive!) – and they don't have to be expensive! In fact, they often cost less than standard greeting cards. Use a company like Shutterfly, Snapfish or Amazon Prints for professional quality, personalized cards on a budget.
Find an Affordable Photographer
Getting a professional family photograph for your Christmas card is all the rage, but if you are on a budget, it is an easy cost to eliminate. Alternatives to hiring a pro photog are employing a budding student photographer or – even cheaper – asking a friend to take your family photos for free. It is cheapest, however, to skip the photographer altogether and use candid family shots that you take yourself.
Card Delivery
The last time I checked, the price of a single 1st class US stamp was 58 cents, which might be a tad high for your budget depending on how many cards you plan to send. Instead of mailing your holiday cards, save a stamp and hand deliver the ones that you can. You could also consider sending Christmas postcards instead of greeting cards inside envelopes – this will save you almost 20 cents per stamp.
Of course, you can eliminate all spending on stamps and reduce your cost of holiday cards if you instead opt to send digital greeting cards via email. It's one of the more modern and best ways for how to save money at Christmas.
#3 Affordable Christmas Clothes
Special clothes for Christmas are another line item you will want to include in your frugal Christmas budget if you plan on buying them. To be honest, when we adopted an extremely frugal budget, this category was crossed off our list entirely. We make do with what we already own. However, if you are going to spend money on special holiday clothes, I have a few ideas on how to cut costs and save money at Christmas.
Ugly Sweaters
I loved when the Ugly Christmas Sweater trend became a thing. Kris and I spent a fun Saturday morning scouring our local thrift store for fun threads. We scored some excellent finds at incredibly low prices (including Christmas pajama pants for both of us – each only $1 – that we still love wearing as lounge pants 10 years later!).
However, on a recent Christmastime shopping trip at Target, I saw hideous holiday sweaters on the racks marked at an unfathomable price of $50.
To avoid paying high dollar for an item you will only wear a few times, go old school and see what you can find at the thrift store. Alternatively, shop after-Christmas sales for discounted items (for the following year) or even consider swapping with friends so that you can each get a new-to-me item.
Matching Pajamas
It's so cute to see families all dressed in the same matching duds on Christmas morning…but it isn't necessarily cheap (and, for that matter, it really isn't necessary…because are you doing it for you or for the 'gram?).
Rather than outfitting the family in holiday-themed PJs, consider buying less expensive, plain corresponding pajamas that will be worn all winter long. Or, plan far in advance, and buy Christmas pajamas when they are on sale in January.
Christmas Best Dressed
Getting all dressed up for the holidays – whether for dinner at your parent's house, Christmas mass or The Nutcracker – is another expense that can drive up your Christmas costs.
Instead of splurging on clothing that can only be worn at the holidays, pick up something neutral that can be worn at subsequent events. Hand me downs, friend swaps and neighborhood exchanges are great for finding holiday clothes for kids, too.
#4 Frugal Christmas Decorations
Decorating for Christmas can put a dent in your budget. With a little creativity, however, you can avoid big costs by sprucing up your home with holiday decorations on a budget.
Limit Your Decorations
It can be tempting to over-decorate your home – but following in the footsteps of Clark W. Griswold is not a budget strategy. Instead, commit to limiting your décor to a few items that will add Christmas cheer to your home.
As digital nomads (without a home), we buy new decorations each year on a minimal budget – limiting our expenses on décor to just $20. In most cases, that amount is enough to buy a small tree, a strand of lights, a few ornaments and a scented candle. And, honestly, that is all the frugal Christmas decoration that we need.
Budget Holiday Decorations
There are dozens of ways to score cheap or inexpensive holiday decorations – from sales to second-hand stores to dollar stores to giveaways. A word of caution: the dollar store can be a great resource for money saving Christmas decor, but it can be a rip off, too.
While I was at a dollar store around Christmastime, a lady in front of me laid out $87 on holiday decorations…and most of it looked cheap. Don't get swayed into overspending on cheap items that won't last.
Frugal Christmas Crafts for Decor
Alternatively, create your own DIY Christmas decoration crafts. Favorite holiday kid crafts include paper cut snowflakes and pinecone ornaments – but inexpensive adult crafts, like wine cork reindeer and mason jar snow globes, are just as fun! Get some great ideas and save money on Christmas with the crafts from this list by Reader's Digest.
Reuse Decorations Year after Year
One of the best frugal Christmas decorating ideas is to invest in classic décor that can be used for many years to come. Don't buy new lights until the old ones burn out. No need to buy brand new candles until the old ones are completely burned down. And, if you are lucky enough to have items passed down through the family, display those for sure…even if they are out of style!
#5 Frugal Christmas Tree
A Christmas tree can be one of the biggest costs of decorating for Christmas. While I am not advocating dismissing the classic tradition of a holiday tree, your budget may dictate a little inventiveness – and I have a few low-cost Christmas ideas for your tree.
Live Christmas Trees
I'm a huge fan of buying live trees for Christmas – but, my oh my, are they expensive! There are a few ways to save on costs of a live tree for Christmas, though. If you have a nearby national forest, check to see if they sell Christmas tree permits that allow you to go into the forest and cut down your own tree; permits can cost as little as $5.
Another way to get a great deal on a tree is to inquire at the tree lot or farm about any Charlie Brown Christmas trees…you know, the ones with big holes, crooked trunks and twisted tops. Personally, I think the imperfections add a little character (and so does Charlie Brown).
Artificial Tree
Buying an artificial Christmas tree can be a good investment and help you save money during the holidays in the long run – especially if you intend on using it for several years. Of course, the best time to buy trees at the best price is after the holidays, when they are deeply discounted.
Create Your Own Tree
On an extremely tight Christmas budget, you can get really innovative and create your own tree. Tack up garland on a wall in the shape of a tree or weave lights into an already existing houseplant. Get creative!
#6 Frugal Christmas Menu
Holiday food can derail a budget in a hurry. However, with a meal plan and dedication, you can keep from overspending.
Frugal Christmas Food for Parties
If you are having people over for Christmas dinner or a party, ask your guests to share in the food cost by making it a potluck meal. This not only saves you money, but time and stress, too!
Alternatively, if you are invited to a party that you need to bring a dish to and are adhering to a frugal Christmas budget, then opt to bring an affordable side dish, like roasted in-season veggies or an inexpensive casserole. Steer clear of fancy cheese trays, pre-made goods and pricey meat-based dishes.
Frugal Christmas Dinner
While there are tons of frugal Christmas dinner ideas, it might be cheapest to create a classic Christmas meal. The fixings for the traditional meal – ham, potatoes, green beans and cranberry sauce – are always discounted at the grocery store in the weeks leading up to the holiday.
I also recommend using frugal Christmas recipes that call for common ingredients. Buying one-off ingredients to complete a Christmas meal will definitely increase your expenditures. Be sure to also read my complete guide to a Budget Christmas Dinner!
Christmas Sweets
Christmas and baking go hand-in-hand…but baking and budget might not. While baking at home is part of most frugal lifestyles, baking specialty holiday treats can be pricey. Keep your costs to a minimum by making inexpensive treats – like these budget-friendly desserts by Taste of Home.
Interested in more of my Frugal Food Tips? I round them all up (including my favorite Frugal Snacks) on my Frugal Food blog page!
#7 Budget Christmas Activities
Partaking in some of the classic Christmas activities can drive up the cost of your holiday celebration. A family outing to Zoo Lights, ice skaing with friends and a night at The Nutcracker can all add a significant cost to your Christmas budget.
However, there are many fun Christmas on a Budget ideas that can help to keep your costs in check.
Christmas Lights for Free
Tickets to Christmas light events – at the local zoo or botanical garden – can be extremely expensive…especially when paying for the whole family to attend. Instead of ponying up for entry fees, seek out festively decorated neighborhoods that are completely free to drive or walk through.
Another alternative is to check prices for an annual zoo or garden pass, which typically offers huge savings. Then, make the annual pass one of the family Christmas presents.
Outdoor Winter Fun
While ice skating is a classic Christmas activity, some rinks charge a bundle. Instead of going to the ice skating rink, bundle up and head out for a wintery holiday hike. Or, if you are lucky enough to be in a place where it snows, go outside to build a snowman or have a snowball fight (which is one of my favorite Free Things To Do!)
Christmas at the Theater
Watching a Christmas theater performance is a top holiday activity, but it's not always affordable. Rather than over spending, get deeply discounted matinee tickets or see if there is a free community production that you can attend instead.
#8 Christmas Presents on a Budget
Presents are a major Christmas budget consideration when you are trying to be frugal. Eliminating gift giving will certainly help keep your budget in check – but it can be tacky to shrug off Christmas gift giving. Therefore, I'm sharing my best Christmas ideas on a budget for gifts.
Seek Alternatives when Christmas Shopping on a Budget
If the weight of buying Christmas gifts is too heavy a burden for your budget, it is best to have conversations with those you exchange gifts with to come up with some alternative and fun ways to celebrate the holiday.
Gift games and spending limits are ideal ways to cut down on holiday gift expenses. Although not a popular idea, you could also opt to nix the gifts and celebrate a non-commercial Christmas. You can find all of my best gift exchange ideas and alternative Christmas traditions in my blog post, Gift Giving on a Budget.
Cheap Gift Ideas
Presents don't have to be pricey, but they should be thoughtful. In fact, a less expensive but thoughtful gift will be more appreciated than a pricey one without thought or meaning.
While in hot pursuit of 'cheap' Christmas gifts, keep in mind that spending money on an unwanted, thoughtless cheap Chrsitmas gift is likely a waste of your hard earned cash.
If you are unsure where to start with ideas for cheap gifts, you can use my dedicated blog post, Frugal Christmas Gifts. I share affordable Christmas gift ideas for adults, kids and coworkers. (And, if none of those gift ideas hit the mark, then check out more present ideas in my blog post, A Frugal Minded-Gift Guide.)
The Total Cost of Christmas Gifts
When you make your budget for Xmas, remember to include all of the costs associated with gift giving. Make a line item for wrapping paper and gift bags, as well as shipping costs if you need to mail gifts.
Your Christmas present budget may be the highest cost of your holiday celebration, so make sure your track it closely.
Keeping on Track with Your Christmas Budget
There is no doubt that there are expenses associated with celebrating the holidays – but it is possible to have a Merry Frugal Christmas. The key to Christmas budgeting is to stick to your set limits and commit to not overspending during the holiday season.
Ways to Pay for Christmas
Even when celebrating Christmas on a budget, you may need to come up with some extra money to avoid high credit card bills in January.
If you are making a plan to save money for Christmas, it's best to get an early start.
One of the best ways for how to save for Christmas is to take on a part-time gig or starting a side hustle in the months leading up to the holiday. You can also get serious about slashing some of your current spending – like not eating out – in order to accumulate savings for Christmas. For more ideas on how you can save money for Christmas, use my tips for Ways to Save Money.
You can also get a jump on next year's holiday by committing to making financial resolutions for the New Year.
Final Words about Christmas on a Budget
The best way to keep your Christmas budget in check is by planning ahead. Save throughout the year for anticipated costs and track your spending on holiday items.
Organizing your holiday expenditures with Christmas budgeting worksheets will ensure you keep on track with your Christmas budget!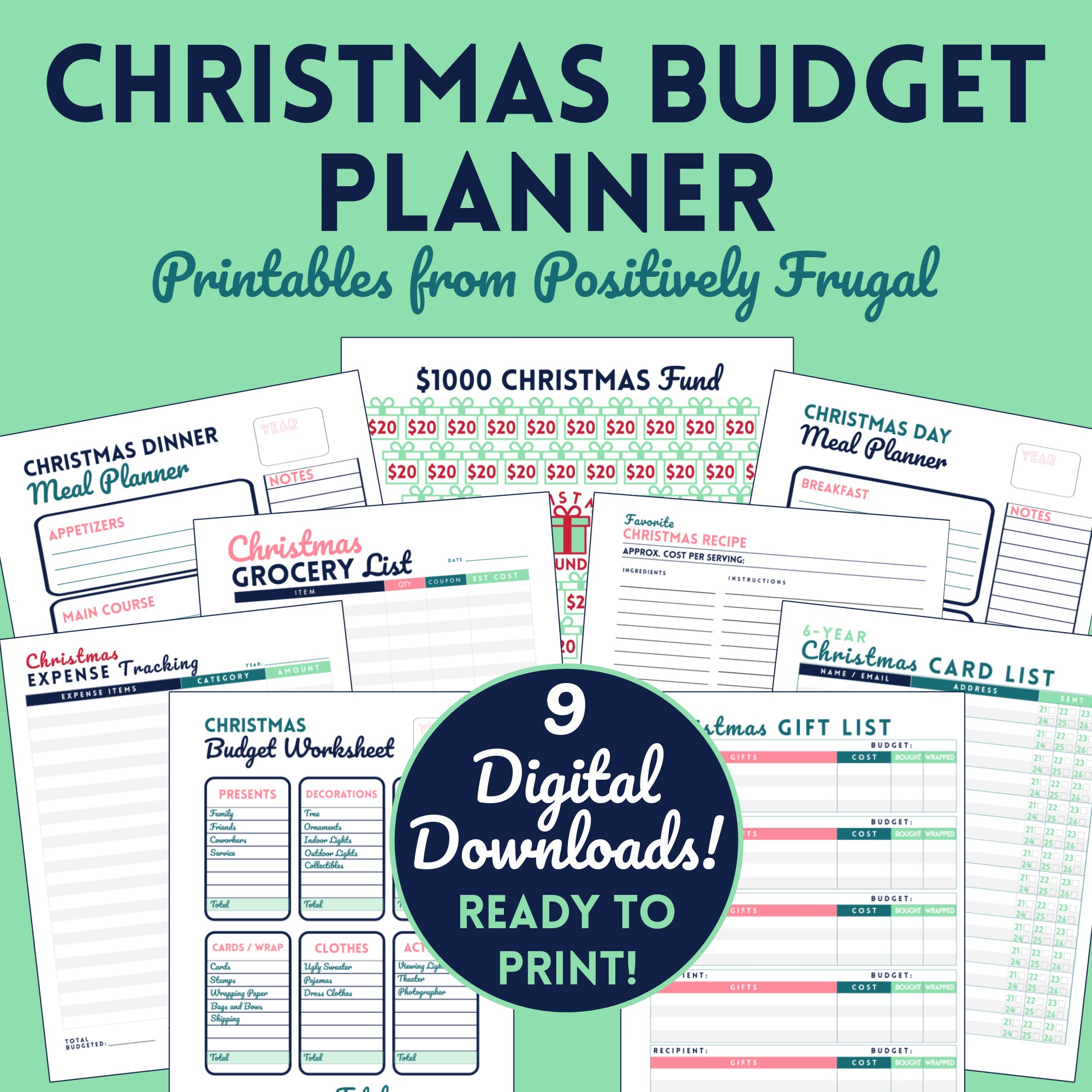 Interested in more of my Life and Entertainment Tips? I round them all up on the Frugal Lifestyle blog page!
We Want To Know: How do you celebrate a frugal Christmas? Give us your best frugal Christmas tips in the comments below!