Some of the links on this site are Affiliate Links and if you use them to make a purchase, we may earn a commission. For more information, read our Disclosure Policy.
Budgeting money and tracking expenditures can be tedious work – and a budget app can help do some of the heavy lifting. These apps are little technological gems that can calculate your finances, create spending reports and keep you on track with your money.
There are heaps of finance apps, so finding the one that works best for your situation is imperative. What works for a tech savvy saver might not be the best money app for a budget beginner.
I'm sharing a few of the best money apps on the market to help you find the right one for your money and budgeting needs!
Why Use a Budget App
Before we get to the list of the best finance apps, I want to take a moment to chat about why you should (or maybe shouldn't) use an app to keep track of spending and income. There are many benefits of using a budget tracker app – but also a few reasons why it might be better to keep track of your funds the old-fashioned way.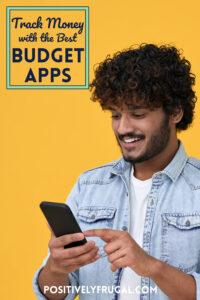 See your Finances in Real Time
The best money apps offer incredible insight into your real-time finances – which can be accessed with just a few taps on your smartphone screen. These apps provide instant visibility into your income, expenses and savings, allowing you to monitor your current money situation at any time.
With quick access to the hard facts about your current finances, apps for budgeting make it easy to make better decisions about your money.
Save Time with Top Budget Apps
There is no doubt that manually budgeting your funds and tracking every cent you spend are time consuming endeavors. A money tracking app, however, can streamline the process and alleviate you from tediously organizing and categorizing your money matters.
The best personal finance apps can set up budgets and create reports quickly and efficiently. Plus, spending tracker apps can send reminders of upcoming costs and notifications when budget limits are being approached.
Easily Set Goals
One of the best things about money management apps is that they allow users to set finance goals. Even better, the best money apps provide visual representations showing progress toward those goals.
I am a big believer in money goals and using saving trackers to watch your funds grow, so I love apps that offer goal setting features.
Whether saving for a vacation or working to eliminate debt, money budgeting apps can help you keep a keen eye on your financial ambitions.
Become Money Aware
I think that the best reason to use an app to manage expenses and track your budget is that it keeps you informed about your money and creates an enhanced financial awareness about your funds.
The most robust money apps for budgeting can generate detailed reports that show spending patterns – and can even break down spending by category. That information is essential in helping users to identify areas of over-spending and detect places to cut back expenditures.
With your financial data literally at your fingertips, you can gain a more comprehensive understanding of your money situation – and make better money management choices.   
By understanding your habits, you can ultimately change your relationship with money – and learn how to be more frugal in the future!
Downside to Using a Personal Finance App
While there are many rewards to using money apps, I want to point out a few of the downfalls to consider before you get started.
Not Completely Hands Off
While money apps are designed to make budgeting as hands off as possible, there is still quite a bit of effort required – and not only at the beginning.
To ensure you get the most out of the app, spend time setting it up. It won't work unless you set it up correctly – so make sure you can dedicate the time to properly setting up the app and understanding how it works.
Then, make sure that you use it! Simply downloading budgeting money apps will do nothing for you financially…it takes work, transparency and honesty.
You can only get out of the app what you put into it. The app can help keep you on track with money management, but only if you access it, run reports and utilize the features that will help you.
Too Hands Off
Using an app for your finances might be a little too hands off for some people. Apps to help budget your expenses do a lot of work in the background. In my experience, when it's out of sight, it's out of mind (and I prefer to be quite a bit more hands on about my money).
I prefer to manually organize my finances and mindfully track my spending and create my budget because it keeps me more committed to my plan. Keeping track of money, getting out of debt and setting up savings are big tasks – and the more you are personally involved, the more likely you are to succeed.
Therefore, if you decide to use an app to manage finances, just be sure that you stay personally committed to achieving your goals.
Limits to What Budgeting Apps Can Do
It's important to understand that even the best money tracking app can't take care of all of your money worries and woes. Making good decisions about money – when to spend and when to save – is still up to you. (And, let's be honest, that's that hardest part!)
Getting an app to track your money can help to get a better handle on your finances, but the real work is up to you. Be prepared to put in the time and effort to make it a success.
Comfort Level with Technology
Before deciding which budget planner app to download, be sure you will be comfortable with the amount of information you are required to provide.
The best finance tracking apps work by linking your bank account and credit card details. Without your personal banking information, the app won't be able to provide the best financial advice it's designed to. It cannot create reports or notify you when you are reaching budget limits if it can't access the information required.
While most of the top money-tracking apps employ advanced security measures to protect information, you will need to be comfortable providing your sensitive personal financial details.
9 Best Budget Apps
Now that I have covered a few of the pros and cons to using apps to keep track of money, let's get to the list of best personal finance apps!
#1 Mint Budget App
Regularly touted as the best money budget app, Mint is well-liked for its comprehensive features – including budgeting tools and the expense tracker. The Mint budget and expense manager app is designed to be linked to credit cards and bank accounts so that it can categorize transactions, providing an overview of spending habits.
The Mint App for budgeting also offers excellent money tools – like bill reminders, customizable budget alerts, your credit score information and your net worth (which is an important Money Number to know!).
The basic version of the Mint spending tracker app is offered for free (with ads), but it can be upgraded to the premium paid version. Get it at the Apple Store or Google Play!
#2 YNAB Budget Planner App
Perhaps the best budget app for personal finance, YNAB – or You Need a Budget – is specifically designed to help users create practical budgets. The YNAB budget app encourages you to make use of every dollar you earn. To do so, you divide your income into categories – like mortgage (or rent), groceries, entertainment and savings.
Additionally, there are other useful features that motivate users to build an Emergency Fund to be used for unexpected expenses, as well as tools to keep track of long-term savings and Sinking Funds progress.
YNAB offers a free trial period, but then charges a monthly fee. Download it on Apple Store or Google Play!
#3 Buddy Budget, Save, Spending Tracker App
Buddy is an excellent app that helps set up a budget tailored specifically to your needs. The completely customizable budget Buddy App has great features – like the ability to share with a spouse or roommate – and it can be color coded so that it is easier to review.
While users can connect their banking details – there is also an option to enter transactions manually, which makes it a much more hands-on app. In fact, utilizing the manual entry tool (rather than allowing the app to pull the data automatically) is one of the most loved features of Buddy.
There is a monthly fee for Buddy budget tracking app, but a discount is offered when users pay for a year in advance. Get it at the Apple Store!
#4 Pocket Guard Simple Budget App
Offering a simplified process of tracking what money is spent where, PocketGuard syncs all of your accounts in one place. The clean and organized user interface provides a snapshot of available funds after taking into account bills and savings goals so that you know exactly how much money you have for discretionary spending (or saving!).
The free version of PocketGuard app is simple and easy to use.
That said, upgrading to PocketGuard Plus opens advanced budget features, like a debt payoff plan, enhanced reports and multiple budgets. Grab it at the Apple Store or Google Play!
#5 Every Dollar Expense Tracker App
Created by Dave Ramsey, author of Total Money Makeover (one of the best books for budgeting!), the EveryDollar app is regularly rated as the best personal finance app for budgeting beginners.
The no-frills, free budget app focuses on Dave Ramsey's basic principles of budgeting and his Baby Steps to utilizing a zero-based budget. Users can create multiple budgets and sync data across all devices (so you can set it up on your computer but keep an eye on your money from your phone). That said, all transactions are entered manually.
The paid-for, premium version is quite a bit more robust with options to connect bank accounts and track money with goal setting features – plus heaps of other benefits. Download it at the Apple Store or Google Play!
#6 Empower Money Manager App
Empower is the best money management app for users who want to track their day-to-day expenses, as well as focus on investments and retirement aspects of personal finances.
Users can link bank accounts, credit cards, IRAs, 401Ks, mortgages and loans to get a seamless look into their overall wealth and net worth. While Empower (formerly Personal Capital) lacks some of the comprehensive budgeting features offered in other apps, the detailed analytics about asset allocation and money performance are top perks.
The app is free, however, users who opt for investment management services will need to pay a fee. Get it on Apple Store as well as Google Play!
#7 Acorns Money Tracker App
Designed to help users build wealth – rather than make budgets – Acorns is the best money app to help individuals save money through diversified investment portfolios.
The most-loved feature of Acorns is the signature 'Round Up' that automatically invests users' spare change from purchases on linked credit cards. Users can also dedicate income in recurring lump sums (whether it be $5 a week or $50 a paycheck) into their investments through the app.
While the app itself is free, there is a small monthly account management fee. Download it at the Apple Store or Google Play!
#8 Oportun Budget Tracker App
The Oportun App is similar to Acorn, in that it automates your savings and investments, but it does it with a sharp focus on your budget.
Users need to link their banking accounts for the app to work – as well as set goals for savings and debt repayment. Then, Oportun automatically accesses your balance and withdraws money for savings or retirement accounts.
There is a free 6 month trial period for Oportun – and then a monthly fee is charged for the service. Get it on Apple or Google Play!
#9 Wally Personal Budget App
A fascinating and free budget tracking app, Wally has a full arsenal of expense tracking features. Users can link accounts to track spending – plus there are reminders for upcoming bills, settings to manage budgets and personalization tools for better accounting.
What makes Wally unique, however, is the WallyGPT feature that offers AI guidance on your personal finances. Download it on the Apple Store or on Google Play!
If you find that using budgeting apps is not hands on enough for you, know that you are not alone! There are many different ways to organize a budget – and if you prefer to use pencil and paper, then you can get started right now with my Free Budget Template. 
I have also created a complete, printable budget bundle that includes 8 budget worksheets that you can print and use straight away. From setting goals to tracking bills, each worksheet is designed to help propel you toward your money goals and living a frugal life!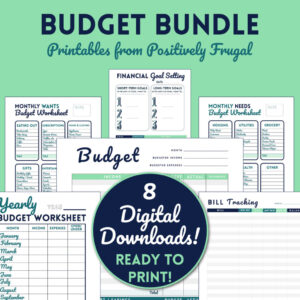 Interested in more of my Budget and Goal Tips? I round them all up on the Budget blog page!