Some of the links on this site are Affiliate Links and if you use them to make a purchase, we may earn a commission. For more information, read our Disclosure Policy.
Frugal grocery shopping can help save tons of money – but are online grocery delivery services a frugal way to shop or a luxury to be avoided?
As someone who is frugal with money, I initially scoffed at the idea of having groceries delivered. Paying a convenience charge for someone to deliver food to my door can hardly be considered frugal shopping.
However, out of necessity – when we didn't have car and the closest grocery store was not withing walking distance – we had to come up with a strategy for buying food. While we considered a few different options, I began to wonder, "Is grocery delivery worth it?".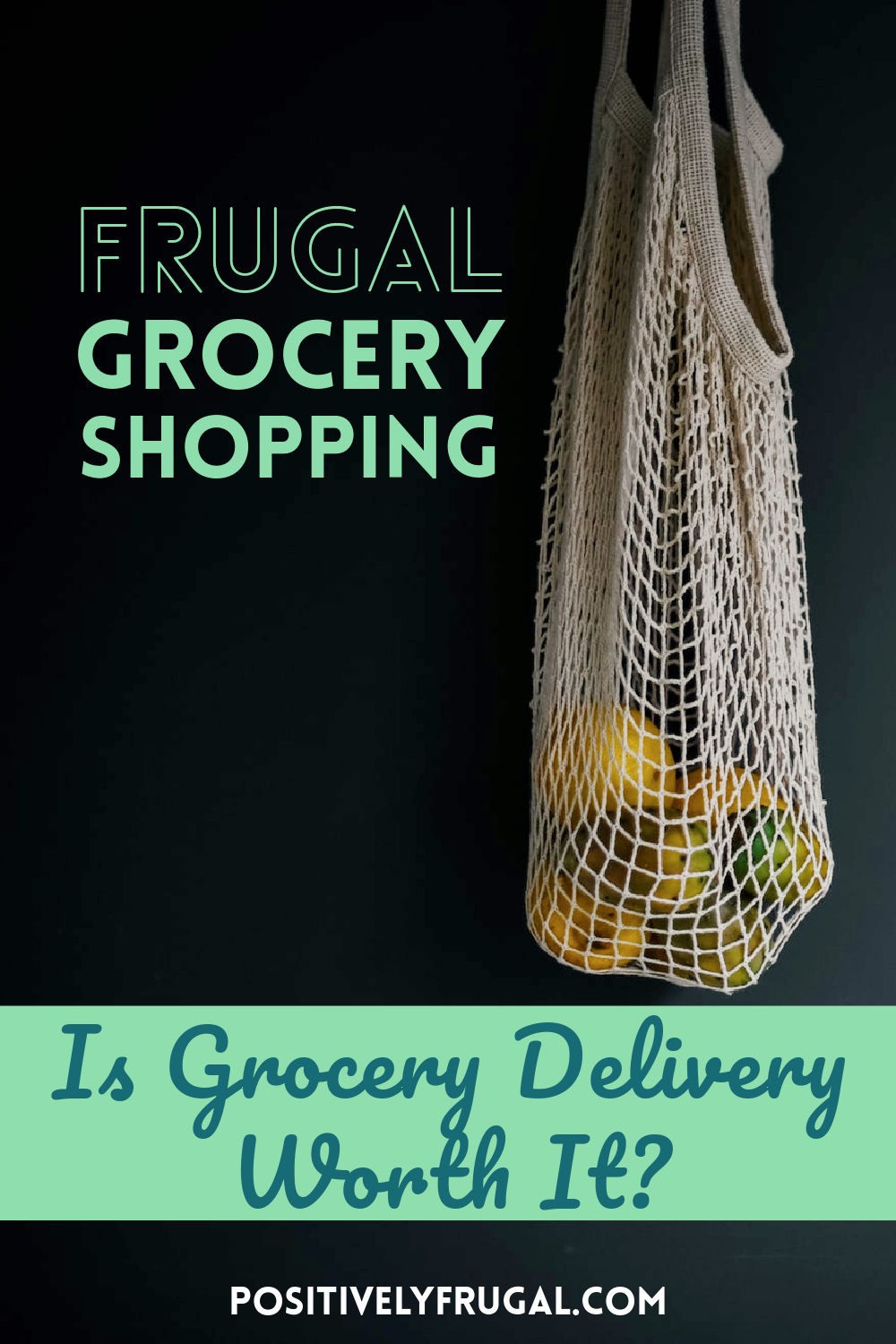 Frugal Grocery Shopping
In my opinion, being frugal with food is one of the best and easiest ways to save money. In fact, I'm kind of a stickler when it comes to grocery store shopping – and I have found steadfast ways to buy my groceries on a budget.
I always have a meal plan, I never go into the store without being armed with a grocery list and I even use a calculator so I can price compare on the spot.
With all of the effort and systems I have put into place for food shopping, I seriously had to consider how buying groceries online could be a frugal money saver.
Pro Tip: You can find all of my frugal tips for saving money at the grocery store on my Frugal Food page!
Is Grocery Delivery Worth It?
In order to determine if online grocery delivery is worth the cost, I had to crunch the numbers. There is a cost – actual fees – that are associated with online grocery shopping…but those numbers alone don't tell the whole story.
There are pros and cons of getting groceries delivered that need to be considered and added into the equation as well.
When all considerations are calculated, only then can you decide if grocery delivery is worth it to you.
Using my first-hand experience with grocery delivery stores, I complied a list of the advantages and disadvantages of online grocery shopping.
Grocery Delivery FAQs
Before we jump into the list of pros and cons of online grocery shopping, let's cover a few frequently asked questions about the process of using a grocery delivery service.
How Does Grocery Delivery Work?
How grocery delivery works is pretty simple. You choose a service or store online, select the items you want to buy, and choose a delivery date and time.
Most services offer online shopping via desktop or mobile apps.
On the date of your delivery, your shopper will go to the grocery store, get the items you selected from the shelves, complete the checkout process using your credit card and then they bring the groceries to your door.
How Much is Grocery Delivery?
Grocery delivery prices vary by service and location. Therefore, you will likely have to do some calculations to find out exactly how much more grocery delivery is for your specific needs in your specific area.
Generally speaking, it will cost about $5-15 USD for groceries to be delivered to your house. Some services offer a membership fee, while others charge per order.
Membership fees are charged monthly or annually – and there is usually a discount for paying for the entire year upfront. Annual grocery delivery memberships are the most cost-effective way to buy groceries online (but only if you use it, of course!).
How Can I Get Free Grocery Delivery?
There are some online grocery deliveries services that are discounted or free.
For example, some grocery delivery companies will discount fees the more that you spend – or with a minimum purchase amount, they may eliminate the delivery charge altogether. Keep in mind the thresholds when shopping online.
Furthermore, almost all online grocery delivery service companies run specials for first-time users. I have even found a digital coupon from my preferred grocery store that essentially made the delivery free.
Some grocery stores also offer free online shopping with store pickup (often with a minimum purchase required). You can still reap the benefits on online shopping for groceries, but rather than having it delivered to your door, you swing by the store and have it delivered to your car.
My best advice for finding free or cheap grocery delivery is to do your own research. Before you start grocery delivery service, it's a good idea to shop around and price compare just as you would for shopping at the grocery store.
Grocery Delivery: How Much To Tip?
While not necessarily required, most companies do recommend that you tip your grocery delivery person. How much you tip is completely up to you. Some people give a flat tip, while others opt to leave a percentage.
As a guideline, 10% is an average tip for delivered groceries – but if you have a particularly difficult order or you request same day grocery delivery, you may consider tipping more. When calculating the cost of grocery delivery, be sure to include the amount of your tip.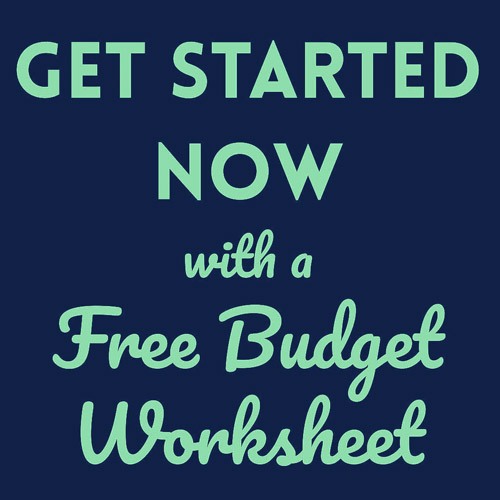 How Do I Find Grocery Delivery Options?
In 2020, grocery delivery options blossomed. There are now dozens of companies that will deliver groceries direct to your door.
If you have a specific store where you like to shop, check their online site for information about their delivery program. Some grocery stores run their own service, but most local grocery stores contract through one of the bigger delivery companies.
What are the Best Grocery Delivery Companies?
Choosing the best grocery delivery service will depend on your specific needs – and it might come down to what is available in your area. To help get you started, I'm highlighting a few of the best frugal shopping sites that you might want to check out.
Walmart Grocery Delivery
Walmart offers several ways to buy groceries online. Shoppers can pay per delivery or sign up for a Walmart+ membership. The monthly membership costs $12.95, but the price is discounted for users who opt for an annual membership, which is $98 for the year.
Additionally, Walmart offers a free 15-day trial for first-time users. Utilizing the free trial is a perfect way to find out if online grocery delivery is worth it for you. Learn more about Walmart Delivery.
Instacart Deliveries
Instacart is the biggest online grocery shopping service. With Instacart, you are not just limited to one grocery store – in fact, you can use your Instacart account to have products delivered from all kinds of stores.
With Instacart, you get real-time updates when your personal shopper is shopping at the store – and you can get orders the same day.
The Instacart grocery delivery cost starts at $3.99, but they offer an Instacart Express Membership package, too.
Shipt
Like Instacart, Shipt is a large online grocery delivery service that can be used to shop at a multitude of stores. In fact, Shipt works with certain stores, like Meijer, so that you can use your grocer's loyalty card as well.
Additionally, Shipt has deals through their site offering specialty promotional items and coupons.
The annual membership fee for Shipt is $99 and the one-time delivery fees are based on which store you choose to shop at.
Amazon Fresh
If you are trying to be frugal and you already have an Amazon Prime account, then Amazon Fresh might be the most economical service for you.
Amazon Fresh delivery service is already included in the price of your Prime membership (as long as you meet the minimum dollar amount of $35).
Furthermore, Amazon Fresh offers amazing prices on most produce and pantry goods.
Sign up for a FREE 30-Day Amazon Prime Trial – which includes shopping on Amazon Fresh!
How is Grocery Delivery different from Meal Delivery Services?
There are two kinds of food shopping delivered to your door: Delivered groceries and Delivered Meal Kits. How they differ is that grocery deliveries are the specific and individual products that you select from a grocery store to be sent to you.
On the other hand, meal service deliveries are companies that organize food deliveries based on your chosen meal plan. Meal delivery companies tend to be quite a bit more expensive than online grocery shopping.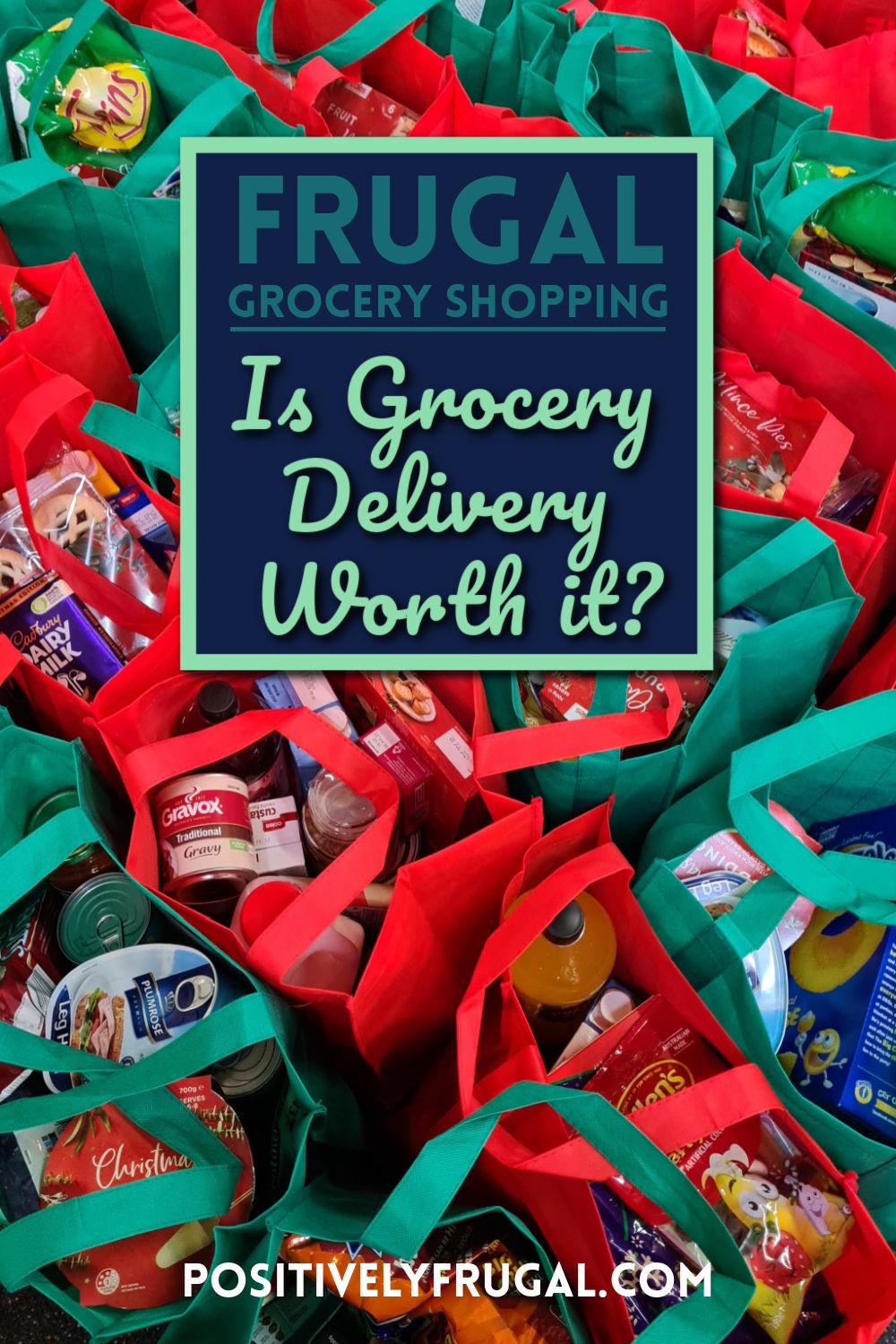 PROS AND CONS OF GROCERY DELIVERY ONLINE
Now that you know how it works and understand the basic fees involved in grocery deliveries, it's time to dive into my comprehensive list of the pros and cons of grocery delivery service. My points might help you decide if online shopping is one of the frugal luxuries you can afford or if you need to stick to frugal food shopping in the store.
Pros of Home Grocery Delivery
Without a doubt, online grocery deliveries can be frugal ways to save money! I'm highlighting the top ways how getting groceries delivered to your door with frugal online shopping will help you realize savings.
Online Grocery Shopping Reduces Temptation
Personally, for me, one of the toughest things about in-store frugal shopping is getting swayed to buy products that I don't need (and are not on my list!). However, by buying online with grocery delivery services, my temptation for pesky impulse buys is removed.
When I grocery shop online, I am able to stay hyper-focused and only buy the items that are on my frugal groceries list. I don't need to walk past the snack aisle. There are no bright orange sale signs begging for my attention.
Instead, I find the exact products I'm looking for – without distractions – by typing each product into the search bar, which ensures I only buy exactly what I need.
Getting Groceries Delivered Saves Gasoline
Anyone with a frugal budget knows that the cost of gasoline is something that should be factored into the bottom line. When you buy groceries online to be delivered, however, you don't use gasoline.
To really understand how much you will save by shopping online for groceries, I recommend calculating the cost of gas used driving to and from the store. Having an actual dollar figure will help you determine if the amount you save on gas is worth the fees you pay for delivery.
If you don't have a car, calculate how much you would spend on public transport or Uber/Lyft to get your groceries.
Shopping for Groceries Online Puts Your Cupboard within Reach
We've all experienced it, that dreaded moment when we are at the store and we can't remember if we have butter…or coffee…or what the expiration date is on the milk in the fridge. To buy or not to buy becomes a quandary we have to settle in the dairy aisle.
However, when you opt for online shopping for your groceries, you have full access to your cupboards and refrigerator.
Being a visual person, I actually stand in my kitchen when I order groceries online – that way, I can quickly double check what I already have and get any items I may have overlooked while making my list.
You Know Exactly How Much You Will Pay
One of the benefits of online grocery orders for frugal shoppers is that the price of each item is clearly displayed. There is no wondering if the item you chose is really on sale and you won't need to stare over the cashier's shoulder (or at the screen during self-checkout) to make sure prices ring up correctly (especially as Food Prices Increase).
Furthermore, won't need to worry about exceeding your grocery budget – because you can see exactly how much you are spending as you shop and place your order.
As a side note, you can opt to edit your cart at any time before you complete you order (and up to the point of your shopper shopping in the store with some services!). If you see that you are close to going over your allotted budget, you can remove or replace any item in your cart as you shop for groceries online.
Online Grocery Delivery Saves Time and Stress
Hands down, one of the biggest advantages of grocery delivery is the convenience. Just as important as it is to consider your grocery bill, you need to think about your time, too.
Your time and health are commodities. The amount of time you spend and stress you endure at the grocery store need to be serious considerations when deciding if online grocery delivery is worth it to you.
Organization can help reduce grocery shopping stress – whether shopping in store or online. My Meal Planning Printables are the perfect way to get organized. The bundle includes a Meal Planning Calendar, a Grocery List and a Recipe Card so that you can save and organize your favorite meals. Find my other helpful printables on the Shop page!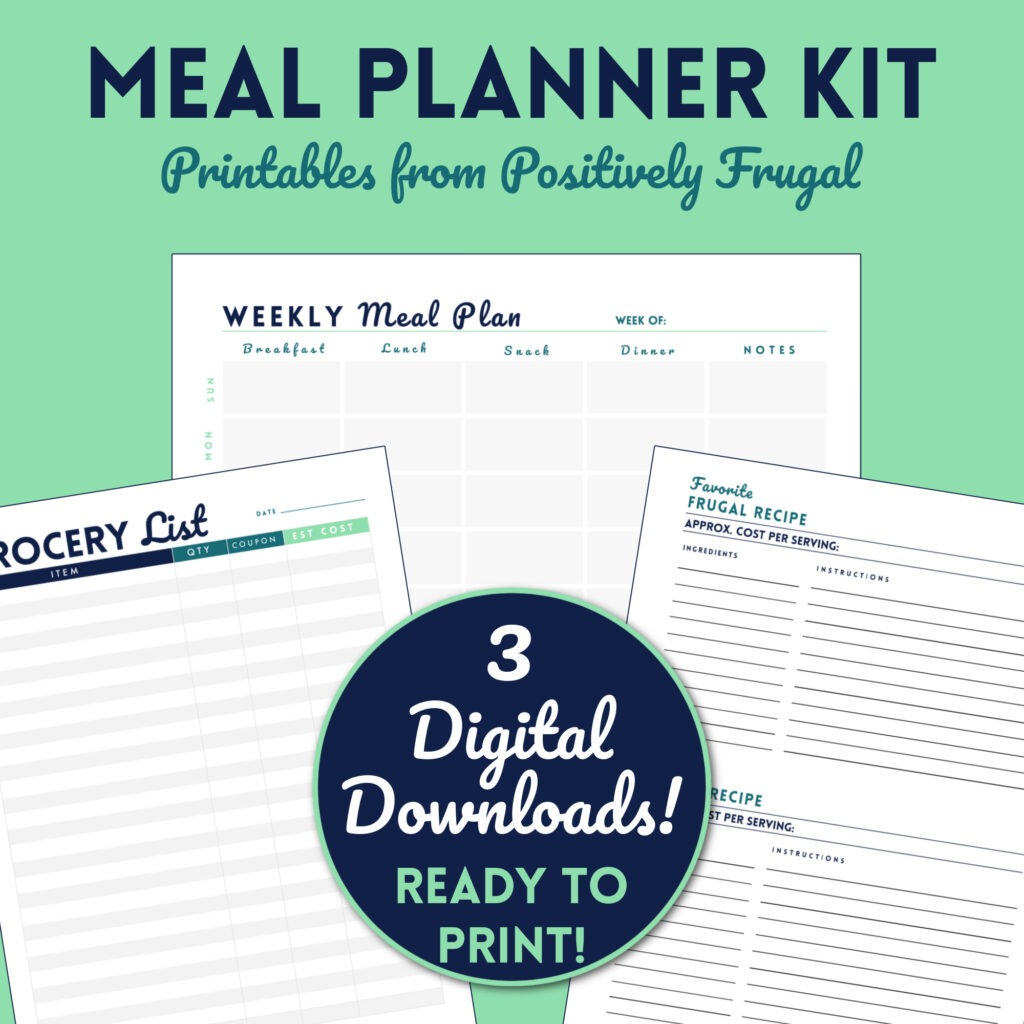 Cons of Online Grocery Delivery
By now, you might be convinced that you should get groceries delivered…but there are a few disadvantages of online grocery shopping, too.
Grocery Delivery Cost
We already discussed delivery costs, but the fees are one of the most obvious reasons why grocery delivery services don't mesh with frugal budgeting.
The cost of the delivery service, plus the tip, can really add up.
Someone Else Picks Your Produce
I'm picky about my produce. When I'm frugal grocery shopping in the store, I spend a lot of time in the produce section making sure that I'm selecting the freshest and best-looking fruits and vegetables.
Additionally, if pineapple, for example, is too ripe or not ripe enough, I might skip it in favor of a different fruit.
When you opt for online food delivery, someone else is making those decisions…and they are not always the same decisions you would make.
Substitutions Can Wreck Your Frugal Meal Plan
I create my shopping list based on my weekly meal planning. One of the biggest problems with online grocery shopping that I have run into is products not being available – which can throw off my weekly meal plan.
If you use a service that allows the shopper to contact you while shopping, you can communicate what product you would like them to substitute.
However, not all services offer this feature…and even if they do, it can be frustrating and time-consuming to communicate substitutions. Besides, some substitutions can be pricey.
Online Prices May Cost More
This is one of the cons to online grocery delivery that only savvy shoppers might catch – but some grocery delivery services charge more online for specific products than what you would pay in the store.
For example, a box of crackers in the store might cost $2.49, but online they cost $2.79. The 30-cent difference may seem insignificant on a single item, but it can really add up on your total bill. If you have a strict food budget for grocery spending, these small increases on individual products could be a deal breaker.
This is a somewhat hidden cost in online grocery delivery and it can be difficult to calculate (as not all products include a price hike). My best advice is to price match (either from an old in-store receipt or by using a current grocery store flyer) to find out what the price differences will be.
Difficult to Price Compare Products
One of my top frugal shopping tips is to accurately price compare products by figuring out the price per unit. However, when shopping online, not all product listings provide the full product details.
Without being able to compare products side-by-side with complete product description, you won't be able to tell which product offers the best deal.
You May Not See Better-Priced Sale Items
The easiest and fastest way to shop online is to type in the specific name of the product you are looking for. However, there is a disadvantage to shopping this way: You might miss sales on similar products.
For example, if I'm buying crackers and I type in the exact type of cracker I'm looking for, the results will only show me what I'm looking for. I will not see a similar box of crackers that are on sale at a better price.
Likewise, if you are someone who likes to stock up your pantry when certain items are on sale, you could potentially miss out on the sales simply because that item is not on your grocery list this week. However, if you were in the store, you would see it displayed.
You Will Miss Out on Manager's Specials
One of my favorite frugal food hacks is to buy Manager's Specials – steeply discounted items that are about to expire, have been discontinued or have damaged packaging.
However, your personal shopper will not likely select Manager's Specials when shopping for you.
Cannot Use Paper Coupons
One of the tried-and-true ways of how to be frugal with groceries is to use coupons. Although I'm not a huge coupon clipper, I do use paper coupons for certain products.
When shopping online, however, paper coupons are not accepted. Read all my advice on When To Use Coupons.
Sale Items May Expire Prior to Checkout
One of the frustrating things about shopping for groceries online is that if you start filling your online cart, but don't check out for a few more days, some of the sales may expire by the time you complete your order.
Of course, the best way to eliminate this from happening is to check your order before completing it, but it can still be a hassle – and it's annoying to miss out on sales!
Ready to Really Get Frugal with Food? Join my $5 Food Challenge!

GROCERY DELIVERY HACKS
I have a few final tips and hacks that might help you determine if grocery store delivery is worth it to you.
Grocery Delivery Comparison
When posing the question, "Is getting groceries delivered worth it?," the answer may very well come down to which service you use.
Before choosing a delivery service, take some time to really compare the different options to get your groceries delivered. Read the FAQs to make sure you are getting what you expect.
Seek Out Discounts on Grocery Delivery
When sorting out your different options for delivery of groceries, search for discounts – like coupons, free trials and introductory prices – that might help make grocery delivery more affordable.
By taking advantage of low- or no-fee beginner services, you can determine if you will save money on groceries online in the long run…with an initial cost.
In my opinion, the 30-Day Free Amazon Prime Trial is one of the best ways to try out a delivery service!
Make Up the Fees in Your Frugal Grocery Budget
Since the key to a frugal life is all about living on a budget, consider how you could recuperate the fees for delivery by adjusting your frugal food shopping list. Look for items that are not necessary and that you could do without and eliminate them from your list.
If you are new to budgeting, use my tips for How To Make a Budget. Plus, subscribe to my blog and get a FREE Budget Worksheet!

Interested in more of my Frugal Food Tips? I round them all up (including my favorite Frugal Snacks) on my Frugal Food blog page!
We Want To Know: Is grocery delivery worth it to you? How do you stay frugal with online grocery shopping? Share your tips in the comments below!