Some of the links on this site are Affiliate Links and if you use them to make a purchase, we may earn a commission. For more information, read our Disclosure Policy.
Have you checked the price of groceries lately? There is no doubt that food prices are rising, but there is a way to fight the inflation! With my top tips, you can save money and stay on budget, even when food prices go up.
Why Are Food Prices Going Up?
If you are wondering, Why are grocery prices going up?, you are not alone. It would be easy to simply point to the pandemic for starting the problem, but what is the real cause of the price of food going up?
A few of the top reasons behind grocery store prices going up are food shortages, supply chain production bottlenecks, transportation logistics and labor issues. All of these problems lead to increased food prices.
How High are Grocery Prices Going Up?
If you have not personally noticed inflation in food prices, you have almost certainly heard news reports about the price of groceries going up – and some reports of the rising food prices are downright dire.
According to many of these stories, grocery prices have gone up by 15% since 2019. Yet, there are rumblings of an expected 30% increase in groceries' prices, which is a frightening prospect.
To put that into perspective, if you typically pay $100 a week for groceries, buying the same food will now cost $130. Over the period of a month, you would need to pay $120 more just to buy the same grocery store food.
For now, these are all just guesses. No one knows exactly how high inflation will be for the overall prices of groceries – you would need a crystal ball for that and a magic wand to fix it. While there will be predictions (many, many, predictions), you need to consider some additional factors – like where you live, where you shop and the types of food that you buy.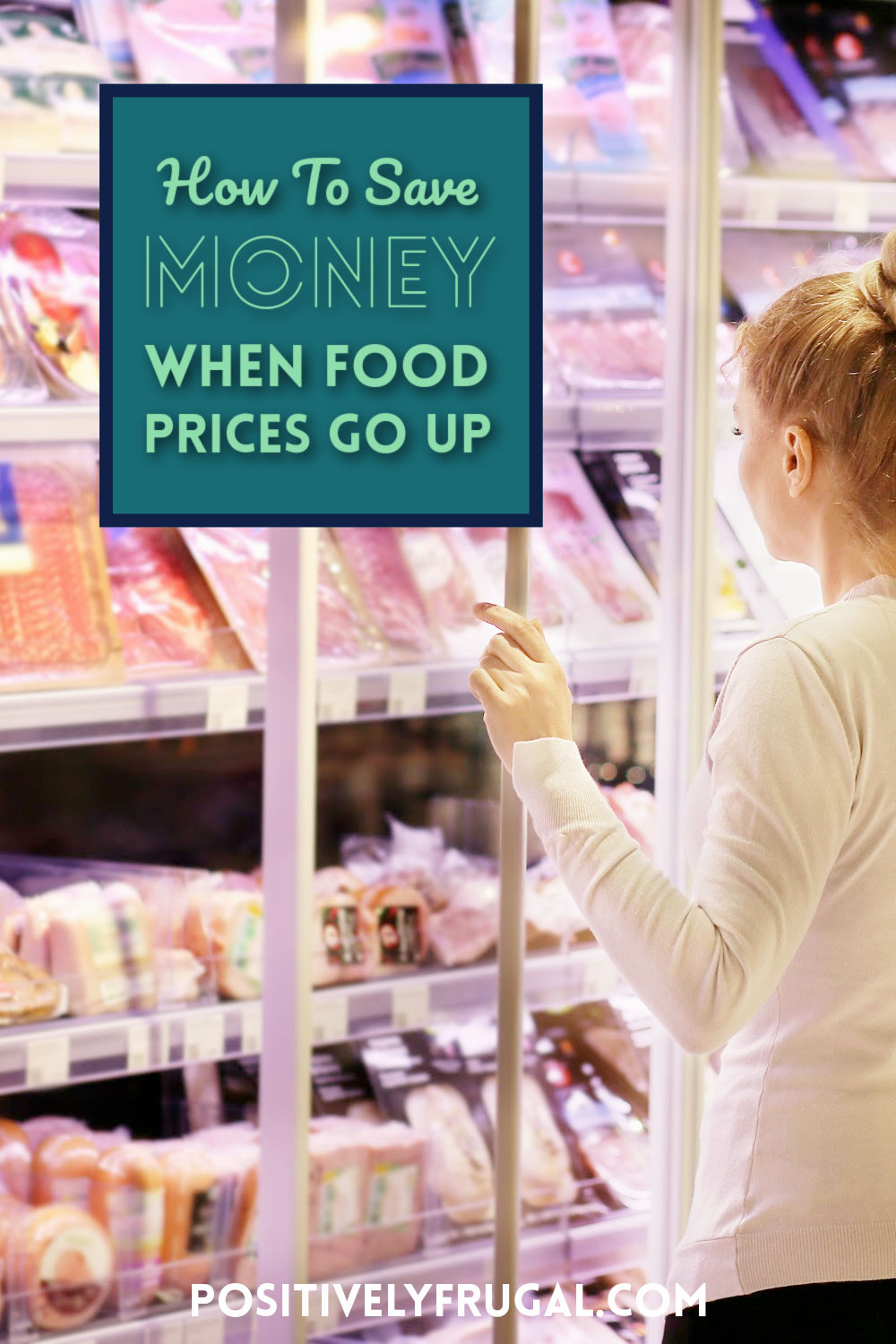 What Food Prices are Going Up?
Rising grocery prices are not limited to just one category, brand or item. Generally speaking, however, the biggest inflation of food is the cost of meat – including beef, pork, fish, chicken and turkey.
That said, prices for food staples are also increasing year-over-year. Shoppers have likely noticed the rising cost of food for dairy, produce, grains and oils.
I have tracked a few specific items that are regularly on my budget grocery list in the United States and can clearly see the food prices going up.
For example, I have noted an increase in canned food prices at the grocery store where I normally do my shopping. In early 2020, beans cost 55 cents a can. The same can of beans now costs 69 cents. While not a large amount of actual money, the difference is a 25% increase.
A 3-pound bag of apples used to cost $3.49, it now costs $4.49…equaling a 28% increase just in the last year.
There has also been an increase in the price of a dozen eggs. The cost jumped from $1.09 to $1.59 within a 12-month period – which is a 45% food price increase.
When Will Food Prices Go Down?
Many people are wondering, Will food prices go down in 2023? Well, the answer is that no one knows exactly if or when food prices will go down. However, many experts do believe that there will be a leveling off of food prices throughout 2023.
Budgeting for the Higher Price of Groceries
The inflation on food over the past year can have a big impact on your budget. While rising grocery store food prices should be concerning to everyone, it is especially so if you are already having a tough time making ends meet or have set big financial goals for yourself, like saving up to buy a house or becoming debt free.
Hopefully, you already have a monthly budget (and if you don't, use my tips for How To Make a Budget to get started today!). With the cost of food going up, you will need to either adjust your allocated budget amounts or adjust your spending on food…or both.
With a clearly defined budget, you can make necessary adjustments and more easily factor in the rising costs of groceries. Using my tips for fighting food inflation combined with modifying your current budget should help to keep your overall monthly costs in check and money goals on track.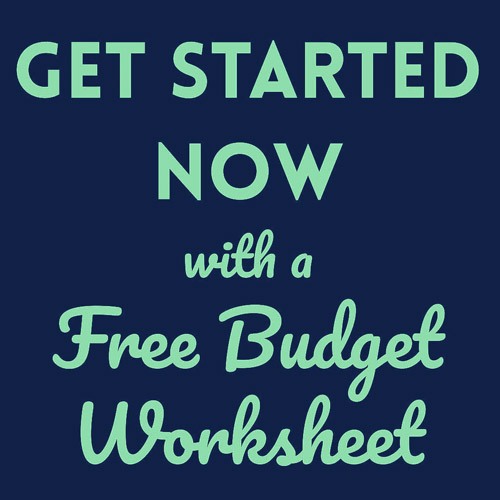 How To Stay On Budget as Food Prices Go Up
There is no question that groceries are going up in price…even if they are just creeping up by a small percent and seemingly insignificant increments. Before you sound the alarms, take a deep breath. Despite the cost of groceries going up, you can save money…and my tips will show you how!
#1 Switch to Generic Brands
Even with grocery prices going up, you can realize a significant savings by switching from name brand products to the generic store brand items. Generic products often offer the lowest food prices, which can save you bundles at the store.
Leery of generic goods? Don't fret! Grocery store brand products have come a long way in recent years. In fact, I prefer the taste of many store brand products to their expensive name brand counterparts. Plus, as grocery prices keep going up, the savings are simply too good to pass by!
Buying generic brands is one of my top tips for staying on budget with food – find more tips in my article Groceries on a Budget!
#2 Change Where You Shop
One of the best ways to find low food prices is to change where you do your grocery shopping. Although not everyone will have this option – and you will need to factor in the extra cost of gasoline to get to cheaper stores – doing your grocery shopping at a cheaper store can equal big savings.
For example, Aldi food prices are notoriously low. While they are not immune to food price increases, the prices at Aldi are likely a lot less than what you pay at most traditional grocery stores. Doing your grocery shopping at a discount store, like Walmart, can also result in a lower grocery bill.
Furthermore, shopping at a warehouse club, like Costco, can offer savings on groceries (but it can also be one of the frugal habits that don't pay off…so be sure to do the math!)
#3 Frugal Meal Plan
With food prices up, making a good meal plan can help keep your costs down. Planning what you will eat before going to the grocery store keeps you focused on what you need to buy and results in less food waste.
The key is to make a meal plan that includes healthy, yet affordable, meals. The best meals for your weekly plan are tasty frugal breakfasts, delicious-but-cheap lunches and filling budget dinners. To stave off mid-day hunger – and keep from running to the over-priced vending machine or convenience store – you will want include a few frugal snacks in your meal plan, too.
When you find frugal meals that you love, you may not even notice the grocery store food cost increase!
#4 Use the Weekly Ad Flyer to Plan Your Meals
Regardless of inflation at the grocery store, there are still food sales – and the best deals are advertised in your store's weekly flyer.
To save money at the grocery store, use the weekly advertisement flyer to help plan your meals.
If pork loin is the big sale item this week, incorporate it into your meal plan. If brussels sprouts are on a flash sale at rock bottom prices, use it as your green vegetable for the week.
The one caveat to this tip is to ensure you are not buying more expensive items overall. For example, if filet mignon is on sale and priced at half off, it is still likely more expensive than the chicken that is not on sale.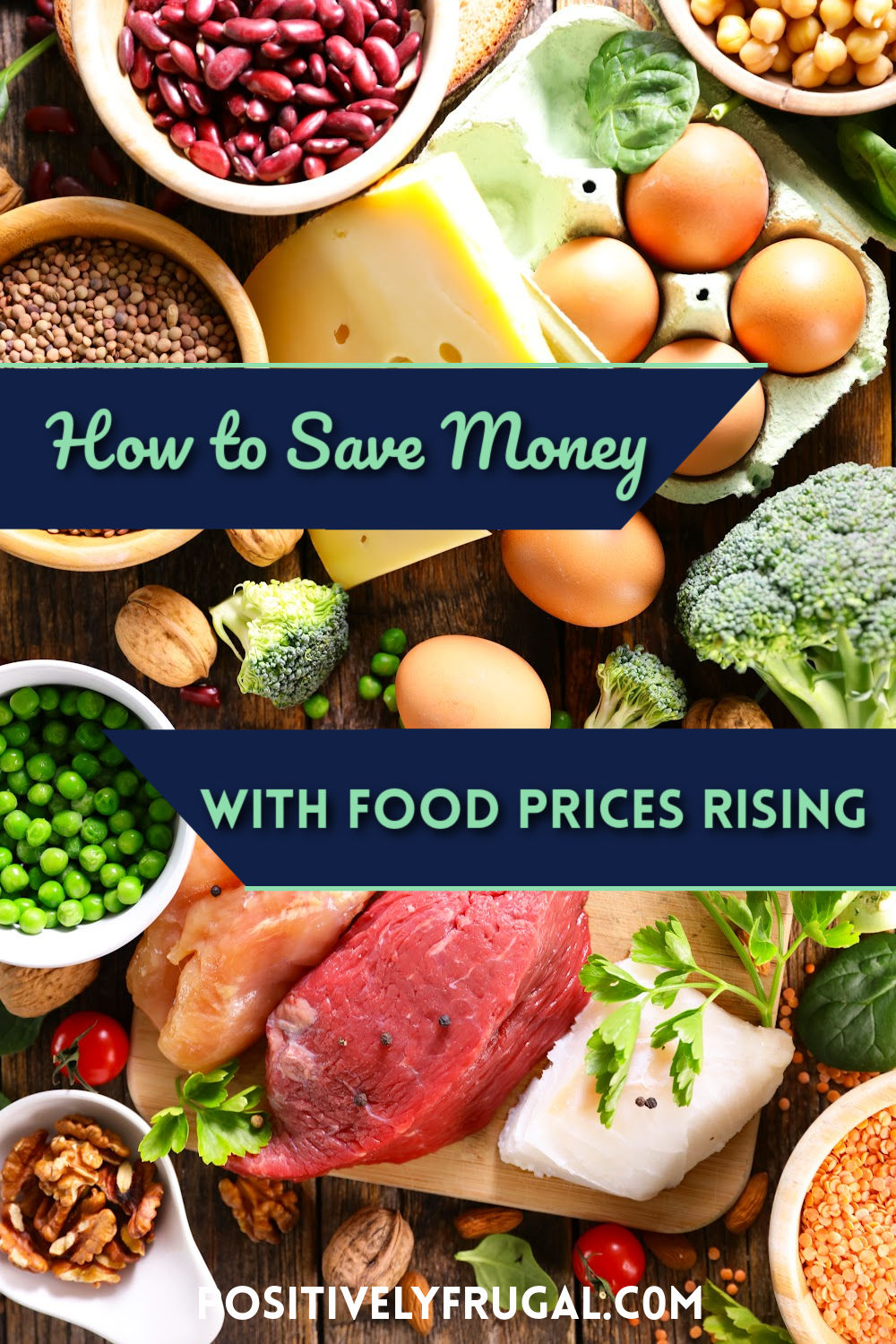 #5 Check Prices Online when Planning Meals
The internet is a wonderful thing…especially when it comes to finding the best prices on food.
Almost all grocers (Aldi being an exception) allow you to search for food prices online – which can be invaluable when making your meal plan.
While the weekly flyer is helpful in shedding light on sale items, you can really keep your food budget under control when you price out your meal plan on your grocer's website.
Once you make your meal plan (or as you are making it), consult your grocery store website for the actual costs of the items you need to buy. If you find that your meal plan exceeds your budget, find alternatives and recalculate.
Bonus Tip: Many people swear by online grocery shopping (delivery or curbside pickup) as a money-saving measure on food – see if it will be a frugal grocery shopping method for you!
#6 Make Your List
Making a grocery list – and sticking to it – is a tried-and-true way to save big bucks at the grocery store. I never walk into the store without my list in hand.
I would challenge you, however, to take an extra step while making your list and actually write down the expected cost next to each item. This is really easy if you are already price checking your list online.
When you shop with your list that indicates how much each item will cost, you can more quickly find the correct product and better see ways you can swap out items, if necessary.
Pro Tip: A printable grocery list is one of the items included in my Meal Planner Digital Download Bundle!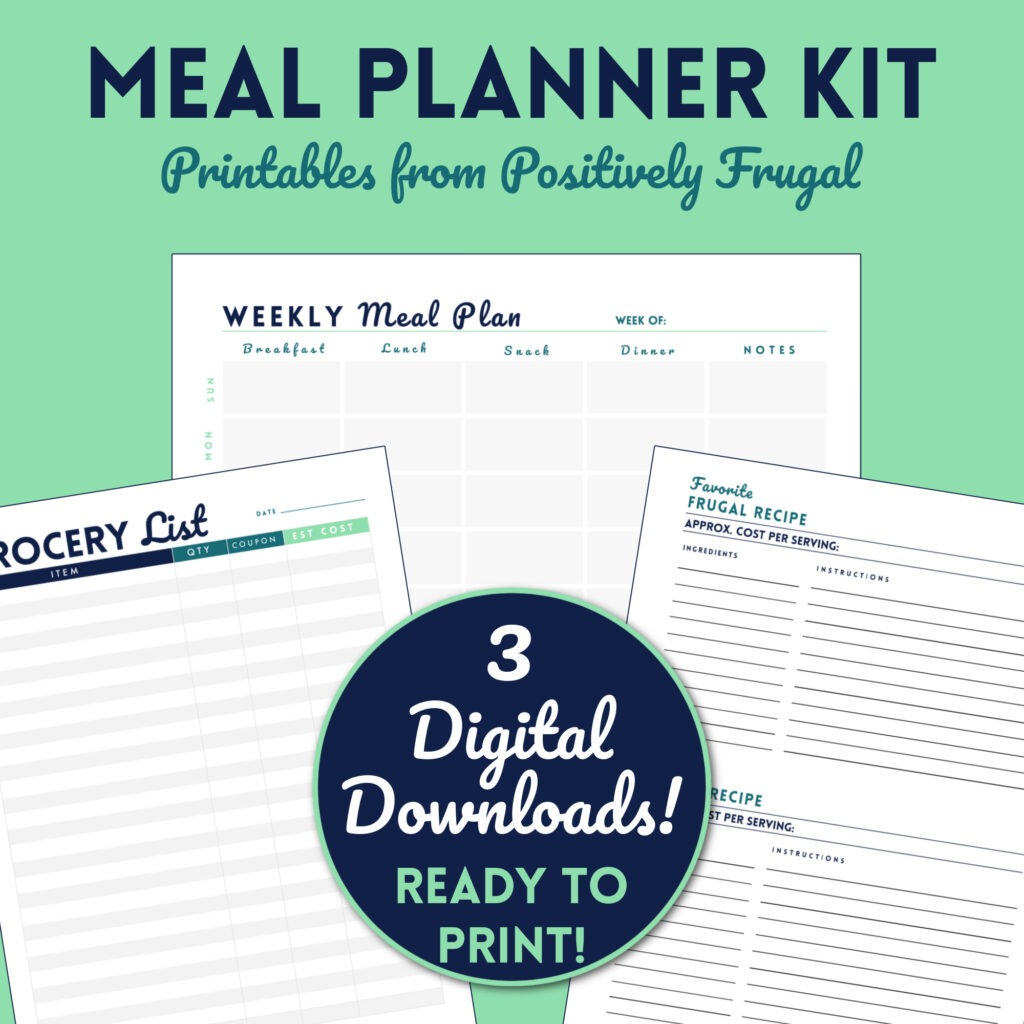 #7 Plan to Eat Less Meat
We have already mentioned that meat has incurred a significant food price hike at the grocery store…and it was already one of the most expensive items.
Buying less meat products – or eliminating them altogether – is one way to easily battle the grocery inflation rate. To be honest, even before we started seeing a rise in grocery prices, I recommended reducing the amount of meat you buy as one of my frugal cooking tips.
Rather than buying meat that is high in price, opt for less expense protein alternatives, like beans and eggs.
#8 Clip Coupons
Another way to combat grocery store inflation is the old-fashioned way: Coupons. Thankfully, coupons have come a long way from newspaper inserts – you can now find them online, too!
The best places to look for coupons to lower food prices is on your grocery store website. You usually need a loyalty account to access them, but these are huge money savers. You can also check for coupons on the websites of specific products you use.
Additionally, there are now coupon apps – like Ibotta – that might help you save money.
#9 Download the Grocery Store App
If your grocery store has an app, I highly recommend downloading it. The app makes it easy to find items with low food prices, download digital coupons and seek out weekly sales.
Additionally, when shopping, you can easily identify the products on your list – some apps even show which aisle you will find the products. Plus, you can download coupons on the spot (in case you were not able to do it in advance) so you will never miss out on extra savings!
#10 Use a Cash Back Credit Card to Buy Groceries
Regardless of the factors affecting food prices, one of the changes you can make to reduce the strain on your budget is to use a cash back credit card to pay for your groceries.
American Express, Discover and Citi all offer rewards cards with no annual fees. In addition to the standard return rate, some cards – like Discover – have promotional months when grocery purchases receive additional reward points (and those are the times you should stock up on your favorite bulk products!).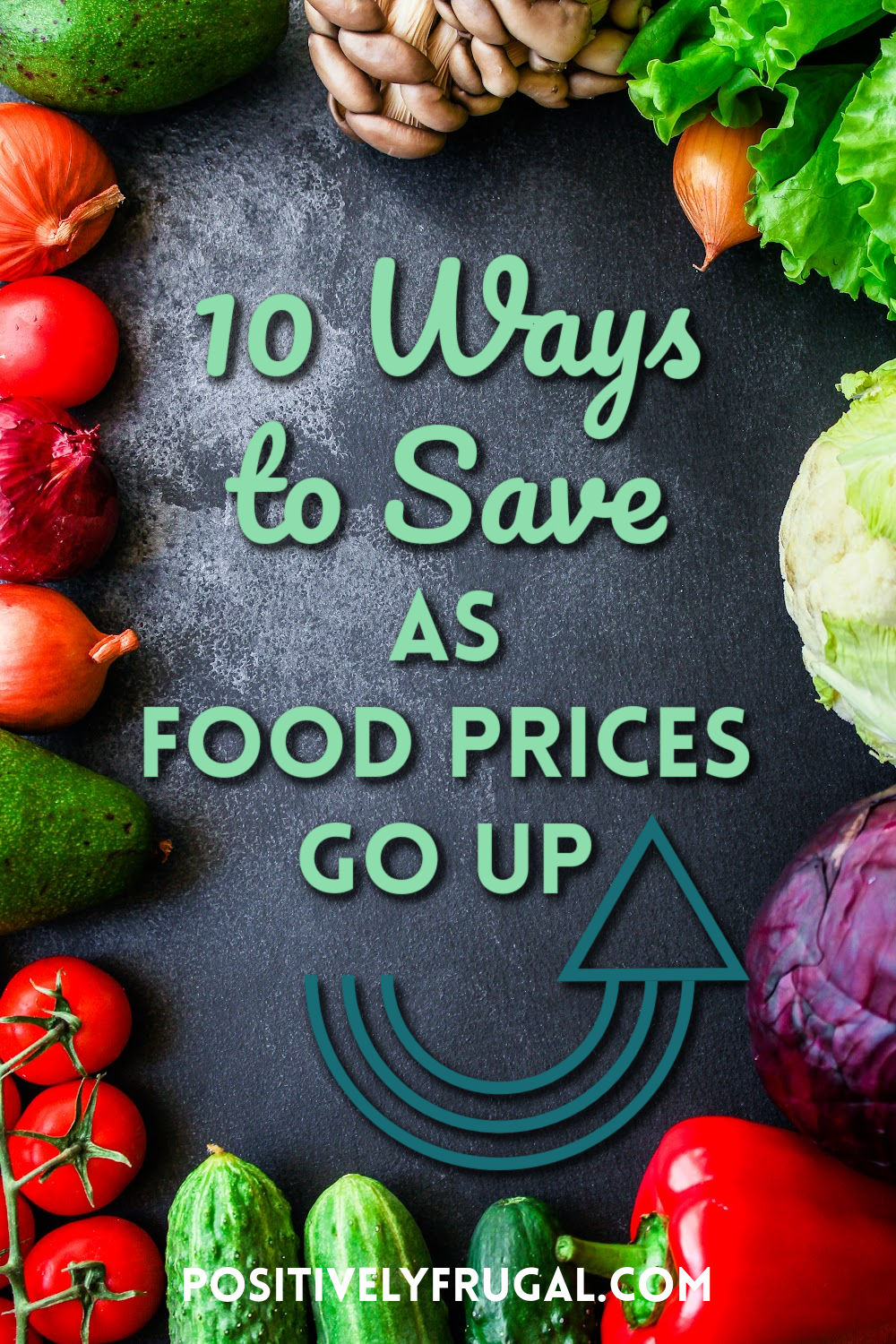 ---
Challenge Yourself
Watching grocery store food prices go up can be unnerving. That said, buying your food at the store is still cheaper than eating out.
As a matter of fact, even with the higher prices and increased food costs, it is still possible (albeit more difficult) to create a $50-per-week grocery budget.
If you really want to take on a challenge, however, commit to joining my $5-a-Day Food Challenge! I share my top tips on keeping your grocery budget to a bare minimum…and I'll cheer you on along the way!

We Want To Know: What are your best tips for staying on budget when food prices go up? Tell us in the comments!
Interested in more of my Frugal Food Tips? I round them all up (including my favorite Frugal Snacks) on my Frugal Food blog page!