Some of the links on this site are Affiliate Links and if you use them to make a purchase, we may earn a commission. For more information, read our Disclosure Policy.
You've been working hard. You've accomplished goals. Now it is time to treat yourself. You deserve to give yourself a treat. Right? Yes, yes you do!
Treating yourself is essential. Little rewards can help boost your spirit and keep you motivated. However, when you are on a budget, have finance goals and are working toward becoming Positively Frugal, treating yourself can get a little tricky. You do not want to undo all the hard work you put into achieving your money goals by spending unnecessary money on gifts to treat yourself.
Rather than longing after costly rewards, change your mindset to seek out free and cheap ways to treat yourself.
Costly vs Cheap Rewards
In our materialistic society, we have been taught that the best ways to treat ourselves is with gifts that cost money. This is a complete falsehood; a gimmick designed to get you to spend money and buy Treat Yourself gifts.
Let me assure you, it is 100% possible to treat yourself with things that don't cost a dime. In fact, I think that free and cheap rewards are better than many of the gifts that money can buy.
Buying little treats can add up to big dollars. In order to keep your budget and goals in check, you will need to get a little creative with how to treat yourself so that you don't spend any money at all.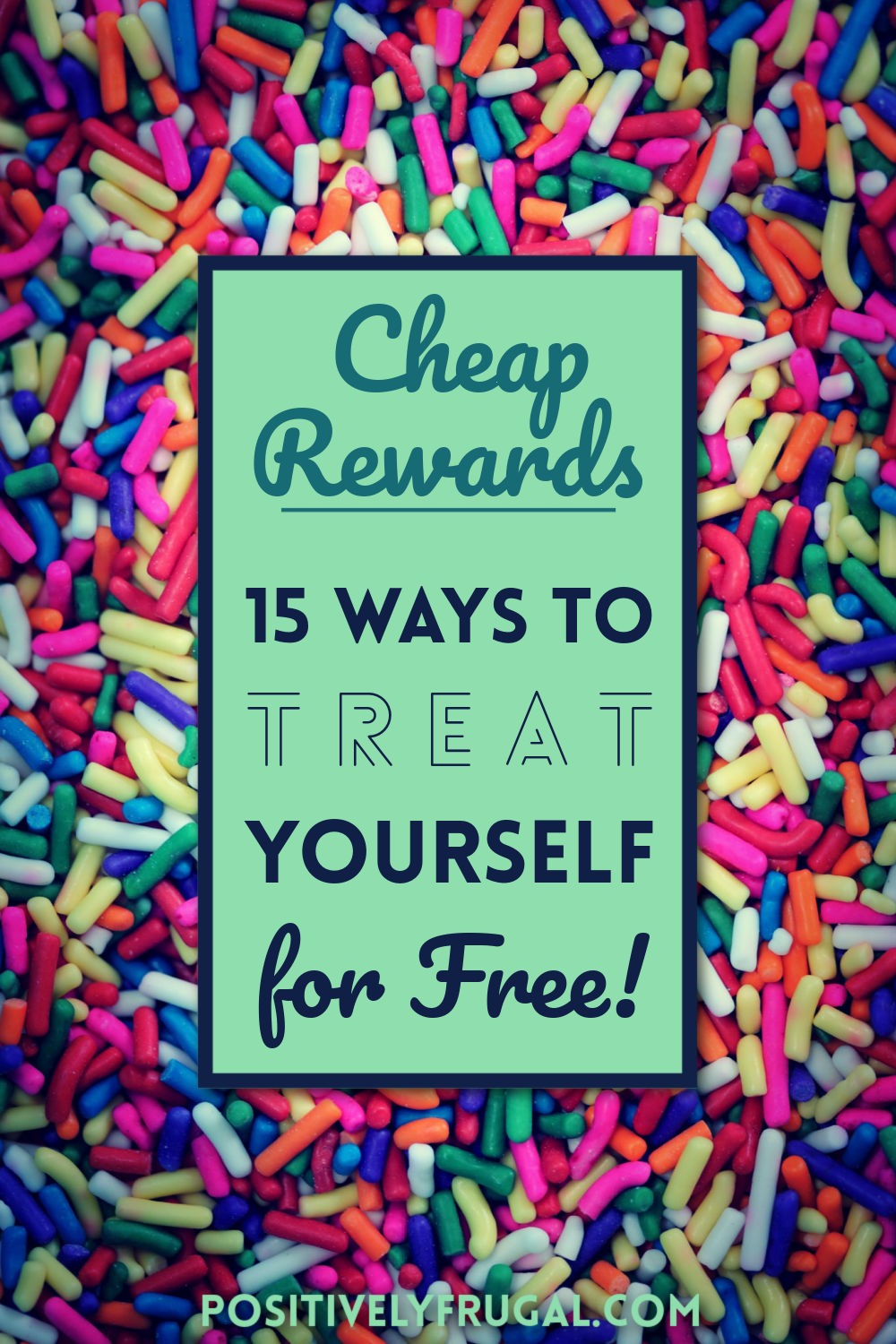 How To Treat Yourself for Free
While cheap rewards are great, free is even better. To help inspire you to find economical ways to treat yourself, I'm sharing my 15 favorite Treat Yourself ideas that are completely free.
#1 Stretch Your Legs on a Long Walk
One of the best ways to treat yourself for free is to simply lace up your shoes and go for a walk. There are a myriad of health benefits to walking, but I think two of the best reasons to walk is that it can improve your mood and boost your creativity. So, go on, treat yourself!
#2 Treat Yourself to a Good Book
Budgeting your time to allow for a curl up with a good book is a fabulous Treat Yourself gift! I like to actually hold a paper book in my hands, but listening to a e-book can be equally rewarding. Plus, borrowing the book from the library makes reading one of the things to do to treat yourself for free!
#3 Get Creative in the Kitchen
When you want to give yourself a treat, why not bake a sweet treat for yourself? Find a recipe using items you already have in your pantry and see what you can make. You can also treat yourself with food by cooking your favorite meal (which will be much cheaper than eating out at a restaurant).
#4 Pack a Picnic for the Park
One of the fun cheap ways to treat yourself is to pack up a meal and dine al fresco. You could just go outside to your patio but make it a real treat by packing up an entire picnic and heading for the park.
#5 Give Yourself an At-Home Spa Day
When you are in need of an entire Treat Yourself Day, plan a spa day at home. Go on, treat yourself like a queen! Give yourself a facial, pedicure and manicure while hanging out all day in your robe.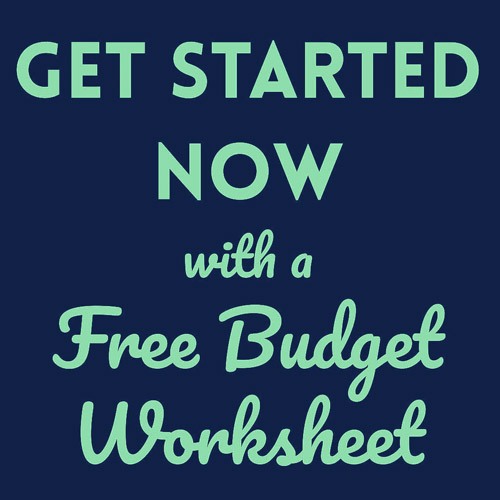 #6 Veg Out on the Couch – Guilt-Free!
One of the best things to treat yourself to is a few hours of guilt-free time in front of the TV. Put your PJs on, kick your feet up, grab the remote and settle into your favorite shows.
#7 Catch Up with an Old Friend
If you really want to reward yourself from accomplishing tasks on the grueling grind, treat yourself to good company! Call an old friend or meet up for a chat. Honestly, time with friends is one of the best Treat Yourself gifts.
#8 Listen to an Old Favorite Album
Looking for more ways to treat yourself at home? Dig out a favorite old album and allow yourself the pleasure of just listening to good tunes for a couple of hours.
#9 Take on Your Town as a Tourist
Traveling costs money…so why not treat yourself for free by exploring your hometown as a tourist? Check to see if the tourist office has any materials on free points of interest – or create your own walking tour.
#10 Take a Bath
Don't have time for an entire Treat Yourself Spa Day? It's alright; you can still treat yourself to something nice…like a nice hot bath. Slip into the tub and savor a half-hour of relaxation – it is one of the easy ways to pamper yourself at home.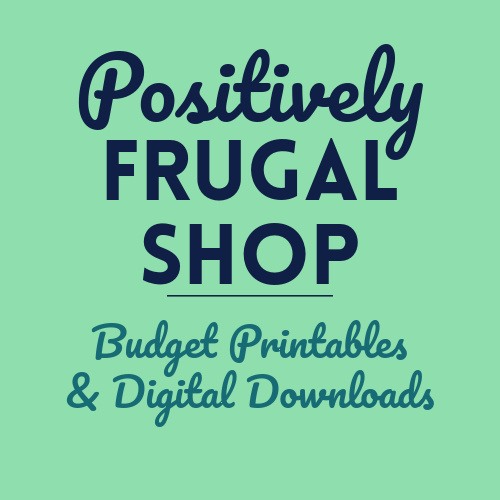 #11 Find an Epic Spot to Watch the Sunset
Watching the sunset is one of my favorite ideas to treat yourself for free! There is nothing more rewarding than watching a beautiful sunset after a long day of hard work.
#12 Take a Scenic Drive
One of the best ways to treat yourself on a budget is to get behind the wheel and go for a scenic drive. You can take a short drive into a pretty neighborhood or – if you are looking for longer Treat Yourself Day ideas – go for a scenic drive into the countryside or nearby nature.
#13 Dance in Your Living Room
When you really want to celebrate, why not treat yourself to the best dance party…right in your living room?! Kick off your shoes, turn of the tunes and dance like no one is watching.
#14 Visit a Free Museum
Rather than finding things to buy yourself as a treat, why not find free things to do? There are an amazing number of free museums (or free museum days!) that are the perfect way to treat yourself for free!
#15 Embrace Fjaka
Fjaka is a Croatian word that loosely translates to 'The Art of Doing Nothing.' More than 'doing nothing,' fjaka is a state of mind; a simple, self-care, Treat Yourself reward that requires no money and, yet is completely satisfying to the soul.
How To Treat Yourself on a Budget
Hopefully, you now have a few ideas on how to treat yourself like a queen or king while still being frugal. Rather than waiting for a payday Treat Yourself reward, you can use my ideas on how to treat yourself without spending money any day of the week.
Looking for more ideas of things to do for free? Get my best tips in my blog posts, Frugal Hobbies and 98 Free Activities!
Budgeting Tips
When trying to limit expenses and save money, the best way to go about it is with an organized budget. Finding free ways to treat yourself is a fantastic start, but creating a budget will help you focus on exactly where you are spending too much and where you can save. (Tip: You can probably save a lot by learning to be frugal with food!)
You can get started right now with my FREE Budget Worksheet, which I send you when you subscribe to Positively Frugal.

To help you stay organized, I also offer bundled budget printables at affordable prices on my Shop Page. The templates I sell will help you set goals, create a detailed budget, track spending and savings, and keep you organized in the kitchen.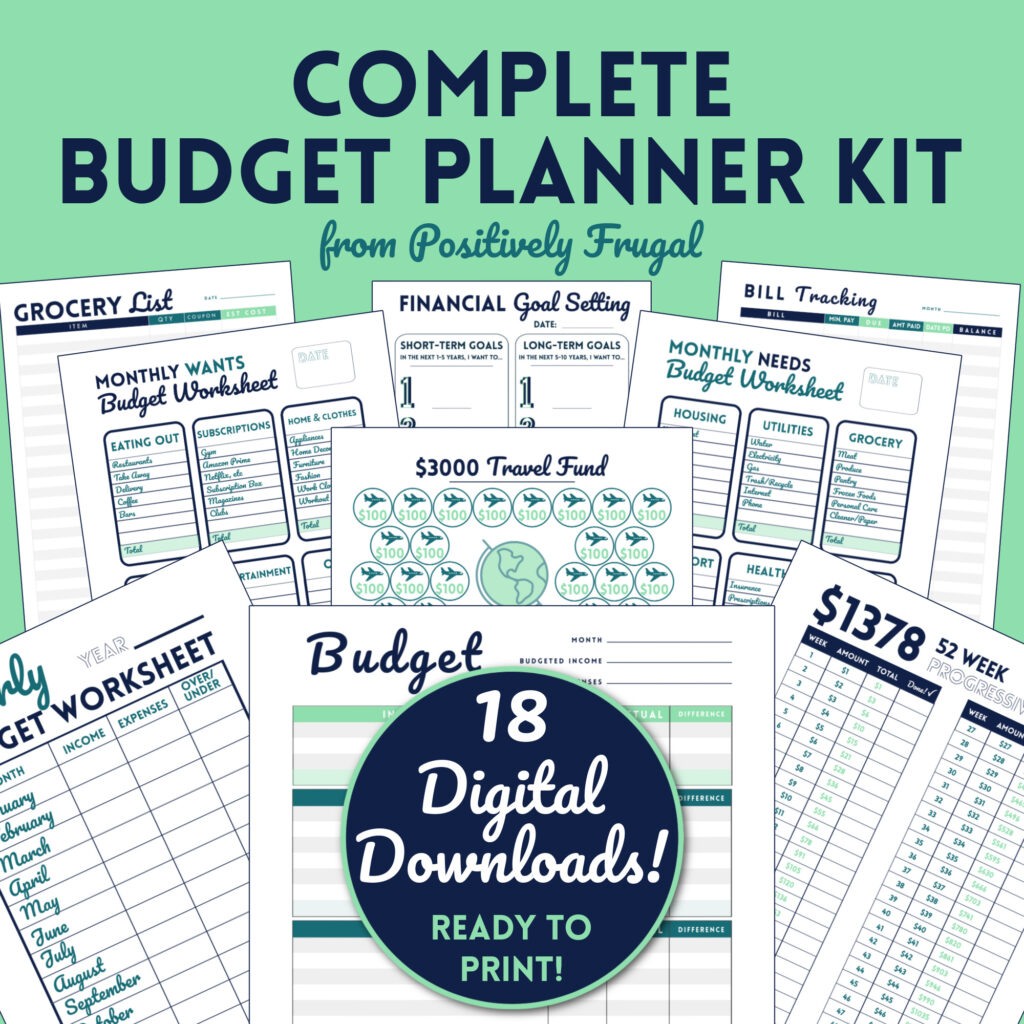 Interested in more of my Life and Entertainment Tips? I round them all up on the Frugal Lifestyle blog page!
We Want To Know: How do you treat yourself while sticking to a budget? Is there anything that you regularly treat yourself to that is extremely frugal or free? Tell us about it in the comments!